Zox Nevado R Motorcycle Helmet
by Bill C. and "Burn" for webBikeWorld.com
More: wBW Reviews Home | Vox vs. Zox Home | Owner Comments (Below)
Also: See our Zox Genessis RN2 SVS review.
Summary: Yet another surprisingly good helmet from Zox, an excellent value for the money with high quality throughout.
The build quality seems way better than it should be at this price point, with one major exception. It's also quiet for a modular helmet.
---
Background
How does Zox do it? They've apparently stumbled upon the secret formula for making high-quality helmets at fire-sale prices.
Granted, the only other Zox helmet we've reviewed is the Zox Azuma R full-face, but based on these two examples, Zox is definitely on to something.
We hope Zox will pardon us also for our skepticism. I guess we've been brainwashed by the value-pricing strategy of higher cost must mean higher value and quality.
But when we opened the Zox box (sorry), we weren't expecting much, considering that the Nevado can be had for less than a C-note.
It's almost hard to say this, because we still keep waiting for something on the helmet to show us that $100.00 can't buy a helmet that competes with the Big Boys.
But after using and abusing the Zox Nevado for several weeks and on some long rides, it's our opinion that the helmet is about as good as it gets in modular-land -- with one important exception regarding the safety of the rotating visor, which we'll discuss.
The Nevado is missing the Caberg Trip's internal sun shade and the Caberg is spookily light (for a flip-up) at only 1615 grams, but otherwise our Nevado is pretty close, with outstanding quality in most areas and good noise control.
Heck, we're getting ahead of ourselves here, so let's give it the webBikeWorld once-over.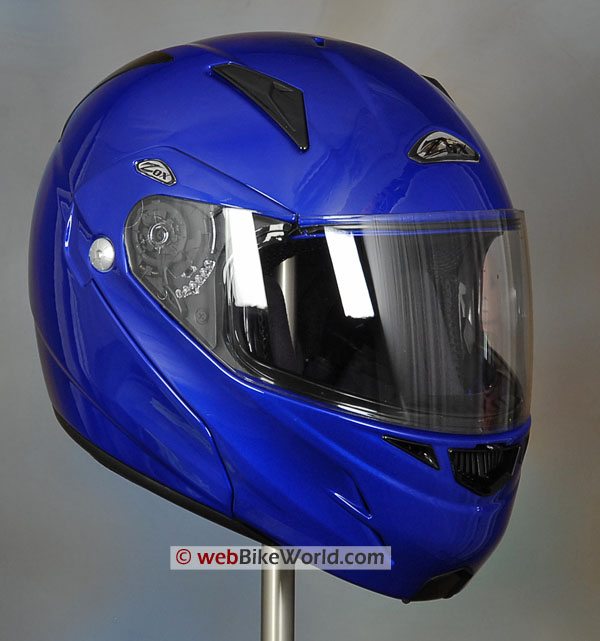 BUY YOUR

▪

Motorcycle Helmets Arai

▪

HJC

▪

Icon

▪

Joe Rocket

▪

Scorpion

▪

Shoei

▪

More!


With This Link and Help Support

web

BikeWorld

!
Paint and Finish
We'll probably be repeating ourselves here, because you can take most of what we said about the Zox Azuma R and apply it to the Zox Nevado.
We've seen the Nevado offered in a variety of colors and each retailer seems to have a different mix in their inventory. This leads us to believe that perhaps there are different model years still floating around out there; ours is labeled as having been manufactured in December of 2006. So the caveat is that our comments are valid only for Nevado helmets of that vintage -- there's a chance that older or newer helmets may have different specifications (here's our skepticism becoming evident again!).
The "Glossy Illusion Blue" Nevado shown here has excellent quality paint with a medium-to-thick clear coat that's highly polished. There's just the tiniest hint of waviness here and there, and a couple of very small dust particles that somehow got trapped underneath, but you have to really search to find them and only the very picky webBikeWorld evaluators would probably do so.
The paint has a nice feel -- almost like it's been coated with the super Wizards polish treatment recently reviewed on webBikeWorld. The combination of Wizards Shine Master and Supreme Seal gave everything a sort of smooth "plasticky" coated feel, and the Nevado feels similar.
The Nevado's shell is not just the round bucket o' plastique you'd expect on a hudred-buck lid. It's moderately scooped and shaped here and there. The vents aren't just stuck on, they're integrated into their own indents, and the plastic "jewel" Zox logo on top is also placed in its own recess, which is yet another surprisingly nice touch on such an inexpensive helmet.
What's amazing is the fit of the vents, the plastic, the visor and especially the side plates on the rotating visor, which are very hard to get right on a modular helmet. The Nevado has some of the tightest tolerances we've seen on just about any helmet, modular or not, and it pretty much blows away any other flip-up we've tried. The break line where the rotating visor meets the helmet is about as tight as it gets.
Here's what we said about the Zox Azuma R: "If Zox can do this for 90 bucks, well... some of the other manufacturers should be embarrassed." Ditto for the Nevado.
Also just like the Azuma, the gasket around the bottom of the helmet is perfectly aligned and applied, which, as we said, is not easy to do. And again, Zox has managed to fit the clear visor so that it forms a nearly perfect seal to the eye port gasket, also not easy to do, apparently, because many of the big guys get this seriously wrong. And to get it right on a modular is even more impressive.
The double-walled eye port gasket has been placed with such close tolerancing that they've actually been able to design a tapered gasket that fits slightly higher towards the outer edges along the top, towards the sides of the clear visor.
This provides a nice, tight seal against the visor and helps prevent wind noise. We've never seen this attention to detail before; it takes a combination of perfect molding, ultra-high quality on both the gasket and the groove around the eye port, super-high quality and tight tolerance robots for the placement of the gasket and who knows what else to get it right.
We're not sure there's another helmet company out there who's even thought of doing this for something as mundane as an eye port gasket, which probably 99.9% of the owners would never notice.
We don't often get this effusive over helmet paint and finish, but this is head-scratching, how-do-they-do-it good for less than a hundred bucks.
Score: We'll give our Zox Nevado an "Outstanding" rating for fit and finish (See ratings description in the summary table below).
Helmet Fit and Liner
The Nevado has an internal shape that's similar to the Zox Azuma; that is, it's pretty round but with slightly narrow sides. The bottom portion of the helmet sort of surrounds the head and circles down in slightly on the rider's cheeks, and the bottom part of the cheek pads may press into the jaws at different locations, depending upon the rider's head shape.
All things considered, we think the Nevado should fit round head shapes best, but it also has a slightly neutral fit that should suit anyone other than serious long-oval types.
For more information on motorcycle helmet internal shapes and selecting and fitting motorcycle helmets, see the wBW Motorcycle Helmet FAQ page.
The Nevado's removable liner is very comfortable; it has thick padding and uses a robust micro fleece fabric, which feels good against the skin.
The helmet also has shallow ear pockets and although we haven't tried using speakers, the helmet should accommodate a thin pair.
Like many helmets, it's hard to wear full eyeglasses with the Nevado. The round shape curves back behind the ears, which interferes with the eyeglass ear pieces or "temples", as they're called. The liner also does not have cutouts for the eyeglass temples. This diminishes one of the reasons for wearing a modular helmet, so read our article about modifying a pair of eyeglass temples to fit a motorcycle helmet, which should help.
Our Zox Nevado is a size XL, and based on this example, we think the helmet runs about 1/2 size small. This makes it slightly tight, but it will probably loosen up a bit over time like most flip-up helmets.
The Zox Nevado is available in an expanded size range from XXS to XXL and Zox is one of the very few motorcycle helmet manufacturers who actually lists the shell size of their helmets. The XS, S and M use their small shell and size L, XL and XXL use a larger shell size.
Score: We'll give our Zox Nevado an "Excellent" rating for fit, with a comfortable and nicely padded liner and high-quality furnishings and fabric.
Zox Nevado R -

w

BW

Lightbox - Click photo to view.
Cheek Pad
Chin Bar
Top Vent
Side Plate
Liner
Top Vents
Flip-up Visor and Face Shield
The Nevado's rotating visor has a firm feel when it's raised or lowered, with a solid "thunk" when it's raised to the topmost position.
It uses a type of plastic material for the tabs that lock the visor in place. The visor shuts with a solid feel, but ours will move slightly when we pull on it without engaging the centrally located release button.
OK, so here's that important issue regarding the rotating visor. It is easy to pull the visor open without using the release on our Nevado, which is definitely a cause for concern. If the visor can open this easily, what would happen in case of a crash?
The problem seems to be that the plastic tabs that hold the visor in place are straight, without hooks to lock the visor shut. The tabs are simply straight pieces of spring-loaded plastic that fit into a slot in the helmet shell. We think this is a serious oversight. We're not engineers, but it sure seems like the visor would have a better chance of staying shutif the tabs were hooked.
See the wBW video tour of the Vox vs. Zox for a demonstration of this serious flaw.
The release button works smoothly and has a quality feel. It's located at the bottom of the rotating visor and it's pulled out towards the front to unlock the visor. The release moves front and back and pops out behind the chin bar; in other words, the chin bar is notched so that the release can be felt with the hand on either side of the lower portion of the chin bar itself.
The clear face shield has 5 notches, and it can be popped open just a touch to allow venting or defogging. The face shield has good clarity, but it does seem slightly thinner than normal and it does exhibit some flex as it's opened or closed with the left-side mounted tab.
The eye port seems slightly larger than average and it provides excellent visibility.
Score: The rotating visor mechanism, its fit, the clear visor and the eye port are excellent, but the ease with which the rotating visor can be lifted without using the release is troublesome. If it weren't for that, we'd rate it "Excellent", but the release problem drops it to a "Poor" or "Unacceptable", depending upon your tolerance for risk.
BUY YOUR

▪

Motorcycle Helmets Arai

▪

HJC

▪

Icon

▪

Joe Rocket

▪

Scorpion

▪

Shoei

▪

More!


With This Link and Help Support

web

BikeWorld

!
Ventilation
Every helmet manufacturer seems to have its own ideas on helmet vents, and the Zox Nevado is no exception. The top vents are nicely integrated into the helmet shell. Each top vent operates separately, which has its pros and cons. A top slider moves back and forth to open and close the vent and each has two positions, half open and full open.
The sliders direct air down through the foam and, theoretically, down on to the top of the rider's head, and there are slots in the foam that might do this, but they become blocked by the upper part of the helmet liner, which isn't mesh.
The vent slots are located in a slight vertical depression in the foam, but, like most helmets, it's hard to tell how much volume of air they add to the overall venting mix.
There are what appear to be exhaust openings in the shell, one pair on top in the center of the helmet, facing rearwards and covered by some bronze-colored mesh and the second down at the lower part of the rear of the helmet, also covered in the bronze-colored mesh. We think they may just be styling touches, because it isn't clear to us whether or not they're actually functional.
The chin vent has a horizontal slider that moves back and forth; when it's in the middle, the vent is closed, and when it's moved to either side, the vent opens. The air is directed from the chin vent up on to the back of the visor through some "teeth" that are uncovered at the top of the chin bar, just in back of the visor as the vent slider is moved back and forth.
The Nevado has no vent holes in back of the chin bar, which is covered in a nice flocking. All of the air is directed on to the back of the clear visor and then on to the rider's face. There are no vent holes up on the top of the eye port, a feature found on some race helmets.
Also, the Nevado has one always-open air port on either side of the chin vent. These direct air in to the same channel that feeds the opening on the upper part of the back of the chin bar, and the air from these is controlled by the vent slider.
The combination of vents and ports seems to provide an average amount of air flow. The vents are relatively easy to find and operate.
Score: Overall, we'll rate the venting as good.
Noise Levels
The Zox Nevado is surprisingly quiet, especially for a modular helmet, which can be noisy due to the complexity of the rotating visor and the extra openings this involves.
The Nevado has a steady, low volume wind rushing noise that seems to be always present and always at the same volume, whether riding behind a windscreen or not. We haven't been able to locate any single source of this noise, but it is low and is probably just the general sound of wind blowing over the helmet.
The vents seem quiet whether they are open or closed, with no "blowing over a Coke bottle" whistling noises. Overall, our experience with the helmet indicates that it's relatively quieter than an average full-face helmet and much quieter than most modular helmets.
Don't forget, we always wear high-quality, correctly inserted earplugs when we ride -- see the wBW Earplugs and Hearing Protection page for more information on choosing and wearing ear plugs.
For more information on helmet noise, visit the wBW Motorcycle Helmet Noise page.
Score: We give the Azuma R an excellent rating for its low noise levels.
BUY YOUR

▪

Motorcycle Helmets Arai

▪

HJC

▪

Icon

▪

Joe Rocket

▪

Scorpion

▪

Shoei

▪

More!


With This Link and Help Support

web

BikeWorld

!
Helmet Weight
Our Zox Nevado R in size XL weighs 1706 grams (3 lbs., 12-1/4 oz.). This currently makes it #58 out of 79 helmets we've reviewed, both full-face and modular, and it places it as #8 out of 21 modular helmets only that we've reviewed.
The point is that most modular helmets are heavier than their full-face counterparts, but the Nevado is roughly in the bottom third when compared to other flip-ups.
See the wBW Motorcycle Helmet Weights page for a chart that compares the weights of all of the helmets we've reviewed, their head shapes and a separate chart for modular helmet weights.
Helmet weight isn't necessarily the be-all and end-all criteria when making a purchase. Helmet fit and comfort are important, and a nicely balanced helmet can definitely overcome a slight weight disadvantage. The Nevado doesn't feel its weight, and we think it's very well balanced and doesn't have that "wearing a space helmet" feeling. Its center of gravity feels normal without making the helmet ride high on the wearer's head.
Score: We rate the Nevado as "Good" for slightly below average weight (for a modular helmet) and good balance.
Other Features
The Nevado uses the preferred D-ring chin strap attachment system, and unlike the Zox Azuma R, the Nevado R has a snap to retain the extra length of chin strap.
The chin strap is long enough to fit most riders and it can be cinched down nice and tight. The snap to attach the loose end is over on the opposite side of the D-rings, which is an unusual placement but one that causes no problems.
The Zox Nevado R is labeled as DOT-approved for sale in the U.S.A.
Conclusion
Zox has amazed us at how much helmet can be purchased for around $100.00. We mentioned in our Azuma review that we'd report back after we evaluated another Zox product to see if the levels of quality were common across their product lineup, and it appears to be so.
But the issue with being able to pull open the rotating visor without using the release is serious, in our opinion. Some may think this is unacceptable and a fatal flaw. We think that in general, modular helmets are a compromise to begin with, and owners are accepting a certain amount of risk in wearing a modular rather than a full-face helmet. We're not sure what to think about this issue; please send us your comments (see below) and let us know.
w

BW

Product Review: Zox Nevado R Helmet
Manufacturer: Zox Helmets
List Price (2007): $149.99 (but can be found for less than $100.00
Colors: A variety of solids and graphics.
Made In: China
Notes: Claimed to meet DOT safety standards.

Rating Scale is subjective: Unacceptable, Poor, Neutral, Very Good, Excellent, Outstanding.

Review Date: October 2007
Note:
For informational use only. All material and photographs are Copyright © webWorld International, LLC since 2000. All rights reserved. See the webBikeWorld®
Site Info page
. Product specifications, features and details may change or differ from our descriptions. Always check before purchasing. Read the
Terms and Conditions
!
Please send comments to
---
From "B.C." (02/11): "Firstly, thanks for hosting such a great compendium of helmet reviews. It's always my first and best source of helmet info.
Concerning the ZOX Nevado R Helmet you previously reviewed: My Nevado has seen about a year of constant pounding. After reading your review, I was worried about the visor latching mechanism, and was frankly considering just pitching the helmet for safety concerns.
Instead I took a GOOD look at the internals and have good news. My ZOX date of manufacture was June 2009. There has obviously been a major design upgrade since your original review. The visor latching mechanism on my ZOX consists of two curved "jaws" which firmly engage a metal post riveted to the helmet body. The upper jaw is made of thermoplastic, the lower (and far more important) jaw is made of metal.
When my helmet mechanism seats, there is a distinct metallic "click", and after seating, I could not unseat it by pulling hard enough to physically flex the helmet. In other words, the visor latching mechanism for the '09 and newer helmets is no longer a major issue.
Other thoughts...I've removed the liner about a dozen times while installing two different intercom systems. The most recent, an Autocom (review), fit nicely under the lining without creating hot spots. Having music, intercom and GPS guidance audio in my ZOX has taken rides to a whole new level of enjoyment.
My passenger, wearing an identical ZOX Nevado R, enjoys the rides more too. Noise has not been an issue with this helmet until about 75mph...and at that speed I don't want audio distraction anyway
Of note, the face shield has never sealed tightly, and I'm trying to monkey with the pivot screws to get a better seal...to no avail. Hope there is no rain in my cycling future.
The lack of "D" rings means there's no way to lock my helmets on the bike while taking riding breaks, which is an annoyance.
I've owned about a dozen helmets over the last 40 years, and must say, the ZOX helmet is about the best I've ever strapped on, especially considering the price. I would recommend the ZOX Nevado R, without hesitation, as an unusually well constructed and finished product in the mid range helmet pricing category."
---
From "J.A." (9/10): "Earlier this year I purchased a Zox Genesis helmet based on your review. I've used it for approximately 6 months and then experienced the exact same problem that another rider described on your site. There is either a design or manufacturing problem inherent in these helmets (I believe the Genesis and the Nevado are identical). Like the other rider mine was not dropped or abused in an way. I feel you should issue a warning on your site regarding Zox helmets."
---
From "D.I." (8/09): "After reading the comments listed at webBikeWorld.com about the Zox Nevado R flip-up (modular) helmet, I would like to add the following information about that helmet.
On April 30, 2009, my wife & I each bought a Zox Nevado R at a motorcycle shop in Calgary, Alberta, Canada. The first shop we discovered the Zox at wanted about $220.00 CAD. The shop where we bought sold it for $159.99 on sale from their regular price of $191.99 CAD. Even at $160 CAD, it seems overpriced as compared to $100 U.S.
My wife's is solid glossy illusion blue which matches the color of her Kawasaki Ninja 250. Very nice match! Mine is colored solid glossy black cherry-red. The colors are one of the main reasons we bought Zox versus HJC which didn't have the colors.
As we knew nothing about Zox at the time it was a gamble to buy Zox. Fortunately your website gives Zox a "thumbs up." My wife has used hers 40 times and loves it. At the most I would say I may have used mine from 10 to 20 times as my open-faced Cyber helmet is often preferred, because sunglasses will fit in it easily. But on a windy day the flip-up Zox is preferred. Sunglasses with slender arms will fit in the Zox, but they ride a bit high which just has to be ignored.
That is, the helmet holds them in place just above my ears. The unexpected benefit is that the ears and nose don't get sore from the sunglasses. Overall, I really like the Nevado R. Another reason is that while putting it on, my ears don't get bent over like they did with my old Nolan N-34.
On Tuesday, August 25, I opened up the chin bar while not wearing the helmet, and the left side hinge bolt (takes an Allen [hex] wrench) and the plastic thread shaped core the bolt tightens into popped right out of the helmet. After looking inside the resulting hole, I could see there is a socket for a tongue-shaped piece on the chin bar. That socket is held in place by 2 screws. One screw looked like it wasn't holding onto anything.
So, I could expect the chin bar hinge to pop off anytime again as it wouldn't be as tight as it was meant to be. After putting everything back together, today (Aug.27/09) I delivered it to the shop I purchased it from in Calgary.
The clerk there said it would likely not be covered by warranty, since it had been so long since I bought the helmet. The defect would most likely be considered normal wear and tear she added. By the way, the helmet was never dropped, so I don't think it could be called normal wear and tear. But maybe it is?"
Editor's Note: This does not sound like "normal" wear and tear to me. Note we experienced problems with the chin bar on ours.
---
From "J.T." (10/08): "I bought an F347VN flip front Nitro (European name of the Zox Nevado) helmet 1 week ago from a dealer.
Firstly no chin curtain is available for this model. The visor leaks like a waterfall. I noticed that the visor does not seal with the front of the helmet at the top. I can see a rubber gasket comprising of two ridges that should seal but misses completely.
Today while riding in a downpour I had so much water on the inside of the visor that I had to stop twice to clean the inside of the visor.
Venting: I can see 1 large chin vent and two smaller vents to the front. The slider appears to block air when set to the middle and is open when either left or right. Even fully closed I can see that the "teeth" used to block air do not extend or cover fully the gaps. The result is that a constant stream of cold air is bounced from the visor onto my face regardless of vent position. To compound this I discovered that the front vent collects rain and the air blast through the non closing vent sprays water onto my upper lip and nose.
I had to endure 2 hours of this today. It was so bad that on my return home the cheek pads were sodden and dripping water, my chin, lips and nose were frozen from the constant cold water spray and there was more muck from road spray on the inside of the visor than on the outside.
Temporarily I have resorted to cutting a piece of gaffer tape the exact shape of the main chin vent and sticking it into the recess to block the air stream and hopefully minimize the cold shower.
The noise from the helmet is ridiculous. Have a look at where the moveable part meets the helmet above the visor pivot point. There is a 2mm gap (1/16 inch) between the helmet and the moveable part. It extends from the front where it meets the top of the visor to the rear. This channels a screaming blast of air past. While riding I can can press with one finger against this piece of plastic and reduce the wind noise by half.
Perhaps if you live in a desert or somewhere constantly warm and dry this all might be forgivable.
I live in Ireland. It's not a warm and dry country. We are heading into winter. As it stands this helmet is unusable. I'm budgeting for a new helmet and will chuck this heap into the bin as soon as I can.
My previous helmet was a Carberg Justissimo. Compared to this helmet the Justissimo was a Rolls Royce of helmets."
---
From "Bira" in Brazil (10/08): "First of all, congratulations on your website, and THANK YOU on all the useful info you write. I write to you from Brasília, capital of Brazil, so sorry for my poor English.
About the Zox Nevado. I've seen the SAME helmet with many brands throughout the world. Here in Brazil it is sold under various brands. Mine is called the "Spectro II" from MHR (there are other two brands which sell the same helmet with minor differences only in stickers and paint - LS2 and Texx). But it is exactly the same helmet, with the same details, vents, sun visor whatsoever. In Europe it is sold as the Nitro F347VN.
My impressions are the same. Quieter than my previous Zeus 508 (yesterday I rode 740 km on my Suzuki Bandit 1200), excellent liner (it does not keep any smell, and I sweat a lot usually... I have this helmet for six months and never washed the liner...it never smelled like it had a dead rat inside :-) as would the Zeus after two hours of riding under the Brazilian sun), the sun visor is easily switched even with thick leather gloves.
However, I noticed some serious buffeting above 160kph, when the helmet seemed like a dragster parachute. Probably this buffeting would occur with any helmet in a naked bike, but anyway I found it worth mentioning.
About the cost, around here it is not one of the cheapest helmets (about 300 USD, other flip-ups like the Shoei Multitec go up to 1000 USD), but it is one of the best purchases in good quality modular helmets around here (only the Zeus - 508 and the newer models - are cheaper, if we don't consider the truly cheap helmets in which I wouldn't trust my head on :-) ).
Ventilation is adequate, in my previous Zeus 508 I used to feel like I was in a steam room. I never experienced any fog on this one also, even under heavy rain.
About the "involuntary opening" of the helmet face: I had experienced this problem ONLY when the helmet face was not properly shut. If both sides are correctly locked, it won't open unless I push the red button, even applying a lot of force. It seems safe enough for me.
The chin could use a little more room. Unfortunately I have no space left to add, for example, an intercom.
Another comment: mine has a label in the liner, saying it is made by "Jiang Men Pengcheng Helmets Ltd" (being only imported by MHR) , probably in China, which probably explains why these helmets are coming to market with such bargain prices.
Thank you and keep up the good work :-) "
---
From "S.B.": "Just wanted to thank you for your great site and the reviews and to throw in my own two cents on the Zox Nevado Helmet.
Based on your review and the comments online, I just got the Zox Nevado Helmet from Competition Accessories for about $80. Of course the first thing that I checked upon receiving the helmet was whether the front would open without hitting the release. This was not an issue at all, once locked in place the front will not raise unless the release button is hit.
Overall the helmet is a great buy. The fit is good, although it seems to be a bit close right at the chin. The visor is large and gives good visibility and seems to close well.
The helmet seems to have been redesigned, with two vents, the one on the chin piece is a large grill type with a slide in the middle; the top vent is a bird looking piece that moves up and down. The look is alright, but a bit too 'Power Rangers' for my taste. My impression is that whether open or close seems to have little effect on the amount of air that comes through the vents. I will have to check more in foggy conditions, but for cooling purposes the venting does very little.
The only other nit I can pick is that the strap for the D ring closures seems a little short. I can get the helmet on and secured, but there the extra strap is very short.
Overall this is a great helmet for the price."
---
From "J.H." (Commenting on the Zox Genesys, and updated version of the Nevado): "I found (the Zox Genesys) on the web at a m/c parts and gear site I'd used before and had a good experience with their service and reliability. I called, and they had the color and size I needed, so I asked about problems with the visor locking mechanism. "Mike" said he had heard stories about this but had had no problem with the ZOX helmets in this regard.
I asked if he'd check one in the size & color I wanted, and he took two minutes to lay hands on the product and wrestle with it "on-line" . He reported that he couldn't pop the chin bar loose even when pulling hard enough to flex the helmet a bit, said he'd ship me this one in his hands same day, and said if I had that problem he'd be happy to replace it or work out a trade for some other helmet in his stock. So I ordered it.
First concern out of the box was to try to open it without releasing the latch. No go, despite both steady pull and whack with the fist maneuvers.
The viewing visor latches distinctly and as firmly as any other helmet I've owned. The finish is pretty good, though the taste for faux chrome bits of trim that seems to be the Asian style preference for bike gear, auto lighting fixtures, and maybe even your toothbrush wouldn't have been my personal notion - but not so much I'm ashamed to wear it.
The vents all work even with gloves, and the flow over the forehead and top of the head is detectable at local road speeds, even more so on the interstate. The helmet "liner" over the top of the head is not fuzzy fabric stuck in place, it's more like a sling-style cradle fastened fore and aft so it isn't in fixed contact with the helmet itself - so there's no barrier to air flow from the front vents over and around the head to the rear "exhaust" port.
Shut the front upper vents, and the flow stops being "feel-able". There is, however , very little effect on noise level by closing this airflow.
The helmet is IMHO very quiet. Like you, I ride with a good set of soft ear plugs firmly inserted. Without earplugs, the various wind and road and engine noises are present, though without excessive or painful volume and buffeting waves. With earplugs, the sound level in the helmet is - to me - very low at any head or neck angle.
Vision range is generous. The "fighter pilot" drop-down sun visor is OK, though I'll still want a dark strip at the top of the visor for low sun angles, as the tint isn't dark. It does have a nice feature in that the hint of orange in the coloring acts like shooting glasses, bringing high definition to clouds etc. and making edges of things seem sharper while removing glare, and reducing UV exposure.
It does not interfere at all with my eyeglasses in any position. It doesn't drop all the way to the bridge of the nose, and there's a little gap that's distracting for a minute or two, but is quickly ignored once you get moving and are actively looking at things in the world. The slide control for the sunscreen is toward the back of the helmet on the side, and you push it up to bring the screen down, which takes a little experience to make the operation "second nature".
The weight distribution is balanced well, and there's no _top-heavy_ sensation though it's not a small or particularly light helmet.
Fit seems more geared to round heads. I have a sort of middle-ground head between oval and round shape. Having had some minor surgery on my forehead the week before I got the helmet, I may have been a bit sensitive, but it was clearly a much firmer pressure above the eyebrows than my Caberg, Zeus, or Shoei helmets produced (I tried them all back on). The sides were snug but not as tight.
After two hours, separated by a two hour break in the middle, the first ride gave me a headache that was annoying. Despite all the warnings from helmet manufacturers I decided to see if I could reshape this, since the pressure was felt right above the eyebrows and not otherwise.
It proved simple to peel back the fabric across the eyebrow area inside the helmet, which I protected from dust etc. by a bit of wax paper lightly pressed to the "sticky" side of the fabric lining. I honed about a sixteenth of an inch from the are of most pressure using really technical tools like a serrated sharp small kitchen paring knife, and the wood shaving "grater" type planning gadget I also use in the kitchen for grating hard cheese and nutmegs.
This creates a half-teaspoon of Styrofoam dust that sucks out cleanly with a vacuum cleaner hose, the liner sticks right back into place perfectly, and next day I had a comfortable fit and no headache. Given that this is a very, very small amount of material removed, I'm reasonably sure I haven't changed the impact resistance of the helmet enough to create a hazard, and I am very sure that not having a distracting pain in the forehead represents an improvement in safety overall.
Little stuff; the chinstrap has a quick-release, and I too like D rings - but it is super easy to use, AND very resistant to pulling apart unless the latch if properly pressed, which works BETTER with one hand than with two - a good trick from their design department!
So, I'd give this a thumbs-up for the lower price tier."
---
From "G": "I just received my brand new Zox Nevado R in Spirit Silver from Competition Accessories today. I ordered from them based on price and promise of satisfaction. I noted the problem you had with the flip front latching properly.
I would consider that a manufacturing defect and would have returned mine if it had the same problem; luckily it does latch properly so it's a keeper. I tried quite hard to open the flip without pressing the unlatch button but it stayed latched.
I would suggest all buyers give their helmet a latch test and return the helmet if it fails. The manufacturing date says Dec 06 which does seem a little odd for a "2007" helmet but it does take the 2007/2008 (not 2006) face shields so I guess it is a "2007" after all.
The fit is as expected (size L fits my fat head) and the finish is super. I have not had a chance to ride with it as it is still snowy up here in the cold white north (Maine)."
---
From "S.Z." (Note: These comments refer to the Zox Genesis SVS, which we have not reviewed): "I wrote to you before after reading your review of the Zox Nevado. I was waiting for my Zox Genesis SVS to arrive. Well, it has arrived!
I unpacked it from a box that was perfectly sized to fit the helmet box. I purchased it from Value Accessories as I mentioned to you in my previous e-mail. It was $60 less than anywhere else on the net, costing me $175 for the Biarritz Blue in large. That INCLUDED the shipping cost. As I said, communication via e-mail with this company is almost instantaneous at almost any time of the day, and any day of the week. You should give them an e-mail and see what I am saying. They usually responded to me in a couple hours!
Anyway, I would say what holds true for the Nevado holds true for the Genesis SVS. I found the paint and finish amazing for a helmet with as many features as this, for such a low cost. I found the helmet and liner to be the most comfortable I ever put on my head, which is slightly oval.
Very soft all the way around and even the chin strap was very nicely padded and soft against my chin. No binding or choking feeling from it at all. The ears have plenty of room. I put on my ear buds from my Sansa MP3 player and they were not at all compressed into my ears by the helmet, as they are with my Caberg. Road noise was actually pleasant. I could hear my motor, slightly muffled, but almost a natural sound from it.
There was a wind sound, and as you said, it never seemed to increase in noise level! I had the volume of my MP3 player at 3/4 and I could hear an ambulance coming from two blocks away... a lot sooner than I could with my Caberg. Most helmets I put on tend to give my motor a deep bass muffled tone. The Zox was a natural muffled tone and as I said, this was actually very pleasant to encounter.
I disagree with you about airflow. This helmet has a LOT of air flow to it, without opening any of the vents. My face was bathed in a constant fresh flow of air, almost to strong as it made my eyes flicker a bit at times. I must admit I do not think the slide control for the chin vent really does much that I can notice. I did not open the top vents at all while riding, but when I opened them at home they only seemed to have an open or closed position, not the two position open as you describe in your review of the Nevado. Maybe they loosen up after a while. I don't know.
This helmet feels deceptively light when out riding. Lighter in feel than my Caberg Justissimo, and more comfortable by far. While riding at speeds of 55-65mph the helmet was VERY neutral, no bobble or jerking when turning my head side to side. I took my Interceptor up to 80mph and still, no noticeable lift or push in my face. What I mean by push is that a lot of helmets tend to press back into the face when the speed increases, but not the Zox. Perhaps this deceptive light weight feel is due to the fact that there is very little fatigue with this helmet since it doesn't seem to toss a rider's head around.
I think the light feel can also be attributed to those mysterious mesh vents at the back of the neck and behind the top stabilizer. I don't think they have a real venting purpose but may actually keep the air pressure of the helmet neutral, which decreases drag. Air in has to have a way to get out, or you get helmet bobble. Maybe the rear and top mesh vents actually relieve internal pressure of the helmet, or maybe the stabilizer wing actually works.
I think the top mesh vent actually gives a bit of lift, since it has the top of your head to seal it off from the inside, restricting the area that the top flow of air can go in and out. I think the mesh vent at the back of the neck actually relieves pressure that comes from the air flow at the cheek and neck level. That's my theory anyhow. I'd love to contact Zox and ask them about it. I think I will actually.
All I can say is this is one hell of a skull cap for the money and I am even more pleased that as bulbous as it looks (Nolan N102 comparable) this is one light helmet with virtually zero helmet wobble! The fit is more like a Shoei Multi-tech than a Nolan N102, so guess who Zox is aiming to compete with?!
At first use, the sun visor was a bit distracting. You can see out of the corner of your eyes the edges of the shield as it is angular and not smoothly curved. Some may say this is a down point, but after a few minutes riding you forget about it and concentrate on the road. The eye port itself is very large. The mechanism for the sun visor works nicely, but you have to use a deft touch if you want to bring it up or down slowly, as it tends just to go up or down with almost a snap to it.
The chin bar pulls up easily with one hand and closes just as simply. I did perform your test, and yes it did open without using the button.
The chin skirt that comes with the helmet is kinda strange. Not just a flat piece, but has a round indentation in it for your thumb to get to the release lever. It does a nice job of closing off any air trying to get into the helmet from under the chin."
---
From "M.L.": "Thanks for the review on a helmet that has amazed me also. I will agree with all your findings and will add that my helmet will not open unless I press the release. After reading your review I tried to force the face module open without using the release and it was impossible. I have owned this helmet since July 07, so I don't know if the model year is the same as yours, but it looks identical. I believe they have changed some of the vents compared to the 06 model."