Vemar VRX7
Vemar VRX7 Helmet Review
by Rick K. for webBikeWorld.com
---
More:
▪ wBW Reviews Home
▪ Owner Comments (Below)
▪ wBW Motorcycle Helmet Reviews
Summary
The Vemar VRX7 is a good-looking, light weight and comfortable off-road helmet.
Matched with a set of Scott 87 OTG goggles (review), the VRX7 performs surprisingly well as a street helmet and it's quieter than many full-face or dual-sport helmets.
Background
I don't often wear off-road helmets and we've only reviewed one other of this type in 11+ years of webBikeWorld reviews.
It's not a deliberate shun but the newer "dual sport" helmet category is more closely aligned with the type of riding most of us do.
The dual sport helmet category is somewhat new, having evolved only in the last few years. A dual sport helmet looks like a 50/50 cross between a full-face and off-road helmet. It has a "peak" on top and a sort-of extended chin bar and it includes a face shield.
An off-road or motocross helmet is more purpose-built, with an extended chin bar and a peak and no face shield. Goggles are usually worn for eye protection.
I'll be the first to admit that I don't know much about the care and feeding of off-road helmets, so this will be an interesting perspective from a full-face helmet wearer and street rider. But now that I've been having so much fun with the Suzuki DR650 (blog), I figured it was time to take a closer look at the off-road helmet type and the Vemar VRX7 was a good start.
Off-road helmets have a fairly standard shape and similar features that have been honed over the years in the world of competitive motocross. So how do potential off-roaders choose? Vemar probably isn't the first name that comes to mind for motocross and off-road helmets but I think Vemar is hoping that will change and the VRX7 just might do it.
We've reviewed several Vemar helmets over the years and the brand is definitely known for its interesting and unique designs. The 2011 Vemar helmets were previewed in my report from the 2010 EICMA show and, by the way, we also have one of the new Vemar Jiano Evo TC (preview) flip-up helmets in the review queue.
While the Vemar VRX7 adheres fairly closely to the standard off-road helmet formula, there are a couple of differences.
The finish is one of those differences; off-road or motocross helmets are known for their loud colors and graphics and the VRX7 in this yellow, white and black high-contrast "Spinning" color is an eye-popper but in a good way.
However, the most significant difference -- and one that isn't obvious until you pick it up -- is the helmet's light weight. The VRX7 is made in Italy from a carbon fiber, aramid and fiberglass blend and it's among the lightest helmets we've ever put on the webBikeWorld scale.
The VRX7 is a North American helmet only (i.e., not sold in Europe). The shell is made in three sizes to cover an expanded head size range, so everyone should be able to find that perfect fit. But I'm getting ahead of myself here, so let's take a closer look...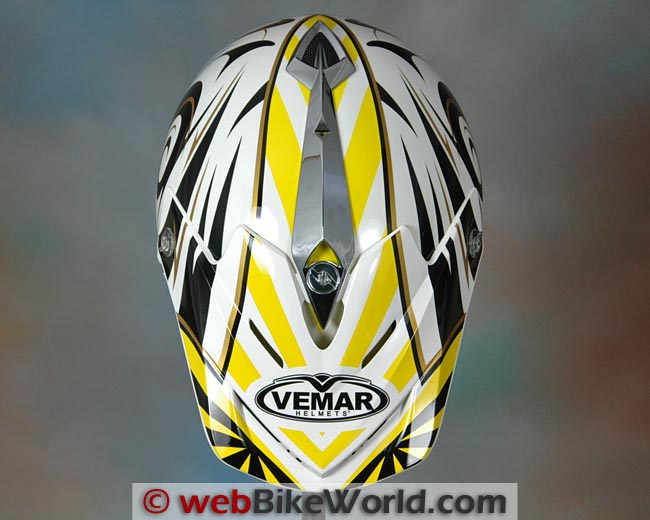 BUY YOUR
Motorcycle Books, GPS, Electronics,
Training Videos, Clothing and More
At the

w

BW

Amazon.com Store!
The Vemar VRX7: Paint, Graphics and Overall Quality
The VRX7 is available in two different color patterns: the "Snake" and the "Spinning" graphics. Since high-viz is the order of the day, the yellow, black and white "Spinning" version was my choice.
The finish on this one is outstanding, with a thicker-than-expected gloss clear coat that is also treated to protect the paint from nasty UV rays, according to Vemar.
The colors are very nicely applied and the surface finish is beautifully done and I also really like the design. The high contrast between the yellow, white and black give the helmet excellent visibility also.
The overall quality of the VRX7 is also excellent and the carbon fiber, aramid and fiberglass shell gives the helmet a solid feel -- not always the case with off-road helmets due to their extended chin bar, which must be carefully designed to prevent a too-flexible feel.
The peak also feels sturdy and has minimal flex. By the way, the VRX7 has a couple of bonus points: it comes with an extra (unpainted) peak and an extra helmet liner -- a pleasant surprise all the way around.
The helmet is made in the Vemar factory in Italy and it comes in three shell sizes. This helps keep the dimensions (and the weight) trim; one thing I noticed is that even with its extended beak (and peak), the VRX7 doesn't look outrageously big on my head, as some off-road helmets can. My head's big enough, it doesn't need any help!
We did review the Shoei VFX-R (review) off-road helmet several years ago and I wish it was still here to compare to the Vemar VXR7. But from looking at the off-road helmets at a local retailer, I think the VRX7 ranks right up there with the top tier brands.
There are a couple of slightly rough or not-quite-finished edges along the rubber/vinyl molding that forms the top of the chin bar and where the lower intake and exhaust vents were molded in the shell. A bit of touch-up with some sandpaper at the factory would have quickly resolved these small issues and they are very minor.
That the VRX7 compares well with Shoei off-road helmets is quite a complement I think, considering that the current Shoei VFX-W lists for about $650.00 and the Arai VX Pro III is about $575.00 list.
While it may not be a perfect apples-to-apples comparison and certainly there are many cheaper off-road helmets, the VRX7 has a list price of $395.00 but it can be had for around $360.00 in the Spinning graphics, complete with the extra peak and liner.
Throw in the Vemar five-year warranty, which effectively covers the life of the helmet, and the extra peak and liner and you have the makings of a pretty good deal.
Score: I'll give the Vemar VRX7 an "Outstanding" rating for very nice paint and graphics and a thick clear coat. The light weight and solid feel are also a plus. See the Summary Table at the bottom of the page for a description of our rating system.
►
Vemar VRX7 Slide Show
◄
Vemar VRX7 Helmet Fit, Internal Shape and Liner
I wondered how the VRX7 would fit my round head; Vemar says the helmet has a "mid-oval shell shape which offers a more generous fit front to back and more snug fit ear to ear". This description equates to the webBikeWorld classification of "Slightly Narrow" or "Narrow", which normally would not be my first choice of fit type.
The size large VRX7 fits exactly as expected for a 59-60 cm head and it's tough for me to call this a "Slightly Narrow" shape, at least based on this one example. The problem -- if you want to call it that -- is it fits me perfectly! It's snug all around and maybe I can just barely imagine the top feeling very slightly narrow.
But it's not as narrow as an Arai Vector 2 (review), which we listed as a "Neutral" shape, or a Bell Vortex (review), listed as a "Slightly Narrow". This is where rating helmet fit gets pretty complicated and a matter of degrees and lots of subjectivity. Based on this one example, I'd have to say the VRX7 is a neutral fit but should work comfortably for both slightly round and slightly narrow head shapes. How's that for being non-committal?
There's nothing else I can do -- if I hadn't read Vemar's description of the helmet, I'd probably call it a neutral to slightly round. But Vemar is specific about their description, so who am I to argue? But when you think about it, a helmet that fits either a slightly round or slightly narrow head shape is...neutral.
Anyway, I'm as surprised as anyone that the VRX7 fits me as comfortably as it does. Perhaps the longer chin bar allows for slightly more flexibility along the sides of the helmet shell, which then conforms better to my head shape.
The padding helps also; it's very comfortable with no hard edges to be felt. The liner material also does an excellent job at preventing moisture buildup. I've worn this helmet in some of the hottest and most humid weather we've experienced this summer and it's very comfortable.
This is helped, no doubt, by the wide open eye port and the excellent Scott OTG ("Over the Glasses") goggles, which have outstanding air flow. In fact, wearing this helmet and the goggles provides more air flow than anything I've worn since a 1970's 3/4-open-face helmet with no face shield.
The liner is removable and washable and claimed to be treated against odor, fungus and bacteria. It works better than most liners, I can say that.
More information on helmet fit can be found in the webBikeWorld Motorcycle Helmet FAQ page, along with the chart that lists the helmet weights of webBikeWorld reviewed helmets and also by shape on the webBikeWorld Motorcycle Helmet Shapes page.
Score: I'll give the Vemar VRX7 an "Outstanding" rating for shape, comfort and padding with a very nice liner and padding that works well in hot weather.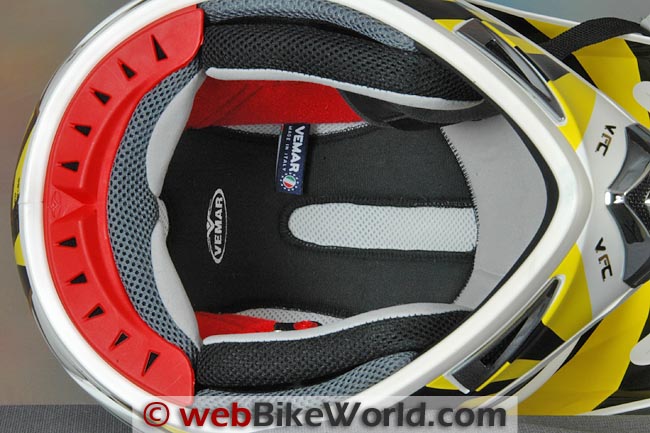 The Vemar VRX7 liner and cheek pads are removable and washable. The helmet comes with a spare liner.
Vemar VRX7 Face Shield, Eye Port, Visibility and Peak
There is no face shield on this helmet, so there's nothing to write about in that regard.
The eye port follows the standard off-road or motocross style, with plenty of visibility in all directions, although the extended chin bar beak is visible out front. The side-to-side visibility is slightly better than average when compared to full-face helmets and the visibility out the top is better than average, while the beak gives about average visibility out the bottom.
The Scott 87 OTG goggles (review) goggles were recommended by the local dealer. They had a mind-blowing rack of goggles and I had no idea which one to choose, but he immediately grabbed the Scott OTG as his preferred choice.
I tried them on in the store (I had the VRX7 with me) and they are a very comfortable fit over my eyeglasses, which also fit inside the helmet. I'm assuming the goggles are deeper than normal to accommodate the eyeglasses and the extra width is covered by a foam-like material that provides a huge amount of air flow. In fact, the first time I went for a ride with the goggles, I thought I was wearing them incorrectly -- too much air flowing in!
As it turns out, this makes for a very comfortable ride in hot weather. I'll probably be singing a different tune in the winter, but then again, I'll probably wear a full-face helmet anyway in cold weather.
The Scott goggles also have outstanding optical qualities. They do inhibit peripheral vision slightly, but it doesn't take long to become accustomed to wearing them. All in all, highly recommended -- read the full Scott 87 OTG goggles review for more information and photos.
The peak on the VRX7 is adjustable through about a 40 mm range up and down. There are three plastic friction knobs that can be loosened by hand to move the peak. The peak does add a bit of lift to the helmet at speeds above about 30 MPH or so, which is to be expected. It can be nearly eliminated by tilting the head down slightly and by adjusting the peak to its lowest setting. Overall, I think the helmet has less lift than some of the dual sport helmets I've worn.
The peak is also one of the first I've tried that actually does block the overhead sun, which is helpful. The typical peak installed on a dual sport helmet basically does nothing, in my opinion, so at least the peak on the VRX7 serves a purpose.
I don't have much of a database to compare the outward visibility of the VRX7 to other off-road helmets, so I'm comparing it to my experience with full-face helmets instead.
web

BikeWorld

Eye Port Visibility Estimator: Vemar VRX7

Visibility
Poor
Below Average
Average
Above Average
Outstanding
Top to Bottom
■
Side to Side
■
Score: The Vemar VRX7 has better than average side-to-side visibility and visibility out the top of the eye port. Visibility out the bottom is about average, due to the extended beak. I'll give it an "Excellent" rating overall.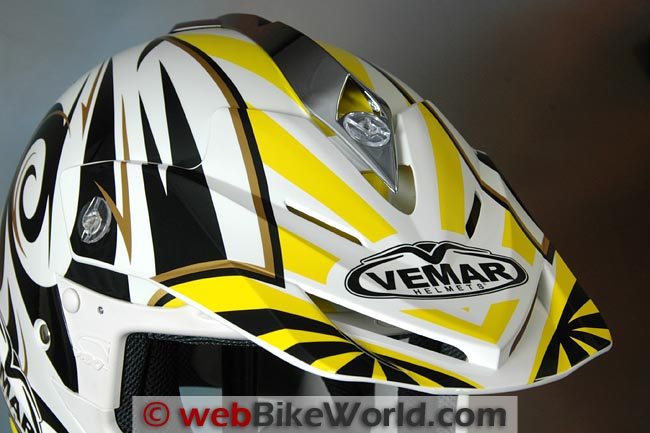 The peak on the VRX7 is adjustable and it blocks some of the overhead sun during daytime riding.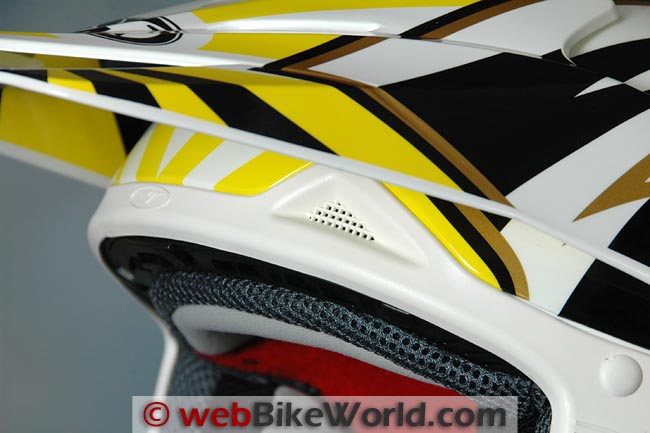 The VRX7 has a top vent and dual brow vents.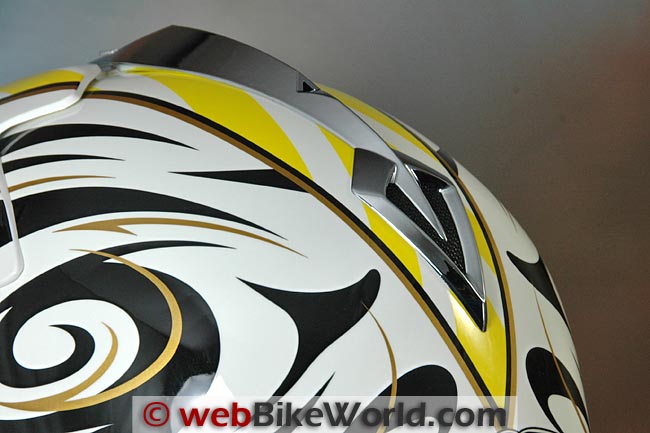 The rear exhaust vent on the Vemar VRX7.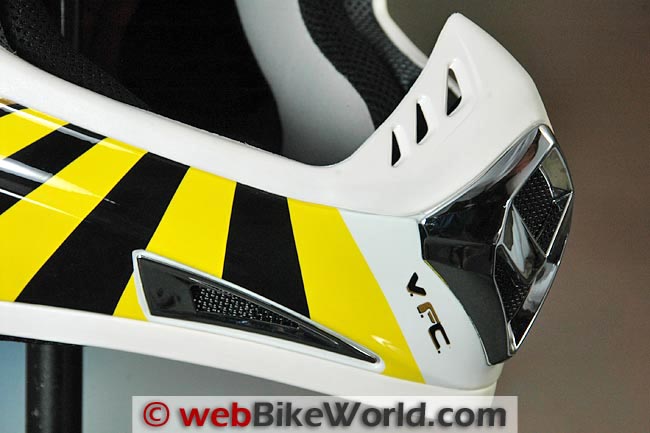 The VRX7 chin vent has a filter and there are two additional intake vents along the bottom of the chin bar.
Vemar VRX7 Ventilation and Air Flow
The open eye port on the VRX7 provides a lot of air flow whether you want it or not, which also makes it difficult to gauge the effectiveness of the vents.
A large volume of air also flows upwards from under the chin bar, although the aerodynamics of the helmet seems to keep the air flow well controlled and it isn't annoying. The chin vent is large and covered by a plastic screen to keep out debris and bugs. Secondary vents are molded into the chin bar along the bottom, one on each side.
The upper ventilation is provided by two brow vents just above the eye port, along with a single hole in the top of the helmet that serves as the top vent. It's located just under the front of the chrome vent assembly on the top of the helmet, which adds a styling touch but could break if the helmet is dropped.
The rear of the chrome assembly covers an exhaust vent and the helmet has two more exhaust ports molded into the shell at the rear.
Overall, I'd have to rate the ventilation as excellent, taking into account the "open door" eye port. Wearing the Scott goggles with their foam sides provides a lot of air on my face -- it's kind of a strange feeling, with so much air blowing in I almost feel like I should be squinting but the clear goggles keep it from bothering me.
The combination of air flow plus the excellent liner make the VRX7 easy to wear in very warm weather.
web

BikeWorld

Opinionator: Vemar VRX7 Ventilation

Location
Poor
Below Average
Average
Above Average
Outstanding
Top/Upper
■
Chin/Face
■
Score: I'll give the ventilation system of the Vemar VRX7 an "Excellent" rating.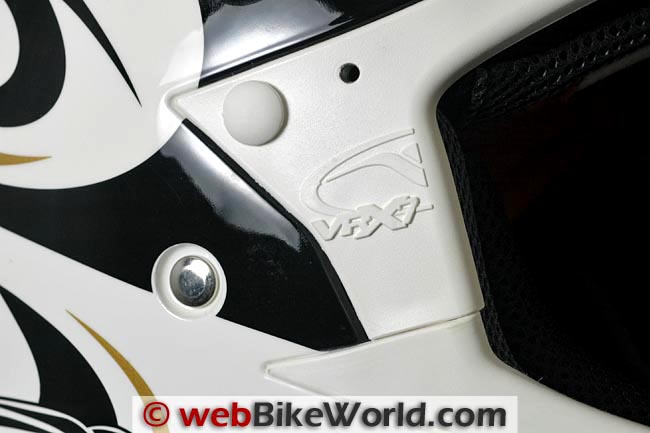 The VRX7 has two plugged screw holes on each side of the eye port (plug removed on one hole in this photo). Vemar sells a clear face shield in Europe that can be attached to the helmet with these holes.
Vemar VRX7 Sound Levels
Probably the biggest surprise overall is the low volume of noise I've experienced with the Vemar VRX7. I assumed that the helmet would be relatively loud, with the open eye port and the peak disturbing the air flow.
But it's much quieter than I imagined and, in fact, it's actually quieter than some full-face helmets I've worn. When riding either the DR650 and the Multistrada 620 (blog), the VRX7 for some reason just isn't as loud as I expected. The comfy lining and good fit on my head probably has a role in this also.
I don't suppose that anyone would wear an off-road helmet on a touring bike -- although there's no reason it couldn't be done. So I don't know how windscreen turbulence might affect the sound levels or helmet lift.
web

BikeWorld

Opinionator: Vemar VRX7 Noise Levels

Location
Very Quiet
Quieter
Average
Louder
Very Loud
Upper
■
Lower
■
Note that our helmet evaluations are normally a combined effort of several riders over time, on different types of motorcycles with and without windscreens.
Evaluators wear correctly fitted, high quality ear plugs (even when evaluating motorcycle intercom systems).
Always protect your hearing when riding a motorcycle. See the wBW Earplug Reviews for more information on choosing and wearing earplugs.
Note also that perceived noise levels will vary, depending on the individual.
Noise can be caused by many factors, including helmet fit; the type of motorcycle and windscreen; wind speed and direction and even the type of clothing that is being worn. For more information on helmet noise, visit the wBW Motorcycle Helmet Noise page.
Score: I'll give the VRX7 an "Excellent" rating for better than average noise control.
w
BW
Video: Vemar VRX7 Helmet
Helmet Weight
The carbon-aramid-fiberglass shell construction of the VRX7 does seem to lower the weight and the helmet indeed feels light, which helps reduce rider stress.
In fact, the VRX7 is one of the lightest helmets we've ever weighed out of 171 helmets reviewed to date. It compares favorably with the minimal Airoh S4 (Dual Sport) in size XL at 1445 grams and even some open-face helmets like the Bell Mag-8 in size L at 1445 grams and the Schuberth J1 (open face) in size XL at 1480 grams.
Other helmets in its range are the Suomy Vandal in size XL at 1486 grams and the very light carbon fiber HJC AC-12 Carbon, size XL at 1489 grams.
The comfortable to-size fit and the trimmer shell size make the VRX7 a pleasure to wear. Other than the slight lift provided by (and expected from) the peak, the helmet feels nicely balanced and the light weight is noticeable. I would assume that this is a real plus in true motocross or off-road riding, where the constant motion and head-tossing can become very tiresome, especially with a heavy helmet.
Note also that all of the helmets reviewed on webBikeWorld have been weighed and the weights are available on the wBW Motorcycle Helmet Weights page, along with a chart that lists the helmets by weight and shape on the wBW Motorcycle Helmet Shapes page.
Score: I'll give the Vemar VRX7 an "Outstanding" rating for its low weight and excellent fit and balance.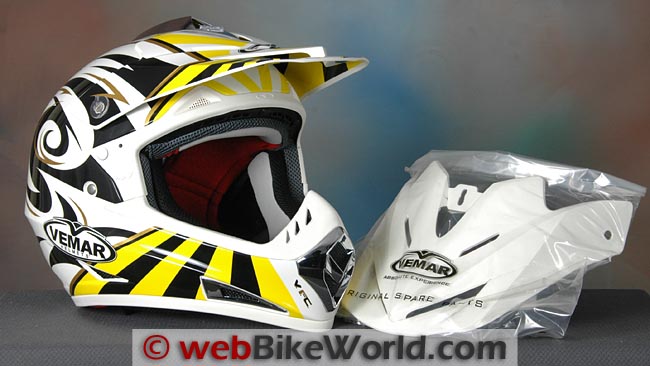 The VRX7 comes with an extra peak (normally a $40.00 option) and a spare liner.
BUY YOUR

▪

Motorcycle Helmets Arai

▪

HJC

▪

Icon

▪

Joe Rocket

▪

Scorpion

▪

Shoei

▪

More!


With This Link and Help Support

web

BikeWorld

!
Miscellaneous
The VRX7 has a comfortable chin strap with plush padding underneath. It features a double D-ring attachment system with a plastic snap to secure the extra length. The chin strap feels perfectly located and in proportion to the helmet and shell size.
The three shell sizes span an extended size range from XXS to XXXL. The small shell fits XXS, XS, S. Medium fits M, L. Large shell fits XL, XXL, XXXL.
The helmet meets both DOT and ECE safety standards.
Warranty
Vemar provides a five-year warranty on the VRX7, which effectively covers the helmet for its expected life.
web

BikeWorld

Overall Opinionator: Vemar VRX7

Picks...

...and Pans

Excellent overall quality.
Relatively quiet for a helmet of this type.
Very comfortable internal fit.
Light weight.
Solid construction and excellent styling.
Comes with extra peak and liner.

Not much... slight lift at speed, but this is to be expected with an off-road helmet used for street riding and it's no worse than most dual-sport helmets.
Doesn't really work in winter or in the rain.
Conclusion
I unfortunately can't compare the VRX7 to other off-road helmets because it's been a long time since we reviewed the Shoei VFX-R. I can compare it to other full-face and dual-sport helmets however, and the VXR7 scores much better than I ever imagined it would.
It provides a lot of air flow -- although this isn't ideal in winter or in the rain. It's quieter than I thought it would be; it has a very nice fit, despite Vemar's claims of a slightly narrow internal shape. It's very light, the overall quality is excellent and the colors are bright and good-looking.
The VRX7 has definitely won me over; indeed, I'd rather wear this helmet than any of the dual-sport helmets I've tried...at least in hot, dry weather. Besides, it looks great with the DR650!
The VRX7 costs less than the rather outrageously priced Shoei off-road helmets and my feeling is that it's nearly equivalent. It costs more than many of the cheaper off-road helmets but you're also getting the five-year Vemar warranty and you're buying the light weight and solid shell.
I'll have to see if we can acquire more off-road helmets for comparison, but at this point, the VRX7 is definitely the standout.
More wBW Motorcycle Helmet Reviews
wBW Dual-Sport Helmet Reviews: AFX FX-55 | AFX FX-41DS | Caberg Tourmax | AGV AX-8 Dual EVO | Arai XD4 | Fly Trekker DS | AFX FX-39 DS | X-Lite X-551 | Icon Variant | AFX FX-37 DS | Arai XD3 | Simpson GS3 MX | Zeus ZS-2100 B | HJC CL-XS | Arai XD | Airoh S4 | Shoei Hornet
wBW Off-Road and Motocross Helmet Reviews: AFX FX-21 | Fulmer RX4 | Airoh Terminator | Airoh Trr | Airoh Aviator | AGV AX-8 | Vemar VRX7 | Shoei VFX-R Air Pastrana | Marushin X-Moto Squadron
w

BW

Review: Vemar VRX7 Helmet

Manufacturer: Vemar Helmets (Italy).
U.S. Distributor: Motonation
List Price: $395.00
Colors: Snake or Spinning graphics.
Made In: Italy
Sizes: XXS to XXXL. Shell Sizes: Three.
Star Rating (1-5):
Review Date: September 2011

Rating Scale is subjective: Unacceptable, Poor, Neutral, Very Good, Excellent, Outstanding.
Note:
For informational use only. All material and photographs are Copyright © webWorld International, LLC since 2000. All rights reserved. See the webBikeWorld®
Site Info page
. Product specifications, features and details may change or differ from our descriptions. Always check before purchasing. Read the
Terms and Conditions
!
Please send comments to
---