Vemar CKQI
wBW First Look: The Vemar CKQI Modular Bluetooth Motorcycle Helmet
by Rick K. for webBikeWorld.com
More: wBW Reviews Home | Owner Comments (Below)
See Also: Vemar CKQI Final Review | Vemar Jiano Review | Vemar VTXE Review
Summary: The new Vemar CKQI has to be the coolest-looking helmet on the planet!
It's a true modular by our definition; that is, the chin bar can be removed and the helmet can be used as a "Jet" style helmet.
And it gets even better: the CKQI (missed opportunity here: they should have called it the "Mantis" or the "Coqui"!) will also be available with built-in Bluetooth!
We have a pair on the way, and will be reporting back ASAP!
---
In the meantime, here are the initial details on the new Vemar CKQI Bluetooth Helmet:

The CKQI was engineered and manufactured by Vemar in Italy and meets both ECE 22.05 and DOT safety standards.
Vemar says that the helmet has a "mid-oval" shell shape, "which offers a more generous fit front to back and snugger fit ear to ear".
The helmet shell is made from thermoplastic. It is claimed to be "aerodynamically shaped for ease of cutting through the air with less buffeting and wind noise, lessening the stress on the rider's neck muscles after a long ride".
The helmet shell comes in two sizes to cover the range of internal sizes. It will be offered in XS to XXL.
The visor is claimed to be anti-fog and anti-scratch treated 2.5 mm thick polycarbonate. It has a "quick release" and the tint is graduated.
The CKQI has a 50% tint "smoke" internally rotating visor that is actuated by a lever on the left side of the helmet shell.
The CKQI features a double density high impact inner shell, with "ultra plush non-deformable high density expanded polyurethane cheek pads".

Vemar CKQI Helmet - wBW Flash Slideshow
The inner liner is manufactured from a fiber that is claimed to provide life-long treatment against odor, fungus and bacteria, and "extraordinary wicking capabilities". Both the inner liner and the cheek pads are removable and washable.
The padded chin strap features a micro adjustable European style closure buckle.
The helmet features the exclusive "Vemar Klima" adjustable full ventilation system, and the visors and vents can apparently be mixed and matched for a unique personalized look.
Vemar says that the optional chin bar can be easily installed and the inner sun shield is replaceable.
The Bluetooth system comes fully equipped - no assembly required - and is compatible with a cell phone, GPS, etc. The system can be connected to an MP3 player, but Vemar says "it is not intended to be a high quality music sound system", which could mean that it does not have A2DP.
Two CKQI helmets can be paired for a wireless connection to the passenger; it's not clear if the system is bike-to-bike. Vemar says the Bluetooth system is easy to operate and was designed for use when wearing gloves.
The Vemar CKQI helmet has a five-year warrantee from manufacturing date and comes with a helmet bag and a detailed user guide.
The helmet will be available in Gloss Silver, Gloss Black and Pearl White, sizes XS - XXL for a list price of $200.00 for the basic helmet up to $425 for the Bluetooth version.
We have a pair on the way from Motonation, the U.S. distributor, and they will be featured in a full webBikeWorld review as soon as possible!
Publication Date: May 28, 2009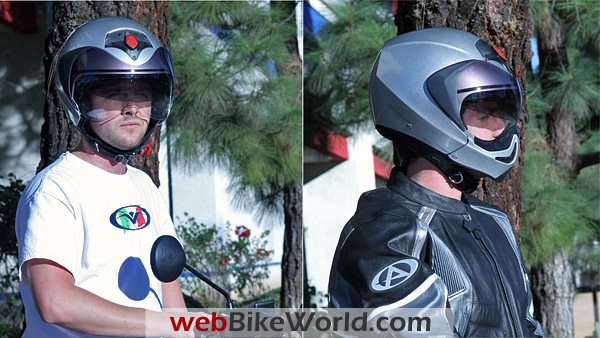 See Also: Vemar CKQI Final Review | Vemar Jiano Review | Vemar VTXE Review

Note: For informational use only. All material and photographs are Copyright © webWorld International, LLC - 2000-2013. All rights reserved. See the webBikeWorld® Site Info page. NOTE: Product specifications, features and details may change or differ from our descriptions. Always check before purchasing. Read the Terms and Conditions!
Please send comments to
Comments are ordered from most recent to oldest.
Not all comments will be published (
details
). Comments may be edited for clarity prior to publication.
---