HJC Sy-Max II
HJC Sy-Max 2 Helmet Review
by "Burn" for webBikeWorld.com
wBW Reviews Home | Owner Comments (Below)
---
See Also: HJC Sy-Max II Flip-up Latch Failure Report
Summary
The Sy-Max II appears to be very similar to the European-only HJC FS-Max we reviewed exactly one year ago, in May of 2007.
However, this DOT-approved version has better quality and I've come to appreciate the styling, which makes the original Sy-Max look rather plain in comparison.
The Sy-Max II does perform well in all areas except one.
It has unfortunately inherited the weight problem of the FS-Max, which in size XL, remains the most massive helmet we've ever reviewed at 1911 grams.
Background
Apparently the lights never go out at the HJC factory and the employees don't rest, because the company announces new helmets faster than just about any other helmet manufacturer around.
But maybe they should think about getting a little more sleep -- the last few helmets they released didn't seem to meet our expectations for HJC products, which are known for reasonably good quality and budget-friendly prices.
Both the HJC CS-R1 and the HJC FS-10 were disappointing, and the HJC FS-Max, which I reviewed exactly one year ago also had its share of issues.
The new HJC Sy-Max II is, as far as we can tell, the North American version of the European FS-Max. I predicted in my FS-Max review that it might be the forebear of a new Sy-Max II for the North American market, and looking again at the photos, that prediction seems correct.
So this will be a rather interesting review; in effect, I'm comparing a DOT version to an ECE version of the same (I assume) helmet. I now wish we had ordered the Sy-Max II in size XL so we'd really have an "apples to apples" comparison.
Although we'll probably never know if both the FS-Max and the Sy-Max II are actually identical, even though they look the same. There may be other features or even a different type of helmet shell in each helmet that would make a one-on-one comparison difficult.
We've modified our helmet review section heading titles slightly since last year, so I'll use the same titles used in the FS-Max review for consistency. Some of the descriptions of the Sy-Max II will, I'm sure, be very similar to those used in the FS-Max review.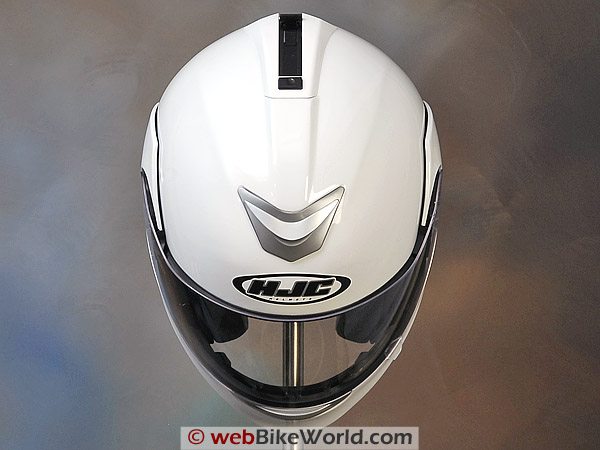 HJC IS-Max: Fit and Finish
I commented about the rather poor paint quality on the FS-Max we used for our review and the overall parts fit, which seemed poor.
I'm happy to report that HJC has done a much better job on the Sy-Max II -- perhaps a year of experience in building the helmet has helped? In HJC's defense, the FS-Max we procured last year was one of the first off the assembly line, and it may have had some issues that were corrected as the factory improved their manufacturing processes.
The plain white (not Pearl White) shown here has become almost a classic HJC helmet color. It's always a little harder to judge helmet paint quality with a solid color -- and I wonder yet again why the manufacturers always give flip-up helmets the plainest paint colors possible and no graphics to spice 'em up. Are flip-up owners that conservative? If so, they sure are different than any of the motorcyclists I know...
But the finish on this Sy-Max II is much better than the FS-Max, which had some orange peel, embedded dust sprites and even some paint bubbling around the edges -- indicative, by the way, of first-run factory teething problems.
The finish and paint on this helmet is nearly perfect, with no obvious flaws. In fact, we were very impressed when we pulled the helmet out of the box. I'm sure the white color has something to do with it, because it's a perfect backdrop for the silver and gray vent fittings and the black bottom gasket.
But overall, HJC seems to have made impressive gains; the Sy-Max II possesses very good quality and all of the moving parts work nicely and smoothly, including the rotating visor, which seems very solid. The helmet also feels more secure than many of the flip-ups we've evaluated recently, some of which had scary levels of flex in the helmet shell.
The Sy-Max II feels nearly as sturdy as many full-face helmets -- indeed, it feels stronger or less flexible than some. I'm guessing that this may be due, in part, to the rotating visor locking mechanism; its metal parts lock the visor securely to the shell, giving it a more solid feel than many other flip-up helmets. The helmet shell is also apparently nice and strong, adding to the secure feeling -- but which also may account for the helmet's weight, which is an issue.
I also remarked about the vents on the FS-Max, which were loose, but the vents on the Sy-Max II work very well indeed; they not only operate just like motorcycle helmet vents should -- that is, pull the chin vent down to open, up to close and push the top vent back to open, forward to close -- they snap shut and feel tight and, surprise, they actually seem to flow air on to the rider's head!
I'm being facetious here of course, but the problem is that many/most motorcycle helmet vents honestly don't seem to do much at all, so finding vents that actually work is a surprise that shouldn't be.
The cheek pads and the liner on the Sy-Max II are well made and everything fits very nicely indeed; another problem from the FS-Max that fortunately has been addressed.
So the overall fit and finish of the Sy-Max II is much better than the FS-Max, which raises my scoring from "Poor" on the FS-Max to "Excellent" on the Sy-Max II.
By the way, the FS-Max was only available in Silver, Anthracite and Black when it was purchased last year. In addition to those colors, the Sy-Max II is available in the clean White shown here, along with Candy Red, Wine Berry and Pearl White.
Score: I rate the fit and finish of this HJC Sy-Max II as "Excellent" (see the ratings scale in the summary table at the end of this article).
Helmet Fit and Comfort
The Sy-Max II feels like it has a different internal fit and shape than the FS-Max.
The Sy-Max II has a fairly neutral fit that should work for the majority of riders, including round shaped heads.
The internal shape of the FS-Max was "flatter", or tighter on the sides, due mostly to the shape of the cheek pads.
My head circumference measurement (60 cm) usually falls towards the top end of the size large size range, so sometimes a size large fits and sometimes a size XL.
HJC's size chart shows 60 cm as the limit for a size large, but the XL starts at 61 mm; this is a predicament I often find myself in -- should I get the large, which ranges from 59-60 cm, or the XL, which goes from 61 to 62?
This Sy-Max II feels to me like it is a very slightly small fit for a size large, which is consistent with my 60 cm head, so I think the HJC size charts are right on the money, with a size large that should fit a 59-60 cm circumference head.
This is a good thing for me, as flip-up helmets tend to loosen up over time, so an overly snug initial fit may prove to be perfect after a number of rides.
As always, be sure to check out the wBW Motorcycle Helmet FAQ for more information on choosing and fitting a motorcycle helmet and for a discussion regarding human head shapes. And don't forget that choosing the correct helmet shape is crucial for both comfort and safety!
The Sy-Max II does feel like it sits slightly high on my head though, making it a bit top heavy, and although my chin doesn't actually stick out the bottom, I wouldn't mind if the helmet shell sat about another 10 mm or so lower.
I can fit wire framed eyeglasses inside the Sy-Max II and I can slide on my eyeglasses with the helmet visor closed, although it isn't obvious that the cheek pads are designed with eyeglass temple channels in mind. Perhaps the shape of the cheek pads in the Sy-Max II are different; they do seem more open or less constricting than the European FS-Max version of the helmet.
The liner is comfortable and it may be the same soft micro-fleece fabric used in the FS-Max, although for some reason this one seems to allow more air to flow. HJC calls it their "SilverCool" material, claimed to wick away moisture, it's also an "odor-free interior with advanced silver anti-bacterial fabric."
The sections and cheek pads are removable and washable, although I haven't tried this. The top of the liner has holes for the two front vents and two rear exhaust vents, and there's a clear channel out to the vents, which seems to greatly enhance air flow. Overall, the HJC Sy-Max II is comfortable, especially for a flip-up.
Score: I'll give the Sy-Max II a "Very Good" for fit and comfort.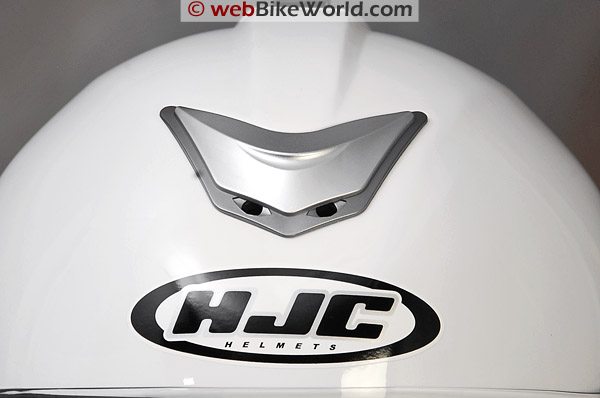 HJC Sy-Max II Top Vent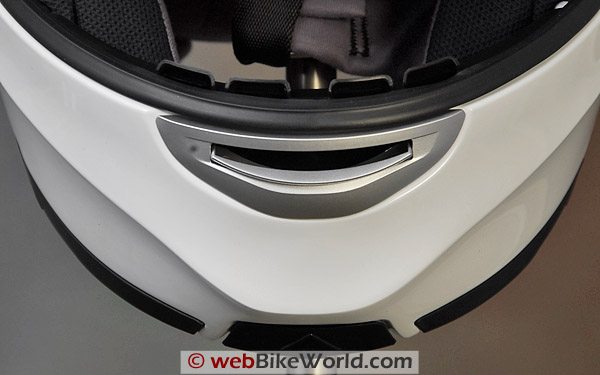 HJC Sy-Max II Chin Vent
BUY YOUR

▪

Motorcycle Helmets Arai

▪

HJC

▪

Icon

▪

Joe Rocket

▪

Scorpion

▪

Shoei

▪

More!


With This Link and Help Support

web

BikeWorld

!
Flip-up Rotating Visor
I can save myself some time here and use some of the same words I used to describe the FS-Max: The Sy-Max II has a rather nice, large 50mm wide (2") button or lever is located at the bottom center of the chin bar to unlock and raise the flip-up, or modular rotating visor. It's easy to hook the button with a thumb to pull the visor open in one sweeping motion. I think this type of button and its location is the best arrangement for modular helmets.
Everything works and feels smooth and secure. The rotating modular visor feels solid and has a strong detent a the uppermost opening.
The Sy-Max II has metal hooks that grab metal bars that are riveted into the helmet shell and the visor feels secure when it's closed and latched; these are illustrated in the photos below and in our video.
Score: I rate the Sy-Max II as "Excellent" for the operation and secure feel of the rotating visor.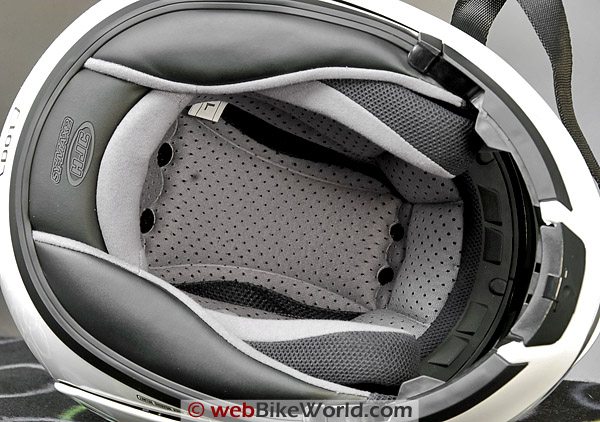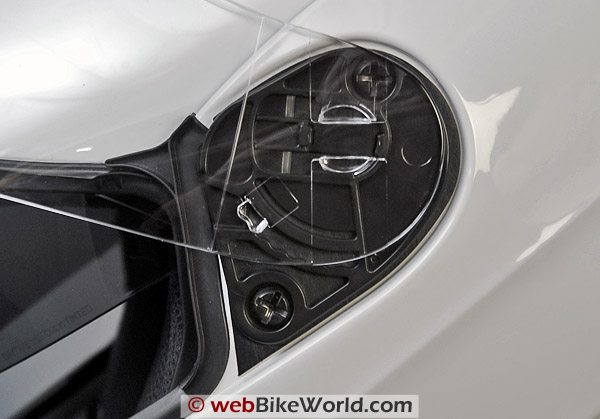 BUY YOUR

▪

Motorcycle Helmets Arai

▪

HJC

▪

Icon

▪

Joe Rocket

▪

Scorpion

▪

Shoei

▪

More!


With This Link and Help Support

web

BikeWorld

!
Face Shield
The face shield on the Sy-Max II seems to have better optical properties than the visor on the FS-Max, which had problems with clarity and quality.
The face shield on this Sy-Max II is clear and without any waviness. It has 6 detents and it can be opened just a touch, about 10 mm or so, for ventilation at its narrowest opening.
The polycarbonate material could probably be slightly thicker; I measure it at 2.1 mm with a micrometer, which is about average for a motorcycle helmet visor. But it is slightly more flexible than I'd like; if it was thicker it might be stiffer, which would be a good thing. Overall though, the face shield is about average in terms of flexibility.
I will say that the eye port opening is very wide and provides excellent visibility. The Sy-Max II has about one of the largest eye ports on any helmet I've worn, especially in the vertical dimension. I'm not sure if this is the same on the FS-Max -- the size of the eye port on that helmet didn't strike me one way or another as overly small or large, as far as I recall.
The face shield on the Sy-Max II uses the same friction removal system used on the FS-Max. There are no moving parts in the removal mechanism, but this one seems tighter, although I haven't used it enough to see if it will wear over time. I believe the inherent properties of the polycarbonate and plastic used in the parts should provide enough natural "slide" or lubricity to keep them from binding or galling, so we shall see.
The face shield closes securely and it has a nice large molded tab on the bottom left-hand side for easy grabbing. The shield fit against the eye port gasket is pretty good, although not perfect. It's much better than the FS-Max, but there's still a very small gap between the shield and the gasket just along the sides, in front of the rotator mechanism.
This is where some of the cost-cutting is apparent, and a little more attention paid to this area would probably be warranted. That said, it doesn't seem to have any effect on the noise levels, although it's probably a channel for water to intrude.
Score: I rated the FS-Max face shield as "Poor", but the Sy-Max II improves to a "Very Good".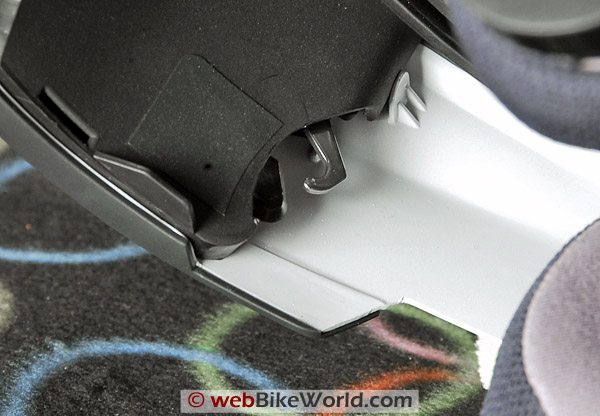 Metal latch on rotating visor hooks on to the metal post in next photo.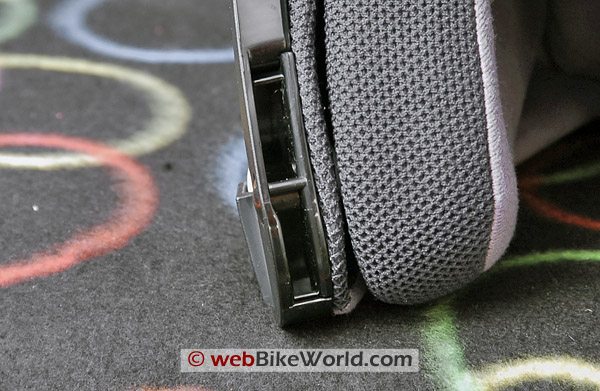 Metal post embedded in helmet shell where latch (above) connects.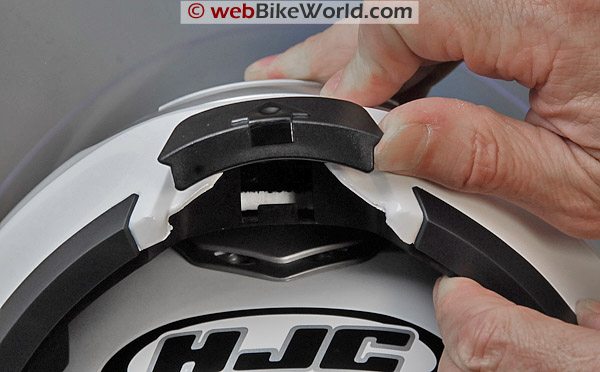 Centrally located rotating visor release works well.
Internal Sun Visor
OK, here's where I'll repeat myself: webBikeWorld evaluators haven't been very fond of these devices and this one (again) hasn't changed our opinion. The sun shade mechanism used on the Sy-Max II is apparently becoming an HJC standard, unfortunately. This is probably one of the worst implementations of an internal sun shade for a motorcycle helmet, in my opinion.
The standard HJC mechanism is a clumsy-looking apparatus on top of the helmet that not only seems to add weight, it's more difficult to reach and to use than others we've tried. It also has an on/off capability only -- it can only be lowered to its fully extended position, which greatly reduces it's use as a partial sun shade.
I don't often (i.e., never) use these in the fully lowered position, preferring a pair of sunglasses or flip-up sunglasses attached to my eyeglasses instead, but I do like to lower the helmet's sun shade just enough to block the bright sun from above my eyes, which is especially important on a helmet with an eye port opening as large as the one on the Sy-Max II. Unfortunately, that can't be done with HJC's sun shade implementation.
The visor is spring-loaded and it works by sliding forward a lever on the upper rear of the helmet. There's a separate button that must be tripped to pop the sun visor up into its stored position. I'm not sure why the extra parts to make it open or close but no in between are necessary.
My advice to HJC is to can the spring-loaded return feature and make it a simple friction fit so the shade can be lowered to any desired position via the lever on the back. And while you're at it, how about using a darker tint for the shade? It's too light as it is -- not even as dark as my sunglasses.
Thankfully, the clarity of the internal sun visor seems better than the material used in the FS-Max. But, like every other internal sun visor we've tried, the bottom edge of the visor is just below the rider's field of view, which is very annoying. Why can't they make these things to extend down to around your upper lip or so?
Internal sun visors have promise, but in my opinion, no one as of yet has successfully implemented the technology. HJC's implementation seems especially clumsy and probably adds too much weight to an already heavy helmet.
UPDATE: April 2009 - HJC may now be using the latest version of their internal sun visor on the SyMax II. See our HJC IS-Max review for more information (and the IS-Max may be a better bargain at this time than the SyMax II).
Score: Sorry folks, no dice. Will somebody please make an internal sun shade that we like? This one gets a "Poor".
Noise Levels
The FS-Max had some issues, but noise wasn't one of them. It was actually a relatively quiet helmet, especially for a flip-up.
The Sy-Max II does not have the chin curtain found on the FS-Max, but that doesn't seem to matter much. The helmet overall seems relatively quiet, especially for a flip-up. Motorcycle helmet manufacturers apparently have finally figured out how to design vents that don't whistle, as we haven't experienced that problem in some time. It's the same with the Sy-Max II -- the vents work well but don't create an undue amount of noise.
Like most helmets, some low-frequency "booming" noises are apparent around the lower part of the helmet, especially when riding behind certain types of fairings or windscreens that dump the turbulent air directly on the helmet.
But overall, we feel that noise levels are relatively well controlled in the Sy-Max II. Be sure to visit to the wBW Motorcycle Helmet Noise page for more information on this important topic and also visit the wBW Earplugs and Hearing Protection page for more information on choosing and wearing earplugs.
Note that we always wear high-quality, correctly fitted ear plugs when riding. If you don't wear ear plugs, all bets are off -- every motorcycle helmet is dangerously noisy, in our opinion, and your hearing is as precious as your eyesight, so don't mess with it. Wear ear plugs.
Note also that as always, your experience with this helmet's noise levels may be different, depending upon many factors, including your head shape, motorcycle configuration, prevailing winds and even the type of motorcycle clothing you wear.
Score: We rate the Sy-Max II as "Good" for its comparatively low noise levels compared to other flip-up helmets.
Venting and Air Flow
The vents on the Sy-Max II appear to be identical to those on the FS-Max. The Sy-Max II has the same wide chin vent in the shape of a scoop that directs air on to the back of the face shield. There are no direct ports to flow air through the chin bar and on to the rider's face.
The top vent is a simple slider that uncovers two small holes in the forehead of the helmet. The air flows over the top and on to the rider's head, but unlike the FS-Max, which had no apparent openings in the helmet liner, the Sy-Max II has four very clear and direct vent holes that allow air in and out.
This makes a big difference, and the Sy-Max II actually flows a decent volume of air, compared to other helmets that is, which in a certain sense isn't saying much, because most helmets fail miserably at flowing air on to the rider's head.
Unlike the FS-Max, the vents on the Sy-Max II feel solid and snap open and closed with authority, and as I mentioned earlier, they are logical in the way they operate. Overall, I'd say that the venting is above average, especially for a flip-up helmet.
Score: I'll give the Sy-Max II a "Very Good" for air flow and an "Excellent" for the operation of the vents.
w
BW
Video: HJC Sy-Max II Helmet
Helmet Weight
Unfortunately, the Sy-Max II apparently has the same weight problem as the FS-Max. Our FS-Max in size XL has the unfortunate distinction of being the heaviest helmet we've ever reviewed, and it continues to hold this title even one year later!
The FS-Max in size XL weighed a massive 1911 grams, or 4 lbs., 3-3/8 oz. The Sy-Max II in size large weighs 1762 grams (3 lbs., 14-1/8 oz.), putting it at number 73 out of the 91 helmets we've reviewed to date.
This puts the Sy-Max II, in size large, in the same neighborhood as Big Boys like the Vega Summit XPV flip-up (XL) at 1762 grams; the Z1R Eclipse flip-up (XL) at 1765 grams; the Scorpion EXO-400 in size XL at 1785 grams and the Shoei Multitec flip-up in size XL at 1786 grams.
The only size large flip-up that was heavier was the 3 lbs. 15 oz.Caberg Justissimo at a whopping 1806 grams.
But, like the FS-Max, I was also surprised to find that the Sy-Max II weighed this much. We normally don't weigh the helmets until the review is ready for final editing to prevent any bias. I actually thought the Sy-Max II felt rather light when handling it, so who knows.
It doesn't feel too heavy when I'm wearing it, although the balance does feel slightly too high. Unlike the FS-Max, I don't know how many helmet shell sizes HJC uses for the Sy-Max II, although HJC states that the helmet shell is fiberglass and the chin bar is polycarbonate.
See the wBW Motorcycle Helmet Weights page for a chart that compares the weights of all the helmets reviewed on webBikeWorld.com.
Score: I'll have to give the Sy-Max II a "Poor" for helmet weight, although the weight doesn't really seem to affect the performance as much as it could.
Miscellaneous
HJC dispensed with the fussy chin strap buckle used on the FS-Max, which was one of the worst implementations of those contraptions I had ever experienced. The Sy-Max II has the simple and elegant D-ring system, which is lightweight, infinitely adjustable and has no moving parts to break.
The chin strap padding is comfortable and about average. The Sy-Max II is DOT FMVSS 218 and is available in sizes ranging from XS to XXL.
UPDATE: Read our report on the HJC Sy-Max II Flip-up Latch Failure.
Conclusion
The HJC Sy-Max II appears to be a definite improvement over the FS-Max we reviewed one year ago. Many of the quality issues have been addressed, and the helmet is now probably one of the best flip-ups we've tried -- actually one of our new favorites.
Now the two helmets may be identical in everything other than size and color, as far as I know, so the differences may be due to variations in manufacturing; the fact that the FS-Max we reviewed was an early production version; that the FS-Max is a European version or other factors. I don't think it's my imagination, because I have the FS-Max here for comparison.
HJC may think I'm nuts and tell me that the helmets are the same, but although many features seem similar, we think the Sy-Max II is more impressive. The U.S. price is also reasonable, so if you like flip-up helmets, you may want to check this one out.
web

BikeWorld

Overall Opinionator: The HJC Sy-Max II

Picks...

...and Pans

Feels solid.
Smooth and accurate flip-up visor operation.
Solid feeling clear visor operation.
Liner is comfortable.
Modern styling.
Ventilation and air flow.

Helmet weight.
Internal sun shade rotating mechanism needs improvement.
Center of gravity feels higher than expected.
BUY YOUR

▪

Motorcycle Helmets Arai

▪

HJC

▪

Icon

▪

Joe Rocket

▪

Scorpion

▪

Shoei

▪

More!


With This Link and Help Support

web

BikeWorld

!
w

BW

Review: HJC Sy-Max II Helmet

Manufacturer: HJC Helmets
List Price (2008): $279.00 (Solids); $289.00 (Metallics).
Colors: Silver, Anthracite, Black, White, Candy Red, Wine Berry and Pearl White.
Made In: Korea
Sizes: XS to XXL. Shell Sizes: Unknown
Review Date: May 2008

Ratings Scale: For reference, our ratings scale is subjective and ranges from Unacceptable to Poor, Neutral, Very Good, Excellent and Outstanding.
Note: For informational use only. All material and photographs are Copyright © webWorld International, LLC since 2000. All rights reserved. See the webBikeWorld© Site Info page. Product specifications, features and details may change or differ from our descriptions. Always check before purchasing. Read the Terms and Conditions!
Please send comments to
Comments are ordered from most recent to oldest.
Not all comments will be published (
details
). Comments may be edited for clarity prior to publication.
---
From "G.W." (November 2012): "I've had two HJC SyMax 2 helmets. AFAIK they are discontinued but may still be available for sale.
The first helmet was a solid white and was mechanically perfect. Everything snapped together and worked well. Unfortunately I lost my balance at a gas station and fell over backwards hitting my head squarely on the ground. No damage to me but it was enough of an impact to (eventually) motivate purchasing a replacement.
At that time some dealers were closing out their inventory and I purchased a new Anthracite SyMax 2 from MotorcycleGear.com for $120.
The second SyMax has not been as satisfactory as the first one. The problems include noise (noticeably noisier than the first one at high speed), chin strap wear (the strap has started to fray and is hard to slide through the D rings), latching mechanism (the second helmet has never lined up and closed as easily as the first one requiring special attention to make sure both sides are latched), sealing (the visor simply does not seal well at any point around the viewport).
Based on my first SyMax 2, I'd have recommended the helmet without reservations. Not so the second one. Both had or have the annoying sun screen release button which can't be found easily with the chin bar up. A minor nit is the too short chin strap pads. I have to make sure they are extended or the strap is uncomfortable.
Although the second SyMax 2 is far from worn out I'm already looking for a replacement. I've had flip-up helmets since the 80's and for me there is little incentive to buy a full face. I've had enough get-offs over the years to have tested several different brands of modular helmets and found they provided the protection I needed in both face up, face down, and side impacts. If I didn't wear glasses I'd probably consider a full face again but after years of balancing my glasses on seats and tank bags as I donned and doffed full face helmets, well, it got old."
Editor's Note: Definitely check out the HJC SyMax 3 (review), it has many improvements and is an altogether better helmet. Also, the new HJC RPHA Max (review) flip-up is a step-up from the SyMax 3 and is one of the quietest and lightest flip-ups we've reviewed.
---
From "J.N." (June 2012): "I have been wearing a Sy-Max 2 for about 4 years. It is a great helmet. Recently I lost a screw from the face shield mechanism while on a road trip. I was able to get a temporary screw but I could not find a perfect fit. I e-mailed HJC customer service and asked for a replacement and offered to pay for parts and shipping. They responded quickly and have mailed out the needed replacement at no cost to me. Just thought you should know."
---
From "M.S." (August 2011): "I wanted to add a comment about the HJC Sy-Max ll. But if this was the NFL I would get a penalty for piling on.
I got a new app for my iPhone. This one lets me use it as a dB meter (dB Meter Pro is the name of the app). When I snapped the helmet closed or pushed the release button for the sun visor, the noise was so loud that my ears would ring for a few seconds after.
I turned on the dB meter, turned the empty helmet upside down and set it in. Then I snapped the chin shut and got a reading of 110 dB. I also snapped open the sun visor and got a reading of 110dB.
So the solution is to push the release button with one finger and guide the visor back with another to make sure it doesn't slam open. I'd be just as happy without all of the triggering mechanism. It's too bad it has all of these shortcomings. It really is a very comfortable helmet."
---
From "M.M." (10/09): "I see that you can now buy a Chin Curtain for the Symax II Helmet. They are only $4.99 from Motorcycle-Superstore. I plan to get one before cold weather sets in."
---
From "J.T." (6/09): "I had this helmet for a little over a year when I had an accident. I went down at close to 70 mph on the freeway. I skidded face down for a while before eventually tumbling to a stop.
The helmet performed perfectly as I received no damage to my head. The face shield looked like someone took a 40 grit belt sander to it and lots of the paint is worn away but the shell remains un-cracked. My point is that I don't think you will take a much harder hit under any normal crash scenario and the helmet held up very well.
One concern with flip-ups is that they may unintentionally open in a crash. Another voiced here is that the face shield may be a little thin. This is now absolutely not a concern for me. I will be buying another to replace the one that so valiantly sacrificed itself so that I could be here to write this report."
---
From "A.W." (3/09): "I purchased an HJC Symax II in late December which arrived in January. Our Michigan winter kept me off my Honda Ruckus (yup, a moped) for most of January and February. So I've only been using the helmet for the last few weeks.
My only previous helmet was years ago, a Bell 120 full face which back in the late '70's was about the only choice for someone who wore glasses. The Symax II is much more comfortable, and the flip up chin means I don't have to take glasses off before taking off the helmet.
I do have a few complaints though. While I really like the sun visor, the nose cutout isn't big enough for my nose, so I can't wear it in the all the way down position. Worse, I'd only used it 4 times before it broke. I went to use it yesterday and the slide mechanism no longer catches. Bummer.
I called the mail order store, and they said the choices are to either mail the helmet back to get fixed (no helmet for 3-4 weeks - so not an option) or have a replacement visor kit sent from HJC. I took option two, and will see how that goes... (Perhaps I can carve out the nose cutout a bit before I reinstall.)
The helmet doesn't have an anti-fog breath deflector of any kind, and most days I have to crack the visor open when stopped or the inside fogs up. This doesn't always go away when moving, despite the fact that a fair amount of air comes up from under the chin bar. I also find that the the chin bar is very close to my chin. If I move my jaw just slightly my chin hits against the bar. Doesn't feel quite right.
My moped doesn't go over about 42 (when in the "Ruck-Tuck" position going downhill!) so there isn't a lot of opportunity to check how noisy the helmet is. But from all the air flow, I have a feeling this one would be noisy if I were at highway speed.
Overall I like the Symax II, but if the sun visor keeps being a problem I could swiftly change my mind..."
Editor's Reply: You may want to try a Pinlock anti-fog visor insert, they're a bit fussy to install, but they work very well. Just be careful about cleaning it to avoid scratches.
---
From "Ed" (1/09): "I own EdSets, a company that makes high fidelity motorcycle intercom headsets. The SyMax II is a unique helmet because of the rotating chin bar geometry that causes problems for owners that install headsets in these helmets.
Part of the movable chin bar at the rear below the pivot point actually rotates downward significantly during the raising of the chin bar, and owners that want to mount headset modules on this helmet need to be forewarned that the modules, regardless of manufacturer, will need to be located well back on the side of the helmet, in our case, nearly 4" or so rear of the normal position.
We sell headsets for about 25-50 of these helmets a month, so it is not a show stopper, but it is a unique issue with only this helmet, perhaps a mention in your review would be helpful to prospective owners since many of my customers are surprised by the chin bar geometry and the interference it causes with any helmet mounted headset from us, Chatterbox, J&M, Scala, etc.
If you want to see how we install our headsets into this helmet, you can visit our Google gallery here:
Love your reviews, great information and hope you keep it up!"
---
From "LM" (10/08): "I don't think anyone else has mentioned anything like this --- I used to have an HJC CL-Max which I liked a lot. When it was time to replace it, I figured that since I liked it so much I'd upgrade to the Symax.
So guess what. I hate the Symax!! Even though I of course bought the same size, the Symax squashes my ears something fierce, and it also most annoyingly forces my glasses to slide down my nose no matter how I try to make it stop.
On long rides I get the feeling that my ears are actually being folded in certain spots! It's noisy too. I'll probably replace it and try maybe a Nolan or a Fulmer...Just thought other people might like to know..."
---
From "C.H." (7/08): "My Sy-Max II, which I've owned one week as of this writing, is a fine helmet; fit is good and (it) seems well constructed and very good optically.
However... The sun shield mechanism has already broken. I was becoming acquainted with the helmet and following manufacturer's instructions on how to replace the sun shield. In the process the instructions say to press the release button and move the slide to position III.
In this process, the retraction spring has evidently snapped. Now the sun shield is loose, does not retract and actually slides down with vibration. All this said, having the helmet less than one week, the dealer would not take it back, HJC tells I must send them the helmet they will repair it.
All fine and dandy if I had another helmet, being out of the saddle for almost 10 years I no longer have a fall back and wanted to reward myself with a new helmet with my used bike.
This has made me question my next helmet purchase. My advice, either skip it altogether or take a chance on the sun shield not working long. Nice helmet, lousy customer support."
---
From "G.T." (6/08): "A few comments about the Sy-Max II helmet article: I recently upgraded to the Sy-Max II from a CL-Max. I am very pleased with the Sy-Max II overall. I found the fit and finish good. Generally, the Sy-Max II does not fit as tightly as the CL-Max, of the same size. I noticed, in particular, that the roll of padding at the base of the neck is quite a bit smaller and does not create a seal like the CL-Max does. This contributes to wind noise and a bit of a draft in colder weather.
I found the weight to be similar to my CL-Max and it is perhaps a bit better balanced.
In particular, I upgraded to the Sy-Max II for the metal latching mechanism. The CL-Max only uses plastic latching.
As another reviewer mentioned, the Sy-Max II has a three position sun visor. The visor automatically sets to the middle position. You have to deploy the sun visor to the middle position and then adjust it up or down from there.
The fully-down position requires two hands, and I think that it is actually intended only for removal/reinstallation of the visor, rather than to be used under normal circumstances (according to the manual). You can drive with it in that position, but I found that it touches my nose.
I did notice that the sun visor does not provide me with full coverage. The lens ends higher relative to the bottom of my glasses. This takes some getting used to, as it adds another line to my peripheral vision.
Overall, I like this helmet. I like it even better considering the price."
---
From "G.O.": "Thanks for your great helmet reviews. They were really helpful in determining which helmet to focus on in my quest for a replacement. I bought the HJC Symax II based on the review I found on WebBikeWorld. I was really impressed by the quality of the reviews and the sheer number of helmets reviewed there. I thought I'd add a few observations I've had after just a day using the HJC.
First of all, I didn't feel that the helmet was all that heavy. I compared the weight to the Caberg Justissimo that I'm replacing and the HJC is about 2 OZ lighter (both in the large size). While that doesn't seem like a lot, it definitely feels lighter while I'm riding with it. I wear a large so perhaps the smaller size is considerably lighter than the XL that was tested by WebBikeWorld.
The wind noise was about the same as my Caberg, maybe a little louder at 70, but not by much. I tested without ear plugs so it would be interesting to see if there is a difference while wearing ear plugs. I did notice that I could hear more of the ambient street sounds through the HJC while traveling at lower speeds. I'd rate this as a good feature, since it helps to be able to hear what's going on in a busy, urban setting.
One thing that really stood out with the HJC was the visibility. The HJC really gave the sense of opening up my field of view compared to the Caberg. Peripheral vision was excellent the top of the helmet was almost completely out of my field of view allowing me to see more of the sky. Venting was also superior to the Caberg. In fact, it was almost too good. I could feel a draft around the top of my head and around my ears, which I could imagine might get a bit cold in the winter.
Overall, I really like this helmet. I've used a Schuberth C1 and a Caberg Justissimo and so far, the HJC Symax II is my favorite. Its build quality is not quite as good as the other two, but certainly not bad.
My only complaint is that the outer visor cannot be fully closed by pressing the bottom tab that is provided for this purpose. I need to press down on the top edge of the visor to get the right-side visor detent to close completely. Not a huge issue, but something that reflects on the design. It interesting to note that the in the Shoei Multitech review, the author had a similar problem with the visor."
---
From "C.B.D.": "Just caught your new review of the Symax II. After reading your original FS-Max review a while back, I concluded that the Symax II must obviously have an improved internal sunshade design since the review indicated that there were no adjustments possible. However, your new review still states that the sunshade on the Symax II is also only "open" or "closed" with no adjustments.
The copy that I wear has three locking adjustment positions. The third and lowest position, for some reason requires you to press the release button to reach it as you push the slider forward. Not sure why but it is an easy operation using two fingers. I wear wire frame glasses and in the lowest position, my entire field of vision is covered with no mechanical interference with the frames. I can glance down at the instruments, through my bi-focals, and my view is still covered by the shade.
One of the distinctive features, in my experience, of the HJC helmets is the excellent optical quality of the visor. I am very sensitive to distortion and I was worried that the drop down sunshade might add waviness but was happy to discover that it didn't. I used a KBC flip-up for a while but the distorted view through the visor finally lead me to put it aside."