HJC AC-12 Carbon Fiber Helmet
HJC AC-12 Carbon Helmet
by Bill C. for webBikeWorld.com
More:
▪ wBW Reviews Home
▪ Owner Comments (Below)
▪ wBW Motorcycle Helmet Reviews
Background
Our HJC AC-12 Carbon fiber helmet finally arrived!
We first reported on this helmet during our live webcast from the 2006 Powersports Dealer Expo in Indianapolis, held in February.
We had a nice conversation with George Hong, the President of HJC America, Inc. at the Indy show.
The helmet was just about to go into production at that time.
As soon as the show was over, we placed an order with an online dealer, assuming the helmet would arrive in a few weeks.
March passed, then April, then May... When June arrived with no sign of the helmet, we cancelled our order with the first retailer and finally secured an AC-12 Carbon from somewhere else.
It's our understanding that these are not easy to produce and they're rather a loss-leader for HJC, both of which add up to limited availability. So if you want one, act fast!
The AC-12 Carbon is based on HJC's very popular flagship helmet, the AC-12.
That helmet is used by AMA Superbike and Superstock racers Jason Pridmore and Aaron Yates, while AMA Superbike and 600 Supersport racer Ben Spies wears the AC-12 Carbon painted with his custom "Elbowz" graphic.
Helmet Weight
There are two reasons why a motorcyclist would want to own an AC-12 Carbon helmet: style and weight.
In my opinion, they don't get any better looking than this, especially in the raw carbon fiber look with the graphite-colored vents, which are perfectly suited to the coloring of the helmet -- or lack thereof.
The AC-12 Carbon is a flyweight, measuring in on the webBikeWorld Polder scales at 1489 grams (size XL), or 3 lbs., 4-1/2 oz. That puts it right down there with some of the lightest helmets we've tried.
See the wBW Motorcycle Helmet Weights page for our helmet weight comparison table and chart to get a better idea at how the AC-12 compares with the 50 other helmets in our database of reviews.
Pick up the bocontaining the AC-12 Carbon and you'll swear they forgot to insert the helmet, it really does feel that light.
And by the way, the AC-12 Carbon also comes with a cool helmet carrying bag (see photo), much nicer than those hard-to-use helmet socks that are so common.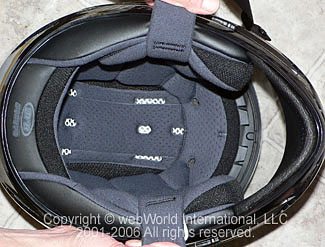 Internal Shape
We never did quite get around to reviewing a plain ol' HJC AC-12, so I don't know if the Carbon version has a similar shape and fit, but I'll assume it does.
My feeling is that the AC-12 Carbon has an internal head shape that falls on the long oval side of round. HJC is probably striving for a neutral middle ground that will fit the most head shapes possible.
The helmet is comfortable for most round head shapes but it does feel slightly tight at the sides and cheeks, which means that it should fit most round oval head shapes also.
Also, based based on our example, my feeling is that the helmet runs about 1/2 size small.
Matching your head shape to the way the helmet fits is crucial for both comfort and safety; see the wBW Motorcycle Helmet FAQ page for more information on finding the right fit.
And by the way, we occasionally receive emails asking why we don't review a size small, medium or large helmet. It just so happens that everyone except Burn (large) and Lori (small) have a big noggin, and the XL's seem to fit us best.
But the size really shouldn't matter, as all of the comments pertaining to any particular helmet are relative across that model line and are normally valid (that is, they can be scaled up or down within the same brand and model), regardless of the helmet size.
Although it may happen, to date we have never found a helmet manufacturer that makes, for example, a helmet model that fits round heads in size XL but then switches the internal shape to long oval or otherwise for a large or medium sized head.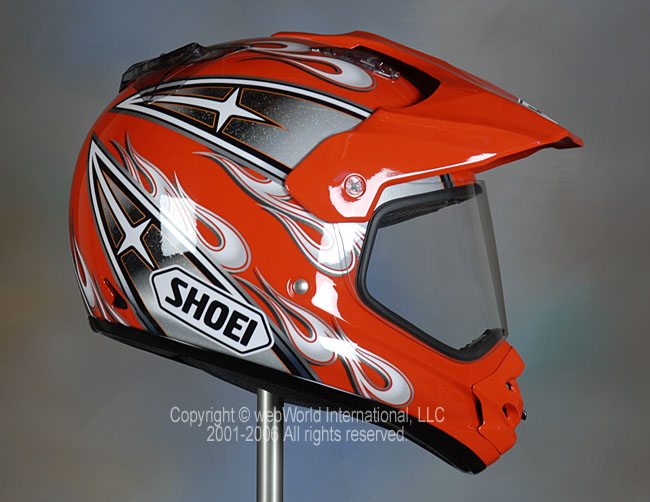 Helmet Fit and Comfort
Other than the light weight, which is not as noticeable as you'd think once the helmet is on, the AC-12 is comfortable but doesn't really break any new ground, in my opinion.
It feels pretty much like any other motorcycle helmet and the liner feels very similar (other than head shape) to the HJC CL-14 we reviewed several months ago.
Putting the best spin on it, I'd say this is a good thing, because it proves that a helmet can be made very light weight yet pretty much act like a "normal" helmet.
One thing I did notice is that I do think the liner in the AC-12 Carbon feels a bit thinner than I'd like and I can notice this around the top of my head.
The liner material feels similar to the other HJC helmets we've reviewed, including the very nice (and round-headed shape) HJC CL-SP.
The liner and cheekpads are removable, although HJC does not list cheekpads of different thicknesses (as far as I can tell), so I don't think the cheek pads can be custom tailored to provide for different fits.
Quality
We've been very impressed with HJC quality in every one of their helmets that we've tried, and the AC-12 Carbon is no exception -- it's outstanding and comparable with the best helmets made, in our opinion.
For example, the look and feel of the liner and the way it's sewn together is as good as they get.
The helmet's surface finish, the vents...everything about it just reflects a high-quality product.
We see a lot of helmets in every price point during the year, and the HJC is equal to the best and, we think, better than Arai quality, which in our experience is highly over-rated.
Unfortunately, some riders still have a perception that owning an HJC helmet doesn't offer the same prestige as other brands.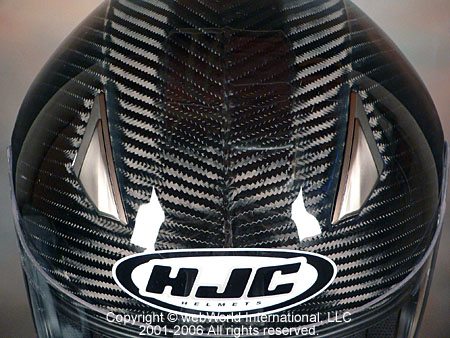 At the
w
BW
Amazon.com Store!
Ventilation
The fittings on the AC-12 Carbon helmet are beautifully done and are, I think, a perfect match for the dark carbon fiber coloring. Almost all of the helmet manufacturers seem to skimp on the quality of their vents, in our opinion.
And price doesn't necessarily correlate with quality -- there are some awfully flimsy vents on even the most expensive helmets.
But I have to say that the vents on the AC-12 Carbon helmet function with precision.
The chin vent folds down to let in air and it has a firm feel that gives the impression that the plastic won't break off in the owner's hand after 2-3 tries.
Unfortunately, the vent does not direct the flow of air through the chin guard and on to the rider's face; HJC opted instead to direct the air from the chin vent up on to the back of the visor, where the air flow is much less noticeable, especially in the 90+ degree weather we've had lately.
The two top vents are also simply executed but work well. Each vent has a sliding "door" that is pushed back to expose a hole that flows air directly through the liner and on to the rider's head.
This is probably the only helmet where the top/front vent holes vent the air directly through the liner fabric without first channeling it in and around the liner. Look inside the helmet through the vent hole and you can see directly through, right to the outside!
There are two exhaust vents on the sides of the chin and one up on the back of the helmet; these are permanently open.
Unfortunately, even though the vents look great and seem robust, they only seem to flow a "normal" (there's that word again) amount of air. The hot weather here recently makes it difficult to tell, but I'd say that the AC-12 Carbon is about average for its cooling abilities.
Noise Levels
The helmet has slightly elevated noise levels. I'd say that on a scale of 1 to 7, with 1 being the quietest, 4 average and 7 the noisiest, I'd say the AC-12 Carbon is about a 5.
It seems slightly less noisy than the CL-14 but not as loud as, say the Suomy Vandal we're currently in the process of evaluating.
When I first handled the AC-12 Carbon, I assumed that it might transmit a lot of noise because of the stiffness of the carbon fiber, but this doesn't necessarily seem to be the case.
I realize I'm being vague here regarding the noise levels of this helmet, but it just doesn't impress me one way or the other with regards to its volume.
Note also that the top front vent holes can create the "blowing over a soda bottle" whistling noise when the head is turned sideways under certain conditions or while riding or in some crosswinds.
Here's an MP3 file illustrating the noise levels of the AC-12 Carbon fiber helmet. If you compare this MP3 file with others on the wBW Motorcycle Helmet Noise page, the AC-12 does compare favorably and sounds quieter.
This may be due in part to the tighter sides of the helmet and the liner, which allow less turbulence induced noise to reach the microphones.
Remember also that we always wear correctly fitted ear plugs when riding. See the wBW Earplugs and Hearing Protection page for more information on choosing and wearing ear plugs and for a list of ear plug reviews.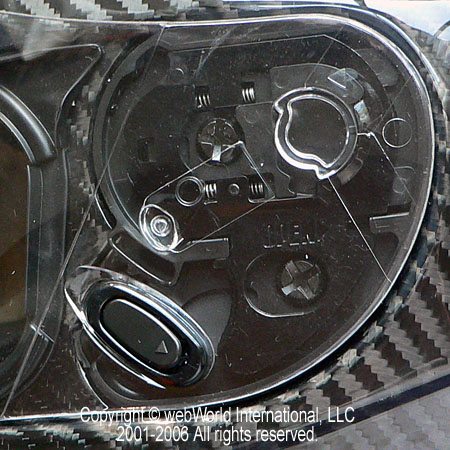 Face Shield
The AC-12 Carbon (and the other AC-12 helmets) use HJC's quick-release system. This system, a version of which I believe was first developed by Shoei, is the slickest face shield release system around.
HJC adds a twist, with their rocker switch on the left-hand side of the face shield, which locks it in place to prevent it from flying open at high speeds.
I am surprised though at the optical clarity of the face shield on our example, which shows some fairly significant distortions.
I'm assuming that it must be the face shield on this particular helmet, because the shields on the other HJC helmets we've reviewed do not have this problem. HJC claims that the face shield has an anti-fog treatment, but it's been too hot to tell if it works or not.
The face shield on the AC-12 Carbon appears identical in its operation to that used on the CL-SP. It snaps shut and seals well, but has fewer detents so that when raised, it only seems to open at the half-way mark and then two more clicks until fully opened.
I prefer a smaller first opening position to allow just a small amount of air to flow in when necessary.
Chin Strap and Miscellaneous
The helmet has the classic "D" ring adjustment system and adequate padding for the chin strap.
The strap itself feels slightly thinner than normal, and it is positioned very slightly back from what I'd consider to be the optimum location, although this doesn't seem to bother once it's fastened.
HJC claims that the eye port opening is larger than normal, but it actually seems a bit smaller than normal to me. Not that it gets in the way, but I can see the top and bottom of the opening and both sides if I move my eyes in that direction.
HJC also claims that the helmet has a "built in communication cavity speaker system", but I'm not sure what this means.
There is a strip of fabric on the back of the chin bar that may allow the attachment of the "hook" part of a hook-and-loop fastener for a speaker, but I don't see any speaker cavities anywhere in the helmet.
Finally, the HJC AC-12 Carbon fiber helmet meets DOT and Snell M2005 standards.
Conclusion
I really like the HJC AC-12 Carbon fiber helmet. It looks great and the quality is outstanding. Its light weight can make a difference in reducing rider fatigue.
It's fully 300 grams lighter than, for example, the Schuberth S1 (size XL), which is exactly 300 grams, or 10.58 ounces heavier.
The best part about it is the price, which is less than one-third of the list price of the BMW SportIntegral carbon fiber helmet. In fact, the AC-12 Carbon is priced less than most mid- to high-range helmets.
w

BW

Review: HJC AC-12 Carbon Fiber Helmet
Manufacturer: HJC Helmets
List Price (2006): $419.99 USD
Colours: Black
Made In: Korea
Review Date: July 2006
Note:
For informational use only. All material and photographs are Copyright © webWorld International, LLC since 2000. All rights reserved. See the webBikeWorld®
Site Info page
. Product specifications, features and details may change or differ from our descriptions. Always check before purchasing. Read the
Terms and Conditions
!
Please send comments to
---
From "TJA" (10/09): "Comments on my non-carbon AC-12, a "Yikes" silver model. There are different thickness cheek pads available for this helmet, which is good since the standards ones on the size L were too thick for me.
I went a size thinner for replacement cheek pads from my local dealer and now have a near perfect fit.
The helmet seems to run thin around the face, I do not have very big cheeks. The cheek pads do come off a bit too easily.
I have found that I can fit a fairly large pair of speakers behind the ear pockets in the helmet, which is nice for running a GPS and radar detector.

The airflow on this helmet seems very good, really too good. It's great in the summer, but very cold even with the vents closed from mid-fall to mid-spring.

The seal at the top of the visor is not good. It has a large gap, allowing rain to run down the inside. I recently added a strip of black tape over the gasket and it sealed much better. A minor flaw, but fixable.

I purchased a smoke-tinted visor for it, but it delaminated over the course of the year, which caused numerous little bubbles to form just a the lower edge of my vision. I replaced the shield with a new one (with anti-fog, too), which is ok so far.
I have found that the anti-fog coating seems to work very well.
HJC doesn't offer a vented breathbofor this helmet, but I have adapted an old one from my CL-12 to fit without the additional snorkels. I haven't had to use the breathboyet, though."
---
From "R.T." (AUS) (7/09): "Firstly I would like to thank you for your extensive reviews on helmets, gloves and other apparel that has immensely helped me select my apparel from time to time.
The efforts of the entire team of webBikeWorld are highly appreciated down under.

Having read your reviews and your noise sound recordings on various helmets, I decided to get myself a HJC AC12 Carbon. This model is currently not produced by HJC as they have the latest HJC FS15 out - Ben Spies.

The Helmet is light, comfortable, and has a good noise reduction.
The best part of the helmet was the fit and the light weight for me. I commute on my motorcycle almost year around including the weekend blasts.
This helmet is so comfortable on my head after a 600 km ride, I cannot believe. I hardly feel the weight of the same. I have had an HJC CL15, Nitro N900, Nitro N1100, Arai Vector and yet this seems to be the most comfortable of all.

The other good points on this helmet are the Visor Release mechanism (what a breeze compared to the other ones, specially the ARAI), the Liner (breathes very well), the ventilation (Love the cool breeze on warm days straight above the forehead) and the snap lock on the Visor (excellent design).

However the Visor Anti-fog on the helmet is not good enough. I had to get an additional Anti Fog Visor insert applied to the Visor to get rid of the fogging problem.
I also seem to have issues with the Cheek pads popping off the plastic press rivets. I got a replacement Cheek pad and it still seemed to do the same.
I have overcome this problem by attaching few pieces of Velcro to the Cheek pads and the helmet. I also managed to get a slight scratch on the clear coat, that says the clear coat is not hard enough and scratch resistant as claimed on the website.

Thank you and keep up the good work."
---
From "D.W." (6/09): "A little late to the party, but, when I saw the AC-12 Carbon in May of 06, I thought I'd died and gone to heaven, how cool.
Then I saw a pic of the 'Vader' helmet, WOWOWOW, the only problem was, it (Vader) wasn't gonna be available till the fall...I waited, got an excellent price on it, $301 shipped!!
Bingo... love the helmet!!
I'm using a Scorpion chin 'spoiler' on it, really cuts the wind into the helmet...last year (2008) I picked up a Carbon Elboz, cheap!! [$259 shipped!] 'course now THEY [Comp Accs] have it on sale for $199 and the plain Carbon for $229...and the ear holes are for helmet speakers...

On the down side, it has different aero than my Shoei RF1000, not really a downside, just easier on the hiway..

Thnfor an excellent site!!"
---
From "B.B." (2/09): "I had both an XL and a L AC-12 shipped to me - I think you're right about the sizing running a touch small. I seemed to fall somewhere between the two sizes for optimal comfort.
I would have opted for the Large, but ended up sending both back because the retention strap really did bother me - it was positioned rearward to the extent that during even fifteen minutes of trial fitting, it pressed against my throat in a bothersome way.
If I rode only sportbikes, the forward tilt of my head would tend to mitigate the problem, but since I ride sporty standards and dual purpose bikes, I feel like more than 30 minutes riding would be uncomfortable.
Thanks for being a resource of real-world information of benefit to riders - most of the magazines don't cover gear well, because of advertising relationships or other factors."
---
From "H.M." (8/08): "I bought this from E.S. (40 mins away drive time) on April 20th and went to check out this amazing product because I'm all about Carbon Fiber Creations, anything that CF I love it.
This helmet looks amazing! Everyone has seen it drools all over my clear coat :( which is not such a great thing. You can really tell that this was hand made carbon fiber because of its imperfections, which is a good thing!
The only true bad thing I have to say is that the shell is a little to huge.
There's so much padding in here that the shell it self makes my slim body look even smaller! When adding a smoke screen it really makes it a "low profile helmet" but also makes the helmet seem even bigger.
It's super comfy, well ventilated ! So if you a slim person be warn! Trust.
So the goods:
Light weight (mine was 1.5 lbs exactly or 0.68 kilo grams)
Real carbon fiber! Brag about it with your friend
Everyone loves its style no one has said a single bad thing about it!
Once you figure out how to pull and put in the visor, you'll slap your self on how easy it is
Super comfy. at times i forget that i have it on me
Will match with any bike especially if it has CF add-ons
Now the bads:
People drool on the clear coat
DO NOT!!!! leave it alone at ANYTIME people will steal it , since they know CF is a expensive material. especially car tuners!
Note* there's no excuse of hanging it on your bike it comes with a bag. USE IT!!!
[x] If you have a slim body it makes the head look larger then it should (but that MY personal problem. I just have to get bigger now)
In the booklet it says "its made for only 1 impact"."
---
From "M.S": "I recently purchased the HCJ AC 12 Carbon and feel it is a quantum leap over the HJC Sy-Max purchased 4 years ago.
The larger face shield opening has made my riding so much more comfortable as I ride an older Ducati 900SS...the Sportbike position with the old helmet made me hold my neck up and caused tension pain.
The AC 12 seems to have a bigger opening at the top and allows my posture while riding to be much more relaxed.
The weight of this helmet was also very appealing. The Sy-Max is an anchor in comparison.
The shield removal/replacement process is also a HUGE improvement over the older Sy-Max. I have mild tendonitis in my wrists and the Sy-Max a pain to remove and re-install.
The AC12 is so easy to swap out shields it took longer to read this sentence than it takes me to swap shields!! I purchased this helmet and the experience was pleasant and positive.
I added the Gold mirrored shield as my other shield needed replacing and the ocular quality is quite high!! The fact that it looks great on the helmet doesn't hurt either!!
I made the attempt to get local dealers to discount the helmet price but they would not. So I mail ordered the helmet. Since I already had an HJC product I took the chance and was glad I did.
There is one negative though. The HJC sticker is under the clear coat! For me this was a disappointment. But it is one that is easy to fi as I plan on a mild Ducati themed paint job. But still -- under the clear coat?
---
From "B.D.L.:" "Your reviews were very helpful when looking in to this helmet. So much so I bought one on 10 JAN 2008 an took it on its first ride today( 13 JAN 2008).
When coming down the Crest highway, a rider in front of me kicked up a rock hit the helmet and when I looked at the helmet it had blister where the rock had hit. I own Shark and Arai helmets and this never has happened. In conclusion I would say great looking helmet but buy with caution."
---
From "A.S.": "I realize I'm late to the game here, but...
The "blistering" clear coat mentioned in the user comments on the site is, I believe, a common and unfortunate side effect clear coat over carbon weave.
Having managed an auto collision center for some time, I suspect the issue with blistering tendency that seems more likely to affect "raw" carbon finishes is the innate incompatibility to properly prep the surface for application of the clear coat.
Raw carbon fiber and its attendant resin, while available in extraordinarily uniform patterns and delicate surfaces, may still provide an imperfect surface upon which clearcoat must adhere.
All modern clear coats of which I'm aware are part of various global refinishing systems, and designed quite literally at the molecular level to adhere to a particular refinish system's base coats.
Thus, when a more traditional two-stage finish (base/clear) sustains an impact, the most common result is a chip--that is, de-lamination occurs, just on a much smaller scale due to the superior adhesion properties of the refinish system.
When the same impact occurs on clear over fiber resin, the clear coat has more difficulty "holding on," thus the blister rather than the chip.
I would posit that a vast majority of supposed unprovoked de-laminations of clear coat over carbon result from unnoticed impacts.
I would also imagine (but cannot prove) that scuffing the surface of the carbon fiber resin would help promote adhesion to the clear coat, thus minimizing the tendency to blister, but how sexy would 1200grit sanding marks be on the showroom floor?
One more bit of (admittedly anecdotal) evidence comes from my cousin and a group of triathletes with whom he trains: many of them have carbon bicycle frames, and without exception all -- even the painted ones, now that I think of it -- have some form of "blistering" in the clear coats.
This is likely due to minor impacts with road debris, bugs, etc.
The good news is that this problem appears to be purely cosmetic, and my cousin in particular has been riding his extremely blistered carbon bike for three years now with no ill effects, even using it to complete the 2006 Florida Ironman.
Personally, I think a blistered carbon fiber helmet is the holy grail of style, somewhat equivalent to wearing a Roleto time burgers on a charcoal grill, the subversion of technology to practicality.
When I buy my first bike (soon, I pray), the AC-12 carbon will be extremely high on my list, and I will relish every blister thereafter.
Thanks for a great site. Hope my info helps ease the pain of the lucky owners of what appears to be a truly fine helmet."
---
From "A.": "I have purchased the same helmet with graphics (HJC HQ-1 CARBON LORDSHIP
MC5). I think that its not only lightweight (1320 real grams for the small size) but it also has very good weight distribution and very good aerodynamics.
Its not so comfortable as I was expecting but it is not bad either. The visor is very very good.
Finally, I am impressed with the ventilation and the humidity absorption and transportation to the outside of the helmet (Aquatrans technology).
I live in Greece and I bought the helmet on 2 of June.
When I went to the dealer with my old helmet (a Caberg Justissimo (review)), my head was very wet (32+ degrees C in the shade). When I returned home with my new helmet my head was dry!!"
---
From "C.H.": "After spending nearly two months searching for my first helmet I decided upon getting the HJC AC-12 Carbon helmet. I love it.
It is the most comfortable helmet I tried on and have noticed minimal wind noise.
Also, I have had my helmet for nearly 6 moths now and have not had trouble with the "blistering" mentioned in prior responses.
As for me, I would recommend this helmet to anyone and will more than likely be a HJC customer for life."
---
From "R.S.": "I recently purchased the HJC AC-12 Carbon helmet and in less than three weeks the clear coat has either blistered or chipped from blistering.
One of the spots in question is jest behind the upper rear vent and would be nearly impossible to have been caused by an impact."
---
From "B.B.": "Your helmet review page was very helpful to me. I appreciate you providing this service. I just wanted to give a little feedback.
I decided on a regular non-carbon AC-12 in matt black. I'm very happy so far. It's a great looking helmet and the fit and finish seem top-notch. Everyone really likes it.
HJC doesn't refer to the matt(e) black (as) a Rubatone finish, but I believe that it is; it's a few dollars more than a standard solids and it just seems from the look and feel that it is.
I wasn't able to try one on before I ordered it, but I was able to try on a carbon model.
Wow, it's light, I just couldn't spend that much. While the Carbon AC-12 XL I tried on fit me great, I ended up having to put the thinner XXL cheek pads in my regular AC-12.
I don't know why this is, but I just thought other may want to be aware. I don't have much else to compare to, but the visibility is really good. I've only taken it to about 55 mph, and that speed I really do notice the wind noise, but I'm not yet wearing ear plugs."
---
From "K.W.": "I read your review and subsequently bought an HJC Carbon for the ride home from Miami to Atlanta on my Honda Rune.
A windy cold day I stopped at a rest area and had the helmet blown off one of those smooth concrete tables when a gust of wind blew thru. Must have caught the visor in it's up position just right. What shocked me was the damage to the clear coat.
It blistered and completely separated in spots from the carbon (see photos below). I've had many helmets and dropped a few from time to time.
I've even got two of Carbon Fibre Helmets Polo style carbon fibre helmets that have been abused and the clear coat is still intact.
I did email HJC on the issue but thought you might like to know. Any chance you've had any issues with the clear coat since writing the article?"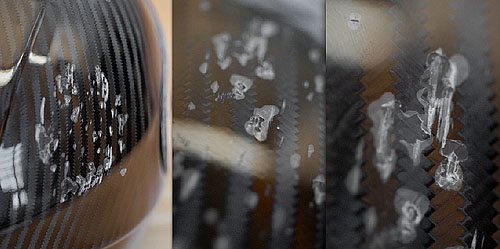 Editor's Reply: Interesting, thanks for sending these -- I can't say I'm surprised; the carbon fiber is very brittle and the clear coating probably doesn't stick very well to it.
Some manufacturers will recommend replacing a helmet after any type of drop, even off the seat of a motorcycle, which is about the same height as a picnic table. I have dropped helmets (other than carbon fiber) before with varying levels of damage.
Don't forget that helmets are designed specifically to absorb impact, and possibly the flexing of the CF under the clearcoat caused the blistering.
I would probably have to chalk this up to an unfortunate mistake and I'd trash the helmet and buy a new one. I'm not sure I'd wear any helmet that took a drop onto concrete from more than 1 foot high or so...