Fulmer V2 Easy Rider Helmet
The Fulmer V2 "Easy Rider 69"!
by Rick K. for webBikeWorld.com
More:
▪ wBW Reviews Home
▪ Owner Comments (Below)
▪ wBW Motorcycle Helmet Reviews
Summary
Does it get any more retro than this? Pictures speak louder than words!
Background
OK, it's time for some fun! And why not?
You may find this hard to believe, but writing about the latest in collar snap technology, new fabrics for waist adjusters and debating the merits of Hydratex vs. Nibo waterproof liners eventually gets...
Well, let's just say I need a break!
I guess I'm showing my age, but those rose-colored glasses courtesy of Father Time have given me a probably unreasonably mellow remembrance of things past.
Motorcycling back in the '60's (that's as far back as I dare admit) was fun and innocent, but don't let anyone tell you it wasn't dangerous.
Spaghetti-thin tires, cardboard brakes and handling to frighten the Devil himself made it all so much...was the word "fun"?
But it's that innocence that makes it seem all so romantic.
Throw the bedroll over the sissy bar, slip on the 1940's leather bomber jacket fresh out of the thrift store and take off across the country. Or to Woodstock.
All cemented in our consciousness, by the way, with the 1969 classic "Easy Rider". I saw it live, for real, in "the movies", as we used to call it, when it first came out.
Of course, being an impressionable youth from New York, it left me with two thoughts: first, how quickly could I buy a bike and hit the open road; and second, I'll be taking the northern route, thank you.
And here we are, in the blink of an eye, and it's...2009?
You're kidding me, right? Believe me, in 1969 I couldn't even imagine the planet would still be there 40 years later. 40 years was -- an eternity that never entered my consciousness, not in the very least.
But that was then and this is now, as they say. Some -- many -- of you probably don't even remember a time before disk brakes or tubeless tires or leaded gas (ahhh, the aroma!).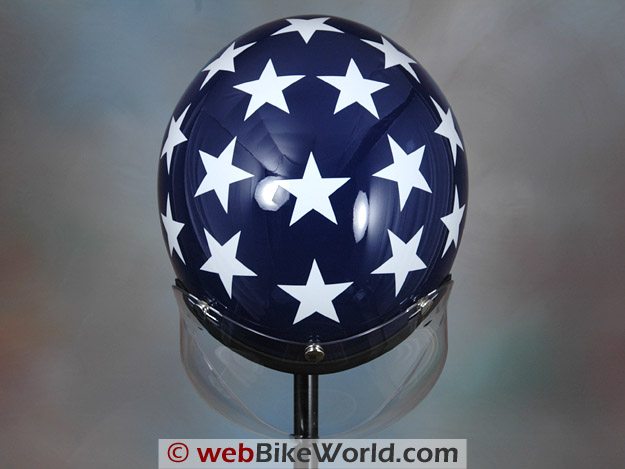 There was a time, believe it or not, when helmets looked like...the Fulmer V2. At least the shape anyway.
You're looking at what passed for motorcycle head protection in the 1960's. Any color you want, as long as it's black, white, or Fulmer's outrageously beefy deep-fleck metalflake.
You'd buy a white helmet at Kresge's, bring it home and, since you were both a rebel and a non-conformist, break out a coupla' cans of Testors spray paint and go to town.
Somewhere along the line, the American flag became a subject of artistic choice.
Why the American flag? Well, the answer to that one would probably take a PhD dissertation in the politics, culture and sociology of the '60's, and this is about fun, remember? So we're not going there.
What I can say is that the helmet you're looking at -- well, not this exact helmet obviously, but the graphics -- are about as iconic as you can get. Show this helmet to anyone over..ah...let's say 50? And they'll instantly know what it is. Easy Rider!
Which brings us back to Fulmer.
Some of you may have read my report on the company's mind-bending helmet display at the 2009 Powersports Dealer Expo. I even threw together a quick video with some cool music that to me is emblematic of the era, just to give you a feel for what they did. Here it is:
w
BW
Video: 40 Years of Fulmer Helmets
Fulmer is celebrating "40 Years of Authentic American Style" this year.
And they're taking the celebration very seriously by bringing back an updated version of the V2, available in the Easy Rider version shown here, along with those deep, bold metalflake colors, right out of their helmet lineup from the '60's.
These helmets are nearly exact duplicates of the very first Fulmer designs, as you can see in the photos here and on my report from the Dealer Expo.
Updated, of course, with modern shell technology and internal padding. And meeting DOT safety standards.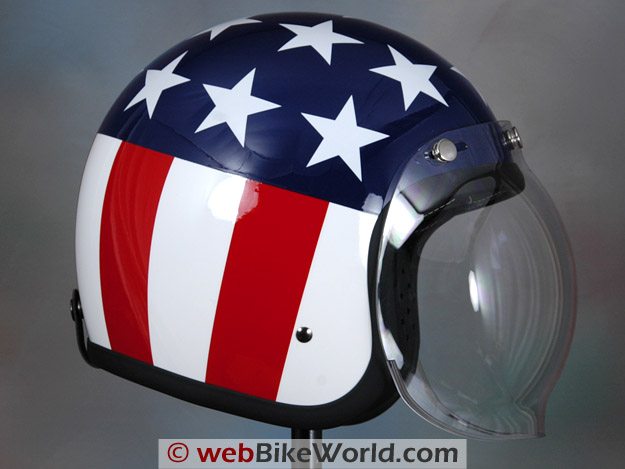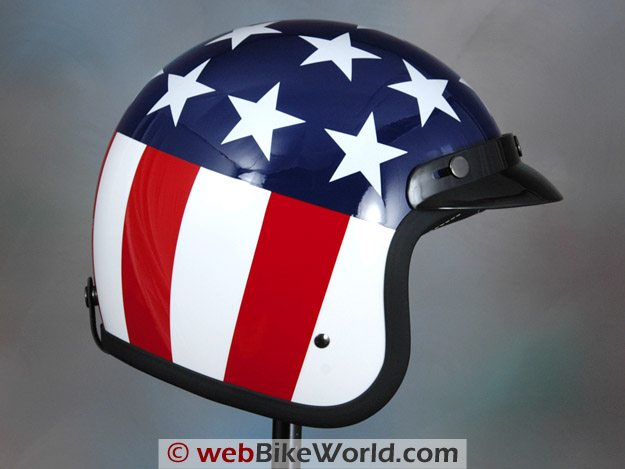 The paint on the Easy Rider version and the metalflake versions I handled at the show looks flawless.
I believe the Easy Rider helmet is hand-painted; either that, or they sure did a good job with the decals, because I can see remnants of the tape masking lines here and there. If that's so, then this is as authentic as it gets!
Oh, and by the way -- how about that "bubble" face shield? Yeaaah, Baby! Remember them? If so, now you're really showing your age!
It's the '60's ticket for long-distance cruisin', daddy-o. No -- scratch that. People definitely did NOT say "daddy-o" in the '60's or in any other decade.
The only place people talked like that was in the over-active imagination of some white-bread Hollywood screenwriter. Remember Maynard G. Krebs?
The Fulmer V2 also comes with a short opaque brow visor, and the helmet does indeed look cool with either one.
The bubble shield is an option, available in Chrome, Smoke, Clear and Bronze. A flat 3-snap shield will also fit the V2.
The metalflake versions are known as the V2 Bobber, with a nod to British influence. And guess what? There's even a V2 Bobber with a fore/aft racing stripe and a Union Jack on the side!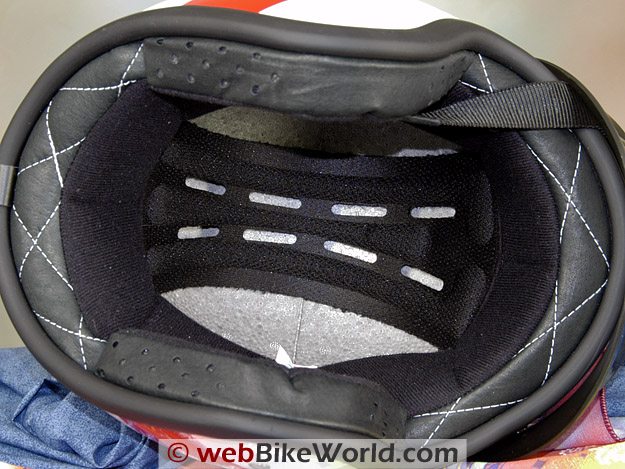 Believe it or not, the darn thing is actually pretty comfy too! I has a round-ish internal fit, with very big ear pockets that would probably be perfect for speakers.
The shell feels very firm/stiff, and it takes some stretching on this XL to get it over my earth-shaped noggin, but once it's on, it feels better than many other helmets I can name.
Sure, the padding is...well, it's more "authentic" than I'm used to, but check out the cross-stitched neck roll! Just like the old days...
The V2 has a modern D-ring with a snap to hold the loose end (how did we do that in the old days? I can't remember...).
And here's a feature that only the true blue real live (still living, that is) baby boomers will recognize. I'll bet no one under 40 will know what this is for (no fair, retro/vintage owners!):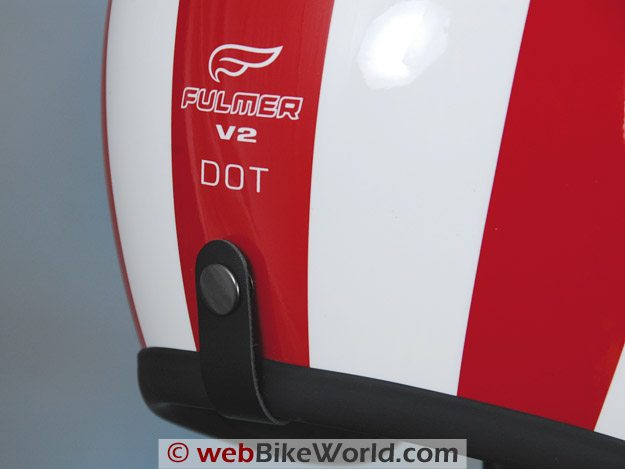 Do you know what this is for? I do...
The V2 in size XL weighs a feather-light 1118 grams (2 lbs., 7-3/8 oz.) and the close shell fit makes it feel more like you're wearing a yarmulke than a helmet, which can be rather liberating.
Ventilation? You got it. Visibility? Ditto. Especially with the brow visor only. You'll never see as much wearing a full-face helmet, that's for certain!
Conclusion
The Fulmer V2 is loads of fun. Maybe not for everyone, and sub-50-year-olds may not "get" it, but touring riders -- check out the V2 Bobber selection in your choice of pink (yep!), lime green, red, white and electric blue metalflake.
I think it would actually make a very nice -- and certainly a cool-looking -- touring helmet, with room for a nice set of speakers!
It's also available in a more modest matte black with the UK and USA flag, matte black with a big silver star and, of course, you can always fly your flag with the ultimate, the V2 Easy Rider! Enjoy!
w

BW

Review: Fulmer V2 "Easy Rider" Motorcycle Helmet
Manufacturer: Fulmer Helmets (dealer only)
List Price (2009): $115.95 (Unconfirmed)
Colors: Bobber in metalflake red, white, blue, green and pink. Matte black with stripe and UK or US flag. Easy Rider version.
Made In: Taiwan
Sizes: XS-2XL
Certifications: DOT only.
Review Date: April 2009
Note:
For informational use only. All material and photographs are Copyright © webWorld International, LLC since 2000. All rights reserved. See the webBikeWorld®
Site Info page
. Product specifications, features and details may change or differ from our descriptions. Always check before purchasing. Read the
Terms and Conditions
!
Please send comments to
---
From "C.D.C." (03/11): "Great article you wrote on the Fulmer Helmets. I purchased the V2 Easy Rider and its truly a gorgeous helmet, however there is a major negative draw-back which cant be debated on this great helmet.
The industry standard sizes do NOT correspond with their production, even after you get measured up by the distributors.
My head and helmet size is 7-3/8-Large and the Fulmer Helmets run two sizes smaller independent of your actual size contrary to all other industry helmets.
I had to return the helmet three times and exchanged it for 2X to get a size which still held too tight and quite uncomfortable to wear!!! This is quite unacceptable for safety issues.
Nonetheless, I kept the helmet and I know look at it instead of wearing it, as a remembrance of the good old drifting days..."
---
From "G" (4/10): "Picked up my 2nd Fulmer V2 Silver Sparkle today and I must say, while the helmets are very cool and retro, the quality and detail I come to expect from Fulmer is mediocre and vary from helmet to helmet.
The first silver sparkle helmet's goggle strap was installed crooked. On both the liner is tucked and seated sloppy, with unevenness all around. The clear coat appears to be very thin to where you can feel the small bumps of the sparkle.
I'm debating whether to bring back to exchange for 3rd helmet but I'm afraid to press my luck, knowing that it may have even worse quality, which was the case with this exchange.
I have an older '06 black V2 with the American flag and it has much better quality.
All in all I love the helmet for looks and comfort plus they can be found at a reasonable price ($70), making it a keeper in my book. Make sure you purchase at a location here you can exchange and be sure to inspect before bringing home."
---
From "M.S." (4/09): "I bought a helmet just like that back in the day. I found it at Kmart. I was barely sixteen at the time. It was also my first helmet.
The bike? Thought you' d never ask. Moto Guzzi Stornello 125 cc and I believe it made a whopping seven horsepower. My other gang members rode a 105 Atlas, and a 250 Ducati. Can anyone say Riverside?"
---
From "B.M." (4/09): "What did we do with the loose end of the chin strap? We used to tuck it back under the chin strap. It was a little uncomfortable but you got used to it.
One of the other things I used to like about the old helmets was the rounded metal 'D' rings. I seem to remember that they were easier to use than the new flat stamped 'D' rings."
---
From "M" (4/09): "Thanks for an awesome review. I'm 35 and I love the look of this, when I was a kid I had a black helmet with a bubble shield, and a pair of goggles my dad gave me for my B-DAY. Of course that helmet is long gone but the memories remain.
Thank you Fulmer for the V2, I got a metalflake red that goes killer with my Shadow Spirit, looking at this review I want a Captain America one as well, it just looks bad ass and speaks for itself.
I had to order out of Canada as local shops don't stock and were pulling the special order can't send back routine. Fulmer just needs to allow i-net sales period.
Wife is gonna kill me, yes dear it's another helmet."
---
From "S.L." (4/09): "Even though I'm 'only' 41, I remember the way cool helmets from the 60's and 70's (here in the South, people usually opted for the non-pc rebel flag variant, rather than the Captain America style).
I distinctly remember Grant helmets (Whatever happened to that company?) selling at the local K-mart. Kudos to Fulmer for making them available again.
I really dig the mirror finish bubble shields seen in your video. They manage to make the helmet look retro and futuristic at the same time!"
---
From "H.H." (4/09): "First off, that strap on the back is to secure your goggles' strap so you can't lose them! I bought two of these helmets - a metal flake red for me, pink metal flake for my g/f.
We use them when I ride my 2009 Harley Street Bob. The look is perfect.
What I have noticed is that like the previous poster mentioned, the d-rings on the chin strap can become uncomfortable digging into the side of your jaw.
The padding by your ears seems extremely light so I'm not sure how this passes DOT, unless all the DOT standard is to whack it on the very top of the helmet!
Fit seems variable. As in I tried on a small and a medium and they fit exactly the same! So either one was miss-labeled, or there is a quality control issue. The finish of the paint is fantastic.
I like the looks so much I want to pick up a gold metal flake one just to look at it!
A question about the bubble shield. How's that to ride with? Does it cause an echo? Does it distort vision? I'm currently using the optional Fulmer flat shield, which was $17 extra.
Kinda funny that this open face helmet cost me $124 with shield, while I also have a GMAX full face that came with 2 shields, an LED light on the back with spare batteries, a helmet bag AND a shield bag for $100!
Still, love the Fulmer.."
Editor's Reply (Updated): You got it on the goggle holder!! Confirmed with Fulmer, the V2 comes with a 'visor', not a shield. The bubble visor is the short brim. The bubble shields are an extra accessory.
The V2 works about like any other open-face helmet face shield: lots of air, lots of noise, distortion not too bad, I've looked through better and worse.
---
From "G" (4/09): "Excellent article and review. I'm glad you got around to reviewing a helmet of this type and style.
I recently purchased the American flag V2. I've been looking for a vintage helmet with DOT protection for quite some time because I did not care for the look of today's oversized astronaut looking helmets.
Here's my take on it after doing some recent weekend riding with it.
Pros:
The helmet is well very built, with high quality fit and finish.
The helmet is very light weight, simple, and minimal.
DOT protection without the huge mushroom head.
The glitter helmets are a definite throwback and stunning.
True to size.
Cons:
The strap that has the D-rings attached is somewhat short, placing the D-rings more to the side of your jaw than under your chin, causing discomfort.
The helmet is very noisy due to the minimal padding and insulation.
Surprisingly, no plain black gloss or flat black finish is offered.
Poor customer support. Your mileage may vary, but support had no helmet on hand to reference when I called in with questions regarding the D-rings position. I had to gather detailed images from the internet and compare for myself. They did offer to inspect, however.
Cannot order online. Only available through authorized dealers. Access and availability may be challenging.
Once you do find a dealer, not a lot carry this model, so it's hard to try on for size, which Fulmer prefers.
If you like the vintage looks with current materials and standards, this IS the helmet. The helmet is very retro and just plain cool. It doesn't get any more basic than this. I now want one in silver glitter. Perfect."