Davida Classic Jet
Davida Classic Jet Helmet Review
Also: Halcyon Mark 9 Deluxe Goggles Review
wBW Quick Look
by Rick K. and Bill C. for webBikeWorld.com
More:
In This Series:
▪ Davida Classic Jet
▪ Cromwell Spitfire
▪ Nexx X60 Ice and Vintage
Summary
A handcrafted timeless classic!
Background
The "retrofication" craze seems to have taken hold everywhere -- and the motorcycle industry is probably as infected as any.
At first I ignored this phenomena, thinking it was a fad. Then I begrudged it, thinking it was holding back the evolution of design.
After all, it's much harder to grab the future and drag it back to today than it is to simply modernize an already proven design from the past.
And at its worst, retro is only a cheap imitation and exploitation of our cherished memories.
But over time, I've at least been able to come to terms with the world's continuing infatuation with retro. Or, should I say, I've been able to finally somewhat justify it in my own mind.
At its best, the retro movement applies updated materials to timeless style. Why not take what was good and classic and proportional (a key factor in any classic design) and update it with today's technology? If it was good then, it can be better now.
This is perfectly illustrated by the Davida Classic Jet helmet. There's obviously a lot of retro in the entire Davida helmet line. But all of their helmets are much more than an imitation of classic British helmets of old.
Pick up the Classic Jet, handle it, study it and you'd probably think they've been popping these out of the factory the same way for the last 75 years or so.
I don't think that's true actually -- and Davida seems to be rather circumspect about the origins of the brand. No matter; this is the helmet for anyone wishing they still made them like they used to. They do, and here it is.
►
Davida Classic Jet Helmet Slide Show
◄
Bluetooth, Earbuds, Radios and More!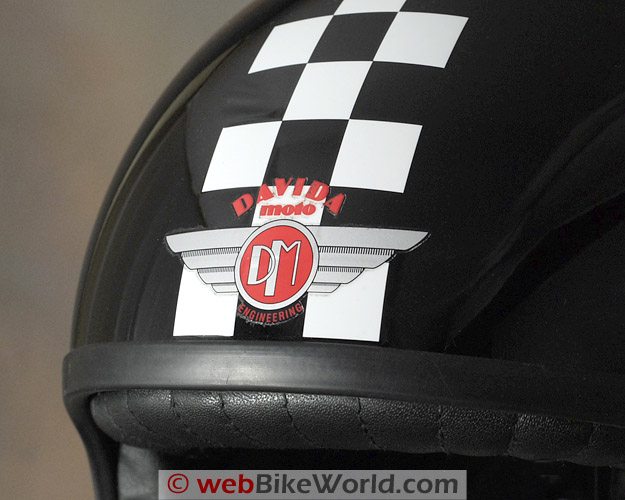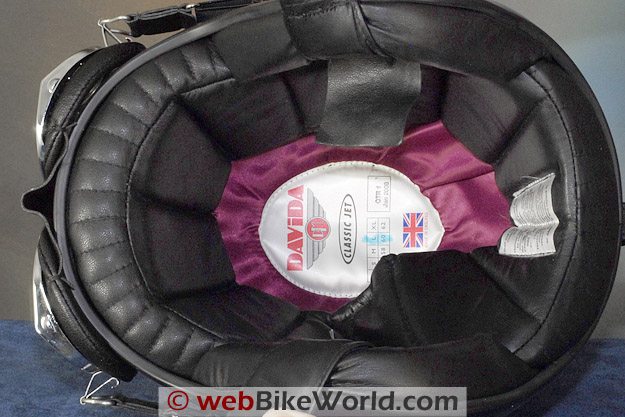 The Davida Classic Jet: Background
You'll pay for the privilege, no question, but you'll get a hand-made-in-England product that's really a work of art and almost a shame to wear for fear of scratches.
The Classic Jet has a hand-laid fiberglass composite shell, a hand-cut, padded, quilted and sewn interior, lined with real leather -- repeat: lined with real leather -- tufted and padded for your cranial pleasure. Just like they used to make 'em.
Looking inside this beauty is like peering into the past. I remember Grand-dad's favorite fedora, the strangely elegant but hardy wool with its silk lining and the white oval with the haberdasher's logo printed inside.
The crown fit my head like a 5-gallon bucket and I can still smell the cigars, Vitalis and whiskey. That smell was Grandpa.
The Davida interior is of the same era -- and it instantly dragged those memories deep from my subconscious. The Classic Jet's lining is ready and waiting to be imprinted with your very own scent mixture.
The part that gets me is the purply-pink silky lining above the leather sides, and the white oval under the crown.
If peering inside the Classic Jet isn't a mirror of 1930, I don't know what does. Too bad about the Velcro on the goggle strap holder though; why no brass snap?
But this is 2009, and the Classic Jet is ready to rock, with DOT approval no less. Do not keep this one on the shelf, although with its flawless hand-polished painted surface, the temptation is there.
Slap it on and top it off with the absolutely perfectly styled Halcyon goggles, made the same way they were when Thomas Edward Lawrence was but a wee tot.
Throw the leg over that Bonnie (the SE, of course!) and you're ready to ride through history. And by the way -- don't forget the Montana jacket!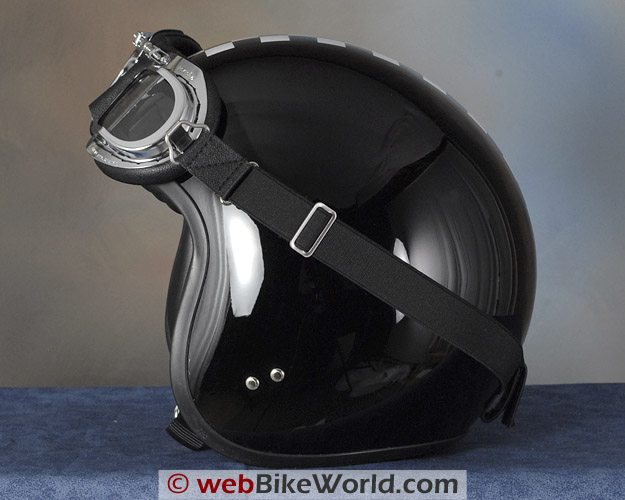 Halcyon Mark 9 Deluxe Goggles are made in England and a replica of those used by WWII RAF pilots.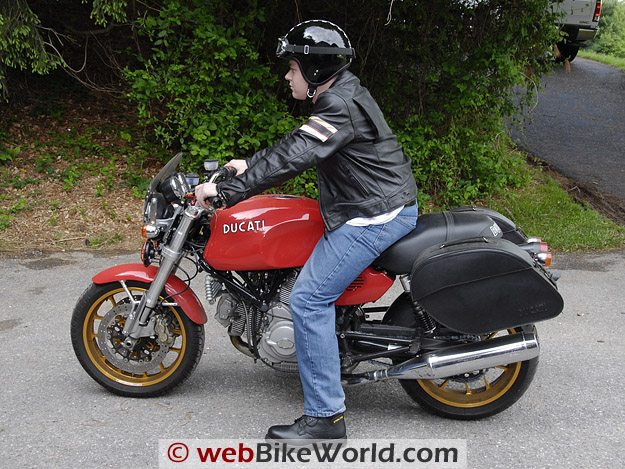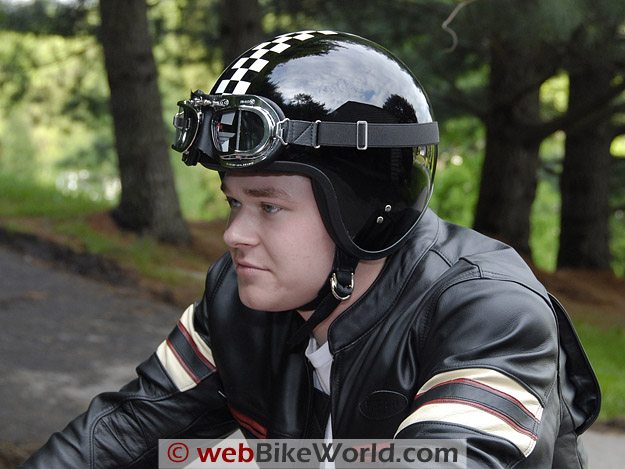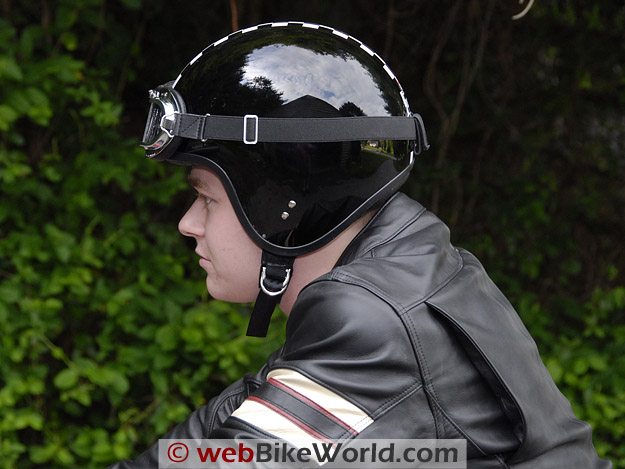 The Classic Jet
The Davida Classic Jet is the only Davida helmet to meet U.S. DOT helmet safety standards. It's currently available in 31 different colors and graphics and it will indeed be difficult to choose a favorite -- they're all that nice.
Davida also makes a similar helmet called the Jet, which meets ECE 22.05 safety standards. Another similar variant, called the Speedster, meets a couple of safety standards I'm not familiar with: SIS 882411 and DS 2124.1.
Davida says these are Nordic safety standards, so apparently the various standards are different enough (and sales volumes high enough) to warrant specific changes.
We don't review many open-face helmets on webBikeWorld, so it's difficult to describe the Classic Jet using our standard motorcycle helmet review format.
For example, discussions about noise levels and venting are pretty much a moot point, and I'll leave it up to you to decide how much protection you require from your helmet.
For reference, see the wBW Motorcycle Helmet Weights page for a complete listing of weights and shapes of the helmets reviewed on webBikeWorld.
What I can say is that the fit on this helmet, a size large, seems to be biased towards the long oval. It's a tight fit on my very round head, with some pressure along my temples, where I usually have the most trouble when fitting helmets.
But I'm an aberration -- out there under the six sigma tail. One out of 110+ helmets we've reviewed fits me. So I gave the helmet to Bill, who possesses a much more normal human head shape.
I could tell as soon as he popped it on that it was a perfect fit and I don't think he's taken it off since!
The hand-sewn leather lining travels about 3/4 of the way up into the helmet. It's thinly padded, making the Classic Jet very...authentic I guess is the word. Actually, if the internal shape fits correctly, it's pretty comfortable. Not Arai comfortable by any means, but like any helmet, if it fits, you'll know it.
Inside at the top lies the purply-silky lining around the crown, above the leather. The white oval up at the top also has some padding underneath.
The helmet also has surprisingly good (relatively speaking) ear pockets, but I can't imagine anyone installing an intercom on the Classic Jet. Although you may want to fit some discreet speakers to hear your favorite '50's tunes.
Even the chin strap is authentic, with no padding and a thin leather lining at each end. Authenticity means double D-rings and no snap to hold the loose end of the chin strap. You'll have to do it like we did it in the old days, by tucking it under.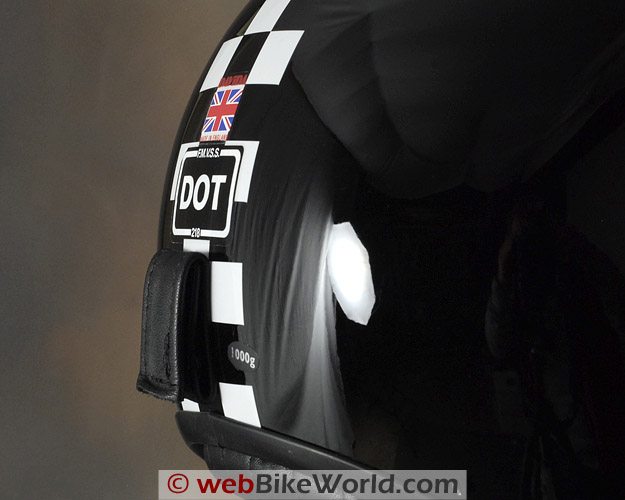 Goggle strap holder on the back of the Davida Classic Jet.
Fit and Finish
The fit and finish on this one is nearly perfect, with a highly polished black surface. It does seem to scratch just a bit easier than I'd like, but surely a heavier clear coat would ruin the authenticity.
It does have a thin layer of clear coat however, and the checkerboard design is a decal underneath.
The added-on DOT sticker looks out of place, but probably would be fairly easy to remove. The "Made in England" sticker is something too rarely seen today, so that stays.
This size large Classic Jet weighs only 984 grams (2 lbs., 2-3/4 oz.), so it's virtually unnoticeable on the head. Davida offers only one shell size for this helmet, with internal sizes ranging from XS to XL, so I assume the XS will have much thicker padding and the XL will be thinner.
Don't forget the Halcyon Mark 9 Deluxe goggles.
They're made in England, very authentic and de rigueur. The goggle strap holder on the back of the helmet is made from leather and uses a Velcro connector rather than a snap, but no one will know.
These are the same type of goggles worn by RAF pilots in WWII and bought in surplus shops by Rockers and café racers in the '50's, and they can even be fitted with prescription lenses.
Conclusion
The Davida Classic Jet is a real standout. Granted, it's probably more about show and style than function, but just take a look at the photos of our model on the GT1000 and you can see how well this helmet makes "The Look".
But don't forget, it does meet DOT standards, so it really can be worn for perfectly legal riding in all 50 U.S. states. Own a retro bike? You need this helmet!
w

BW

Review: Davida Classic Jet Motorcycle Helmet
Manufacturer: British Motorcycle Gear
List Price (2009): $359.00
Colors: Various colors and patterns.
Made In: England
Sizes: XS to XL
Homologation: DOT
Review Date: May 2009
Halcyon Mark 9 Deluxe Goggles: Made in England. Brass with chrome plating. Can accept prescription lenses.
Note:
For informational use only. All material and photographs are Copyright © webWorld International, LLC since 2000. All rights reserved. See the webBikeWorld®
Site Info page
. Product specifications, features and details may change or differ from our descriptions. Always check before purchasing. Read the
Terms and Conditions
!
Please send comments to
---
From "H.S." (November 2012): "WOW ! Finally decided to step up and buy a first class helmet and glad I did. It looks great with the retro theme and is light and quiet for an open face helmet.. I gave up my cruiser for a 900 scrambler and thus the protection of a windshield.
This helmet knocks the wind noise down to a comfortable level so goodbye to the earplugs. Still made in England and not contracted out to China."
---
From "M.S." (5/09): "I have two of this helmets, they are comfortable and have a very classic look to them. The craftsmanship is unmatched, the leather lining is awesome. The checkered pattern puts it over for me.
Nowadays I wear nothing but full face helmets but still have my two Davida's for a putt around the street.
Once again, great review."
---
From "S.L." (5/09): "My only real problem with the Jet is that it only comes in one shell size. While that might not be a problem with my XL melon, even Davida's sexy ad models can't dispel the thought that certain size heads/people may end up looking like an extra from 'Space Balls'."
---
From "P.C.C." (5/09): "I'm all for style and everything, but to review an open face helmet without mentioning the risks involved in forgoing facial protection seems a little silly.
If you fall off your pretty retro Ducati and scrape your face off on the tarmac, you will not be riding again anytime soon, and may be eating through a straw or a gastrostomy tube. Just ask Lauren Hutton."
Editor's Reply: I'm sure you know that we take safety very seriously at webBikeWorld, as you can see from our 100+ full-face helmet reviews and our focus on proper clothing, boots, gloves and rider visibility.
However, many riders wear open face helmets -- or no helmet at all. So the flip side of your point is that if some riders decide that the Davida is better than wearing no helmet at all, we've made some progress. My feeling is that some protection is 100% better than none..."