Cromwell Spitfire Motorcycle Helmet Review
Retro is IN!
by Bill C. (Words) and Rick K. for webBikeWorld.com
More:
▪ wBW Reviews Home
▪ Owner Comments (Below)
▪ wBW Motorcycle Helmet Reviews
In This Series:
▪ Davida Classic Jet
▪ Cromwell Spitfire
▪ Nexx X60 Ice and Vintage
Summary
Another beautifully done retro helmet with an interesting mixture of modern and classic styling touches.
Background
The Cromwell Spitfire is yet another color in the retro palette; this one is a perfect example of applying the retro design philosophy, because it is a very modern take on a very classic look.
Compare the Spitfire to the much more "authentic" style and construction of the Davida Classic Jet described in Part 1 of this series.
You will then see that the retro design movement has given us two different branches on the same tree.
Th Cromwell design is a wonderful blend of very modern materials and features, including real metal.
It's stainless steel, no less, combined with a modern polycarbonate composite shell and up-to-date liner materials and padding.
Yet it definitely is reminiscent of its roots: the '50's "Rocker" type short helmet.
There are simply no objective criteria that can help you to make a definitive choice among the three helmets in this series; they're all superlative, they really are, so it comes down to owner preferences and tastes.
My advice? Buy all three!
As with the Davida Classic Jet, we'll leave it up to you to determine the safety tradeoffs inherent in an open-face design. Note, however, that the Cromwell Spitfire meets ECE 22.05 safety standard for this helmet design.
In fact, the Spitfire excelled in those tests, which allow a maximum of 275 G's to be transferred in 1 millisecond.
The Spitfire's stainless steel apparently acts as a more gentle crush zone, and the helmet transferred "only" 150 G's, which is very good for a motorcycle helmet.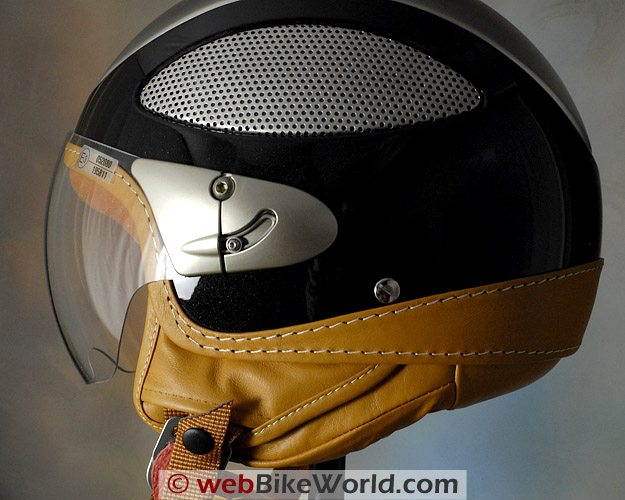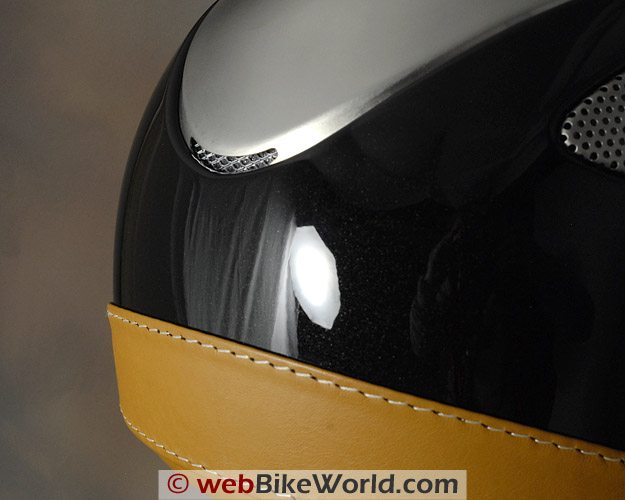 Details
Yes -- that's stainless steel you see along the top of the helmet, and perforated stainless steel or aluminum (hard to tell), looking very much like the venting system on a piece of electronic hardware, is used on the sides.
In actual use, the metal has a beautifully silky feel and superb finish.
The metal also seems to be more resistant to the minor scratches that can quickly show up on painted finishes.
Although my guess is that the stainless steel used on the Cromwell Spitfire helmet has a light clear coating of some type for protection.
So perhaps the manufacturers are missing something by not investigating the use of modern, lightweight and flexible steels in motorcycle helmets? Just don't get caught in a lightning storm!
The metal is used on the sides of the helmet also to hold the visor rotating mechanism.
At first glance, this device looks like massive overkill, but it's actually a simple and, I think, sturdy system that has the potential to last much longer than those cheap plastic visor rotators used on most full-face helmets.
Unfortunately, the Lexan visor doesn't quite rotate up far enough for my tastes; I'd like to see it travel about 30-40 mm farther back.
But that's a very minor point. By the way, the visor is also treated with an anti-fog coating, although I'm not sure why one would need that on an open-face design.
►
Cromwell Spitfire Slide Show
◄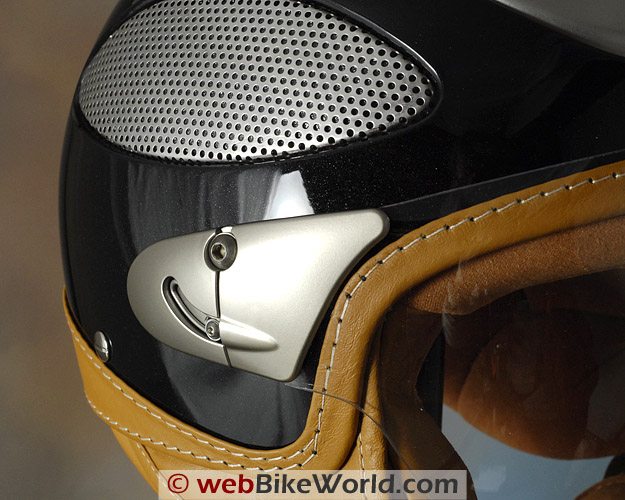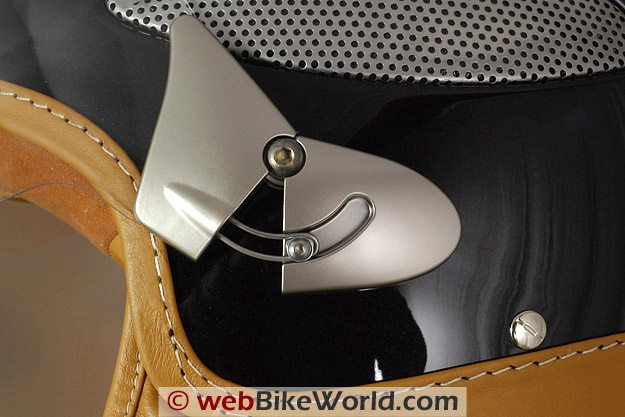 Bluetooth, Earbuds, Radios and More!
New Max?
I was also not able to determine whether or not a tinted visor is available for the Spitfire -- I think not, because I don't see one listed on either the Designer Helmets UK website, who sent this helmet for the review, or the New Max website.
New Max is an Italian company that apparently makes Cromwell Helmets and, it seems, also manufactures MOMO, Borsalino Helmets, Moschino Helmets and a brand for Ferrari.
The New Max website has very sparse information on what they actually do for a living, and there's no Cromwell Helmets website per se, so we had to piece together various threads of information to come up with some background.
One never knows nowadays if the history of a company is real or "made for TV" and companies change hands and merge faster than fruit flies multiply.
But Cromwell Helmets were claimed to have been originally developed by a company called "Helmets Limited" in 1924.
New Max says that the Cromwell name was a reference to Oliver Cromwell, "who chopped off the head of Charles I and was proclaimed Lord Protector on 16 December 1653".
Now my knowledge of British history comes solely from watching Errol Flynn in the 1938 film "The Adventures of Robin Hood" about 23 times.
But I do know one thing: naming a motorcycle helmet manufacturer after someone who chopped off some dude's head is probably not a good idea.
Anyway, Cromwell history is also supposed to include owners like T.E. Lawrence, referenced in our Davida Classic Jet review. Another claimed Cromwell owner was Sir Malcolm Campbell, who first broke the 300 MPH land speed record at Bonneville way back in 1935.
Whether or not these tales are true, this Cromwell Spitfire surely has as much in common with the helmets worn by those gentlemen as a Valencia orange does to a Fuji apple. No matter, the helmet's simply a darn good looker and built like a tank regardless.
Cromwell also makes several other similar helmet models, including the Mosquito and the Hurricane, obviously named for the famous RAF fighter planes of WWII.
The Spitfire however is the top-of-the-line in the Cromwell helmets hierarchy and is priced accordingly.
It's not quite clear in these photos, but the painted surface on this one is a beautiful deep black with an incredible and very even metalflake. The metalflake bits are uniform in size and make a wonderful finish.
The Spitfire is also available in a very nice dark "Jaguar Green"; an "Imperial Blue"; a dark gray and the black version shown here is also with black leather in place of the tan leather.
That's right: the bottom part of the Spitfire is very nice and supple tan-colored leather that is claimed to be treated to make it water-repellant and stain resistant. It is used as the gasket surrounding the helmet shell and, as you can see, fans out in the rear to give the helmet a nice proportion.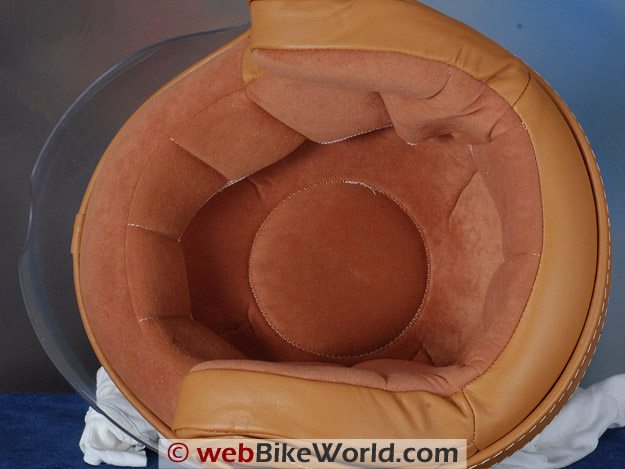 Liner and Shell
The liner material is very comfortable, feeling much like Arai-class fabric and the padding is thick.
The Spitfire has a very different fit than the Davida Classic Jet; it's biased very much towards the round shape, but I think there's enough snugness on the sides to make this one fit across a wide range of head shapes.
I can't confirm this, but I believe the Spitfire uses two shell sizes across the size range, which goes from XXS to XXL.
I just can't believe they'd try to fit one shell across so wide a range, because the XXS owner would truly look like the veritable astronaut.
The thick padding also does a very good job of keeping noise levels relatively low for this type of helmet. The Spitfire does sit slightly high on my head, due to the design, so that may take some getting used to.
The chin strap is extra long and uses a double D-ring, and the extra length can be secured up on the left-hand side with a snap.
For reference, see the wBW Motorcycle Helmet Weights page for a complete listing of weights and shapes of the helmets reviewed on webBikeWorld.
But the long strap means a big loop hanging out on the left side, which both looks slightly goofy and blows around too much in the wind, so I tuck it up under the chin as you can see in the photos.
One caution: the chin strap padding too easily slides off the chin strap, and it can and probably will immediately fall off the end of the strap as soon as the strap is released, so be careful.
I may add a stitch or two just to keep it in place in the center because I've already nearly lost the thing a couple of times, once on the street whilst I was first getting on the bike and putting on the helmet.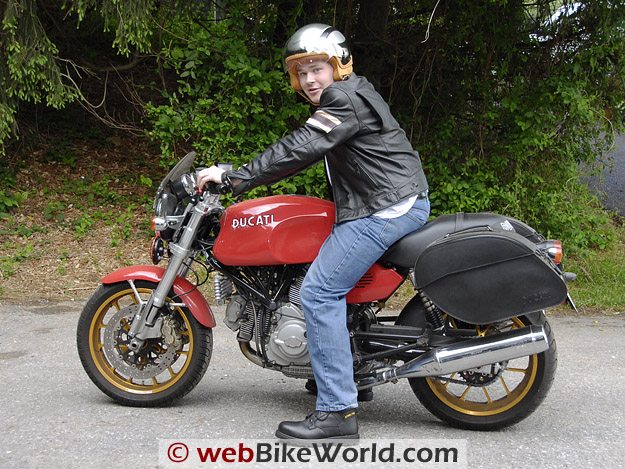 Perforations for Ventilation
The perforated metal is supposed to add ventilation, and you may notice the very slight raised surface at the front of the metal in the front top of the helmet.
But the liner is not vented, so there's not much air coming through, although this type of helmet design doesn't really need it anyway in my opinion.
Two other minor quirks are the absence of a goggle strap holder in the rear, and the helmet does not have ear pockets, so fitting speakers is probably not possible.
ADDENDUM: (This was inadvertently dropped from the original posting) The round internal shape of the Cromwell makes this Rick's favorite in this batch of retro helmets. The Spitfire is built like its namesake: tough but beautiful.
The aluminum apparently helps keep down the weight.
The Spitfire weighs the least of the three modern retro helmets at 1115 grams (2 lbs., 7-3/8 oz.), although helmets less than 1400 grams or so have a mass that is mostly negligible compared to most full-face helmets, so it's probably a moot point.
Conclusion
The Cromwell Spitfire is a stunningly beautiful design that so very nicely combines styling of the past with ultra-modern features and materials -- the classic definition of true retro in my mind.
This helmet is perfect for all Ducati SportClassic riders, along with Moto Guzzi Griso drivers and many others.
w

BW

Product Review: Cromwell "Spitfire" Motorcycle Helmet
Manufacturer: New Max Italy
List Price (2009): £249.00
Colors: Metal with black, blue, green, gray.
Made In: Unknown
Sizes: XXS-2XL
Certifications: ECE 22.05 only.
Review Date: May 2009
Note:
For informational use only. All material and photographs are Copyright © webWorld International, LLC since 2000. All rights reserved. See the webBikeWorld®
Site Info page
. Product specifications, features and details may change or differ from our descriptions. Always check before purchasing. Read the
Terms and Conditions
!
Please send comments to
---
From "G" (September 2013): "I can't remember the name of the shop, but on Westgate road in Newcastle-on-Tyne they do sell a black visor for the Cromwell Spitfire and it looks pretty mean when on.
This was a couple of years ago and I think they retailed between £40 and £50; not cheap but really finishes the lid off.
It's a top helmet and I've hit the deck in mine at some force to the metal mesh side and it only left a couple of dents to the mesh and I never felt a thing to my head -- my arm was another story!
We are off to ride the Big Sur in California on the 20th September and I'm taking my lid for sure.
I'll send a photo (below) of the helmet which took a hard bash from some height!! As i fell off a Suzuki DR 600 Djebel on a dieseled up bend at about 70 kmh in Spain on the way to work. Very little damage I thought! Really good honest review."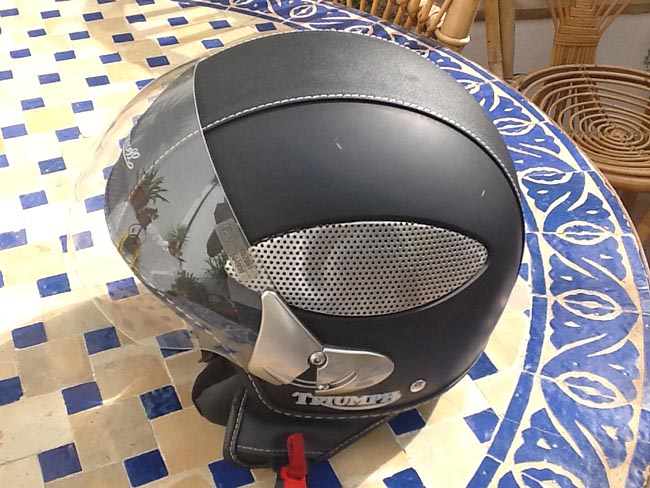 Very little damage for a hefty fall and didn't feel a thing to my nut! It was a direct hit to the deck from a height and no scraping just one big thud! Impressive helmet. I also use a Shoei full face and I'd like to of seen that on the same crash!
---
From "B.F." (October 2012): "After reading your review, I thought that with your endorsement, the risk of spending $500.00 each for an item may be limited, so I ordered two of these helmets.
The esthetics are very appealing, but the build quality of these helmets is shoddy. This leads one to wonder if poor workmanship is visible on the outside, then what else has been compromised, that isn't visible. Is this why there is no DOT designation?
(Editor's Note: Cromwell helmets are not sold in the U.S.A., which is why there is no DOT homologation.)
The clear wind screen is easily scratched. We have only worn these helmets three times. The wind screens do not lift up properly/fully, as the plastic washers on one side broke.(both helmets). I took the wind screens off.
If there were provisions to snap on a peak visor, then these helmets would be useable. Without a visor, or a windscreen, these expensive helmets are useless. Who cares if your ears are warm, when your face is getting ripped off in a rain storm?
The inside of my helmet was not properly tailored, exposing the inner foam. The glue used to adhere the lining to the foam does not work. Having a chin strap long enough to double a a "tow strap" may have limited uses.
The leather portions of the chinstraps was a good idea, but slipped off, and were gone after the first use. These helmets are long on appearance, and shallow on function."
---
From "N.M." (10/09): "Thanks mainly to your comprehensive review, I have decided to take the plunge and order a black/black leather Cromwell Spitfire helmet for buzzing about town on my vintage Lambretta.
I was further impressed to learn that Designer Helmets currently has an online sale and the cost of the lid has (temporarily I'd imagine!) dropped in price to £149 including postage within the UK… Happy days!
Thanks to Web Bike World for the informative review and to RW below for sharing his photos – it looks stunning with the smoke-tinted visor."
---
From "R.W." (UK) (7/09): R.W. send photos of his Cromwell Spitfire with the optional dark smoke visor: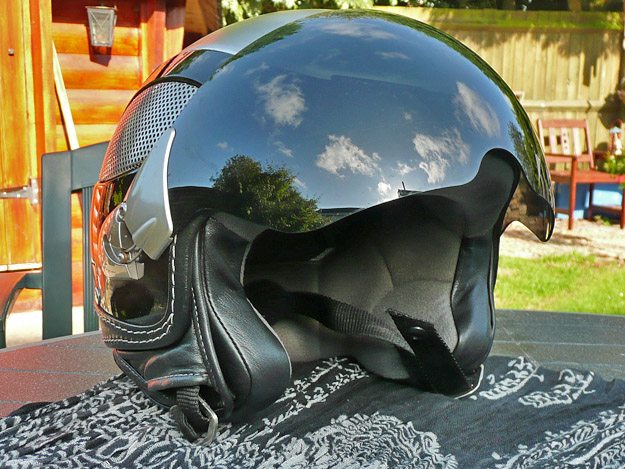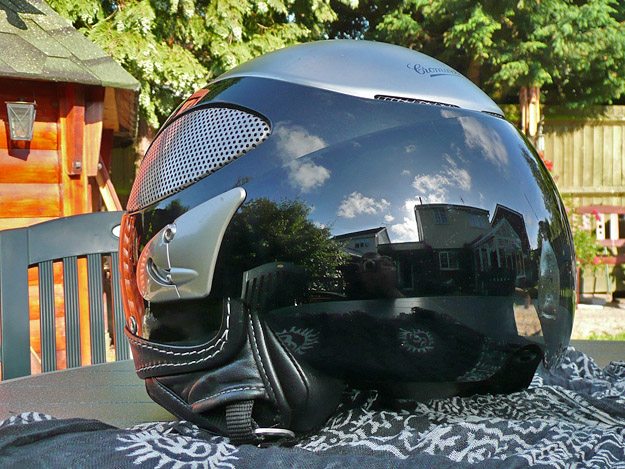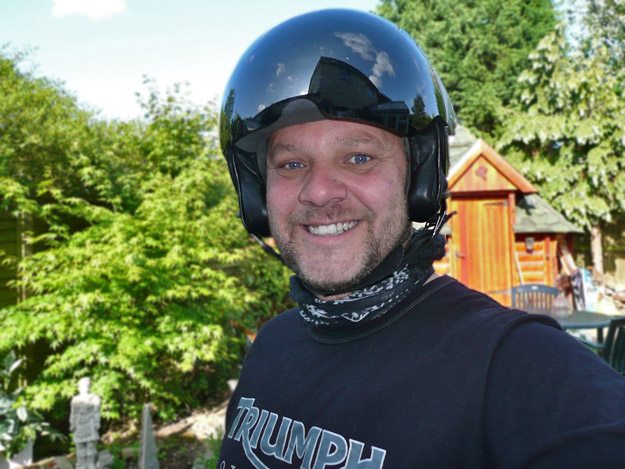 R.W. and his Cromwell Spitfire!
---
From "K.W." (5/09): "After two years ownership of my Cromwell Spitfire I can't say enough good things. Light, effective and if you like attention you'll get it.
I have never had so many requests for anything as I get about this helmet, "Where can I buy one?". Someone should be supplying these in the U.S.
At this year's Daytona Bike Week I actually had someone in a car follow me into Destination Daytona to take a picture (of me on the Rune wearing my Cromwell) and ask me about my helmet.
I wish I got as many comments about my custom Honda Rune as I do about this helmet when I'm wearing it.
As usual after reading your review of the Shark Evoline it's now what I wear when I'm not using the Cromwell."