Bell Zephyr Helmet Review
The Walmart Bell Helmet
by "Burn" for webBikeWorld.com
More:
▪ wBW Reviews Home
▪ Owner Comments (Below)
▪ wBW Motorcycle Helmet Reviews
Background
Go ahead and scoff, but I'm declaring the Bell Zephyr to be the Motorcycle Helmet Bargain of 2007.
A Zephyr review was originally suggested by a webBikeWorld visitor, and, I'll admit, I was skeptical. The helmet is primarily sold by Wal-Mart.
Wal-Mart? Motorcycle helmets?
But, we've tried 'em all, from the crude $79.99 Z1R ZRP-1 (which bears more than a passing resemblance to this Bell Zephyr) to the outrageously priced (and overweight) Schuberth S1, so why not the Zephyr?
Apparently, some Wal-Mart locations (and other retailers) stock the Bell Zephyr, but not my local store.
So I found this Zephyr online at the Wal-Mart website; during the ordering process, I discovered the free "Site to Store" shipping, which could theoretically save us about 7 bucks.
I should have spent the money.
Long story, but suffice it to say that when they tell you that you MUST bring the "internet receipt" to the store to pick up the helmet, they're not lying.
It took me two separate visits and probably a half-hour wait time in the store to finally convince them to let me buy the helmet.
And after all that, when I brought it up to the checkout, the scanner didn't read any of the half-dozen or so bar codes on the box.
Now you'd think that after all the zillions of dollars that Wal-Mart spends on inventory control, RFID, JIT, bar coding and the rest that they'd have this figured out? Yikes!
Anyway, I finally got the thing home, wrapped up in its weird plastic blister pack (see photo below) and tried it on.
Hey -- not bad for a 75-buck helmet!
The Zephyr seems very similar in shape to the Zox Azuma we reviewed not long ago, and it yet again confirms to us that Bell is turning out some pretty decent helmets for the price.
We've been impressed with the resurrected Bell name after trying the Bell Apex the Bell Sprint and even the Bell Mag-8.
One thing to note is that it seems that the Bell Zephyr is either being discontinued or possibly made just for Wal-Mart, because the available sizes on the Wal-Mart website seem to change quite frequently.
Last time I looked, only size large was listed, but the Zehphyr shown here is an XL, purchased only a few weeks ago. So if you want one, better act soon...although I have occasionally found the Zephyr for sale in a variety of sizes at other retailers.
OK, so what do you get for $77.73?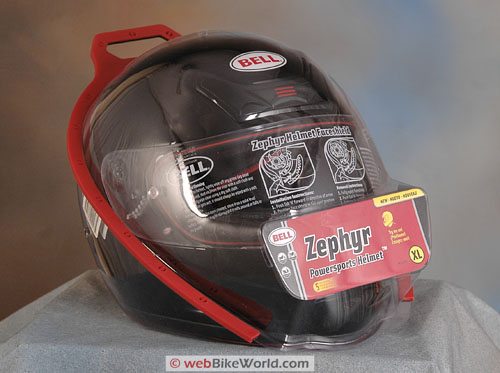 The Bell Zephyr is packaged in this strange-looking blister pack.
Paint, Graphics and Overall Quality
The Wal-Mart Bell Zephyr is available in any color you'd like, as long as it's black. Yep -- black -- probably the worst possible choice for a helmet color. Why not white? Who knows...
So plan on buying a handful of cheery or nasty decals -- your choice -- and go to town.
The helmet is just begging for it, and the shiny gloss black surface makes a pretty good canvas.
Not much else to say about it -- the finish is good, it's shiny but the color picks up lint, dust, dirt and scratches more than it should. That's not a fault of the helmet, just the color.
All told, it's a solid finish, especially for the price...a term you'll probably be hearing more than once during in this review.
I'd call the overall quality very reasonable and probably more like something found on a $150-$200 helmet rather than a $78 helmet.
Score: I'll give it a Very Good (See ratings description in the summary table below).
Helmet Weight
I'll assume that the Bell Zephyr shell is made from polycarbonate, which is normally heavier than Kevlar or carbon fiber composite. But the Zephyr weighs exactly the same as the same-size composite Bell Apex at 1620 grams (3 lbs., 9-1/8 oz.).
This is almost exactly at the median weight of all 74 helmets we've reviewed as of this writing, and it's actually in good company; only 4 grams lighter than the Arai Quantum II and 5 grams heavier than the recently reviewed Shark S 650, also with a polycarbonate shell.
See the wBW Motorcycle Helmet Weights page for a chart comparing the Zephyr with every other helmet in the webBikeWorld.com database.
The Zephyr feels relatively light when I'm riding and I don't notice the "mass effect" that sometimes happens when I turn my head quickly whilst wearing a heavy helmet.
Score: I'll give the Zephyr a Very Good rating for light weight in a size XL helmet.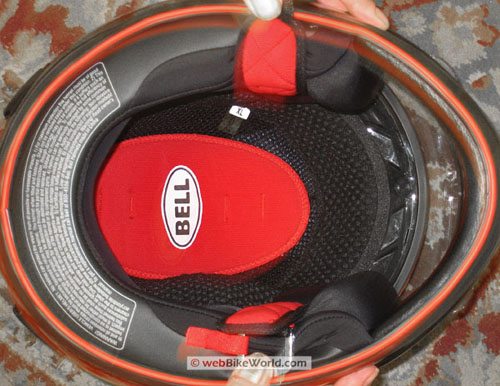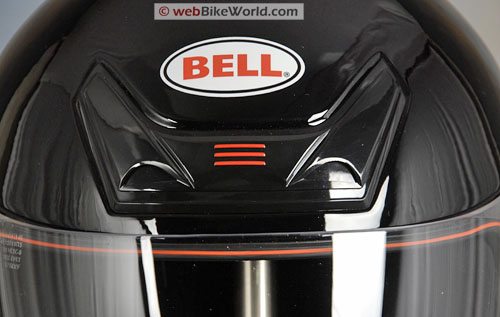 Top vent works well; red piping around eye port gasket is a nice touch.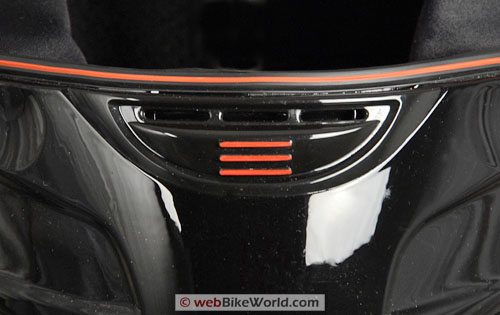 w
BW
Video: Bell Zephyr Helmet
Internal Shape
The Zephyr, like the Shark S 650 we recently reviewed, has an interesting fit that is not quite round and definitely biased towards the "intermediate oval" shape.
This is good news for many, because most helmets in this price range tend towards a "neutral" fit to satisfy the greatest number of potential owners.
But many visitors ask us about low-priced helmets that fit "long oval" or "intermediate oval" head shapes. If you're one of them, then the Zephyr may be just what the Doctor ordered.
I think the Zephyr fits true to size; that is, the XL fits just like I'd expect from an "intermediate oval" size XL, and it's about the perfect shape for my head.
The ear pockets on the Zephyr are deeper than the nearly non-existent pockets on the Shark S 650, but nevertheless, they are still shallower than most helmets.
So be aware that the shape gives the Zephyr more of an oval profile up top, above the ears and a slightly flat profile along the sides. Round-headed motorcyclists may find this to be uncomfortable.
The liner is removable (Note: This is a correction from our previous posting; see the Comments section below for more information from Bell Powersports). It's made from some type of fairly comfortable fabric of decent quality.
The Wal-Mart website claims that the fabric is washable. There's enough padding around the inside, so I don't feel any sharp edges.
See the wBW Motorcycle Helmet FAQ page for more information on fitting a motorcycle helmet and a discussion on head shapes.
Score: I'll give the Zephyr a Very Good for fit and trueness of size.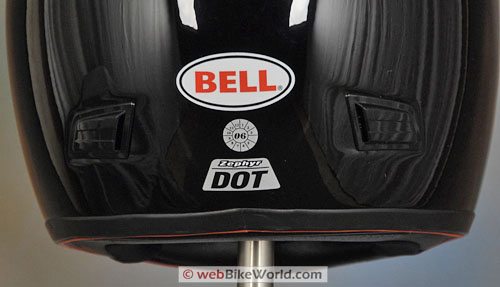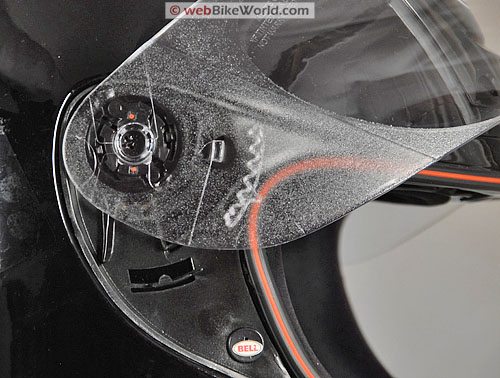 Face Shield
The Zephyr's face shield isn't bad, actually. It seems reasonably stout and it has 7 detents to hold it in various positions as it's raised or lowered.
Although the detents aren't as tight as some, they work reasonably well to hold the face shield in place.
And here's a bonus, not found on any helmet I can think of:
The face shield has tabs on both the left and right sides, along with slight depressions molded into the helmet shell, which means that it can be easily raised or lowered with either the left or right hand.
I'm not sure why or when a motorcyclist would use the right throttle hand to raise a face shield, so this feature must be designed for ATV or snowmobile riders.
In fact, I have seen the Zephyr listed as an ATV helmet, so there you have it (Editor's Note: Visitors have reminded us that this feature comes in handy when stopped at a light with the left hand on the clutch!).
The face shield is relatively easy to remove. After it's raised to its topmost position, a lever is pulled forward and the face shield pops out of the side. This is illustrated in the wBW Video Tour of the Bell Zephyr helmet below.
The face shield is 2 mm thick and replacement shields are available in a variety of tints. The clear visor that comes with the helmet seems to be free of distortion.
Note that the eye port is slightly smaller than normal, probably due to what seems like an older style shell shape.
The top-to-bottom visibility is average, while the side-to-side visibility is slightly less than normal, in my opinion, due to the way the shell is cut at the sides.
But this is a very minor issue and does not bother me in normal riding.
Score: I rate the face shield, face shield clarity, operation and removal/replacement as Good.
Noise Levels
I'm pleased to say that I think the Bell Zephyr is actually pretty quiet, especially for a helmet at this price.
There's some wind rushing noise, but I think lower than average noise along the bottom of the helmet, which is usually affected by turbulence from a windscreen.
I notice no "whistling" noise from the top vents, which is actually surprising, because some very expensive helmets have that problem.
Certainly the Zephyr isn't the quietest helmet I've ever worn, but it's really not bad and, I'd say, quieter than most.
Note that we always wear correctly fitted, high quality earplugs and an extra helmet liner when riding, and we strongly recommend that you always wear hearing protection also.
See the wBW Earplugs and Hearing Protection page for more information on choosing and wearing earplugs.
Note also that your experience with this helmet's noise levels may be different, depending upon many factors, including your head shape and the way the helmet fits; motorcycle configuration; prevailing winds and more.
Score: I'll give the Zephyr a Very Good rating for noise control.
Ventilation
Here's another surprise; the basic chin vent and top vent on the Zephyr work well and actually flow a decent volume of air. In fact, I'll say that the top vent probably flows more air than many other helmets I can think of whose vents are basically useless.
The only caveat is that the "ovalish" shape up top does mean that the helmet has a bit more room up there for me than a round shaped helmet would have, which probably gives the air more room to flow along the top of my head.
Nevertheless, the vent mechanisms work well and, another surprise, the back of the chin bar includes two holes to vent air from the chin vent on to the rider's face.
These are missing from many, many helmets, no matter the price, and they are a welcome surprise on the Zephyr.
The rest of the air from the chin vent is directed up in back of the face shield. A small breath guard is included with the helmet, but it curves back and touches my nose, so I removed it and it is not shown in these photos.
Score: I rate the Bell Zephyr as Excellent for venting, quality of the vents and air flow.
Miscellaneous
The Bell Zephyr meets U.S. DOT approval only, according to the labeling.
The Zephyr has a "D"-ring attachment chin strap system and the strap does not have a snap to keep the loose end secure.
Instead there's an elastic band around the opposite strap (the end with the "D"-rings) to hold the loose end. The loose end seems about 2"-3" longer than normal.
Conclusion
Motorcyclists are as varied as the bikes they ride, and each has his or her own criteria when it comes to helmets. All I can say is that I have been pleasantly surprised by the Bell Zephyr.
It's not my first choice for a motorcycle helmet but given an objective evaluation, I have to say that it has no bad vices and will probably serve many riders well, especially those who can not or will not pay the high prices necessary to get an "intermediate oval" internal shape from other helmet manufacturers.
Just take my advice and pay the extra few bucks to have it delivered directly to your home! Or better yet, use our RevZilla links below and help support webBikeWorld with your purchase!
w

BW

Review: Bell Zephyr Helmet
Manufacturer: Bell Powersports
List Price (2007): $77.79
Colors: Gloss Black
Made In: China
Sizes: S-XL
Review Date: August 2007
Note:
For informational use only. All material and photographs are Copyright © webWorld International, LLC since 2000. All rights reserved. See the webBikeWorld®
Site Info page
. Product specifications, features and details may change or differ from our descriptions. Always check before purchasing. Read the
Terms and Conditions
!
Please send comments to
---
Please send comments to
---
From "C.K.R." (10/10): "After reading review and comments on webBikeWorld, I put this helmet on short-list for my first full face.
Found it (for a) total price 36 bucks including shipping. Figured worse case I could wear it for 20 mile one way to work. It came (new in box) with helmet bag and breath guard.
First impression: not bad as to fit and finish. All hardware solid and function as intended. Cheek pads easily removed, chin and top vents easily accessed and opened and closed with solid clicks. Visor detents worked and plenty enough for adjustments.
Pros: After living with it for 3 months - still would buy it again. Have made several long rides -- 300 plus miles behind full fairing and decently quiet (with and without earplugs) -- just mid-frequency wind noise and slight buffeting.
Vents seem to work as doesn't get to hot (wear a helmet liner). Bought XL size and it fits tight (but not uncomfortable) now after 3 months is better fit. Weight not a problem. Neck roll well fitted.
Major items: Removable cheek pads, visor adjustments, vents - work well
Cons: Visor flimsy and there are gaps between visor and face opening gasket where pivot point is. This is source of most noise, when I was riding with a shorty windscreen during summer the noise increased and was annoying even with earplugs.
But if this could be rectified the noise diminishes considerably (almost equal to riding behind the OEM windscreen).
I know this because when I lowered the visor and was pushing the visor against the face opening gasket it greatly reduced the noise. I will try to find kind of foam with sticky side to see if I can fix this on my own.
The fabric loop around the D-rings that is used to help loosen chin strap came off after a week - really cheaply made.
Sometimes wind buffeting will jiggle the top vent when its open and you can hear it clicking.
Overall assessment: Great value in an everyday helmet for short or long rides."
---
From "S.K." (2/09): "I have a Bell Zephyr helmet in silver my wife has a white one with red graphics and we have a black one for my grandson. All bought at our local Wal-Mart. Not all Wal-Mart's handle them. I think they are great helmets.
Only complaint, Wal-Mart used to handle replacement shields but don't anymore. I would like a tinted shield."
---
From "J.H." (12/08): "I purchased my Bell Zephyr helmet from the WalMart in Rocky Mount NC about one month ago. I had previously worn a half helmet but got tired of a freezing face on my early morning rides.
I have not worn a full face helmet in many years, so I read the review on wBW and searched for a nearby WalMart for a Zephyr.
It took me a few days to get use to the full face. The face pads were a bit stiff and seemed to press on my cheeks too much, but after a few days of wear the pads began to form to my face and are now very comfortable.
I rate this helmet 8 out of 10. If I could have gotten one in white instead of black I would give it an extra point.
I would recommend this helmet to anyone looking a good quality, low cost helmet.
Initially I planned on buying a modular (flip up) helmet but actually liked the Bell better than the other higher priced helmets, as the padding was more comfortable and there were no pressure points as I had on the HJC, Fuller and Shoei brands. Quite a deal for 80$."
---
From "D.S." "I just purchased the Bell Zephyr and really like the fit and finish of the helmet AND the fact that it is black with a little bit of red…my bike's color scheme. I do have a one gripe though.
On both sides of the shield there is a section where the shield is frosted. This really hinders my ability to look over my shoulder when changing lanes if the shield is lifted up a notch or two."
---
From "D.D.": "I love it, fits great, light, visually equivalent to other helmets…I couldn't believe it was so cheap! It got good ratings…well done!
I am waiting for the Reevu helmet to meet DOT standards…so the money I saved will got to buying one of those bad boys later!!"
---
From "D.M.": "I bought mine about 18 months ago at a Super-Wal-Mart in O'Fallon, Missouri. They had white, black, silver, and white with graphics. Also multiple sizes. I have also seen them on EBay recently selling for about $25-$50 still in the packaging.

I've had good luck with it and nobody believes that I only paid about $90 for it.

I highly recommend it."
---
From "G.K.": "Another siting! I found several of these at my local Wal-Mart in Hammond, Louisiana. They had XS all the way up to XL. They also had White available, with a red and grey flame-like decal.
I believe they were going for $84, and the extra visors were in the $15-$20 range, un-tinted and tinted, respectively.
My old Bell Pro-Star has seen better days, and I was so impressed with the fit (a snug, but comfortable Medium) I will be picking one up soon. I'm a definite long-oval, traditional fit, and am scared to buy online without trying on first.
Glad I found one local, and the plastic is open on the bottom of the package so you can try it on!
---
From "T.D.": "Hello, my name is Travis D. from Morganton N.C. I am writing as to the review of the Zephyr helmet on your site. I got lucky and found my helmet at the Super Wal-Mart in Forest City N.C. Lucky because I found a SILVER XL! The helmet as far as I am concerned is an excellent choice for the price.
They also had a tinted visor available which I purchased as well. Together it makes a nice looking package.
I think your review was very informative and accurate. But the bubble pack will throw you off a little but don't let it. For the money you will not go wrong!"
---
From "Dave H. of Bell Powersports: "Howdy, as the product manager responsible for its performance, I enjoyed reading your recent review of the Zephyr. I always learn something reading your reviews and this was no exception.
Here's a few points of clarification you could share with your readers should you find them important from your perspective:
The liner is removable as are the cheek pads. To remove it, reach under the neck collar and pull the lower rear edge - it'll come out just fine. It's all washable by the way. The cheek pads snap in
The exterior shape of the 2nd generation model you tested is pretty straightforward - we just tried to make it clean, and the vent and visor feel solid and consistent while riding. Many vents in the market feel too light - jewel like in store, but then when you're rolling down the road with gloves on you can't tell whether their open closed or if you're even touching them.
On this model we focused our efforts on the interior where we felt like we could improve the helmet feel the most.
There are several reasons it might feel like the vents are more functional and hopefully more comfortable in all conditions:
When you remove the liner one will be obvious - there's a bright blue T-strip of a Drylex-like foam lining the interior that allows the helmet to loft off the rider's head a bit more, while connecting the front and rear vents. I think this gives a bit more room inside too - since we only can offer 4 sizes in this retail channel.
There is no interior warning label - we print it on the cuff.
There is a fully perforated liner and very little to no glue layers in the cheek pads or crown pad. We punched the cheek pads to allow the air to flow through. Glue can be a bit heavy too…
Your riders' comments are correct about the visor tabs. I had been frustrated by left-only visor tabs when approaching or leaving lights, or simply waiting by the side of the road for a fellow rider with only my right hand free so went with symmetrical on this one.
It's not traditional but it does keep your hands out of your face.
Wal-Mart only carries our Zephyr helmets in a selection of stores; roughly 1000. It's my understanding that their .com carries only a small selection of the best selling sizes and colors of items hence your limited selection shopping experience.
For a broader selection, stores are the best bet. There are other color/graphic options available in store.
Why black? It sells the best by far. I don't understand it either, but there it is. We do also offer a nice medium silver option.
We are in the process of rolling out our 3rd generation Zephyr (completely new exterior shape with several internal changes as well) and you should find them in stores very soon if not now.
The 3rd generation clamshell packages will be recyclable too. If you do ride with it I'd welcome your thoughts even it you don't post a review.
When you create new products for a living, having others stoked on your product is very rewarding. I'm glad it was a positive experience!
Rubber down, helmet up!"
---
From "T.B.": "That was a very interesting review for the Bell Zephyr. I have been looking for a good, inexpensive backup helmet as well as an extra for the unprecedented occasion for when my wife might let me take her for a ride.
Anyway, I just wanted to toss you a reason for a motorcyclist and a visor lift tab on the right side.
When I'm at a stoplight with my left hand holding the clutch open and my visor starts to fog, I have to either kick in to neutral or reach across my face with my right hand and try to lift the strong first detent on my X-11. It is a big distraction for me, especial when watching out for other folks doing crazy things.
Also when my visor is open, I prefer to shut it before I get rolling, but with the tab on the other side, I have to wait until the clutch is out in first or second gear.
I wish there were a lift tabs on both sides as the norm. Thanks for all you great reviews. They really help in finding the great gear and products."
---
From "B.M.": "I agree with your evaluation of the Zephyr regarding the quality of fit, etc. However, there is one caveat for those of us who wear glasses. Unlike my Shoei, there is no "slot" in the cheek padding to make it easy to slide your glasses on after putting on the helmet.
BTW, I found my Zephyr at the discount store Tuesday Morning. As you said, limited colors, pearl white and red graphics and limited sizing, SM and MD. But the best part was the price, $29.99. For that price I can live with a few inconveniences, and fortunately for me I wear a medium."