Bell Apex Helmet Review
Bell Apex Helmet Review
by Bill C. for webBikeWorld.com
More:
▪ wBW Reviews Home
▪ Owner Comments (Below)
▪ wBW Motorcycle Helmet Reviews
Summary
The Bell Apex is made with very high quality, it has a comfortable liner, good air flow on the chin but weak up top.
The helmet also meets the U.S. DOT standard and it is Snell certified.
Introduction
Like the proverbial Phoenix, Bell Helmets rose from the ashes a few years ago.
If they keep making helmets like the Apex, the Sprint and the Mag-8, it's a sure bet that the new Bell will last another 500 years, just like the legendary bird.
We're very fond of our Mag-8 and so are many of you, based on the feedback we've received.
And the Sprint is a very nice helmet, held back only by its tendency to transmit too much noise for our sensitive ears.
Our positive experience with those Bell products led us to the new Bell Apex, which now holds top billing in the Bell Powersports evolving lineup.
Bell says the Apex is designed for street, sport touring, scooter and snowmobile use and it's "acceptable" for cruiser owners.
I'm not sure what they mean by "acceptable" -- don't cruiser owners wear full-face helmets too? In any case, the Apex is a good choice for any street use I can think of.
With so many helmets fighting for space on the dealers' shelves, what makes the Apex special?
There's no one single feature that really stands out unless it's the love-it-or-hate-it Yakuza graphics shown here.
If you're in the latter category, don't worry, because Bell makes the Apex in a wide variety of colors and other graphic designs.
But the bottom line on the Apex is it's a decent, all-around helmet with oh-so-close quality, aggressive pricing and a five-year warranty.
And by the way, did I mention that the Apex is both Snell M2005 certified and meets the DOT FMVSS 218 standard?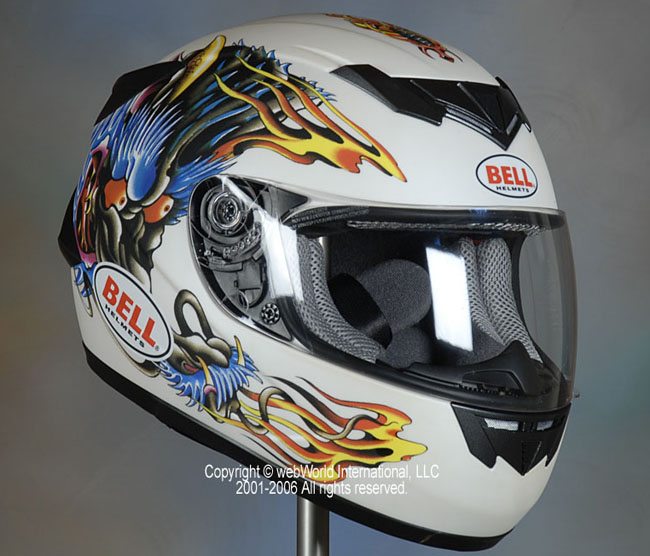 Helmet Weight
The Bell Apex shell is made from a Kevlar composite, which promises light weight. At 1620 grams (3 lbs., 9-1/8 oz.), our size XL Apex is almost smack on the median of 1610 grams for the 53 helmets we've reviewed so far on webBikeWorld.com.
So other than bragging rights, the Kevlar shell doesn't endow the Apex with featherweight status, but who knows how hefty it might have been if it was made from, say, polycarbonate?
The shell does seem smaller than some other helmets of the same size, which gives the rider a sense that there's not this huge pendulum on the noggin.
The weight is well distributed, and this, combined with the comfortable liner, helps make the helmet an all-day rider.
See the wBW Motorcycle Helmet Weights page for a chart comparing the Apex with every other helmet in the webBikeWorld.com database.
Internal Shape
The Apex has one of those hard-to-define "neutral" shapes which tend towards round up top and slightly snug on the sides. I find the shape to be nearly perfect for me, but based on our example, I'm guessing that the Apex runs about 1/2 size small.
We've noticed this on several helmets recently, and I don't think my head is swelling (although some will disagree) and my hair is as short as it ever was.
So I'm not sure what's up with motorcycle helmet sizing, which seems to be creeping downwards.
The Apex is designed to fit a wide variety of head shapes, but my feeling is that it will fit round shaped heads best.
The fit is nearly identical to the Bell Sprint, if that's any help, but not as "round" as the Shoei RF-1000 or Arai Quantum II. See the wBW Motorcycle Helmet FAQ page for more information on fitting a motorcycle helmet and a discussion on head shapes.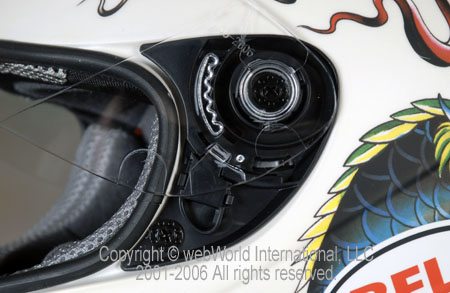 Face Shield
The face shield on the Apex seems more robust than the somewhat flimsy face shield on the Bell Sprint. It does seem like it's made from thicker material than the face shield on the Bell Sprint, but I haven't broken out the micrometer to test this theory.
The face shield on the Apex does not flex like some others we've tried.
The Apex face shield uses Bell's variant on the sort-of-an-industry-standard quick release removal system. In this case, move the face shield up to the third of its four raised positions, pull down on the "D" ring and the face shield pops off.
Well, maybe it does take just a touch with the other hand to help it along, but it's easy to use and seems like a positive catch that hasn't failed us yet.
It's one of the simplest face shield removal systems around and it works, especially compared to the always-frustrating and seemingly old-fashioned Arai system.
Noise Levels
The only issue we really had with the Sprint was its propensity to transmit high noise levels to the rider.
The Apex is way better in this regard, with one exception that I think is a quirk that is apparent only on our Apex and only when riding on a motorcycle with a short windscreen, like our '98 Tiger.
The lower right-hand side of our Apex generates a high-pitched whistling noise that is caused by the turbulence coming off the Tiger's short windscreen, which dumps air right along the bottom of the helmet shell.
The noise is only apparent on the right side for some reason. But the Apex seems very quiet otherwise, and especially when I'm riding an unfaired bike.
Some of the noise reduction may be due to the snug-fitting liner and its near-perfect fit to my head, which helps to seal out the noise.
The Apex also comes with a built-in chin air curtain and I think this helps keep overall noise levels low.
Note that we always wear correctly fitted, high quality earplugs and an extra helmet liner when riding, and we strongly recommend that you always wear hearing protection also.
See the wBW Earplugs and Hearing Protection page for more information on choosing and wearing earplugs.
Note also that your experience with this helmet's noise levels may be different, depending upon many factors, including your head shape, motorcycle configuration, prevailing winds and more.
Venting and Air Flow
Noise can also be caused by air rushing over, through or around helmet vents, and the low perceived noise levels in the Apex may be due to the lack of any direct path for the air to flow into the liner and on to the rider's head.
The top vent on the helmet has a well-made sliding plastic cover, which exposes two very narrow and very small air vents, both covered with fine mesh screen.
Unfortunately, any air that enters these vents goes I-know-not-where, disappearing into the top of the helmet between the liner and the EPS foam.
The beautiful-looking liner doesn't have any holes, channels or mesh that I can see, so there's not much ventilation up there but also not much noise!
In contrast, the chin vent on the Bell Apex works very nicely. It has a matching sliding plastic cover which seems sturdy enough.
It's pulled down to expose two screen mesh covered vents, which direct air on to the rider's face through two holes and a rectangular-shaped opening directly in the chin bar.
This is good news, because without the air flowing through the chin I think the Apex wouldn't have much cooling power at all. And it's also a real plus, because even some very expensive helmets don't have a direct channel that allows air to flow on to the rider's face.
I have become very partial to helmets with this feature that provides a direct path for the air to flow on to my face and I'm very disappointed when this is missing.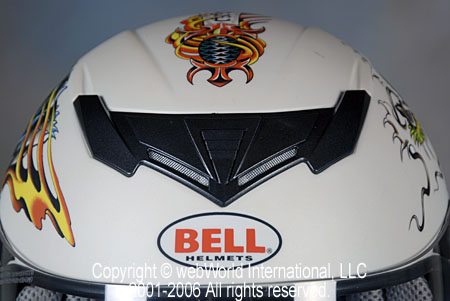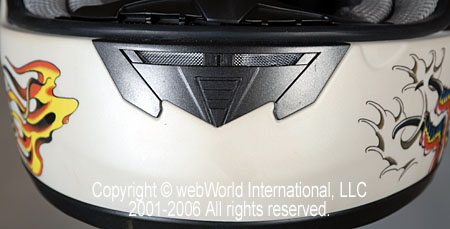 Paint, Graphics and Overall Quality
Say what you will about the "Yakuza" graphic shown here, but one thing's for sure -- it certainly stands out in a crowd. We chose this pattern because it's so different than anything else we've seen.
I think the photos came out pretty close to the way it appears in real life, thanks to our new Nikon D200 camera, which does a fantastic job at capturing true color. Here's a photo of the Bell Apex in all of its Yakuza glory!
The Yakuza (and some of the other interesting Bell Apex graphics) has an interesting surface finish and feel. It's a matte finish that feels rubbery, silky and smooth at the same time.
It also has a very subtle sort-of-pearl ivory finish that doesn't show in the photos but adds some depth to the white area of the design.
The graphic, although beaucoup wild 'n' crazy, is very nicely applied and the helmet has excellent quality. The liner is especially nice to behold, it's very handsome with its shades of gray fabric and their red contrasting stitching.
Based on the three Bell helmets now residing in the webBikeWorld.com stables, Bell quality seems to be very good and getting better and the Apex seems about as well made as any helmet we've tried recently.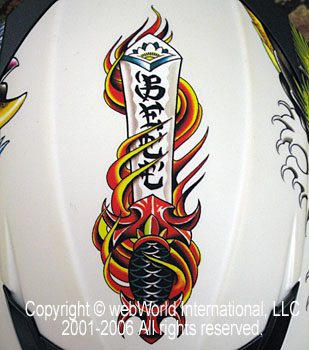 Miscellaneous
The Bell Sprint meets both U.S. DOT and Snell approval. Bell offers a five-year warranty on the helmet, which is commendable. The Apex uses our preferred D-ring attachment system and the strap includes a snap that keeps the loose end secure.
The strap does seem slightly wider than normal, which feels comfortable at first but may be just a touch too wide to fit some necks; Rick complained about it rubbing on his throat.
By the way, our Apex had an overpowering "new helmet smell" just like cheap bar of soap. I left it in the garage for a few days with the face shield open to air it out.
Also, the helmet came with a helmet bag and another separate carrying bag that is thickly padded and has a zipper and handles. I'm not sure if Bell includes this with the helmet or if it was a bonus added by the retailer.
Conclusion
Although the jury's still out on the Yakuza graphics, the Apex is available in a wide variety of other colors and patterns.
It's a very nice helmet that seems like it's been made with care and attention to detail. It has one of the more comfortable liners (if it fits your head shape correctly) and flows lots of air through the chin. It's also available in XXXL, which is one size larger than usual.
If it only had better air flow up top it might be in our Top 5 list, but I think the lack of air flow also contributes to the low noise levels, which is actually a welcome tradeoff as far as I'm concerned.
w

BW

Review: Bell Apex Helmet
Manufacturer: Micatech
List Price (2006): $189.95 - 209.95
Colors: Various solids and graphics.
Made In: China
Sizes: XS to XXXL
Review Date: August 2006
Note:
For informational use only. All material and photographs are Copyright © webWorld International, LLC since 2000. All rights reserved. See the webBikeWorld®
Site Info page
. Product specifications, features and details may change or differ from our descriptions. Always check before purchasing. Read the
Terms and Conditions
!
Please send comments to
---
From "P.B." (March 2010): "You guys were right. I got the XL helmet and it fits like a large. I shoulda got the XXL.
I like to get a bigger helmet so I can put my hoodie on when its cold. So I have a cold weather helmet and a hot helmet. So now I know get the XXL for the Bell. The Vemar fits just as advertised. You guys are great! Keep up the good work!"
Follow-up from P.B.: " I did my first track day this year at Button Willow, California.
I wore my new Bell Apex helmet there with the Dark Smoke tinted face shield. I had no problems with the helmet at all. The liner wicked up any sweat that I had. It wasn't really a hot day and the airflow was perfect for me.
This helmet has good aerodynamics, I hit maybe 130 down the front straight and my head didn't blow around at all.
We were doing 30 minute sessions. I didn't even notice I was wearing the thing at all. Great helmet.
The only problem I did have was the new tinted visor I purchased. The bottom of the visor started peeling as if the visor was a few years old. It was like the tint was peeling off the shield.
It doesn't hinder my vision because it was at the bottom of the visor. But for it to start peeling after one trackday is pretty lousy. But optically it is great!
I am going to Sears Raceway in a few weeks and will give you another report."
---
From "S.M." (April 2009): "I had a wreck on a Hayabusa and was wearing a Bell Apex designed helmet. I think it saved my life. I was thrown, almost 100 yds into a field. I also own a Bell Zephyr, bought from Wal-Mart.
If I would have had the Zephyr on, I think I would have suffered some serious head injuries to the top of my head, due to the lack of padding in that particular helmet.
I think that the Apex was the best Bell Helmet I could have possibly had on! Just to let you know, I'm looking for another Apex designed helmet that I like, since the one I had is no longer available."
---
From "R.S." (September 2008): "I wanted to say thanks for providing great information and for positively influencing my recent helmet purchase.
I had scanned several of your reviews, and then went to a local store and tried a few helmets on.
I thought I was going to get an HJC, but the shape wasnít quite right for my head Ė it felt like there was a lot of space on the sides versus kind of being pinched on top/bottom.
I have a more oval shaped head than the HJCs are suited for.
I tried on the Bell Apex, and found it had a great fit, but since I hadnít previously read your reviews on it, I decided not to buy that day, and came back home to see what you had to say.
It had positive reviews, and Iím pretty happy with my purchase. I do sometimes experience the minor noise issues that the review pointed out, but I still feel I got a great value and a solid helmet."