Arai Quantum II Review
The Only Arai Helmet for Round-Heads
by Rick K. for webBikeWorld.com
Also known as the Arai Astro/J in Europe.
More:
▪ wBW Reviews Home
▪ Owner Comments (Below)
▪ wBW Motorcycle Helmet Reviews
Also:
▪ wBW Arai Helmet Reviews
NOTE: See update below regarding broken Arai side pod.
Summary
The Quantum II fits round heads best.
It has a relatively plush liner and good ventilation.
It is relatively light weight compared to other size XL helmets we've reviewed.
IIt also has an excellent finish. It's slightly noisy at some angles, otherwise quiet.
Introduction
We have reviewed quite a few helmets over the last couple of years and have tried many more.
But we always seemed to skip Arai's offerings, so I figured it was about time to see what all the fuss is about.
After all, any company that has scored #1 in the J.D. Power and Associates Motorcycle Helmet Satisfaction studies for the last 6 years deserves a closer look.
And, in the webBikeWorld tradition, any company that stands on such a high pedestal and whose products are some of the most expensive in its class will get extra-close scrutiny!
Now I know there are tons of Arai fans out there, but there are just as many who think the helmets are too expensive and possibly undeserved of their reputation.
Google "arai helmet review" and you'll see what I mean. Some trouble in the Arai paradise?
And how about that competition?
There are some outstanding helmets out there - like the Shark RSR (review), our webBikeWorld "Helmet of the Year" in 2004, which we think has the plushest, most comfortable liner going.
Or the Shoei RF-1000 (review), probably one of the best all-around, every day helmets for the price.
Or how's this for blasphemy: how about the Scorpion EX-700 (review), a surprisingly good effort that's both DOT and Snell approved and can be yours for about 1/3 the price of the Arai Quantum II.
Arai is known for producing three different helmet shell shapes; the so-called "long oval", the "round oval" for "earth" shaped heads like mine, and the relatively new "intermediate oval" of the Arai Astral (see the wBW Motorcycle Helmet FAQ page for more detailed information on choosing and fitting motorcycle helmets).
As far as I know, Arai is the only motorcycle helmet manufacturer offering helmets in more than one head shape, and they should be commended for that.
Surely that accounts for some of the extra cost of an Arai over other helmets, and I, for one, will gladly pay a premium for a premium fit.
Helmet Fit
And fit it does. I must say that the Quantum II in size XL fits me better than just about any other motorcycle helmet I've ever tried.
My "earth" shaped head has been a real problem when it comes to motorcycle helmet comfort.
My cheeks and temples are wider than the rest of my head, and most helmets cause a very uncomfortable pressure in that area, sometimes to the point of excruciating pain after as few as 20 minutes.
So score one for the Quantum.
Buying Arai
The other factor that convinced me was the sales person at the local motorcycle shop. Arai stopped selling their helmets via the Internet a few years back, and the products are (legally) only available through an authorized dealer.
I guess Arai's volume is low and they don't mind keeping it that way, because surely the extraordinary popularity of the Internet and Arai's absence over the last few years means that the Arai brand is not foremost in the mind of potential new riders.
Supposedly, the official Arai dealers must have staff trained to explain and correctly fit Arai helmets.
I stopped at three local shops to try on the Quantum, and two of the three shops had staff with no idea what they were talking about (and the helmets on their shelves were awful dusty).
The third had an extremely helpful and knowledgeable sales person who seemed to know everything possible about Arai helmets.
She helped me with fit, opened up new boxes of helmets to show me colors, took lots of time to show me how to completely disassemble the helmet, the liner and the visor (which I promptly forgot, unfortunately) and more.
It worked, because she got me to fork over nearly 600 bucks on an ice-cold January day when sales were glacial, to say the least.
Anyway, back to the helmet...
Ventilation
Trying out a new helmet in the winter is certainly a different kind of experience. My opinion is probably slightly biased because it has been below 30 degrees Fahrenheit on every day that I've used this helmet so far.
The cold simply flows up under the chin bar and around my head, so it's kind of hard to determine how well the vents work. About the only thing I can tell is that my head goes from cold to freezing!
But there does seem to be plenty of air flowing through the chin vent, which empties directly on to the face (unlike some helmets, where air from the chin vent is directed up on to the back of the visor). The combination of the top vents and the liner conspire together to provide good air flow over the top of the head also.
Switches and Buttons
I have two complaints about the venting though.
The top vents use a very, very tiny rocker switch button to open and close a little paddle that covers the vent holes.
I found these switches impossible to use or to feel when wearing heavy winter gloves.
Check out this photo (left), which compares the fingertip of a winter glove to the tiny rocker switch. Think you could tell which way is on and which way is off?
The gloves are also too thick to work the unique Arai visor vents, which are two horizontal pull-down strips at the top of the visor.
I'm not sure these really do anything anyway, other than obscure some of my vision at the top of the visor opening, so I could do without these if I had my choice. The Arai visor isn't very resistant to fogging, but the visor vents don't seem to help.
The chin vent is difficult, but not impossible, to open with said winter gloves.
Overall, you'd think Arai (and other helmet manufacturers) would realize that function must take preference over form, and make their buttons, switches and other gizmos with big, hefty grab handles that work with big, hefty motorcycle gloves.
Which brings me to another sore point: I'm becoming convinced that this tendency of motorcycle helmet manufacturers to add all sorts of external winglets, vents, scoops and other contraptions is becoming way overdone.
I've yet to find one of these devices that actually performs as claimed. All that these protuberances seem to do is add the ambient noise level.
Noise Levels
Think about it - it's the old "blowing over a Coke bottle" effect.
If you put a vent hole or scoop on top of a helmet, what do you think is going to happen when air blows over it at 70 mph?
The Arai Quantum II is quiet when the angle of attack is acute; i.e., when riding a Sportbike.
But sit up straight and the air blows over the front scoops with a fairly strong whistle.
I can put a finger on top of the scoop and the sound immediately stops, so the scoops are definitely the source of the noise.
By the way, all of the webBikeWorld helmet reviewers wear earplugs and a helmet liner when riding.
It's the right thing to do, a good habit to develop and will save your hearing.
See the wBW Earplugs and Hearing Protection page for more information and for a list of earplug reviews and information.
That Visor...
While I'm complaining, let me jump on the whiner line regarding Arai's visor removal system. Arai makes a big deal about their "LRS upgrade" to their "Super AdSis" visor removal system.
I have no idea what this all means, but the visor removal process is simply not as effective or efficient as other helmets, like the Shoei RF-1000 or certainly the Schuberth S1, for example.
The Arai system is clumsy, it involves the extra plastic side pod covers with all their assorted parts, and the instructions in the Arai owner's manual are absolutely inscrutable.
I could have sworn I broke the visor the first time I removed it, because it sounds and feels like a dozen parts have cracked.
And I don't even want to try to remove the side pods - the Arai manual says something about prying out the internal red piece with a house key to remove the pods.
A house key! On a 600 buck helmet? I don't think so...
I'm also not too keen on Arai's system to raise and lower the visor. There's a small button on the left-hand side that locks the visor down when closed. It's hard to pry the visor open, especially with thick motorcycle gloves.
There's a finger indent built into the helmet shell, but it could have been made bigger to fit a thicker finger in there. It takes too much effort and concentration to dig around to pop open the lock and push up the visor.
The visor also does not have indents to hold it in place as it's raised. It opens continuously, but the friction isn't very tight, and the visor on my sample will blow open at higher speeds and/or if I turn my head.
Liner and Comfort
The helmet liner is removable, which is no more or less than expected at this price range. It's comfortable enough, but not, in my opinion, as comfortable as the Shark RSR's.
I don't get too worked up over helmet liners, maybe because I always wear a helmet liner "skull cap" on my head, so I don't directly feel the effects of the liner.
But the Quantum's liner feels about average to me.
That's despite Arai's marketing hype that claims it's a "redesigned comfort liner" which Arai says "pays increased attention to comfort by repositioning and adding interior padding, providing a level of comfort that could previously only be found in a full, non-removable liner".
One thing I'm not too fond of is the fit of the liner to the helmet.
The liner in my sample is loose and a bit sloppy, and a couple of the pieces are misaligned and I can see bits of foam sticking out here and there.
Overall Quality
The vinyl bumper that fits around the bottom of the helmet is also misaligned.
And the cut line (it's a one-piece strip of vinyl that's attached to the bottom of the helmet shell) is right in the front of the helmet, rather than in the back, where it would be virtually unnoticeable.
The cut line is right where I put my fingers when I'm putting on the helmet, so I'm also concerned that the vinyl will start to separate in that area.
The paint and finish is first rate, but I'm not thrilled with the way the side pods stick out from the sides of the helmet.
The paint doesn't match well around them and one side is already chipped after only a few weeks of riding.
I definitely like the "Re-Entry" flamed look though, and think it looks better with the black background than with the available blue.
The neck strap is comfy and has a padded liner. The Quantum uses D-rings and it has a snap to hold the extra piece helmet strap.
Weight
The Quantum II in size XL is about mid-range in terms of weight, at 1624 grams (3 lbs., 9-1/4 oz.). See the wBW Motorcycle Helmet Weights page for a weight comparison for every helmet we've reviewed.
The Quantum II is available in sizes from XXXS to XXL. List price for the Re-Entry model shown here is $580.95.
Conclusion
The Arai Quantum II is a nice helmet, a good helmet, and it's this close to being a great helmet. But to be honest, I'm not convinced (so far at least) that it lives up to the hype surrounding the Arai brand.
Six hundred Georgies is a lot of dosh, and it should buy a perfect helmet. My Quantum has a few flaws which are disappointing.
I'm sure we'll get howls of protest from you diehard Arai fans.
But remember that we're comparing it to some of the very best in the business, including helmets like the Shark RSR, the Schuberth S1, various new Shoei models, the OGK FF-4 and others, so we're a bit jaded.
I'm hoping the Arai holds up; some of the online reviews I've read indicate that Arai quality might not always be up to snuff.
I will say that the Quantum fits me better than just about any other helmet I've tried, so it will definitely become my all-around, every day helmet. I'll report back at a later date as the weather turns warmer.
I've never been keen on the Arai visor removal system.
It has way too many parts, it's too complicated (see first photo below) and the external "ears" that cover the sides of the clear visor are unnecessary on other helmet visor removal systems like the Shoei.
The shop sales person had a lot of difficulty when showing me how to remove and install the visor, and I've always felt that this process was a hit-or-miss affair.
It sounds like something's definitely breaking when the visor is removed and I'm never quite sure whether it's been replaced correctly or not.
Well, my fears have been realized; one day as I was riding, I lifted the clear visor and heard a "pop". The pin holding the cover on the left-hand side broke.
I got off the bike and attempted to figure out what went wrong and how to replace the cover. I tried lifting the right-hand cover off to see if I could tell how it was installed and, wouldn't you know it, that one broke also.
There are a couple of plastic pins that are way too easy to break off -- see the second photo below.
Now I have a helmet that's completely unusable, because the covers are the only thing that hold the visor on the helmet. So, you think you can visit Arai's website and find some contact info?
Nope... There's no information about this problem, no help and a "Coming Soon" parts ordering system. I wonder if they'll have the correctly painted side covers?
Needless to say, I'm not pleased at all. Not only are the side covers an unnecessary complication, the dealers or somebody has to stock all these parts, driving up costs.
How Arai wins the J.D. Power quality surveys year after year is beyond me.
I strongly suspect that it's one of those statistical flukes, where the majority of the people that respond to the surveys are Arai owners who possibly want to say something good about the helmet to justify its high price. See the response from "S.S." in the Comments section below...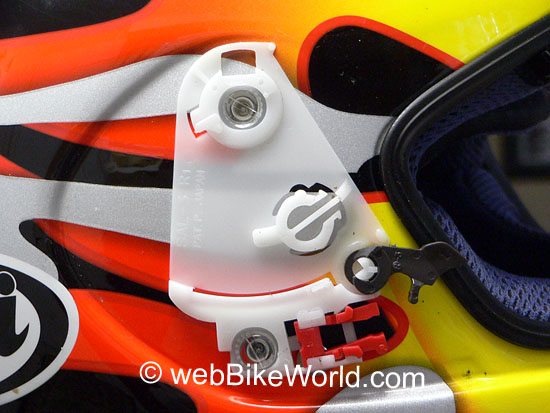 The visor covers are the only thing holding the visor on to this complicated assembly.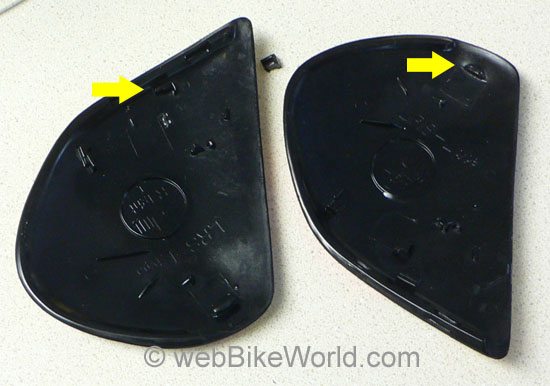 Yellow arrows indicate broken tabs on both visor covers.
wBW Product Review: Arai Quantum II Helmet
Available From: Arai Helmet
Suggested Retail Price: $497.95-$611.95
Colors: Many colors and patterns available.
Made In: Japan
Review Date: February 2005
Note:
For informational use only. All material and photographs are Copyright © webWorld International, LLC since 2000. All rights reserved. See the webBikeWorld®
Site Info page
. Product specifications, features and details may change or differ from our descriptions. Always check before purchasing. Read the
Terms and Conditions
!
Please send comments to
---
From "K.A.M." (August 2012): "I totally agree with the horrible visor removal/ installation method. I have broke side shields and had major difficulty with a seemingly simple process. Ditto on your assessment of the padding. It's Shoei for me soon."
---
From "M.B." (10/10): "I bought an Arai Quantum-II online (discontinued & deeply discounted) to replace my old decomposing Quantum-S. The fits on both helmets are great.
I knew that the old Quantum S had the identical visor shield but didn't clue into the crazy visor/side pod latch system that the Quantum II has until trying to change into my tinted shield. Big surprise.
Not such a big surprise, I broke one of the white plastic POS visor latch assemblies on the -II helmet during the second time I changed out the shield. I thought I broke both of them but the other side appeared OK.
I thought I was going to break the side pods trying to inspect the damage but they survived this time. And yes, I did go down into the basement and dig out the instructions from the original box before attempting it and BTW, I have a bachelors degree in mechanical engineering.
I think I'll order multiple spares of the side pods and white plastic junk before they become unavailable. I'm sure I'll break them again and suspect it's what will eventually cause me to replace the helmet.
I also noticed the rubber breath deflector/vent on top of the chinbar pops out every time I put the helmet on or off or touch it while putting it in my helmet bag ( the bag which was NOT included with this $700 helmet).
I'm guessing said little rubber part will come up missing eventually. Maybe I should just cut my losses now."
---
From "C.R." (8/10): "I've had my Quantum II now for about 2-1/2 years of near daily riding. I have two visors I swap between (one clear, one mirrored) and also two Pinlock inserts (review) (clear and yellow).
The visor has to fully come out of the helmet for just changing the Pinlocks as well.
I just want to say that I must be the lone exceptional voice that actually LIKES the ARAI visor system.
When I started swapping visors I also had to look at the online video first since I was scared I'd break my helmet from all the bad review comments here and elsewhere.
I started out slow, but I did get reasonably fast with it quickly, and after what must be a few hundreds of changes the system works as smoothly as ever with nothing breaking. I hope I didn't jinx it writing this to you."
---
From "MGG" (3/10): "I had owned the Arai Quantum Helmet. I hated the shields removal and broke a pod once. Was able to order a new one. But I did not remove it often so it was not a big issue.
After reading your review on the HJC FS 15 Carbon I bought one. I like the way things work on the FS better than the way they work on the Arai.
But there were several things I liked about the Arai and for me there is just no getting around them. The fit was better with the Quantum and I just can't say enough about how important that is.
I thought the visor on my Quantum was as good as it gets as far as optics also I cleaned the visor all the time and after 4 years it was still clear. To me the FS is good but does not seam to be as clear maybe I will get use to it.
While I really liked the HJC for riding last summer ( It vents better than my Arai did.) I am not liking it so much this winter. I get a lot more cold air coming from the chin area on the HJC.
I have only road a couple times so I might be able to block this and have not put a lot of effort into it yet. The old Arai Quantum had a sliding chin piece that could be closed when it was cold and worked well for me with my standard riding gear.
I found a new Quantum 2 on sale so I ordered it. I hope it fits like the old Quantum. It can't hurt to have 2 helmets."
Editor's Note: Unfortunately, Arai has apparently discontinued the Quantum for 2010. They now only have helmets for "long oval" and "intermediate oval" head shapes. This is disappointing news for me and for other "round heads".
The Quantum was the only helmet that fit me perfectly, out of the 125+ helmets we have reviewed on webBikeWorld.
---
From "M.M." (2/10): "Let me add my voice to the chorus of complaints about the Arai shield-changing system. Both my wife and I had Arai Quantum/f's. In a nutshell, changing shields is fraught with disaster, with parts flying off in every direction.
How would you like to be on your hands and knees on the side of the road doing that, as has happened to us? It's crazy.
Based on your reviews I bought an HJC carbon fibre helmet (AC-12 model). I could not believe how easy it is to change shields. It's superb. By the way, I had the "proper" Arai technique demonstrated to me numerous times by my dealer.
But if you need a post-graduate degree in shield-changing something is seriously wrong.
This truly is a case of the emperor having no clothes. I will never buy another Arai, unless they stop being so stubborn and change this."
Editor's Reply: I guess I won't have to worry about it any more; Arai has discontinued the Quantum in 2010 and now has no round shaped helmets in their product lineup!!
The Quantum was the only helmet out of the 130+ we reviewed that actually fit me perfectly.
Now they only sell "intermediate oval" shapes with one "long oval" shape. This from a company that promotes themselves as having helmets to fit all head shapes! So I guess I won't be buying an Arai any time soon either...
---
From "D.B." (12/09): "Just to add another gripe to the Q2 pile: My Quantum-II arrived two days ago. Yesterday, I tried removing the visor, lifting it very gently and according to the manual.
I heard a snap, and a piece went flying across the room; the top tab on the right visor cover had snapped off, just like in the pictures in the article. No on-and-off repeated stress -- this was the first time I had tried to remove the visor.
It's a shame, because the helmet fits me perfectly, and I haven't found anything else that does. But I don't want to risk the same thing happening when I'm riding or after it's no longer returnable (Luckily I can still return the thing)."
---
From "S.R." (GRC) (7/09): "I've read all your Arai helmet reviews, as well as on other helmets. It's interesting to find helmet reviews especially when it's almost impossible to find one on moto magazines, on the other side of the Atlantic.
I did some market research last week to find new helmets for me and my son. I'm based in Greece. In 2003 I bought my fist Arai helmet.
Not an Arai fan till then, the salesperson convinced me, they were on sales, so I bought one of the basic models, the NR-5, known as the Condor later on, which is closer to the Vector/Chaser, being a basic - but modern and good - model as well, both intermediate oval shape.
Till then I'd been using an AGV fiberglass model bought back in 1984 and an open face FM fiberglass model bought around 1996!! No comparison with those helmets!!
Quality control was very low at those times and of course helmets did not have any ventilation, even the standard requirements were different.
What I can tell though, is that the inner liners of those both helmets deteriorated and the tiny pieces of that spongy substance underneath the liner filled my hair.
Maybe it was because of lack of ventilation, resulting the head to sweat and the liner to absorb. Had to attach new pieces of cloth inside the helmets, not an easy job!.
Also, the ratchet system of the AGV had to be thrown away some years later. I tried to unscrew the one and only main screw that held the system on the gasket but it was corroded.
So I had to cut the plastic cover, break the ratchet, saw the screw and remove it with pliers to replace the visor. The visor was now loose, to the will of the wind!
On the contrary, my NR-5 Arai, basic helmet for the last 6 years, has no flaws to show. Looks brand new!!
I've been using the helmet for six years, the last two years on a daily basis and wore it on three long trips to Asia and Morocco under extreme heat and cold conditions.
Of course there are scratches on the surface, some covered by stickers and dropped it a couple of times, had to replace the plastic scoops that cover the vent-holes.
Washed it twice -the whole helmet in a bucket since the liner was not removable in that basic model.
After all, the quality of the inner liner is excellent with an emphasis to prolonged life.
A smooth, nice, velvet-like fabric embraces the head and face leaving you with a continuous caress to the whole face -- no sturdy hills or deep hollows around ears, etc. that I've felt trying other brands, the Shoei RF-1000 included.
Only Bell gives quite the same feeling. It's the opposite of thick, extended cheek pads that other helmets have that push your face in some areas, esp. under the ears and leave other areas of the head untouched.
The cheek pads did not lose any of their thickness and only in it's sixth year the helmet seems a bit more easier to wear.
As far as the Arai visor system is concerned, it's not that a big fuss after all. It's not such "piece of cake" as the video in the review page demonstrates, but it's quite easy.
And you can't go wrong when reinserting the visor, since you hear the click when it locks and see the lever come up at the outmost open position. And the side pods are really easy to remove.
Just open a bit the two "fingers" of the red piece with a key, a pen, and you'll hear a click. Then you slide the pod and you have it in your palm!
I also like the friction system as opposed to the ratchet one (Shoei RF) since with the ratchet you never have the visor to the desired position - it's like the back of the seats in automobiles.
The helmet has been used in upright position (Suzuki SL650 V-Strom) and the visor never till lately lost the desired position.
I had the small breath deflector installed upon purchase and never experienced major fog problems. Never had to fully lock the visor either, so the demist lock button was not an issue.
Closed the visor till it stopped, some air passing through, no problem at high speeds. When it rained I opened the visor a little more. No rain came inside the helmet ever, with all vents open.
Top vents have small rocker switches, true, but usually I leave them open, not much fuss either. The new series of The Vector/Chaser and the Profile/Viper have better feeling system there.
The chin vent when open in mid position directs air towards the chin, mouth and nose. When open fully directs most of it up, towards the inner side of the visor to clear fog.
But you don't seem to see the difference as you noted in the Vector review due to a lot of air coming underneath the chin bar, the Vector having quite bigger clearance there.
Actually this is one part of complaint.
Air and noise coming from underneath the chin bar, due to turbulence of the fairing. But the Profile and Quantum have the under chin air curtain as standard, so I suppose they are better in this part.
Having already 2 extra visors from my NR-5 and getting to feel more comfortable with this helmet the more I wear it, I decided to go for an Arai again. After all, it is a known -to me product.
The equivalent to Quantum is not sold in Europe, having to choose between the Profile/Viper or the Vector/Chaser, the later being a very good, new, but basic level helmet.
The Profile was too narrow for my head, and curiously enough I felt like it had hills and hollows inside. The dealer had some Astro/Rs (equivalent to Quantum) on sale, same priced as the Vector, so I bought one of those. Seems to fit pretty well.
Hope the two cut lines -on the sides of the chin bar- of the vinyl bumper around the bottom stay there for a long time. Yes, the side pods do not match the color lines perfectly, but hope that this almost invisible flaw to be the only problem.
If they crack it'll be difficult to find the same pattern and color. In the two air vent hole edges at the lower back of the gasket I can see the first layer color, but this is trivial.
Hope not to hear the whistling sound of the top vents you mention, something not audible with the NR-5, which had the same single top vent like the Vector.
Thanks for your time and space."
---
From "B.M." (3/09): "Gotta get this out of the way first... I'm an Arai fan (though decidedly NOT a fanboy).
It was the first helmet I purchased in 1994 and with one Shoei exception that Killed my head and caused me blinding headaches within 20 minutes, it's the only brand I've bought.
I'm a cheap SOB though and only go for the solid colors, you can usually pick up the helmets for about $300 (I've certainly never spent more than $350... I don't buy gear to "look" a certain way).
I honestly didn't understand some of your complaints because Arai is all I've ever known.
Such as the thumb latch for lifting/locking the visor.
Going 2-wheel only for 8 years, I did a lot of winter riding with thick winter gloves and that's never been an issue for me. I absolutely HATED the ratcheting visor on the Shoei because it always left the visor in just the Wrong place.
Vents, maybe that's an issue.. but I'm in the habit of setting my vents on COLD days before I get rolling. What I do like about the vents is that when they are shut, they block out ALL the cold air.
A couple other helmets I've tried (AGV, Bell) failed miserably in this aspect. I have to agree about the shield changing system, their previous iteration (from the 90's) was MUCH better.
Anyway, the point for this email is to see if you can/will provide a list of similar fits. That was the one area you gave positive review about, the way it fit your head.
My prior experience resulted in a $300 headache creating, shelf decorating, dust catching helmet and I REALLY do not want to repeat that experience.
If that means buying Arai again, then so be it (I am used to the oddities and appreciate a helmet that I don't hate after 10 continuous days on a 5000 mile trip). But I'm quite open to checking out the new crop since my last purchase in 2001.
Heh, yeah.. I know... 2001 + 5 years life does leave me a couple years out of date. :) Thanks!"
Editor's Reply: I'd say if the Quantum fits you, then you probably have a round head (see our Motorcycle Helmet FAQ page).
Check our Motorcycle Helmet Weights page for a chart that has links (and weights) of all the helmets we've reviewed, and you can see in the right-hand column a list of their head shapes. Look for the "R" or "R/N" (round/neutral) shapes.
Unfortunately, there aren't that many "pure" round head shape helmets out there. Of the 100+ helmets we've reviewed, the Quantum is still the "perfect" fit for me.
A few others come close, but none has the fit -- the GMax GM68S; the Shoei RF-1000 (although it tends towards the neutral, but I wear it occasionally); and maybe the OGK FF-5 and a few others.
---
From "J.J." (1/09): "I don't understand the problems you experienced changing the visor. I just purchased a Quantum 2 yesterday at the Vancouver International Motorcycle show.
I opened the box, read the manual, and was initially confused by the instructions for removing and re-installing the visor.
After looking at the CD included with the helmet and looking at another Facebook video, it became clear. It now takes me 15 seconds or less to completely remove and re-install either of the two visors I have for this helmet 10 out of 10 times.
It does make rather loud clicks compared to my Shoei RF1000's "snick snick" type noise but who cares if it works."
---
From "R.M." (1/09): "Hello, I JUST bought an Arai RX-7 Corsair 'Haga' Replica. Never in my life had I wished I had read a review before laying out more than 700 bucks than I do right now.
I cannot find contact info on their web site without setting up an account to bitch about this too. So, WHY is it so (darn) complicated to remove and replace the shield?
I picked it up several hours ago and STILL do not have the smoked face shield on it. My Shoei RF-1000 takes all of 10 seconds on a bad day to remove and replace both shields!!
This system is the absolute 'expletive' worst system ever designed.
Did they not think about the end user who changes shields twice a day like I do, once in the morning to the dark shield to ride to work and once at night to ride home from work?
Man, if I knew this was going to be a problem, I'd have brought another Shoei... and some CD's with the change....... and I will from now on out....... and I'll check this site out more often too."
Editor's Response: Sorry to hear about your problems! I have to admit that when someone who knows how to do it shows you, it's not that bad.
I suggest you go to a knowledgeable Arai dealer and have them show you, or see the video I posted above that demonstrates how to do it.
Be careful, don't force it or it may break like mine! Fortunately, I don't have to replace visors often, but if I did, I'd probably be wearing a different brand."
---
From "F.H." (11/08): "I was reading your review on the Arai quantum helmet with interest. I have owned and worn Arai helmets for about 5 years now. I share many of your frustrations with them, including noise and a terrible shield removal system.
Let me add another complaint to the list: Sunburns on my face, with the visor down. Apparently the Arai clear visors don't even block UV rays like every other helmet in the world does.
They claim they do, but if you wear one on a sunny day for more than a hour, you better be ready for a burn on your face.
I would like to see you do some UV testing on visors added to your helmet reviews. I can't believe a $600 helmet doesn't block UV."
Editor's Note: I asked F.H. if he was sure it was an Arai visor. Raw polycarbonate may not filter UV light and UV light may degrade the untreated polycarbonate, thus all motorcycle visors are supposed to be treated or manufactured to have UV resistance, otherwise the entire visor would quickly become cloudy and unusable.
F.H. replied: "It is most definitely an Arai visor. This is my third Arai, all Signets. I have also been contacted by other riders using Arai helmets with the same complaint of sunburns, so I am not the only one with this problem.
I have contacted Arai (several times) about this, and can't get a straight answer from them. I log over 30K miles a year on various bikes, and do a lot of riding out west, and I can tell you I have had days where my whole face hurts and is bright red and burned after a day with the Arai on.
I don't know what they could have possibly done to the plastic in the shield to make this happen, but I can tell you for certain it is true. I don't know if the new Profile suffers from this or not, but unless they made a change to their visor, I suspect it does."
---
From "R.L.S." (8/08): "I have had both Shoei and Arai helmets for over 20 years. Both produce great helmets, BUT Shoei is a step ahead when it comes to visor mechanism, by far.
Shoei moved away from their similar old fashion "side-cover" system used in their GRV and old RF series common in the 80,s, but already back in 90-91 Shoei launched their XR series which introduced the visor type CX-1, still used nowadays.
Now that is an easy and sturdy system, no side covers, no little pieces of plastic broken and truly fast to replace, and yet easy to clean.
Still, almost 20 years later ARAI keeps on being stubborn and produces the most expensive helmets with the bloody side covers.
As I was in love with the Yamaha anniversary design I bought myself that new Corsair, and guess what…when trying to put a new yellow visor, even being careful the 2 mm inside plastic clip broke in both sides…so I cant use the helmet as visor wont stay in its place!
And I paid 800 Euros for it!
So for now, until I get new parts, I use my Wayne Rainey SHOEI X8-R from 92 which I had as display collection unit, it fits great, it is silent and visor works!
PLEASE ARAI, listen to us, your customers! How much louder do we need to shout?"
Editor's Note: I talked to an Arai representative at the 2008 Powersports Dealer Expo and he told me that Arai uses the side plate system because they want to keep the rotating mechanism on the outside of the shell so it doesn't intrude on the internal crush zone.
But Arai was recently complaining about the new SHARP helmet rating system in the UK, because that test uses the side of the helmet as an impact test point.
Arai was saying that the rider's shoulder prevents most impacts on the side of the helmet, and that area rarely sees an impact.
At this point, my only guess is that Arai stays with the old side plate design more out of stubbornness and trying to be different?
After they've supported something for so long, it's probably hard to admit a mistake or change their mind and go with the rest of the crowd; they'll lose face.
---
From" M.W.": "I own the Arai Quantum 1 and have found the visor mechanism to be poorly designed and the side pods to be fragile. Fit and finish of the helmet is otherwise superior.
Just bought an Arai Tour X, and the plastic visor retaining screws snapped on the first day. Can't say I am impressed. This is the worlds most expensive helmet, surely they can do better?"
---
From "SBC": "About the Arai pods, I also had one pop out when I was trying to change my visor.
I'm lucky to say that I brought it to an authorized Arai dealer and they replaced it for me for free, even though I did not buy the helmet from them. I too do not like their visor mechanism. So I have decided never to change my visors in fear that it will break again."
---
From "S.S.": "I have had exactly the same experience with my Arai Quantum 2.
One side pod popped off in the middle of a multi-day motorcycle camping trip. I spent the rest of the trip riding around with my visor duct taped in place. Hoping it to be a fluke I replaced the side pod.
The second time happened at home, just as I was getting on my bike for my morning commute. In disgust I went out and bought a Shoei X-Eleven.
This was my third Arai in 10 years. The first two each saved my face in wrecks and are retired in a place of honor in my garage. The third goes in the trash.
Some quick notes on the comparison. The Shoei visor mechanism is obviously superior.
One rarely mentioned feature is the ability to lock it down. At track speeds I have had the Arai visor blow open when doing a life saver. I have found the Shoei much louder than the Arai, vents open or closed. This is riding a VFR with the stock screen. I am quite tall, so the wind blast hits me upper sternum to chin."
From "D.C.": (Editor's Note: See D.C.'s comments comparing the Quantum and the Shoei X-11 on the wBW X-11 review page).