Airoh TR1 Motorcycle Helmet Review
Airoh TR-1 Modular (Convertible) Helmet
by Rick K. for webBikeWorld.com
More:
▪ wBW Reviews Home
▪ Owner Comments (Below)
▪ wBW Motorcycle Helmet Reviews
Summary
Is this the coolest-looking helmet on the planet?
Its looks make up for its shortcomings; thin padding, tight fit and slightly higher than average noise levels.
Introduction
It's official: Airoh has now taken over as purveyors of the most outrageous motorcycle helmets on the planet.
That distinction was previously held by ROOF, and although their Boxer V is way out there, the Airoh TR1 looks like something left aboard a Cardassian scout ship. Kanar anyone?
This thing is so cool -- so different -- that people and cagers literally do the stop, swivel and stare routine as I glide by on the black Multistrada. Yeah, and some of them drool, too. No kidding!
Of course, the Creamsicle color probably has something to do with that also...
But, as we've said before, looks are one thing; performance is another (did we really say that?).
And other than a few quirks, without which it wouldn't be an Airoh, I still say this baby is a must-have.
But that's just me. I'm sure I'll get more than a few emails suggesting that the helmet instead came from Uranus.
So how about we get on with it and let you decide for yourself?
Paint, Graphics and Overall Quality
The Airoh TR1 has a thermoplastic shell, and it feels, well, plastic-ky.
Both the Airoh S4 Enduro helmet we reviewed last year and the TR1 have this different feel, but I'm assuming that's the price we have to pay for the material, which is probably better suited to molding Airoh's unique designs, and as long as it meets ECE 22.05 safety standards, it must be as good as anything else.
The paint quality and the overall gloss finish, which I think is a clear coat, is excellent on our TR1. Word on the street is that Airoh quality can be variable, especially with the moving parts, but this helmet is very nicely put together, considering it's basically plastic.
Airoh is really pushing the European marketing for the TR1 recently, and they've made it available in a wide variety of colors, solids, stripes and even chrome.
How about a chrome TR1 on your Monster Chromo? The helmet shown here is actually the TR1 "Duo", and it is available in the white/orange shown here, along with white/blue, white/red, white/gray and even black/orange, which is too over-the-top even for me.
I see no flaws at all in the paint, surface finish or preparation on our TR1, and even the Airoh decal is very nicely applied and, I think, cool looking. All of the plastic bits work well. As long as you don't mind the plastic, you're all set.
Score: Some Airoh owners may disagree, but based on this single example, I'll give the Airoh TR1 an "Excellent" rating for paint, graphics and overall quality (see the ratings descriptions in the summary table at the end of the page).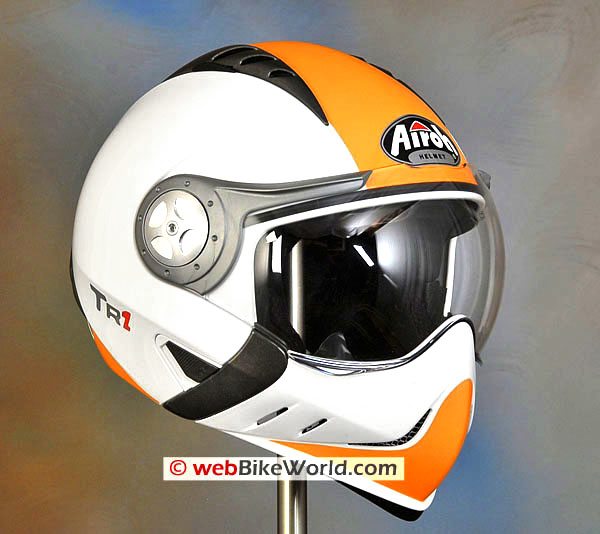 Helmet Fit and Comfort
The Airoh TR1 just feels small overall, and it has a thin plastic shell and very thin padding, which don't do much for the cause either.
I don't know why Airoh didn't scale up the shell a bit to leave room for more padding inside, because the padding is really only about 4 mm thick (about 1/8") and between the tight fit and minimal cushioning, I sure wonder how they get the ECE safety rating.
[UPDATE: See comments section below; apparently, the TR1 is homologated as a "Jet" style open-face helmet.]
The liner that's in there feels OK; not the most comfy cushy, but more like plain old cotton or something. Airoh says it's Coolmax and removable, as are the cheek pads. They also claim that the liner is "sanitized". Hmmm....
There are no ear pockets to speak of, which means that my ears get pinned back, making the helmet feel even tighter. Instead of padding, we get plastic where the ear pockets should be. Ouch.
So, like most high fashion, you'll have to suffer to look cool. I still like to look cool, and I can't believe I'm saying that I'll suffer just to do so.
Score: I rate the TR1 a "Poor" for fit and comfort.
Internal Shape
The TR1 has what I'll have to call a non-normal fit. It just isn't like the majority of helmets I've tried. It feels very round inside and very tight.
The top of the helmet feels lower (shorter) than normal, and the sides are tight, so it's a bit like forcing 3/4 of a youth soccer ball over my head.
I think the sizing runs at least one size smaller than stated; that is, the XL shown here fits very tight, much like a smallish size L might on my head. Inside, the helmet feels like it has a tight band around the top, gripping my forehead.
The helmet also seems short in both the top-to-bottom and front-to-rear dimensions. My chin is right up against the back of the chin bar and the bottom of the helmet seems to sit up above my jaw line. If I had to do it over, I'd order an XXL.
For more information on motorcycle helmet internal shapes and selecting and fitting motorcycle helmets, see the wBW Motorcycle Helmet FAQ page.
Score: I give the TR1 a "Poor" rating for its other-than-average, smaller than normal and tight fit.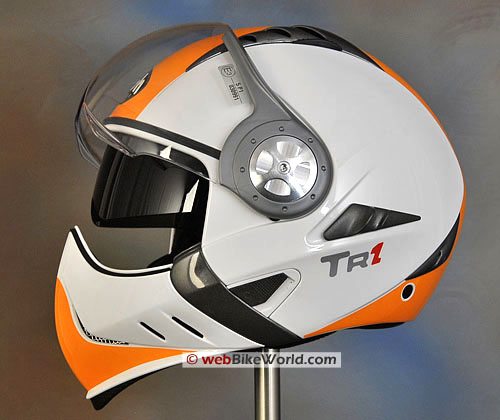 The gray slider above the "TR1" rotates the internal sun shade up and down.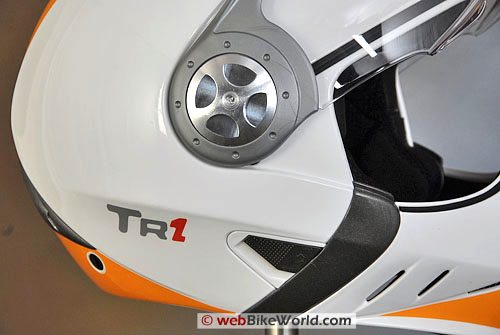 The tab for removing the chin guard can be seen to the right of the "TR1" script.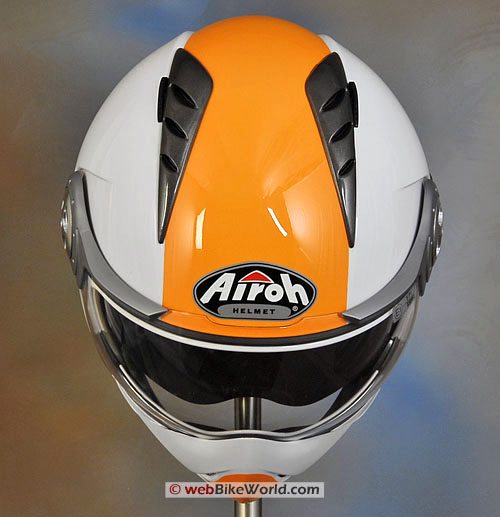 Airoh TR1, top vents.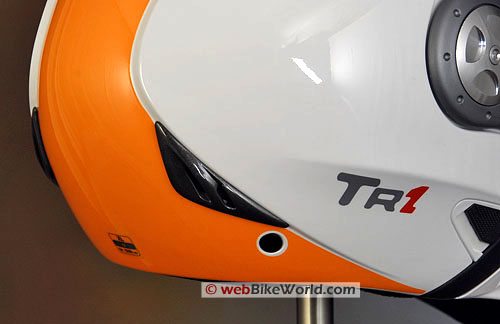 Rear exhaust vent.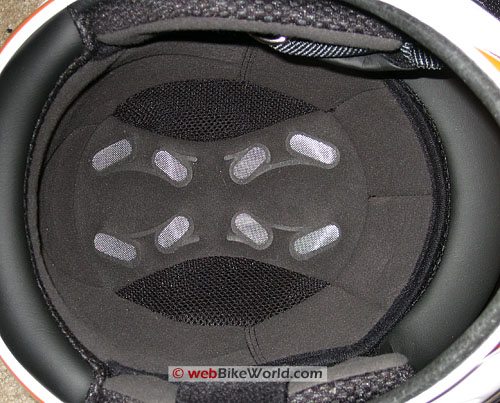 Ventilation
The Airoh TR1 has dual vents on top; each is separately adjustable. The top of the liner has some mesh openings, and the air flow isn't bad, but is diminished somewhat by the tight fit of the helmet.
The liner doesn't really have any channels up top that might allow air to flow over the rider's head, which also limits the amount of air flow. But overall, it isn't as bad as some.
The removable chin bar is vented, and the air is directed inside the chin bar on either side of the rider's face. However, my mouth is pressed so close to the back of the chin bar that it gets rather stuffy in there.
The helmet has two small exhaust vents in the lower rear of the shell, designed to match the shape and style of the intake vents up top. The overall style is very nice and it all just works to make this a great-looking helmet, in my opinion. But, like most motorcycle helmet rear exhaust vents, who really knows if they work?
The TR1 is small and short enough that a good volume of air comes up from underneath, helping to keep things ventilated.
And about that chin bar? Yep, it's removable. See the video tour below, but the sliders on either side of the helmet unlock the chin bar and allow it to be pulled from the helmet.
Airoh provides two plastic dummy latches to fill the holes left on either side, and the TR1 turns into a pretty good imitation of a "jet" style helmet. I think it looks much cooler with the chin bar in place, but not everyone will and it's nice to know the option is there and it's easy to do.
Score: I give the Airoh TR1 a "Good" rating for venting and air flow.
w
BW
Video: Airoh TR-1 Helmet
Face Shield
One of the coolest features of the TR1 has to be the visor. It looks like something that came from a fighter pilot's helmet. The polycarbonate is thick and it has lifting tabs molded in on both sides, so both righties and lefties will rejoice.
Like the rest of the helmet, the visor has style -- this isn't just a piece of polycarbonate thrown on to keep the bugs out. For example, the visor is attached on the sides by beautiful machined aluminum plates that can be removed with an Allen wrench.
The lifting mechanism rotates the visor smoothly but through only 3 detents from fully closed to fully open.
The big, bubble-shaped clear visor and the eye port conspire to provide a wonderfully wide view; helped, I think, by the closeness of the helmet to my face, another artifact of the thin shell, thin liner and small size.
It's wide and high and I can see traffic lights up above with no problem. Side-to-side vision at stop signs is also enhanced. Why don't all helmets give this much visibility?
And guess what? The TR1 also has an internally rotating sun shade. It works via a slider on the left-hand side of the helmet; the slider has a style coordinated with the vents and the rest of the helmet.
There is a slight problem in that the helmet fits me so tightly that the sun shade needs a good, strong tug to engage; I think the padding is squeezing the sun visor into the helmet shell, making it hard to move.
The sun shade can be stopped at any position though, and I've been lowering it to just above my cut-down eyeglasses to keep out some of the glare from the overhead sun.
Score: I'll give the TR-1 a "Very Good" for the quality of the face shield and an "Excellent" for visibility and the internal sun shade.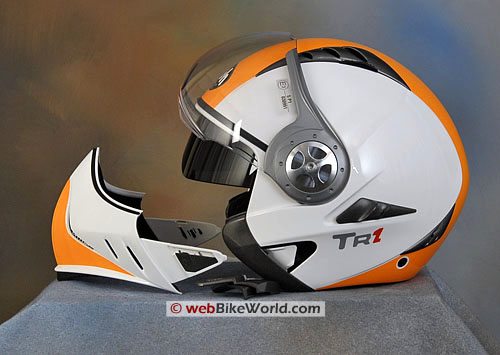 Airoh TR1 with chin guard removed. The dummy tabs can be seen between the helmet and the chin guard. NOTE: The chin guard provides minimal protection only and does not offer the same protection as a flip-up or full-face helmet.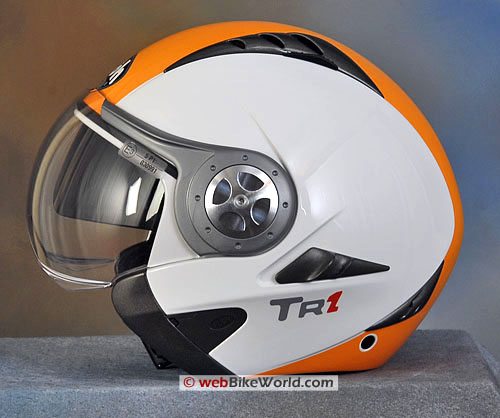 Helmet Weight
The Airoh TR1 in size XL weighs a miniscule 1411 grams (3 lbs. 1-3/4 oz.). This gives it the unique distinction of being the lightest weight full-face helmet we've ever reviewed. If, that is, you want to call it a full-face helmet. I do.
We've learned over time though that helmet weight isn't as important as we first thought.
As long as the helmet is well-balanced, fits correctly and comfortably and the weight isn't outrageously abnormal, it's mostly difficult to tell at street speeds the difference a few grams or more will make.
See the wBW Motorcycle Helmet Weights page for a chart that compares the weights of all of the helmets we've reviewed.
Score: The TR1 gets an "Outstanding" when it comes to light weight, but, like other helmets we've tried, it comes at the expense of some other important characteristics.
Noise and Aerodynamics
You'd think that with the thin shell, thin padding and smallish overall shape that the TR1 would be noisy.
Well, it isn't the quietest helmet I've worn, but it really isn't that bad -- certainly nowhere near the noise levels in the very loud Nolan N94 Casey Stoner replica.
Probably due to its tight fit, the TR1 seems to have about the same volume of noise whether the rider is behind a windscreen or in the open.
I don't notice any undue turbulence-induced booming noises from underneath and turning my head side-to-side doesn't change the volume much either. It's a steady noise alright, but bearable when wearing earplugs.
Note that perceived noise levels are highly variable and are based on owner opinions and can vary depending upon the way the helmet fits. We always wear correctly inserted earplugs when we ride -- see the wBW Earplugs and Hearing Protection page for more information on choosing and wearing ear plugs.
For more information on helmet noise, visit the wBW Motorcycle Helmet Noise page.
Score: I rate the Airoh TR1 as "Good" when it comes to noise control.
Miscellaneous
The TR1's chin strap uses a plastic notched tongue that slides into a clasp. The lever on top of the clasp is raised to release the strap.
The notches allow some adjustment once the chin strap is secured. A metal slider allows the chin strap to be lengthened.
Don't forget: Airoh helmets are not distributed in the U.S.A. (at the time of publication), so you'll have to score one from Europe. The TR1 does not meet DOT approval for sale in the U.S. at this time.
Conclusion
Not everyone will agree, and that's fine, but the Airoh TR1 is so different and, I think, so cool-looking that it's worth the couple of annoyances just to shock the cruiser-riding neighbors. This helmet was made for Multistrada owners!
w

BW

Review: Airoh TR1 Motorcycle Helmet
Manufacturer: Airoh
List Price (2007): £134.99 (Approx. $275.00)
Colors: Many colors and styles.
Made In: Italy
Sizes: 2XS-2XL
Review Date: October 2007

Rating Scale is subjective: Unacceptable, Poor, Neutral, Very Good, Excellent, Outstanding.
Note:
For informational use only. All material and photographs are Copyright © webWorld International, LLC since 2000. All rights reserved. See the webBikeWorld®
Site Info page
. Product specifications, features and details may change or differ from our descriptions. Always check before purchasing. Read the
Terms and Conditions
!
Please send comments to
---
From "J.L." (February 2012): "I have been admiring the Airoh TR1 for quite some time and after seeing it here on webBikeWorld for the last few months I decided to try and get one sent over here to Indiana, USA.
I thought it might be a hassle or even impossible but last year I ordered a Draxxtar "Tanker" helmet from FC Moto and it came in only a couple of weeks so I decided to start there. Turns out they had several in stock and in a little over a month I had a brand new TR1 at my door.
With an unbelievable stroke of luck it was 61 degrees here in Indianapolis today January 6th and I took the opportunity to jump on the bike and test out the TR1.
I ride a 1900cc V-Twin Roadliner so this really isn't the type of helmet a "cruiser" might be expected to wear, in fact in Indiana you don't have to wear a helmet at all, but I have a thing for helmets and a really bad thing for COOL helmets so anything goes with me.
The TR1 fits like a glove, I wear an XL in Airoh sizing and find the fit similar to the XL Bell Revolver (review) as far as fit although it may be just a bit tighter then the Bell.
The TR1 is so very light and the profile is trim on the outside so it's like not wearing a full face style helmet at all. The comfort and we arability is outstanding for me, it's not an overly quiet helmet but then again it's not too bad and I look forward to wearing it on long rides.
I like the flip-down sun visor and it is easy to operate.
The way it handles in the wind is great too, today we had gusts of over 35 mph and I never even noticed any buffeting (and I did take it up over a Ton just because).
The construction of the helmet seems good too, finish is even and well applied, I got the Silver Matte and it looks very Star Wars and that isn't all bad. This really is a darn nice looking lid!
I'm really pleased with the helmet, and I'd recommend one to anyone who is interested, buy a size up from your normal size and you should be OK.
One of the great things you run into shopping at FC Moto is that if you are buying from the USA the Value Added Tax does not apply and that goes a LONG way toward paying for shipping costs.
Once the helmet ships it only took 4 days to get it here too, it came UPS and was well packed and undamaged.
I think I'll go ahead and get one of the new Airoh J 106's next...they are also way too cool to resist, and now that I know that the quality and fit is there what's to hold me back? Nothing but cash...."
---
From "M.D.": "I thought I would send you an email about my recent attempt to order an Airoh TR1 helmet from Bikegear UK.
This is more of an informational email for your U.S. readers that may not be familiar with ordering from overseas and I also wanted to point out incorrect shipping information that is on the Bikegear UK website (or, maybe it was my incorrect interpretation of that information).
After seeing your review of the Airoh TR1 helmet, I was pretty sure it was going to be my next helmet. I thought some of the issues that you had with your example were from having a size too small, so I planned on ordering the next size larger.
The reader comment from "N.M." seemed to confirm my thinking.
In any event, I placed an order for a Mat black TR1 helmet from and paid via PayPal. Their website lists two international shipping options:
1) Freight or International quote - I interpreted this as requesting a quote for the "slow, cheaper" option for shipping to the U.S. There was no dollar cost for this option since it was for requesting a quote.
2) Airmail International shipping for $39.18 USD - I figured this was "more expensive, quicker" shipping and it is the option I chose.
The next business day I received an email stating that shipping was actually £35 for shipping to the U.S. and I still owed $40.72 for shipping.
After a few emails and using their Live Online Support chat feature, they stated that the website does ask for quote for international shipping (true, but it also offers an Airmail option).
In the end, they said the Airmail option was incorrect and they're trying to fix the problem, but I would still need to pay an additional $40 for shipping.
If I would have known before hand that shipping was going to be $80, I probably would have placed the order anyway.
But paying one amount, then being asked to pay double that after placing the order, just left a bad taste in my mouth. At that point I decided to cancel the order.
Bikegear UK was helpful in all their emails and their Online Support chat. After I canceled the order, they refunded my payment via PayPal almost immediately.
I couldn't have asked for better customer service from that stand point, I just wish they would have better information regarding shipping to the U.S."
---
From "N.M": "I really liked your article on the TR1. I have one TR1 that I use in Northern California, and I thought you might be interested in my comments.
Definitely the looks are there, and it is a head turner, as you mentioned. For me specially in Jet mode, without the chin guard, the looks are even more impressive.
I realize now also after seeing the detailed pictures in your site that I like better the orange/white color you have, mine is the yellow/white one, but anyways...
I think something important to highlight is that this is a Jet helmet. Not a full-face helmet at all. TheTR1 chin guard is actually considered an "accessory" by Airoh. This is what Airoh says about it: "Attention!
The chin guard is an accessory for your Jet helmet designed to prevent insects or foreign bodies from nearing your face. For this reason, in the case of an accident, it does not guarantee protection against all types of impact".
You are very right about the sizes. My normal helmet is a Shoei RF-1000, which is size Large. If fits me perfectly. My head is 59cm. My Airoh is an XL, and fits me very well also. So it is one size larger that expected.
Airoh charts (and the sticker on the helmet) mentions their XL to be for 61-62 cm. But my head is 59 cm and the XL is the correct size for it. So I guess also this is not a good helmet for very large head sizes at all, as the larger size I think is now XXL.
I actually love the fit of it. Of course, it is my head and all are different , but it is an excellent fit. Reading your article I think most if not all of the fit problems you mention are just related to it being at least a size too small for you.
Everything fits perfectly for me, except the ears that I would like to have more room, specially if you are used to Shoei/Arai helmets.
For the chin guard: it has too much ventilation for cold weather, as its air intakes cannot be closed. I think it's great for summer, but for winter it gets really cold and there is no way to avoid it unless you tape the intakes or another trick. Otherwise there is definitely good ventilation, maybe too much for my taste..
Another thing about the chin guard: it needs to be treated very gently... Plastic around the chin guard fastening system is very delicate. Be always very careful if you remove /reinsert the chin guard multiple times.
It cannot be treated as another though full face helmet. I broke one small piece of plastic on the right side fastening, but fortunately I could fix it perfectly with some cement.
My favorite: Visibility: really impressive. I think this improves safety significantly. It is so easy, helped by the helmet low weight also, to check around you.
Integrated sun screen. Love it. Easy to slide on-off. Very practical for me. Much better coverage than the Nolan one. Closer to the face. Goes lower.
I wear normally sun glasses here in northern California and on a 2 hour ride will go alternatively through dark redwood forest areas, sunny roads, very dense fog while by the ocean, back to sunny roads, back to forest covered roads, etc., and getting my shades on and off so easily with a lever is a blessing.
In my case improves safety also. Thanks again for your reviews and great site!"
---
From "A.P.": "Hi there, I write from Italy and I read all of your helmet reviews. I want to tell you about the Airoh TR1, that this (helmet does not have) a homologation as a full face helmet in ECE 22.05. (It is homologated as) a "Jet" style helmet.
The chin guard would only protect you from the wind and cold probably. (It's probably better to compare it to an) open face or modular flip-up helmets than a full face. Many thanks for your very professional work on reviews."