Clover Motorcycle Clothing - EICMA 2011 Live Report
Clover "Tekno WP" Jacket
by Rick Korchak for webBikeWorld.com
Reporting From EICMA 2011
---
UPDATE: Clover Tekno Jacket Review!
Background
November 16, 2011 - The Clover brand name may not be as familiar to motorcyclists as some of the other mass-market names and that's a shame.
Whenever I have seen Clover clothing, I have been impressed by the quality and attention to detail.
We reviewed the Clover Beverly jacket (review) a few years ago; the Beverly was one of Clover's most popular women's jackets and it looks good both on and off the bike.
Clover has many "firsts" to its name and my guess is that most motorcyclists aren't aware of that either.
For example, in 1986, Clover produced the "Air-Forced", the world's first jacket with a ventilation system. In 1989, the company made the world's first jacket with built-in protectors. It was called the "Ghibli".
Clover made the world's first waterproof jacket with a detachable membrane; it was introduced in 1995 as the "HP". Want more? How about the world's first two-piece leather suit that allowed its owner to combine jackets and pants of different sizes? That was the 2009 "Multifit".
And, today we have the world's first jacket with 3 detachable layers that is certified to the CE EN 13595 Level 2 standard: The "Tekno".
The Tekno meets a list of EN standards as long as your arm, including the most important three: EN 13595-2 impact abrasion resistance; EN 13595-3 for burst strength and EN 13595-4 for impact cut resistance.
The Tekno is the "all singing and dancing" jacket with the highest levels of protection, but Clover also makes Level 1 and other jackets and pants. And the matching Tekno pants also exceeds the Level 2 standard.
Clover is going to send over an outfit for a full webBikeWorld review. I tried on the size large Tekno and it fit perfectly. The jacket has many special features, including the leg straps to secure the jacket in a crash and a specially designed armor system to keep the armor in place during a fall.
One of the most impressive features of the Tekno clothing is the special "Iron" fabric used by Clover, which is highly resistant to impact abrasion. Impact abrasion tests are quite different from Martindale rub tests, as the Martindale test does not have the initial impact, which makes quite a difference and is necessary for motorcycle use and to meet the EN standards.
The fabric must resist the impact and at least 7 seconds of abrasion to meet Level 2 standards.
This is dramatically illustrated in the video below. First, the weighted anvil, holding a swatch of Cordura 500, a fabric typically used in motorcycle clothing, is dropped on the rotating abrasion medium. As soon as the fabric wears through, the arm automatically raises and the test stops.
Watch the timer in the upper right-hand corner; the Cordura lasts less than one second. Then comes the Clover "Iron" fabric. It lasts over 19 seconds -- quite a dramatic difference! So, I don't have to ask which one you'd rather be wearing! The Clover Tekno jacket and pants are considered "Personal Protective Devices" in the EU because they meet the stringent tests.
Leather vs. Textile?
I asked Clover if there was any difference in the protective abilities of their Level 2 leather clothing vs. textile and received a rather surprising answer
They said that the 1.2 - 1.3 mm leather (tanned in Italy, high-quality leather) lasted on the impact abrasion test for about 3.5 seconds. This means it is not possible to have a Level 1 product with the use of a single layer of 1.2 - 1.3 mm leather, which is the standard leather thickness used on a typical leather jacket or suit.
To reach Level 2, the leather must have two layers, one for the external shell of 1.2 - 1.3 mm high-quality Italian leather, which will withstand the first 3.5 seconds, then a second inner layer, made with a particular fabric similar to Kevlar, but stronger for the other 3.5 seconds to reach the Level 2 target (minimum of 7 seconds abrasion resistance). All Level 2 garments must pass the minimum 7 seconds abrasion test.
Is Level 2 textile better than Level 2 leather? Clover said they have a better result for their textile on the abrasion test. Note that this is Clover's special textile, not just "any old" textile from other brands.
For the impact cut resistance test, they get better results with leather. Textile has better tear strength and for stitching burst test, they have similar values between leather and textile. The best test they had was the main stitching on their leather jacket and suit, which was able to resist up to 1,144 kPa pressure (more than 11 ATM). The Level 2 standard calls for a minimum of 800 kPa pressure, so their leather tested 40% higher than the Level 2 standards.
I'll have more information on the various EN tests for motorcycle clothing and a review of the Clover Tekno outfit forthcoming.
UPDATE: Clover Tekno Jacket Review!
w
BW
Video: Clover Tekno Jacket and EN Impact Abrasion Testing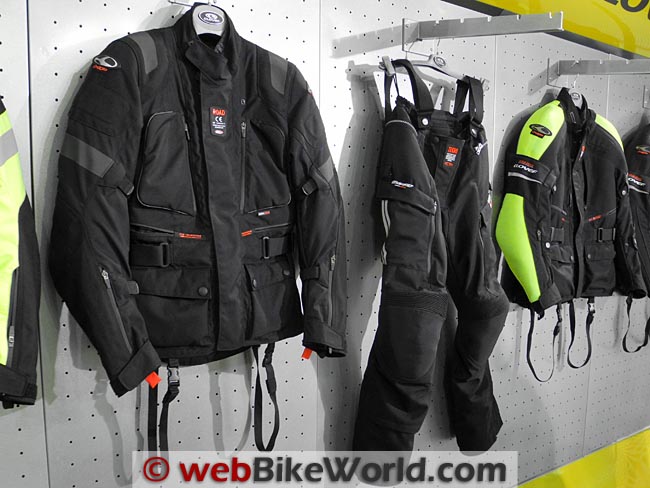 Clover Tekno jacket has leg straps to keep the jacket in place during a crash.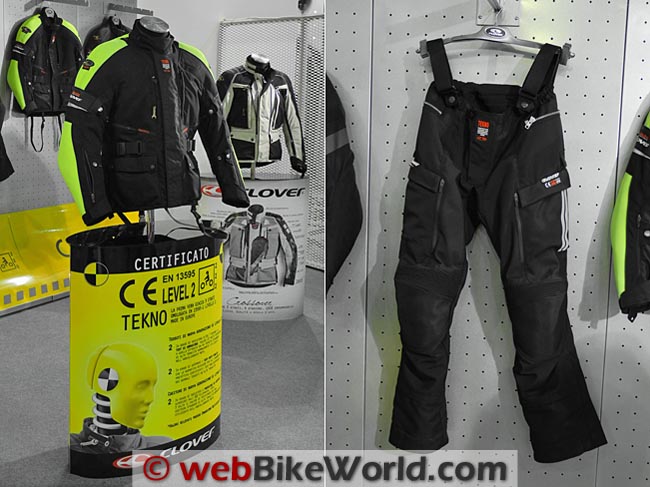 Clover Tekno jacket and pants.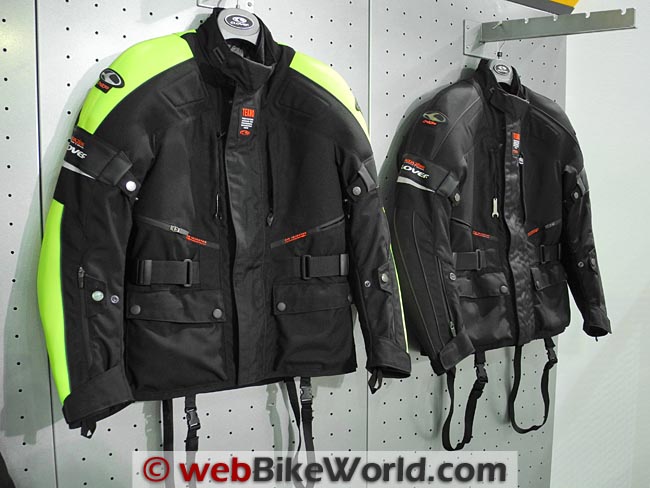 Clover Tekno WP jacket in high-visibility yellow and black.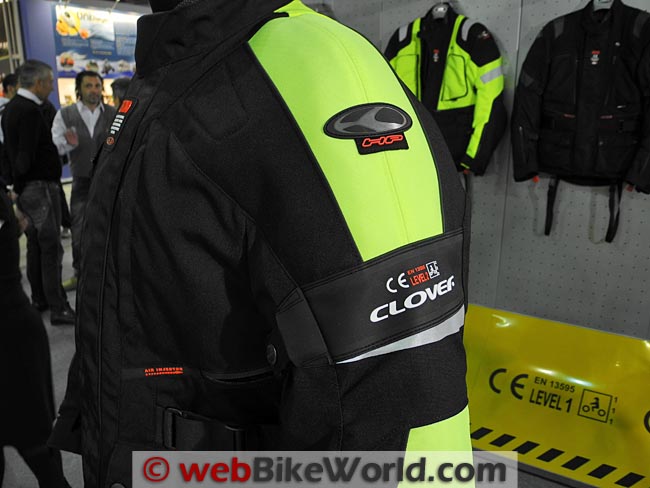 Clover Tekno WP jacket meets CE Level 2 standards.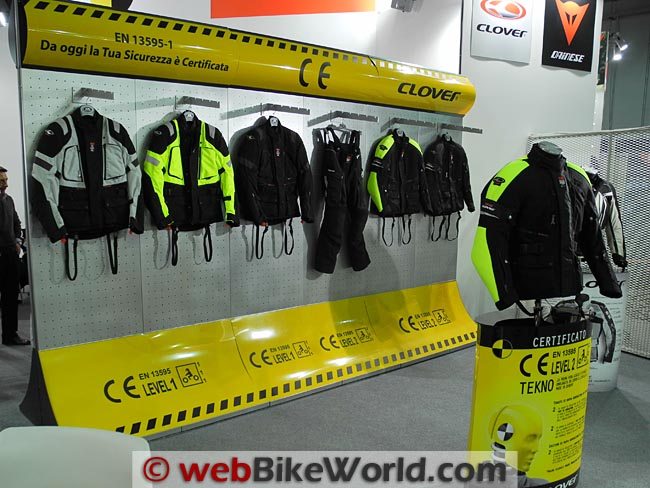 Clover Tekno CE Level 1 and 2 jackets and pants.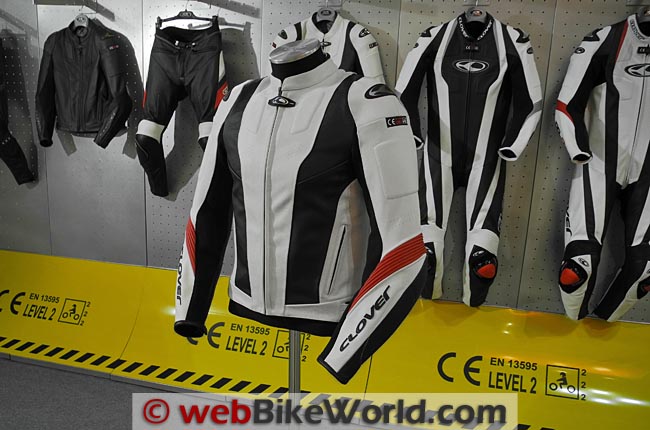 Clover CE Level 2 leather jacket and clothing.
Publication Date: November 15, 2011
Note:
For informational use only. All material and photographs are Copyright © webWorld International, LLC since 2000. All rights reserved. See the webBikeWorld®
Site Info page
. Product specifications, features and details may change or differ from our descriptions. Always check before purchasing. Read the
Terms and Conditions
!
Please send comments to
---