Zeus ZS-210C Review Summary
Zeus ZS-210C Image Gallery
The Zeus ZS-210C is available in 20+ solid color and graphic combinations, including the very whimsical artwork shown here.
The ZS-210C is a sturdy "Demi-Jet" styled helmet that's also comfortable and well made.
The Zeus helmet lineup for 2009-2010 was reviewed last year on webBikeWorld.com.
This includes the Snell 2005 certified Zeus ZS-3000 flip-up, theZeus ZS-806 full-face and the Zeus ZS-608 Jet-styled helmet.
The Zeus ZS-210C "Demi-Jet" (as called by Zeus) helmet shown here is another addition to the revived Zeus lineup.
I asked to do the evaluation of this helmet last fall and this is my slightly delayed report, completed on this cold snowy winter's day in January.
I'm writing a review of a helmet that's more suited for cruising about on a scooter during a warm summer day. Well, at least it helps me remember that winter will one day be gone (let's hope)!
I'm not sure how webBikeWorld ended up with two of what I will can be said are probably the most whimsical graphic patterns of all the ZS-210C helmets, but don't worry — there are 13 colors to choose from, each available in either gloss or matte surface finishes, for a total of 26.
Just for the record, the colors include: Black, Metallic Black, Titanium, Silver, Red, Burgundy, Yamaha Blue, Dark Blue, all in either Solid Gloss or Matte.
The patterns include Black/Lime Green, Brown/Light Brown, White/Yellow-Green, White/Yellow-Purple, Yellow and the ZS-210C prices range from about $100.00 for the solids to $120.00 for the graphics (unconfirmed).
I realize that for some it may be a little difficult to get past the "Stinger" and "Juicy" graphics shown here, but underneath is actually a well-made retro Jet-styled helmet that should be considered if you're looking for a helmet of this type.

Paint, Graphics and Overall Quality
These two color patterns may have been sent by Zeus to illustrate their ability to apply graphics to the helmets; of that I'm not sure. But looking at it objectively, the patterns are applied with excellent quality, so it is assumed that the other colors would stand up to the same scrutiny.
One thing you can say for sure, the yellow and black Stinger graphics will certainly lend some visibility to the wearer. And if you look closely, you can see that the Juicy graphics have little fruit sections in the pattern.
I hate to think that you'll think that I like these graphics only because I'm a female, but I'll admit it: I do. I like both of them. Also, I know scooter riders will say they need as much protection as anyone else, but I also think the 210C and especially the colors shown here are perfect for scootering!
The helmets have a nice, thick clear coat, so the pattern should remain protected for a long time. Also, the liner and the sewn trim that surrounds the helmet shell are of excellent quality. The visor rotates smoothly and has good optical qualities and everything has a quality feel.
Score:  I'll give the ZS-210C an "Excellent" rating for this category. See the webBikeWorld rating system at the Summary Table at the end of this article below.
Helmet Fit, Comfort and Internal Shape
The ZS-210C has neutral fit that should fit a majority of owner head shapes. The sizing feels like it might be 1/2 to 1 size smaller than expected, so for example, the XL Juicy helmet shown here fits more like a slightly oversized size large.
The internal shape is neutral and tends towards round, but I'll call it neutral. Anyone moving to a Jet-styled helmet for the first time from a full-face or flip-up will probably need an adjustment period, as these helmets feel short from top to bottom and just barely cover the ears.
The 210C actually has a nicely sized ear pocket, unlike several of the other Jet-styled helmets we've reviewed, which have a flat inside with no ear pocket at all. When I pull the 210C over my head, the sides and the ear pockets do feel like they form a nice headphone seal and although I didn't try it, I'll bet that the 210C would work very nicely with speakers.
For more information on head shapes and helmet fit, see the wBW Motorcycle Helmet FAQ page.
The ZS-210C is smooth and comfortable, with a fabric made from a type of micro-fleece. It also has a generous amount of padding compared to other Jet-styled helmets I've tried.
The 210C should fit most types of eyeglasses, although the shape and fit of the sides, along with the cupped ear pockets, can interfere with the back of the temples on the eyeglasses if they are too long. As always, note that this may vary, depending upon the rider's head shape and eyeglass type.
Score:  I'll give the ZS-210C an "Excellent" for this category. It is very comfortable and it has a neutral fit.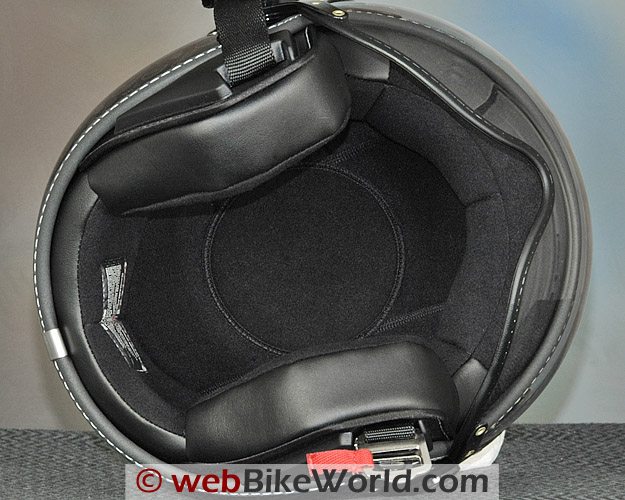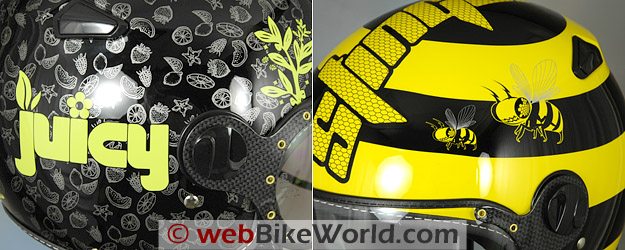 Zeus ZS-210C Face Shield
Many Jet-styled helmets have problems with the face shield, probably because the design means that the shield is unsupported along the bottom edge. We have tried some helmets of this type with face shields or visors that are so flimsy they feel like they're going to shake loose at any speed above walking.
Not so with the 210C; the rotating mechanism feels smooth and sturdy and the face shield has a "hemmed" edge all the way around. Of course, an unsupported face shield like this will never feel as sturdy as those used on a full-face helmet, so there is some play at all positions, but this one is better than most for this type of helmet.
The arms on either side that hold the face shield are finished with a nice faux-carbon-fiber look. Five very nice contrasting brass grommets are used on either side to hold the clear shield to the arms. The shield is attached by a large screw-on button on either side that is easy to remove.
Also, the face shield is marked as meeting the VESC-8 U.S. safety standard for face shields. It has a very slight tint.
The face shield comes down far enough to provide good protection for the eyes, but this type of helmet means a lot of wind in the face and the cutout for the nose does seem to focus some of the air stream, making for an interesting ride.
Score:  I'll give the ZS-210C a "Very Good" for this category for a smoothly operating face shield that is easy to remove and replace and meets VESC-8 standards.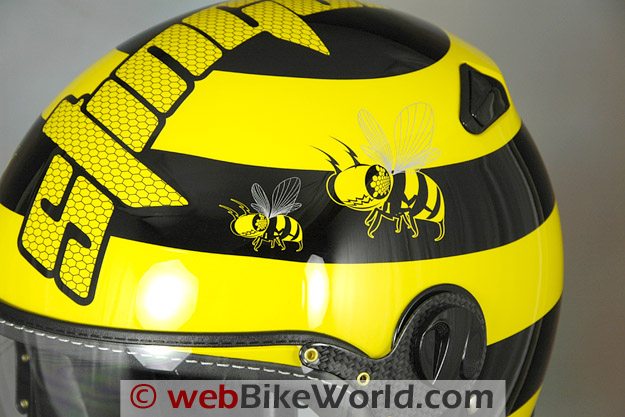 ZS-210C Ventilation and Air Flow
No problems with air flow here, obviously. This is a nice helmet to wear in the hottest weather, if you can deal with the tradeoff in safety compared to a full-face helmet (although the ZS-210C does meet U.S. DOT safety standards).
Just to note that the ZS-210C also has operating exhaust vents in the rear, although it's difficult to determine if they do anything or not. The liner does not include any mesh panels and there are no front intake vents on the helmet, so I think the rear exhaust vents may help to pull out some of the air between the liner and the EPS foam.
Score:  I'll rate the ZS-210C as "Neutral" for air flow and overall ventilation.
Noise Control
Probably because of the good fit of the 210C and the relatively deep ear pockets, and possibly because there are no upper vents, the helmet is actually quiet, relatively speaking. There is a lot of wind noise at the face, due to the open design, but overall, the cushy lining and overall shape make this one of the quieter Jet-styled helmets I've tried.
Note that our helmet evaluations are a combined effort of several riders over time on different types of motorcycles with and without windscreens.
Evaluators wear correctly fitted, high quality ear plugs (even when evaluating motorcycle intercom systems).
Always protect your hearing when riding a motorcycle. See the wBW Earplug Reviews for more information on choosing and wearing earplugs.
Note also that perceived noise levels will vary, depending on the individual.
Noise can be caused by many factors, including helmet fit, the type of motorcycle and windscreen, wind speed and direction and even the rider's clothing.
For more information on helmet noise, visit the wBW Motorcycle Helmet Noise page.
Score:  I'll rate the ZS-210C as "Very Good" for overall noise control.
Helmet Weight
This ZS-210C in size XL weighs 1244 grams (2 lbs., 11-7/8 oz.), which is light compared to most full-face helmets and just about in the middle of the 16 open-face helmets we've reviewed.
The weight is evenly balanced and the helmet feels sturdy and not "cheap" when riding.
For comparison purposes, see the wBW Motorcycle Helmet Weights page for a listing of all of the helmets we've reviewed along with their weight and internal shape.
Miscellaneous
All of the Zeus helmets for 2009 sold in North America have a double D-ring attachment system. The ZS-210C chin strap has a small moveable chin cushion but no other padding on the chin strap. The chin strap has a snap for securing the loose end.
The ZS-210C meets DOT, ECE 22.05, NBR (Brazil), AS (Australia) and CNS (Taiwan) helmet safety standards. The helmet has two shell sizes to span the range and two EPS liner sizes. The ABS shell is made from an "Anti-Scratch" material.
Conclusion
Get past the unusual graphics shown here and you'll find a nice, solid, well-built Jet-styled helmet at a reasonable price. If you're in the market for this type of helmet, the ZS-210C deserves a look.
Zeus is still in the process of developing a North American distribution for the helmets. More information for dealers or customers is available by contacting Mr. Elvis Mak, the Zeus representative in the U.S.A. at [email protected].
w

BW

 Product Review: Zeus ZS-210C Helmet

Manufacturer: Zeus Helmets
List Price: $105 – $117 (Unconfirmed)
Colors: Many solids and graphics.
Made In: Taiwan
Sizes: XS to XXL. Shell Sizes: 2
Review Date: August 2009

Rating Scale is subjective: Unacceptable, Poor, Neutral, Very Good, Excellent, Outstanding.
Note:
 For informational use only. All material and photographs are Copyright © webWorld International, LLC since 2000. All rights reserved. See the webBikeWorld® 
Site Info page
. Product specifications, features and details may change or differ from our descriptions. Always check before purchasing. Read the
Terms and Conditions
!
Owner 

Comments and Feedback
---
From "N.P." (7/10):  "I believe they (the 210C) are sold in Canada as Zox helmets, I just purchased a Zox Jazz and everything but the name brand matches, vents, padding, rivets, even the little metal tag at the back.