Zero Motorcycles have extended the battery range of their electric bikes, added anti-lock brakes and upgraded components on their 2015 range, unveiled at the Intermot show in Cologne this week.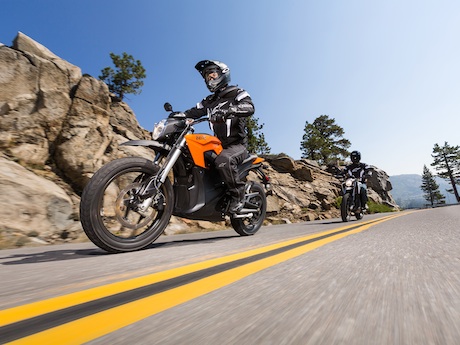 Most importantly, Zero Motorcycles has found an extra 10% battery life from its S-based bikes. Zero still offers two different basic battery packages, now 9.4 and 12.5 kilowatt-hours, or you can option up to the 2.8-kWh Power Tank option for a total of 15.3 kWhs. For the S and SR, that gives you up to 297km (185 miles) in the city, 185km (115 miles) at a 90km/h (55mph), and 151lm (94 miles) at 112km/h (70mph).
But Zero Motorcycles has also made the riding experience better with improved riding dynamics and comfort.
They now get fully adjustable Showa suspension specifically tuned for each model, improved brakes with Bosch ABS, and quality Pirelli tyres.
On the rider-interface side, they come with new mirrors, softer handlebar grips and a stouter throttle. The S, SR, and DS receive a more comfortable seat, and cast alloy wheels. The FX gets new, slightly wider wheels. All bikes get lighter axles and beefier bearings.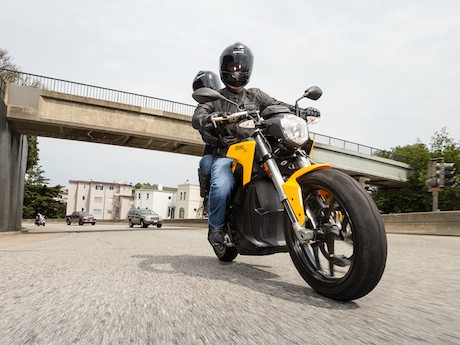 Zero Motorcycles Australia managing director James Deutsher says they will keep a lid on prices for the 2015 models.
"In line with tech sector development we are hoping to maintain our current Australian rideaway pricing, while adding significant value to the offering by way of Bosch ABS, Showa suspension a, Pirelli tyres and wheel upgrades, along with meaningful range improvements."
Meanwhile, they still have 2014 models they are selling that includes their $3500 "Early Adopters Rebate".
The Zero Motorcycles model range remains unchanged. The most popular is the Zero S road bike and SR performance variant that sprints to 100km'h in just 3.3 seconds. The dual sport is the DS and the FX is a "dtealthfighter" stunt machine with swappable batteries.
The new models are expected to arrive early next year. And remember, all electric motorcycles in Australia are learner-approved.