Yamaha's all-conquering MT-07 continues to show its ability to be customised with this latest retro XSR700 edition in honour of the 1960s XS650.
It will be available in Europe later this year and Australia early next year.
Like the MT-07, it is expected to arrive in Australia in a full-powered version featuring the high-revving 689cc 270-degree crossplane parallel twin with 55kW of power as well as a 655cc LAMS version with 38kW at 8000rpm.
It would be great if they released the LAMS version with the name CXSR650!
We knew the retro model was coming after a wacky retro Yamaha MT-07 custom was revealed at the fourth annual Wheels & Waves Festival in Biarritz, France, in June.
However, the production version is, as expected, substantially different from the quirky "steampunk" concept by legendary Japanese custom builder Shinya Kimura.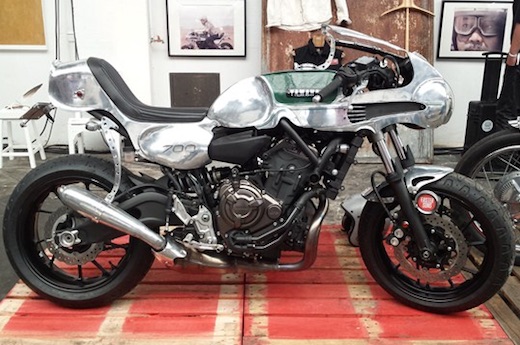 The new XSR700 is one of Yamaha's range of 'Faster Sons' special editions, which also includes the XJR1300 Racer and XV950 Racer.
Among the features of the XSR700 are a two-texture leather seat, old-school headlight, stubby exhaust, single-pod LCD instruments, retro Pirelli Phantom tyres similar to those on the Ducati GT1000, 10-spoke wheels and plenty of aluminium on the tank and fenders.
The stripped-down bike has a wet weight of just 186kg and it will come in "Forest Green" and "Garage Metal" colours.
It will be released with its own set of accessories for further customisation as well as a range of 'Faster Sons' apparel to really get in the retro mood. They include leather jackets, Sport Heritage gloves and helmets.
The MT-07 is currently the fifth-best-selling bike in Australia and the top-selling naked bike.
The XS650 was built from 1968 to 1979 and featured an advanced drivetrain with unit-construction engine and gearbox in one.
Kenny Roberts famously rode one to victory in the AMA Professional Dirt Track Racing championships.