Yamaha has released a video explaining a little more of the Niken three-wheeler it will release in 2019.
We're not sure whether to call it a "trike", although it does have three wheels. Yamaha refers to it as a leaning multi-wheeler (LMW) and promises there are more to come.
We've ridden the Yamaha Tricity scooter and other scooters with two front wheels and find they have better braking, cornering and grip.
Niken advantages
The video makes many claims about the advantages of their LMW Niken:
Cornering is improved with a 45-degree maximum lean angle;

Change of direction is light despite the extra weight of the four front stanchions;

Bump absorption is improved; and

The machine has a "natural; feel" which we imagine means it feels like a normal two-wheeled bike.
It will be based on the MT-09 which is powered by a 847cc cross plane inline triple engine with 86kW of power and 88Nm of torque, although there is no word on whether the output will be modified.
The MT-09 costs $12,999, but the Niken is bound to cost much more, thanks to the expensive and complex steering geometry.
It's also bound to weigh more with two sets of forks, but no tech specs are available.
Yamaha refers to the fork technology as Leaning Multi-Wheel Ackerman steering geometry which keeps the front wheels 410mm apart when cornering by using a parallelogram link and offset joints.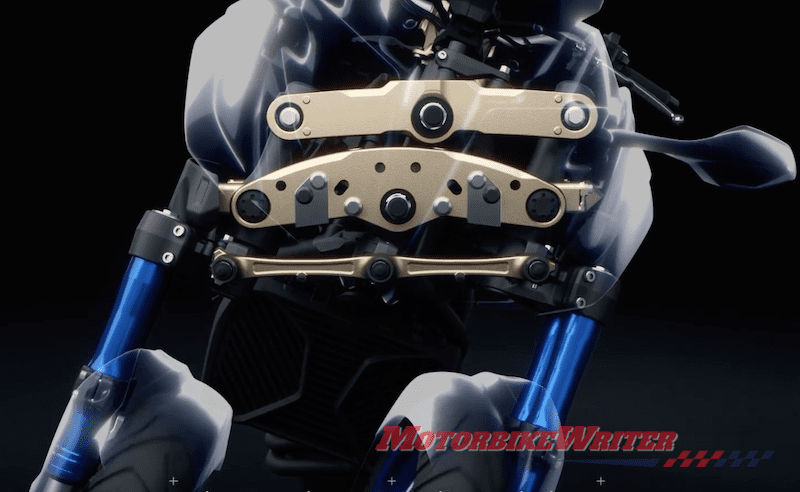 Interestingly the front two stanchions provide the steering while the rear stanchions have the shock-absorbing springs.
It sits on a hybrid frame made of carbon steel lost-wax casting where the frame joins the steering head and aluminium gravity casting at the rear with an aluminium swingers and the engine as a stressed member.
They claim this gives the frame a balance off flexibility and rigidity for stability and handling.