Yamaha has the ignominious honour of issuing the most vehicle safety recalls through the Australian Competition and Consumer Commission in 2020.
The Japanese manufacturer had eight recalls this year, following just three in 2019.
It should be noted that three of those recalls were for the learner-approved R3 which has had a massive 11 recalls since it was launched in 2015.
There was a total of 28 motorcycle recalls in Australia this year, one more than last year which was the lowest number in seven years.
There were 37 in 2018, 28 in 2017, 39 in 2016, 30 in 2015, 28 in 2014, 20 in 2013, 24 in 2012, 16 in 2011, 14 in 2010 and 23 in 2009.
Among the recall issues this year were a few for non-compliance which may seem paltry, but could land owners with an expensive defect notice.
Six recalls for Triumph saw the British manufacturer become the inauspicious second-place getter.
That's twice as many as the previous year and has some Triumph forums concerned about the slashing of jobs in the UK and the shift this year in more manufacturing to Thailand.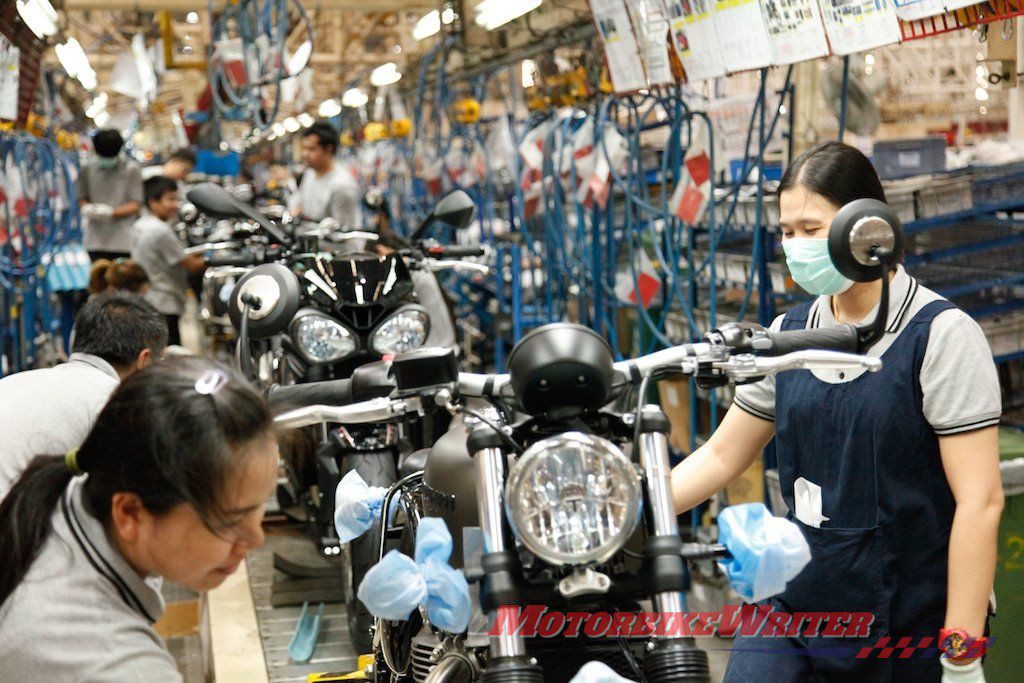 In alphabetical order, here are the recalls this year:
BMW 1 R1250

was recalled over missing or faded compliance plates and/or exhaust noise labels.

Can-Am Ryker

three-wheeler was recalled for turning into a two-wheeler with one front wheel in danger of dropping off.

Ducati 1299 Supereggera

recalled over a front brake pad issue and six Multistrada 1260 S motorcycles for a faulty side stand.

Harley-Davidson's electric Livewire

was recalled because it shut down while it was being ridden.
Honda recalled the Honda CBR1000RR-R Fireblade over a fault with gear selection.
Husqvarna Australia grounded its

Svartpilen 701

over a potentially dangerous fuel leak.

Indian Motorcycle Australia

 recalled the

2014 Chief, Chief Vintage and Chieftain

over a failure with the headlights cutting out and

expanded last year's recall notice on 2014-19 Thunderstroke engine models

over a gear position indicator fault.
Kawasaki had three recalls. The

Ninja H2 SX

was recalled for gear wear issues; the Ninja ZX-10R and RR models were recalled for a fire safety risk; and the

Ninja ZX636

horn stopped working because of a wiring fault.
KTM's new

790 Adventure models

had an issue with overheating rear brakes.
Suzuki's UK110 scooter also had a horn issue.
Triumph's various six recalls affected a host of models including the Tiger 1200, Street Triple RS, Speed Triple S, Speed Triple RS, Street Scrambler, Street Twin, Tiger 900, Trophy and Trophy SE, all Thruxtons and the Speed Twin. Issues involved brakes, wiring faults, side stands and gear shift selectors.
Yamaha's eight recalls affected NMAX, XP530 and XMAX scooters, the MT-03, the new Tenere 700 and the R3. Issues varied, but several were involved in a non-compliance issue on the rear reflectors not being bright enough.