Yamaha Super Tenere now comes in two models, the XTZ1200E featuring extra trimmings such as electronic suspension adjustment, grip warmers, rear carrier, centre stand, suedelook seat cover and hand protectors, all for an extra $2000.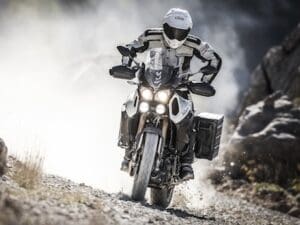 The electronic adjustable suspension has four preload settings and three damping settings, plus another seven customisable levels, all at the flick of a switch to match all types of load and terrain. The move toward electronics brings the big Yamaha closer to the BMW R 1200 GS specs, although it's still almost 20kg heavier.
Meanwhile, the standard Super Tenere XTZ1200 has trimmed down by 5kg despite getting more equipment such as cruise control and remaining at $19,990.
Yamaha has announced a number of upgrades to the Super Tenere engine for 2014, including bigger intake and exhaust ports, revised camshaft and piston rings and new exhaust system. Yamaha says power is up just 2hp but it is smoother and the 'T' (Tour) and 'S' (Sport) engine maps are "more refined".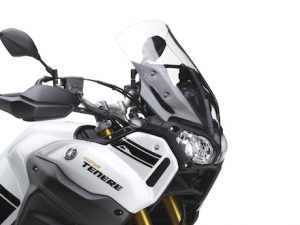 Transmission is also smoother with a rubber shock absorber in the clutch, while the shaft drive has an improved damper design in the engine housing. There is now a gear position indicator in the LCD instruments.
After complaints about the windscreen, the new Super Tenere gets a four-position adjustable screen, although it's not clear if this can be done on the run like the new GS.
Other updates include new aluminium tapered handlebars for less vibration, cruise control standard, LED indicators, new tail design, low-profile stitchless seat, muffler protector and a forged aluminium sidestand.