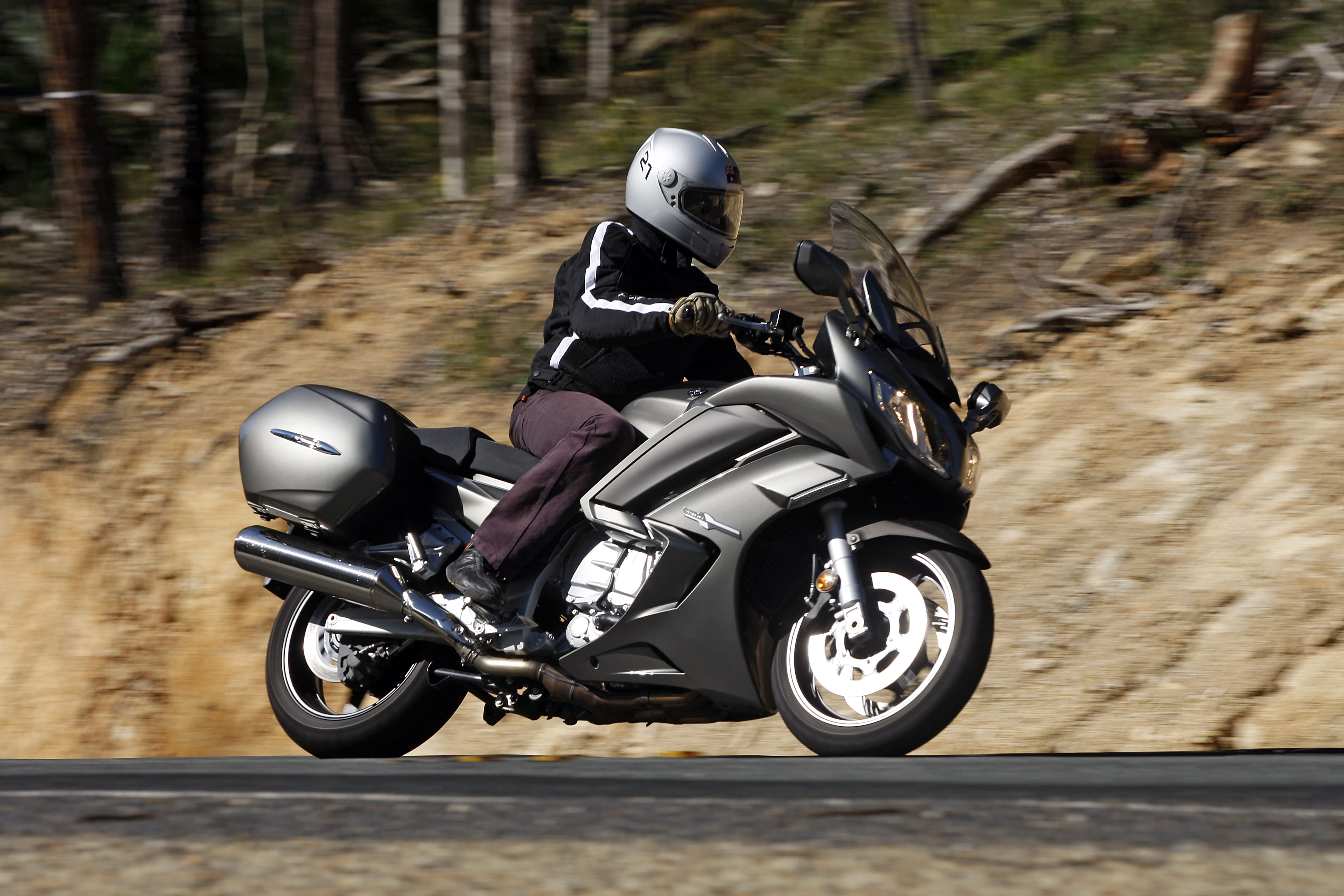 The new Yamaha FJR1300A is a big-torquing sports tourer with a healthy dose of modern technology.
While keeping the same lithe chassis, Yamaha has uprated the 1298cc inline four-cylinder engine for even more power and torque, added lashings of electronic wizardry and improved rider and passenger safety, comfort and convenience.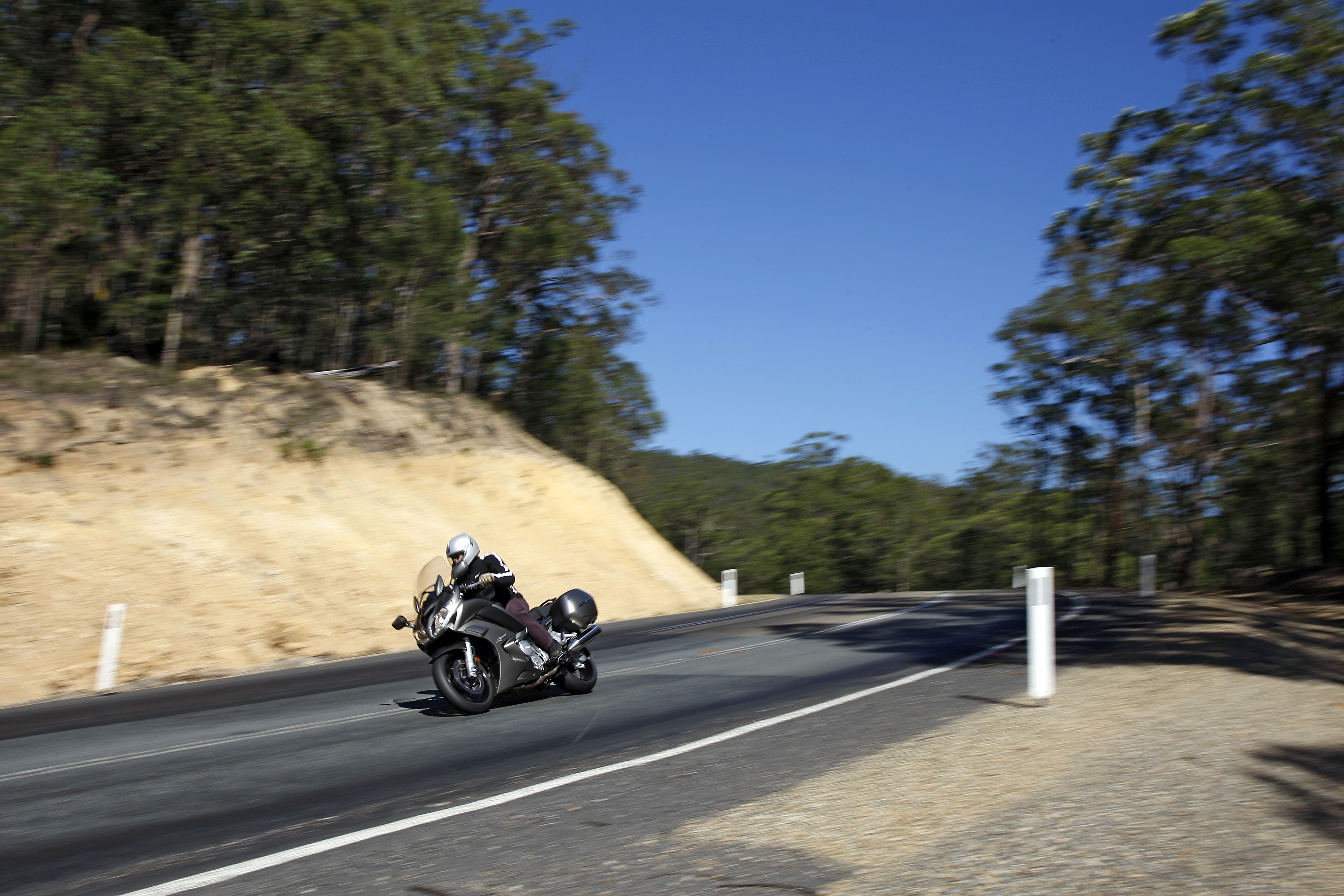 The price is up $1000 to $24,999 which equals the Kawasaki 1400 GTR, but is $300 more than the Honda ST1300 and $1000 cheaper than the new Triumph 1200 Trophy but the Brit has a lot more technology.It arrives with two power maps, cruise control, fly-by-wire throttle, ABS and traction control.
Rider comfort is improved with three-level heated grips, a new electronic windscreen with better protection that works twice as fast, more comfortable footpegs with hollow rubber and a host of information in the new on-board computer and instruments.
It now gets a new twin-spark head, revised fuel injection system and direct-plated sleeve-less cylinders from the R1 and R6 which have less friction. These changes improve economy while also lifting power by 2kW (Yamaha doesn't provide final figures but it's about 108kW) and torque by 4.4Nm to 120Nm.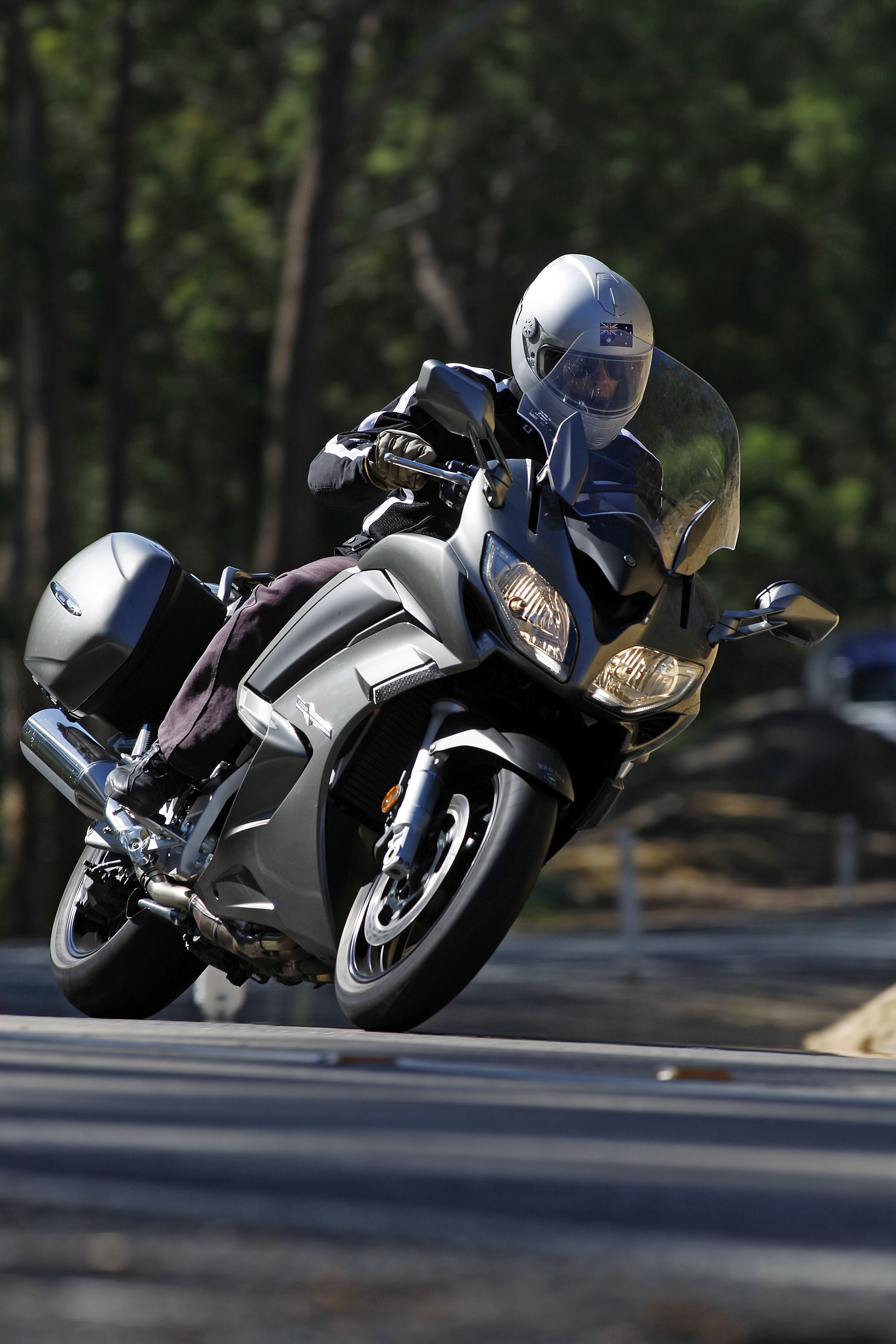 There are also two engine modes switchable on the fly. In Sport or Touring modes you still get all the power, but the Touring slows throttle response by 30% and provides a softer power curve. It makes the throttle less nervous and is a good setting for handling tight turns such as small roundabouts.
The new Traction Control System (TCS) adjusts ignition timing when sensors detect rear wheel spin. You can turn it off by holding the TCS Button on the dash for two seconds.
It retains a five-speed transmission which some may find a limiting factor, but with 120Nm of torque and wide-spread gears, it doesn't really need another gear.
On a lively national press launch ride, it yielded economy of 5.4L/100km which gives it range of well over 400km from the 25-litre tank.
The cruise control is the smoothest yet experienced on a motorcycle; more like a car cruise control. It uses just two buttons on the left switchblock. The plus and minus settings adjust the speed at 2km/h increments and there is a handy resume function. It works in third to fifth gears from 50km/h to 180km/h and can be turned off with a dab of the brakes or clutch, or by rolling the throttle backwards.
Stopping power is improved with non-switchable ABS, big 320/282mm hydraulic discs and a linked braking system.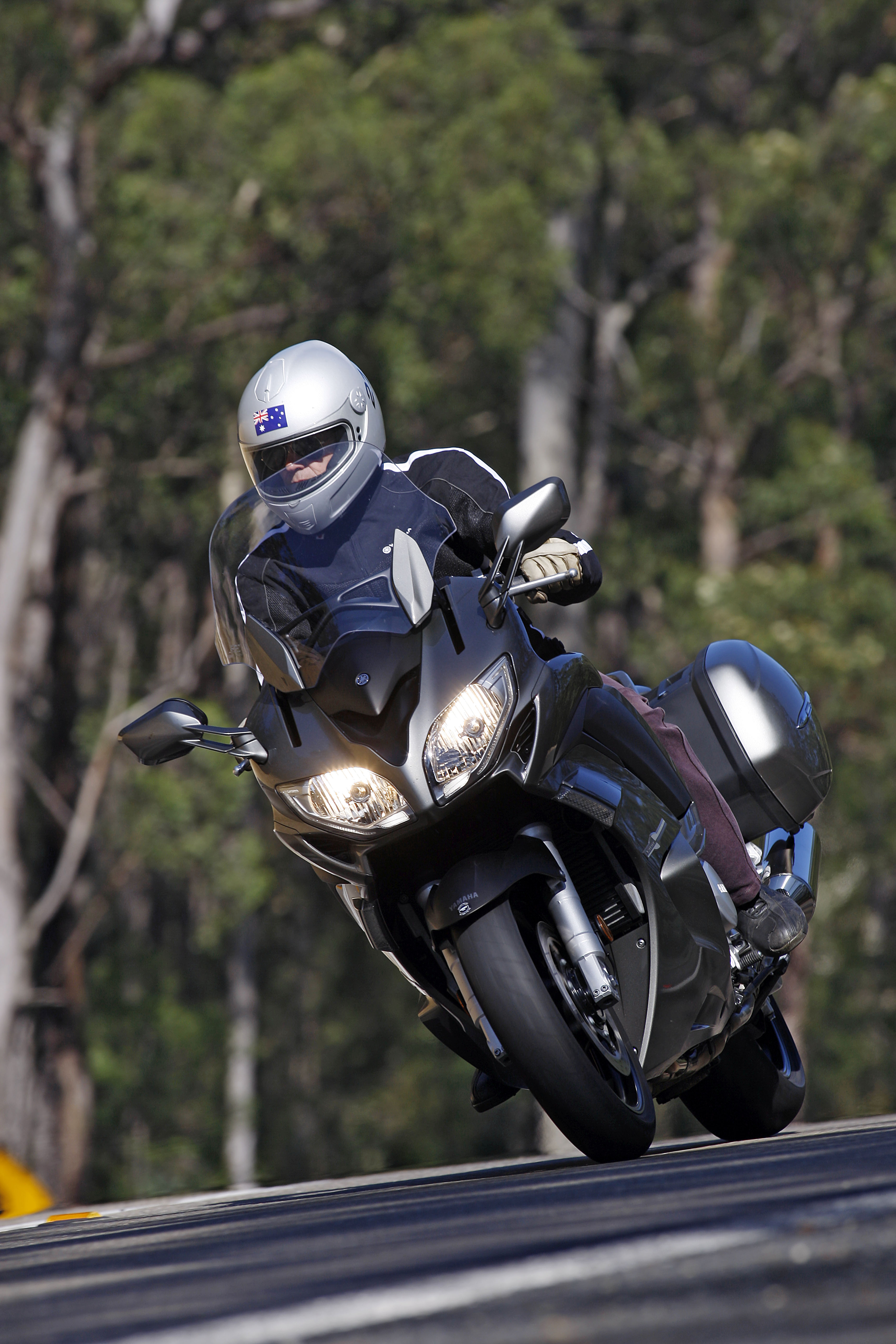 Handling is improved by higher spring rates to cope with the generous 240kg load capacity and grip levels have been increased with specific Bridgestone Battlax tyres.
Riders are now better protected by the stronger windscreen which keeps buffeting to a minimum. The buffeting you get at 100km/h is exactly the same as you get at twice that speed. Great for the European autobahns, but useless in Australia. It also now stays in the position you leave it in when you switch the bike off, rather than returning to the lower position as it did before. The new bodywork has a panel on either side which can be moved out to divert heat from the engine away from the rider's legs in summer, or on to them in winter.
Riders also get a modern dashboard with an analogue tacho, digital speedo and fuel gauge and comprehensive LCD instrument screen displays fuel range, average and instant fuel economy, trip meters, odo, ambient and engine temperature, etc. There is a 12V outlet in the left-hand glovebox which will house an iPhone or iPod, but unlike the new Trophy, it doesn't get a Bluetooth audio system.
The new Yamaha bodywork with neatly incorporated indicators gives the bike the modern makeover it was crying out for and includes ubiquitous daytime running lights. It now looks smarter, more energetic and more modern.
Seats are now more comfortable with a suede-like cover and two-stage height adjustment. But at 805mm or 825mm in the high position, the seat is quite tall and what makes it more difficult for even tall riders to get their feet on the ground is the wide seat – kind of like riding a fat horse. Putting the bike up on its centre stand is now easier with new pivot and link for a 30% lighter operation.
The FJR is still one of the livelier sports tourers around with the highest power-to-weight ratios in its class, making it an express machine for eating up long distances in comfort, style and power.
Yamaha FJR1300A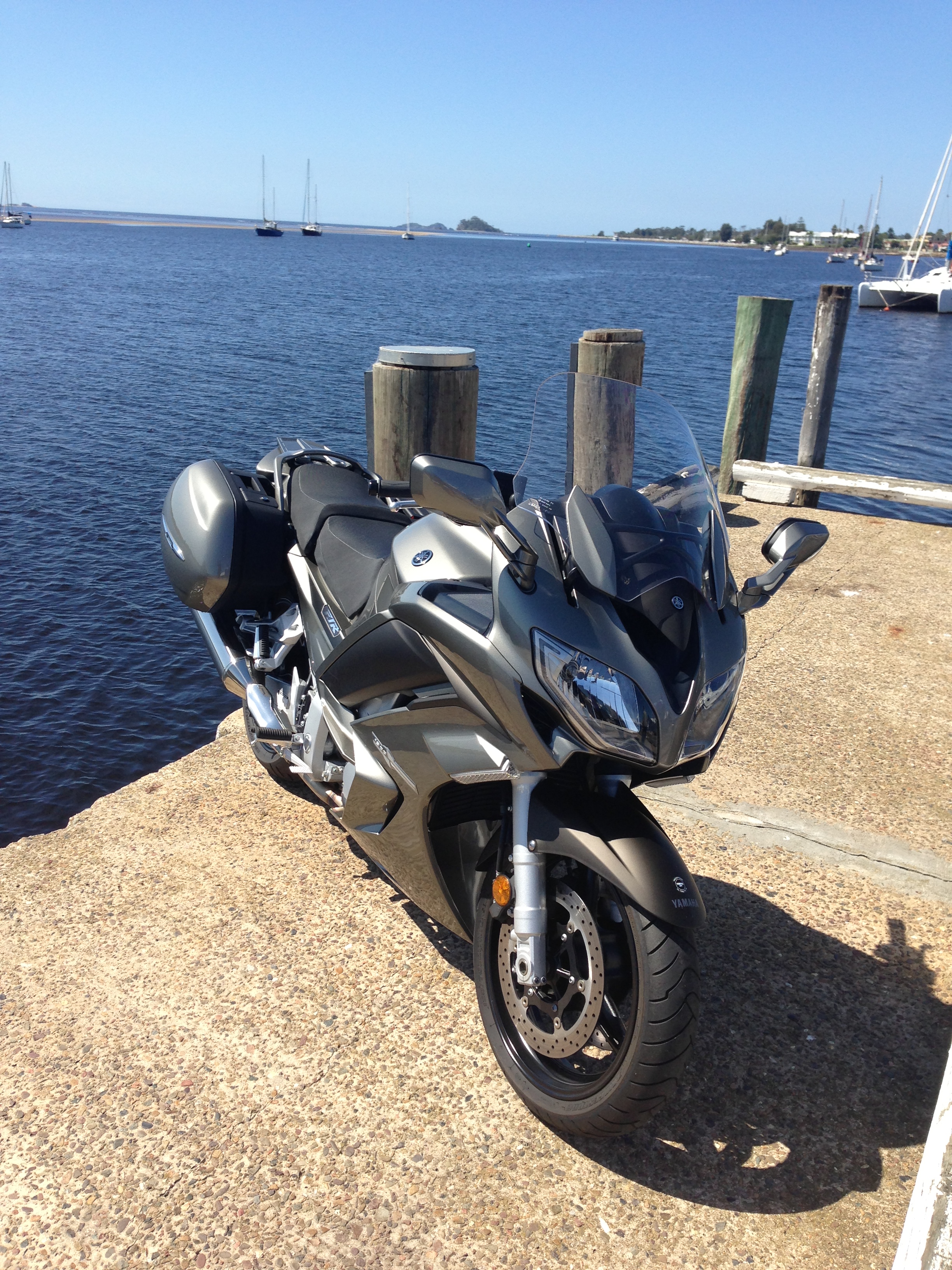 Price: $24,999.
Engine: 1298cc liquid-cooled, 4-cylinder
Power: 108kW (estimated)
Torque: 120Nm (est)
Economy: 5.4L/100km (tested)
Transmission: 5-speed, shaft drive
Brakes: 320mm (front), 282mm (rear) hydraulic discs, linked, ABS
Tyres: 120/70 ZR17; 180/55 ZR17
Dimensions (mm): 2230 (length), 750 (width), 1325/1455 (height), 805/825 (seat), 1545 (wheelbase), 130 (clearance)
Wet weight: 289kg
Fuel tank: 25 litres
Warranty: 24 months, unltd kms, parts and labour