Xena XN15 Disk Lock Alarm Image Gallery
High-quality, hefty disk lock includes a shrieking 110 dB alarm.
It serves as a good deterrent for a would-be thief and a warning for the owner if the lock is accidentally left in place before riding off.
Appears to be high quality and more robust than other disc locks of its type.
Shackle may not be long enough to fit around some brake discs
Some will say that disk locks, Grip Locks (wBW review), alarms and even monster chains like theOnGuard "Beast" we reviewed won't prevent a determined and experienced thief from stealing a motorcycle.
This may or may not be true — but what, exactly, does the word "determined" mean?
A motorcycle could have disk locks on every brake rotor, chains holding it to floor anchors and an alarm system on the bike and the locked door of the garage..
But still, someone with the time, energy and motivation, could steal the bike anyway.
That's determination…but surely determination of that sort must be pretty rare?
The counter argument says the thief wants to act as quietly and as quickly as possible, attracting little notice. So it could very well be that a motorcycle protected with one or more anti-theft devices might get a pass from said thief. I'd rather prescribe to this philosophy.
Of course, both of those arguments could be debated ad infinitum without settlement. But while our mates are hashing it out in the pub, there are at least two things that sensible motorcyclists can do to protect their pride and joy.
First, to help prevent a "crime of opportunity", an anti-theft device should be used, and just about any anti-theft device is better than none.
Second, a layering strategy should be employed, combining, say, an alarm system with a disk lock or a chain or other anti-theft device.
This will surely prevent the vast majority of "casual" thievery, no?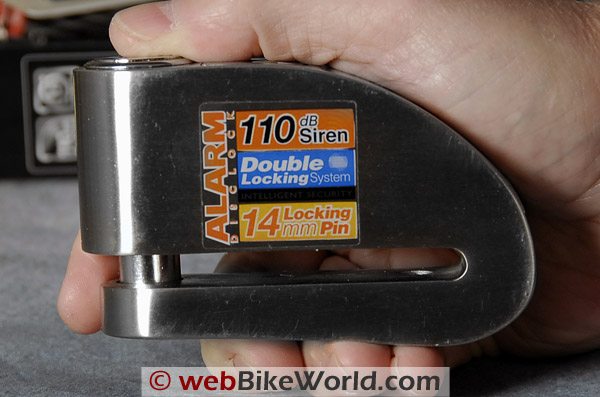 An Example…
The situation I can definitely relate to is parking a motorcycle at the Washington D.C. Metro station.
I occasionally ride down to the nearest Metro stop and park in the little fenced-in area they have set aside for scooters and motorcycles before I take the train the rest of the way into downtown D.C.
I always use a disk lock when I park, because it just doesn't make sense to leave the motorcycle behind with only the fork lock to protect it. And if I think I might not be back until after dark, I'll throw a chain around the wheel also.
It would be nice if they installed some ground anchors to use with the chain, or if they provided motorcyclists with the same type of enclosed and locking bicycle huts they have for bicycles, but I'm not holding my breath.
In the meantime, a disk lock it is. Now I've seen some pretty cheap-looking disk locks for sale; and more than a few that cost only a few bucks and will probably break as soon as the wheel turned one rotation. No thanks. This isn't the place to save a few bucks.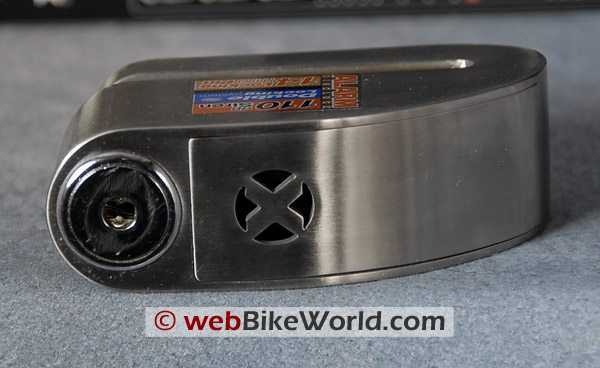 Xena Disk Locks
So I'm impressed by the Xena "Disc Lock Alarm". It has to be the heftiest disk lock I've ever tried.
The Xena Disc Lock comes in four different sizes, from the 80 mm long XN10 (3.25″) and XN14 to the 102 mm long XN15 (4.0″) shown here.
The XN collection also includes the big XN18, which is 113 mm (4.5″) long and also features an 18mm diameter four-pin locking system and an LED light to let you know it's active.
Note that the XN15 sample that Xena sent us is actually too large for the Ducati GT1000 brake disk rotor shown in these photos. The lock should ideally fit so that the rotor disk completely fills up the slot in the lock.
That's why Xena makes a variety of sizes; some fit in the drain holes in the disk itself, while others are designed to fit past the braking surface and clamp on to the slots in the rotor near the mounting bolts.
The XN10 would probably be a better fit for the motorcycle shown here and in the video.
Xena has a template that can be used to select the right lock, or you can measure the distance from the outer edge of the disk to one of the holes and then choose accordingly.
Here's a .pdf file with the Xena Lock Fitter template that you can use (opens as an Adobe Acrobat .pdf file or right-click and select "Save As").
Each of the Xena Disc Locks are made from 100% stainless steel with a beautiful but purposeful finish. The XN15 is a solid hunk, weighing in at exactly 2.0 lbs (908 grams) on the webBikeWorld Polder scales.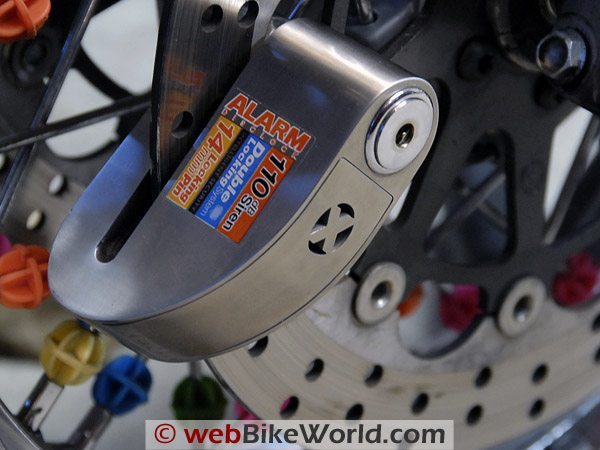 The Xena XN15 Disk Lock
The XN15 has an array of high-end features, like a carbide reinforced locking pin that sits down inside a 1/4″ (6 mm) opening that slides over the motorcycle's brake disk, making a nice and snug fit.
The very secure-feeling lock and key barrel is also treated against failure with one of those ice sprays the thieves try to use to freeze and break the lock.
The pin is "double locking"; that is, it has flats on either side and matching flats in the hole in the base of the lock.
When the pin goes down through the hole and the key is turned, the flats allow the "ears" of the pin to turn and engage the matching flats in the bottom half of the lock, which makes a more secure system.
But the Xena Disc Locks have another interesting and useful feature; they are fitted with a 110-decibel alarm system module that lives inside the lock. It's very nicely integrated and it automatically arms within about 5 seconds after the key is turned.
The alarm senses that the lock is attached to the brake disk, and it gives off one beep when it's armed, signaling that it's ready to go.
If the bike or the lock is disturbed, the alarm's dual shock and movement sensors will trigger two beeps and then it will emit a loud, shrieking chirping noise for 10-15 seconds.
Believe me, this sucker is loud — loud enough that when I was trying it in the garage, I had to quickly open the lock to get it to stop rather than wait for 15 seconds!
If the disturbance continues, the alarm will go off again, or it will stop and re-set itself.
We made a short video (below) to show you how easy it is to install the lock and to demonstrate the alarm, but remember that it's much louder in reality than it is on the video.
And there's a bonus: you don't have to worry about riding off without removing the lock, as sometimes happens when using a disk lock, because the alarm will sound as soon as the bike is moved.
The lock comes with a nice Cordura-style carrying case that closes with a zipper. It has a belt loop on back with an adjustable buckle that will allow it to fit around many frame tubes.
I don't carry the lock on my person, because if I fell on this thing it would surely cause grave damage to my bod!
The lock comes with a set of batteries installed and Xena also throws in a little package with 6 extra batteries in the Xena "XBP-1" battery pack, which is available for sale from Xena also, but not required, because LR44 1.5V Alkaline batteries will also work.
The lock takes all 6 batteries, claimed to last approximately 8 months in normal use. It's interesting to note that the batteries fit into the alarm module and the entire module slides out for battery replacement.
The lock also comes with an Allen wrench to remove the stainless steel bolt that holds the battery cover in place. The battery cover has a silicone waterproof gasket underneath.
By the way, the alarm and the batteries are independent of the locking function, so the disk lock will still work even if the batteries are depleted, although the alarm function won't.
The Xena Disc Lock Alarm carries the Thatcham and Sold Secure "Gold" approval and certification rating in the UK, which means they withstood a variety of test attacks for a period of 5 minutes.
It also carries both the NF and the Classe SRA approvals from France; the ART 3  from Holland; VAT (Finland); and PZU (Poland) approvals and certifications. This is good stuff (more on Sold Secure on the wBW Motorcycle Alarms, Locks and Immobilisers page).
w

BW

 Video: Xena Disk Lock Alarm
Conclusion
The Xena Disc Lock Alarm is a very well made and solid-feeling disk lock. It's the most secure disk lock I've encountered.
The alarm will hopefully add to the deterrent effect and it also serves as a built-in reminder for the rider which should prevent riding away without first removing the lock from the wheel.
Xena makes a huge variety of locks, alarms and other devices to help prevent motorcycle theft, and they all appear to have the same attention to detail and quality as the XN15 shown here.
We plan on reviewing more Xena security devices soon.
w

BW

 Review: Xena XN15 Disk Lock Alarm
Manufacturer: Xena Security
List Price (2008): Varies by model; approx. $69.00 to $99.00
Colors: Stainless Steel
Made In: China
Review Date: March 2008
Note: Item provided by a retailer, distributor or manufacturer with these Terms and Conditions.
Note:
 For informational use only. All material and photographs are Copyright © webWorld International, LLC since 2000. All rights reserved. See the webBikeWorld® 
Site Info page
. Product specifications, features and details may change or differ from our descriptions. Always check before purchasing. Read the
Terms and Conditions
!
Owner Comments and Feedback
---
From "F.S.":  "I purchased the XENA disk lock based on your review. Overall, I think it works well.
I have a Triumph Thunderbird Sport and (chose) the lock using the template. It is a VERY snug fit, and I can only recommend to anybody who is considering this lock to not only check the disk diameter but also the clearance between the edge of the lock and the hub.
Another thing I find is that is very sensitive. I noticed quickly – like the previous reviewer – that it's important to avoid contact with a cover. But it appears to react not only to movement but also to temperature changes.
Throughout the day it sets itself off for no apparent reason every now and then, preferably at dusk, when temperatures drop. It may be something else, but that was my conclusion.
I still have to figure out how to mount it to the bike when it's not in use. It comes with a nice little carrying pouch that is nearly worn out after a ½ year, since the pouch is not quite up to handling the weight of the lock.
Unfortunately, there is no room whatsoever to stash it under my seat…
Keep up the good work. I was absolutely thrilled to find your site since you have a lot of information specifically for the TBS."
---
From "K.S.":  "I myself have owned one since I purchased my motorcycle back in April '07. It works dandy and my bike still hasn't been stolen, so I guess it's effective!
One thing I found was that the alarm was extremely sensitive and would go off from the slightest disturbance. This can be problematic if you want to both lock and cover your motorcycle, for instance, as you might brush the lock while putting on or taking off the cover.
However, even if you remove the alarm, the lock itself still provides a sturdy theft deterrent. All in all, though, I agree with your hearty "thumb's up" review.
Thanks for all the hard work you've put into your site. It's a pleasure to have such a wealth of information available."
---
From "K.M.":  "I read your review of the XENA disc lock alarm and agree with review. This product is well thought out, convenient, and effective. I use the XENA XR1 disc lock alarm and love it. I love the fact that it doesn't sap off my bikes battery, that it will still work as a disc lock even if it's batteries fail, and that it is a SMALL self contained unit.
The alarm (despite being 110db) does not seem very loud (the beeping is loud, however the siren is not), but enough to get the message across. It's easily stored under seat, works, and no worries about bike battery drain, not to mention it's easily affordable. My only question would be "why WOULDN'T you use it?". Great review and my Props to XENA for a well designed product!"