The ever growing market for disc-lock alarms has confused riders when it comes to choosing the best for their motorcycle. Well this review is going to analyze the important information about the XENA (XX6-SS) disc-lock alarm for motorcycle from the Xena company. You will also learn the best features that make it different from the rest.
Apart from just being stylish, what else does this disc-lock provide to riders?
Let's have a look at the benefits of the XENA (XX6-SS)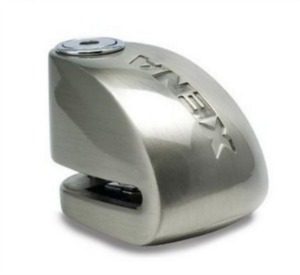 This is the best investment for people who want to secure their motorcycles or scooters. One thing that makes this alarm system outstanding is the fact that you will only change the batteries after every 6 months. Before, you had to make sure that your alarm batteries were functional so that your bike stays safe, but now, you have enough time to keep your bike safe. You don't have to worry about your alarm not going off. The best part is that it just doesn't die off without a warning. When the battery starts to go low, it will make a cricket sound every little while.
The other advantage about this alarm system is that it uses a standard CR2 photo battery. This type of batteries are available in the battery section of most general retail stores. So you don't have to go back to Xena to buy their own batteries if you don't have the time and money.
Before, getting a standard alarm that fits any bike was not easy. Some people ended up buying alarms that were never meant for their bikes. But that's the past. The fact that it's 6mm size means that it can fit any hole in any brake disk. So whether you have a big or a small bike, whichever the type, you can give it maximum security with the XENA (XX6-SS).
There are other disc-lock alarms that have sirens on the outside. This is actually pointless since someone can simply cover it with his/her hands and silence it. In fact, when using such alarms, you also have to keep an eye on your bike just to make sure no one tampers with the alarm. However, the XENA (XX6-SS) series has the alarm in the inside, so no one can silence it. It means that you don't need to have an expensive alarm system installed on your bike to keep it safe. This is just enough.
It fits in your pocket when you're on the go. Also, if you sell your bike and get a new one you can just take this alarm with you. What this alarm gives you is a chance to keep your motorbike safe in the simplest way possible-no cables or blinking lights.
Features
Material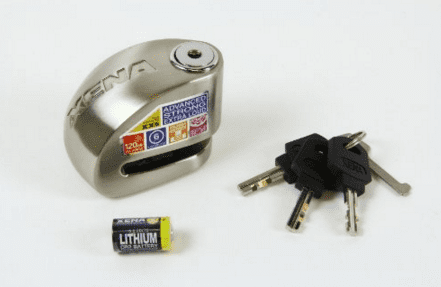 The XENA (XX6-SS) disc-lock alarm for motorcycle is made of a high-grade mono-block alloy that makes it remarkably effective in making sure no one tampers with your bike. It is also very durable as compared to other motorcycle alarms.
The high-grade mono-block stainless-steel construction and a 6mm hardened steel pushdown locking pin makes it virtually suitable for any scooter or motorcycle brake disk.
Alarm
The alarm part of this product is what makes it popular among riders. The shock and motion sensors are connected to a sophisticated microprocessor that triggers a 120dB alarm. It is very sensitive. This alarm is powered by a single CR2 long-life Lithium battery. You don't require any tool to fix your alarm on your bike, all the electronics have been housed in a replaceable alarm module. The alarm also doesn't have the on and off switch. However, it re-sets to armed mode within 15 second once it is activated.
Size and weight
The curved "C" shape gives the XENA (XX6-SS) disc-lock alarm for motorcycle a sophisticated stylish look. They come in two colors. You can either get the yellow one or the silver. The alarm weighs 0.43kgs making it easy to carry around even in your pocket. The width of the throat is 1 5/8″ (42mm).
This disc lock alarm has been tasted in rain, heat and near freezing temperatures without a problem. So when you wish to make a purchase, this feature should be your area of interest. If you find it hard to activate or turn it off, you can checkout various videos online that demonstrate how to go about it. XENA (XX6-SS) disc-lock alarm for motorcycle is sturdy and definitely a must-have.