A Woman's Perspective on Motorcycling and Engines
In a male–dominated sport, women don't have to take the back seat, pillion or, should I say, be the "two–up".
In fact, from what I've read, female riders are the fastest growing demographic in motorcycling.
Ladies, whether you're twenty or sixty, if you're interested in riding there's no time like the present.
And there are plenty of resources available to get you started in the right direction.
First, let me preface this by saying that I still have a lot to learn and this article is not meant to be an end–all by any means.
This is simply my story of how I got involved in motorcycling, some of the research and lessons I learned along the way, and where I hope to go from here.
Ever since I was a teenager, I've loved sportbikes.
Dare I admit that two of the dumbest things I've ever done in my life involve sportbikes? Thankfully, that was a long time ago and I'm much wiser now!
I jumped at every opportunity to go on motorcycle rides.
I was always the passenger, but it was still exhilarating. I have fond memories from years ago of my dad taking me out on his dirt bike along mountain roads, and more recently of rides with him on his Harley Sportster.
How I got into the sport for myself all came about because of a Halloween costume. I had decided last–minute to go to a costume party and had one hour to put something together.
I ended up borrowing my dad's leather chaps and going as a "biker chick" to the party.
I don't know what it is about leather, but I loved wearing those chaps!
My attire sparked all sorts of curiosity about what kind of bike I had. At that point, I didn't have a motorcycle and had never even considered getting one for myself for some reason.
Now that I think about it, at that point in time, I didn't know any females that piloted their own bikes. As a teenager I must have thought girls rode on the back and that was the way it was — or maybe I was afraid of driving and getting myself killed.
Truth be told, I never minded hopping on the back of a motorcycle and wrapping my arms around a cute guy!
Alas, back in the day when I was eighteen I was young, reckless, and stupid and the combination of a hot guy and a sweet bullet bike is what led me into dangerous situations that could have gotten me killed.
But I digress…that night at the costume party a friend offered to teach me to ride. The next day I was at his house for my first lesson on a Honda 100cc dirt bike.
One of the first lessons I learned was to have smooth clutch and throttle control.
A few times, when taking off from a stop, I accidently popped the clutch and gave it too much gas, and as the front tire came off the ground I screamed like a three–year old.
I was not interested (and am still not interested) in flipping a bike over onto my body. That dirt bike definitely reacted differently than the four–wheelers I'd ridden.
I rode around an empty field for a couple hours practicing shifting and turning and just getting comfortable with the feel of the motorcycle. It was like I was a kid again, and I almost had to be pried off the bike. It was a blast.
The next week I went back for round two and a couple more hours on the little 100cc. A week later there was too much rain and snow to even consider taking the bike out until spring. Bummer.
I was hooked and I knew it was definitely a sport I wanted to be an active part of. What the heck was I going to do for five or six months until I could ride again?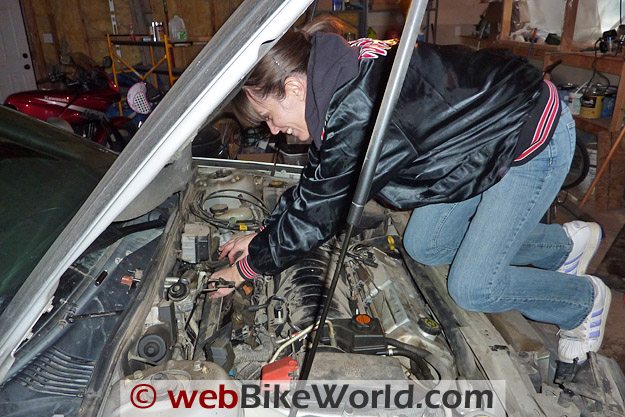 Soaking Up Knowledge
I spent the next several months learning as much as I could about motorcycles and riding and yes, even engines.
Before I got into motorcycles I didn't know a thing about engines beyond the fact that cars had four, six, or eight cylinders.
Every time men talked shop, I was like, "Huh? What the heck are camshafts?"
I knew some terminology — carburetors, pistons, valves — but that was as far as it went. I couldn't tell you a thing about what the parts did or how they worked together.
When I decided to get a motorcycle, I wanted to know what I was talking about and what I was buying.
Previously, I had a different philosophy; if something went wrong with my car, I had a cage to protect me and I couldn't have cared less about what was under the hood.
Concerning motorcycles, I felt it was important to learn about engines and be educated about what I was buying. I wasn't about to let a salesperson working on commission tell me what I should buy and what kind of bike I could handle.
I did lots of research on the internet (Google is our friend), read some books, and talked to anyone who owned a motorcycle and/or had worked on engines. I wanted to know how they worked.
I read books like The Complete Idiot's Guide to Motorcycles (review), which has some great basic information on engines, riding, protective gear, and even buying that first bike.
I had a thirst for knowledge and was consumed with learning everything I could about motorcycles, such as the difference between two–stroke and four–stroke engines, Thumpers, Boxers, V–twins, and in–line fours.
The more I learned, the more interested I became.
But I didn't stop there; I learned about clutches, final drive systems, and torque. When someone talked about forks, rake, steering dampers, swing arms, hard tails, and triple trees, I wanted to understand what was discussed.
I was surprised by how much passion I had for learning about bikes. I soaked up anything and everything motorcycle related, and became an American Chopper junkie in the process — "Señor , do you want any girls in the shop? I'm a fast learner!"
On to my point: it was extremely empowering to walk into motorcycle shops with an understanding of different engines and bike parts.
One salesman admitted later that he wondered if I had been sent by his boss to "test" him because I knew more about engines and motorcycles than the average woman.
Learning Riding Techniques
I knew my two mini–lessons on a dirt bike had not come close to preparing me for riding on the streets amidst the cages.
I'd ridden quads for years, but riding on two wheels in traffic was another ball game than riding on four wheels along empty dirt roads high in the mountains.
Riding a motorcycle is much more than knowing how to shift; I highly recommend the Motorcycle Safety Foundation's Basic RiderCourse (review) for all newbies. Even seasoned riders may learn a thing or two.
The skills and knowledge I took away from that course have already saved my hide a number of times.
In my mind, riding skills can always be improved and sharpened. It is winter once again, and while I impatiently wait for the snow to melt and spring to arrive (sigh), I've been continuing my education by reading A Twist of the Wrist II (review).
EEven though I haven't been able to physically apply what I've read so far, I have already spotted several areas I've been making mistakes — such as rolling off/on the throttle in corners when I felt like I'd gone in too fast or was going too wide.
That book is helping me understand more about motorcycle dynamics and things like how to make a bike more stable in corners, etc.
When I'm done reading that one, David Hough's Proficient Motorcycling (review) is sitting on my desk waiting to be read next.
Motorcycling has inherent risks, and the more you learn and apply, the safer you can be. I'd like to also stress the importance of wearing motorcycle gear every time you ride.
Gear can go a long way in protecting you and could even save your life. My motto is safety first; every time I ride I wear a full–face helmet, gloves, boots, an armored jacket, and riding pants.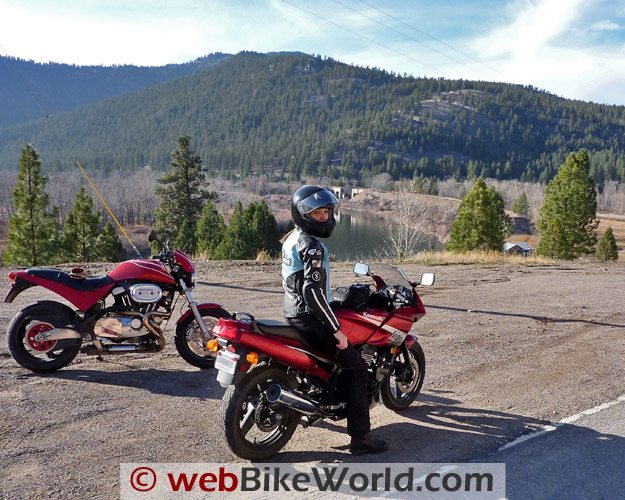 Buying Your First Motorcycle
Having knowledge of engine sizes, types, and the power and mannerisms of each was very useful when it came to purchasing my first motorcycle. I knew I wanted a sportbike, so I also I read countless threads about a good "starter" bike.
For every person that said a newbie could handle a 600cc to 1000cc bike if they were "careful", someone else said to start smaller, build confidence, and become a better, faster rider more quickly.
I knew the power behind a motorcycle scared me, and I decided to go with option two: start smaller. I decided a 250cc or 500cc would be the way to go for my first year or two.
Not to say I wasn't drooling over the '09 Yamaha FZ6R in white that had just been released at the time — and it's still on my wish list!
If I hadn't made the decision up front to start smaller, I could easily have been sold on getting a beautiful, seductive 600cc in–line four as my first bike.
Side note: not all engines with the same displacement size are created equally. Different 600cc motorcycles can vary greatly in horsepower and torque.
For instance, Yamaha's 2010 FZ6R (review) carries less horsepower than their 2010 YZF–R6, yet both engines are 600cc.
Two Yamaha dealers gave me different stats on the number of ponies each bike had, so I decided to call the Yamaha Motor Corporation to get my facts straight.
I was informed that they do not publish horsepower but they confirmed that the FZ6R has less horsepower than the YZF–R6.
Not to say that someone can't start with a 600cc, but with my limited riding experience, I knew I wasn't ready for that much power.
Prior to my MSF course, I'd only been a passenger on a street bike.
Most sales people told me I could handle one of the "detuned" 600cc bikes — and I probably could have, but I would have been scared to death and driven like a granny!
What I appreciated were the few sales people who said to start smaller with less power, less torque, and less weight to control.
In my opinion more power isn't always better — I can hear it now, all the Tim Taylor–esque grunts that more power is the only way to go.
However, I suggest that riders (male or female) look inward and decide what their riding abilities and maturity level are before deciding how much of a bike they can "handle."
Something else to consider is your height and strength. A rider should feel comfortable on her bike, be able to touch the ground and also to back it up. For example, a petite friend of mine let her husband talk her into getting a motorcycle that was bigger than she wanted.
She felt it was too big and heavy for her size and her abilities as a new rider — she couldn't even back it up. The size of her bike scared her enough that she rarely rode; she put on fewer miles in three years than I did in my first two months of riding.
Her fears of the size of her bike, combined with a small accident, have made her rethink her first purchase and she is looking at either getting a smaller motorcycle or giving it up entirely.
Interestingly, I have read stories of women who started with the exact same bike as she did, and they did great.
Why is that? No two riders are exactly alike in skill or height and strength. The key is finding what YOU are comfortable with.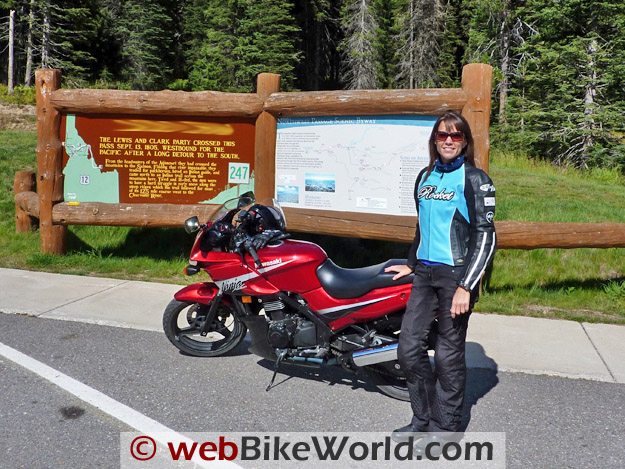 My Bike
After more discussion, shopping around, and sitting on the only three sportbikes left in my desired range of 500cc or less, I chose an '06 Ninja 500.
It's been a perfect first motorcycle for me with more than enough power to keep me happy — and plenty left over to scare me if I wanted — but forgiving when I've popped the clutch or made some other newbie mistake.
I've become a gearhead and am now fascinated with engines. I want to take a small engines class and learn to work on my bike, and my interest in engines and motorcycles has even led me to recently working on my car.
Two years ago I never would have imagined I'd climb up on my car to change spark plugs — the back four were too hard to reach!
With my grandpa's help I even changed the brakes on my car and saved a few hundred dollars in labor. By the way, impact guns are really cool!
It was actually quite fun working on my car and I can't wait to work on a motorcycle; I've only done some basic maintenance on my bike so far. I just got my first set of tools and I'm excited because, guys, I finally get it!
Over the last year, I've met a handful of women that ride their own motorcycles or who are taking the MSF Basic RiderCourse this spring and then buying their first bikes. This summer, I hope to grab a few friends and go on a couple road trips.
As far as a destination…who knows? With a motorcycle, it's not the destination that excites me; it's the journey.
Conclusion
Ladies, if you're new to the sport or thinking of getting started, there's no need to be intimidated by the fact that there are many more male than female riders.
The motorcycle industry is catering to women more and more each year — in that case, what are you waiting for? An invitation? Well, here it is: come join me on the open road!
Publication Date: March 2010
Note:
 For informational use only. All material and photographs are Copyright © webWorld International, LLC since 2000. All rights reserved. See the webBikeWorld® 
Site Info page
. Product specifications, features and details may change or differ from our descriptions. Always check before purchasing. Read the
Terms and Conditions
Owner Comments and Feedback
---
From "A.K." (March 2010):  "I thoroughly enjoyed this article and as a female rider myself, can identify with your drive and interest despite motorcycles being a road less traveled for most women.
I started riding alongside (never behind!) my (now) husband after completing an MSF course.
That was my first time on a motorcycle and I was hooked!  My first and current bike is a Ducati monster 620 and I found myself dreaming of warmer climes so I can ride year-round.
I only wish I could find more women to ride with and more shop classes that cater to women. I hope this story encourages more female riders. Thank you for sharing your story!"
---
From "R.M." (March 2010):  "Very good article and one that I will point to in the future. I have had the, sometimes trying, experience of introducing motorcycling to both men and women.
By far women take advice more seriously than men. It has to do with in large part with most men having a self image and bravado.
My latest success was with a female rider and I believe she is in it for the long haul such as yourself. The Ninja 250 to 500 is by far the best bike for anyone to spend their first journeys on and it is an overall superb machine.
As you have so well stated, engine size is only one part of the equation. The Ninja 250 and 500 has superior geometries that lend to better handling and rider skill improvement.
The other advice I give to my female rider comrades is that you should brace yourself for some sexiest behaviors.
It isn't as bad as it has been due to the numbers of women joining the ranks but you can ask my wife, there are still plenty of men in the sport that will immediately think you are clueless because of your gender.
Please know that there are far more of us that respect and welcome you in our common passion.
In closing, I'd like to commend webBikeWorld for their diversification and welcome the continuance."
---
From "M.H." (March 2010):  "For Christmas, my husband gave me the MSF beginner's course. What a surprise!  He has been riding for several years and we have made several road trips 2-up. I hadn't really considered riding myself. That was before!!
My main concern is finding a bike that fits me. I'm 5'1″.
Before taking the course, I didn't know there were any bikes out there that would fit. I'm borrowing a friend's Honda Rebel 250 right now. It fits and doesn't scare me, but I would like something a bit more powerful when I get my own.
Thanks for the article. It answers some questions I've been pondering.
And I wholeheartedly agree with your comments on safety equipment. I am the proud new owner of a high-vis yellow riding jacket!  Maybe I'll see you on the road…"
---
From "B.B." (March 2010):  "Kudos to "Smalls" for some very informative and needed articles. I agree 100% regarding the advice she gave about women starting out in motorcycling.
I started out in 1992 on a 250cc Honda Rebel that was customized by a driving school with dual clutch and brake controls on an extra set of handlebars and an extended rear seat for the instructor.
It was a truly innovative way to introduce a lot of riders to motorcycling, both men and women. After quite a few hours of training and then passing my road test, I received my license endorsement.
I moved up to a 1991 Kawasaki Vulcan 750, a terrific bike that was probably a bit too powerful for me, but that I learned to control simply by not turning my right wrist as much. Baby steps, learn, apply, then learn more.
Much like "Smalls" I, too, learned as much as I could from reading and talking to others, spending the long northern New Jersey winters cramming as much information as I could into my brain and going over it repeatedly until the Spring thaw.
I also was working at the time as a police officer and was able to move into an opening as a motor officer.
I attended the NYPD Motorcycle school in 1994, and then attended an instructor course from Harley-Davidson and Northwestern University Traffic Institute that they sponsored the following year. Talk about a dream come true!
Even with this training, I still try to gather as much information as possible about riding.
I feel that the time to stop learning is when you stop living. I also agree with her advice against adopting the "more power is better" syndrome.
I believe it was Jason Pridmore who was asked about engine size in an interview (although it may have been his dad, Reg Pridmore), and responded by saying that, for street riding, a 600cc sportbike would have more power than you would ever need.
My current ride is a 1993 Harley-Davidson Electraglide Sport. It is 1340cc and weighs 700 pounds (900 with me on it!).
My reason for choosing this bike is that it is the civilian counterpart of the police bikes that I was trained on, hence I feel the most comfortable on it.
Also, being nearly 200 lbs. and 6'2″ tall, I have no problem handling the weight (One of my suggestions to men or women trying to decide on a bike is that they should be able to pick it up if it should fall).
Although my Harley is my favorite ride, I still have a ball riding smaller bikes and never miss the power.
Finally, I also agree regarding her advice on gear. In addition to being a motor officer, I also spent fifteen years as a fatal accident investigator.
As such, I investigated or assisted on numerous motorcycle accidents; fatal, serious, and otherwise. Because of my experiences, I always wear a full face helmet and armored clothing, especially now that I'm retired and can really start enjoying life.
"Smalls" is right on the money there, also.
To paraphrase a saying from my Navy days, "Motorcycling itself is not inherently dangerous, but to an even greater degree than the sea, it is terribly unforgiving of any carelessness, incapacity or neglect".
If we go about motorcycling the right way, we can stay safe and still have a ball, and isn't that what it's all about?  Thanks again for a terrific article."
---
From "M.S." (March 2010):  "It sounds to me like you're on the right track. I'm glad you listened to your inner self about bike size, experience etc.
About that starting too big thing, you'll encounter people along the way who make that mistake, some of them will kill or maim themselves or someone else.
I've been riding for most of my adult life. I had a motorcycle before I had a car at 16. I'm 56 years young now. I could tell lots of stories, but there's not enough space for that, and I don't want ruin the good vibe you started here.
Just remember, if you're anything like the rest of us it doesn't matter what kind of bike you're riding you'll always lust after the next one, or another one.
I've never had a bike I didn't want to keep, and I'm constantly thinking about my next ride. A Ducati maybe?  Someday I hope. My current ride is a Yamahaulass. I also hope lots of women read your article and follow your advice."
---
From "L.J." (March 2010):  "I really liked this article.
I think it's great for not only women but also men to start off on the right foot when it comes to becoming a motorcycle enthusiast.
If there were enough men out there who could set aside their egos long enough to take the advice from articles like this one; most would not only be safer riders but I believe they would be much better and faster riders.
As an example I had a friend who used to race professionally and the best advice he ever gave me was to start off on a small bike.
In fact he suggested if someone was really interested in being a good fast rider and actually interested in riding their bike and controlling it instead of their bike controlling them that they should start small. In fact he suggested starting with a 250cc, two-stroke road bike.
One thing he used to stress was most riders have no idea how to corner and no idea how to truly brake.
When you start off on a small 250cc two-stroke you have to learn how to brake, you can't use the back pressure from the engine, like on a four-stroke, to slow yourself down. And that skill alone will make you a much better and much faster rider.
So with that said, I am completely appreciative of not only "Smalls" for taking the time to write this article but also thankful to webBikeWorld for publishing it.
Thanks again, GREAT WORK!!!!!"
Other WebBikeWorld Women Riders Posts