Wolfman Enduro Fender Bag Image Gallery
This is a Quick Look at the Wolfman Enduro Fender Bag and the Pro Cycle DR650 Fender Brace.
The fender bag needs a few tweaks to be more useful and I'm not sure the fender brace is really necessary.
Oh well — you win some, you lose some…
"One farkle too many" is probably a good byline for this review.
I can't remember why I bought the Wolfman Enduro Fender Bag, to be honest.
It seemed like a cool accessory and hey — you can never have too much storage, right?
Fender bags are apparently used by off-roaders and enduro riders; the bags are mostly used to hold stuff like tire irons and a tube repair kit.
These are the things you hope you'll never need (and you'll need more than that to change and re-inflate a tire anyway).
But I figured that besides looking cool, I could find something to stow in there — maybe a water bottle or nut bars or something?
A fender bag clips on to the front fender of the DR650 or KLR650 and other dual-sport bikes.
But it's not enough to simply clip the bag on the fender; after all, you need another farkle for that farkle — a fender brace!
More than one vendor sells a DR650 fender brace, but on a whim, I added one to my last Pro Cycle order.
As it turns out, neither the fender brace nor the bag are really necessary, but I'm mostly disappointed with the overall design of the fender bag.
It's nowhere near as useful as I thought it might be and I'm surprised, actually.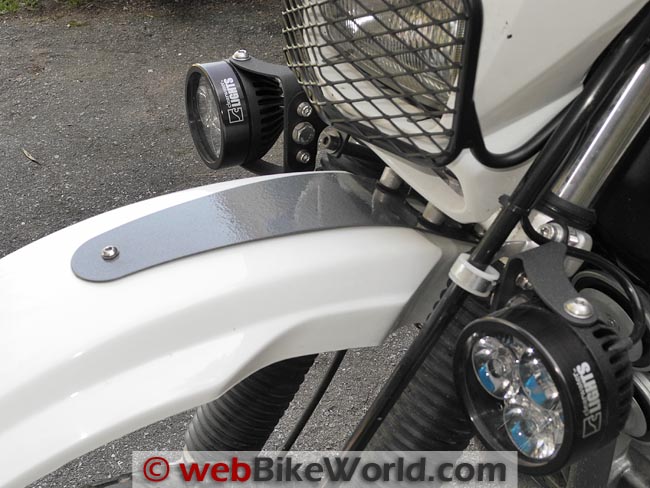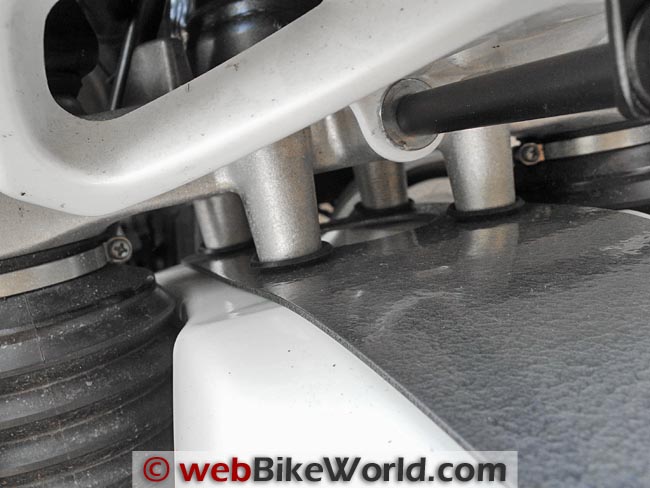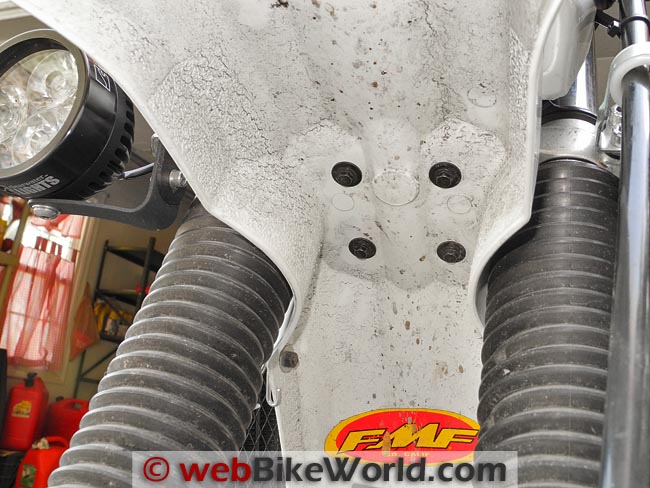 Pro Cycle DR650 Fender Brace
Let's take a look at the fender brace first. It's a simple part — a piece of coupla-millimeter thin stainless steel that looks like it's either laser cut or carved out on a water jet table.
It fits over the fender on the DR650 and it's supposed to add some rigidity and support to the molded plastic (ABS or something) fender.
There are four bolts on the DR650 underneath the fender and they must be removed, then the fender drops and the brace can be mounted.
The brace comes with a bunch of extra screws and washers, but they weren't stainless steel in my package, just R.O. steel (that's "Regular Old"), so I threw them in the spares box and instead broke out some quality stainless steel hardware.
Nothing worse than rust marks dripping off a white fender!
While I was at it, I stuck some fiber and rubber washers above the fender brace, between the four studs that come down off the DR650 clamp and the top of the brace.
This is to protect the paint — that's right, I painted the top side of my stainless steel fender brace with a few coats of my favorite "Hammertone" Rust-Oleum paint.
Why not? I had the stuff laying around and I'm a Hammertone freak and it looks cool and the shiny stainless steel was going to get all scratched anyway. Besides, it was too shiny to for my liking anyway.
One hole must be drilled into the fender to secure the front of the brace. But first, the fender brace has to be bent a little bit by hand to match the curvature of the fender.
It's difficult to get an exact match, but I got pretty close.
I then mounted the brace and lightly tightened the four screws. Next, I pressed down on the brace and used a Sharpie to mark the hole at the front.
Plastic is easy to drill, but make sure you get this part right, because if you don't, you'll end up with a big gap under the brace.
The trick is to drill the hole slightly to the front of where you marked it by maybe a hole length, because there's enough flex in the fender and the brace to account for it.
Doing this will cinch the brace down tight to the fender and minimize the gap underneath, between the underside of the brace and the top of the fender.
It's apparently impossible to completely eliminate the gap, but I came pretty close.
Then, I used a Allen round head stainless screw and a stainless washer on top and bottom to attach the front. Tighten up the four bolts underneath (don't overdo it; I used blue Loctite) and you're done.
The brace looks good but I don't know how much rigidity it really adds…or how much is really needed. But no harm done and like I said, it looks cool.
By the way, there are other DR650 fender braces available; for example, Kientech makes one.
But I preferred the solid design of the Pro Cycle fender brace, rather than the Kientech brace, which has large holes machined through the surface.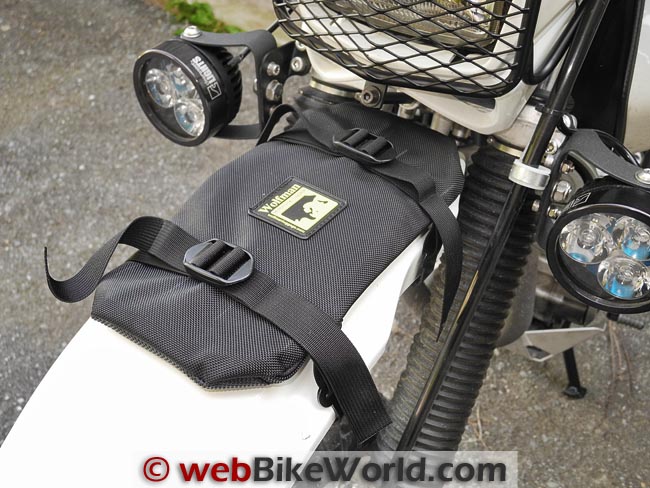 Wolfman Enduro Fender Bag
No problems at all with the construction quality of the bag. And, it's claimed to be made in the U.S.A., a bonus.
But the design seems strange, to me anyway.
Here's the problem: the bag has two adjustable straps on top. Each side of the strap loops through a metal U-shaped hook. The four hooks grab the edges of the fender and then the straps are cinched up tight to hold the bag.
But the straps cover the top of the bag, and the entry zipper for the bag is on one side. So every time you want to access the contents of the bag, you have to undo both straps and loosen them.
It's a lot of fussing to undo everything and get it back together, so unless you're keeping something in the bag that you rarely need — like those tire irons — don't count on using the bag for gear that needs ready access.
Should I have known? Maybe. But maybe not. I figured it was just about like any other piece of soft moto luggage; that is, designed for ease of use.
The other problem is that the straps are very long and there's nothing to keep the ends secured.
You could cut off some of the extra length…but not too much, because you need some length to undo the strap without having to take it through the buckle, which would make the job even tougher.
It sure seems to me that a better solution would be to mount the straps on the bottom of the bag, perhaps adding some type of elastic and a quick-release buckle system.
Then the straps would not interfere with the zipper and you could access the bag all you'd like with no problem. Plus, once you got the straps tight, you'd pretty much never have to release them again.
Here are some pics to illustrate: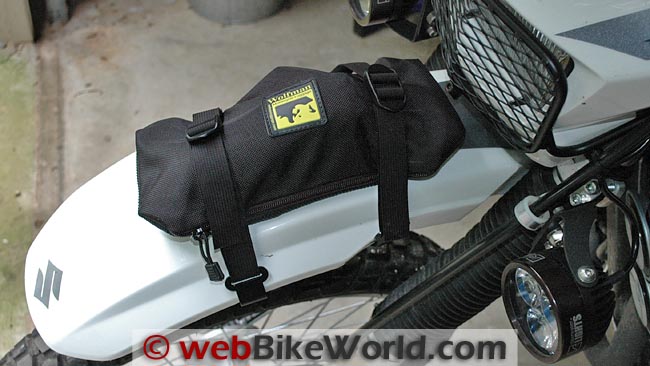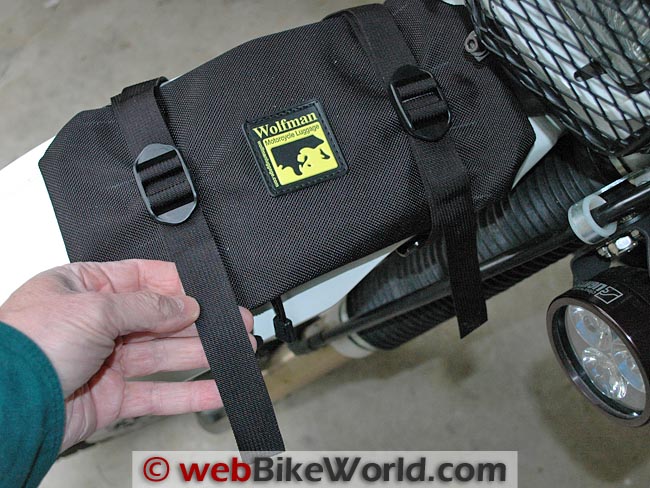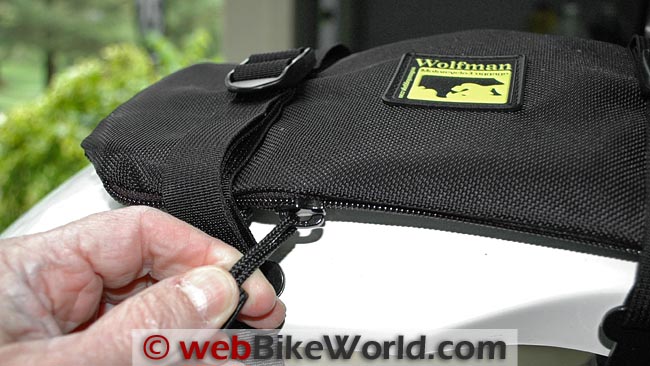 Conclusion
[asa2 tplid="6″]B00BG8GL5I[/asa2]
Locating the straps over the top of the Wolfman Enduro Fender Bag probably help to keep the bag more secure on the fender, but my guess is that it wouldn't take much cleverness to design the straps to run under the bag, which would make it much more useful.
They could even throw in a couple of extra straps to run over the top, if you really think you'd need them.
So, bottom line here is that the Wolfman Enduro Fender Bag is well made but not very practical for storing anything you'll need in a hurry.
Too bad — I'll have to search around and see if I can find a different design.
Master Listing of All wBW Motorcycle Product Reviews
w

BW

 Review: Wolfman Enduro Fender Bag
Manufacturer: Wolfman Luggage
List Price: $24.99
Colors: Black.
Made In: U.S.A.
Review Date: April 2012
Note:
 For informational use only. All material and photographs are Copyright © webWorld International, LLC since 2000. All rights reserved. See the webBikeWorld® 
Site Info page
. Product specifications, features and details may change or differ from our descriptions. Always check before purchasing. Read the
Terms and Conditions
!
Owner Comments and Feedback
---
From "F.S." (May 2012): "I've tried this fender bag as well as others. In daylight, they look like they shouldn't interfere with the headlight too much.
After dark, however, they throw a big bad shadow right where you are trying to see. Result: $20 bag tossed in the trash."
---
From "R.U." (May 2012): "I have two of those fender bags in use. They are designed for spare tubes etc. which you should not need to get to often.
The straps over the top double as compression straps. I would not want any weight on the fender flopping around.
What you will eventually learn is that no matter how tight you pull the straps, or how often you check them, eventually they will pop off under extreme conditions.
My first one lasted me 6,000 miles. I thought I just needed to be more vigilant. The next one was lost after 10,000 miles even though it was checked religiously.
Now I have simply drilled four holes through the fender and run a cable tie through the slot in each hook."
---
From "A.W." (May 2012): "I see you are looking for something other than what the Wolfman fender bag was designed for. You might check these out (Dirtbike Gear). They seem more along the lines of what you want.
Regardless, your review would have more value if you tested the Wolfman fender bag in the manner it was designed. Your comments were kinda funny.
A little like somebody being disappointed because they bought a helmet to use as knee protection and reported that if it just had a different shape and strap it would work much better as a knee guard.
Some of us are interested in getting a fender bag and using it as intended. Will it hold a spare tube, tire irons, and a patch kit? With a bicycle hand pump? Two tubes? An HD tube? An UHD tube? Does it stay put? Just sayin'.
I hope you're enjoying your DR. They are great bikes."
Rick's Reply: Thanks for the tip on the other bags. Actually, I think my review has a lot of value for someone like me, who purchased the bag knowing nothing about it but thinking it is a storage device that happens to fit on the DR650's front fender.
I don't agree on your comparison of "buying a helmet to use as knee protection".
I bought the bag for its intended use: storage. I reported that it doesn't work to my expectations.
As I mentioned in the article, I realize the bag was designed for carrying tire irons, but my point was that with a simple redesign, it could also be made much more useful for carrying gear that needs more frequent accessing.
If they ran the straps along the bottom, then added a couple of straps over the top, the bag could do both and would be much more useful in my opinion.
I feel there are probably many more people who want to carry readily accessible items than there are people who carry tire irons and a spare tube — people like me!
So with a few simple modifications, the company could be making a bag that would be much more useful and that would easily hold a much wider range of cargo.
If that isn't of value, I don't know what is! In fact, I should charge Wolfman for my advice! 😉
---
From "T.G." (April 2012): "I would like to point out that adding any extra weight to the front fender or forks is usually a bad idea. the last thing you want is to have heavy steering when dodging a boulder, bear, lion, or cactus on your adventure ride.
Granted this bag is tiny, so the only thing you will have in there is some gum and maybe a few band aids, but it's still extra weight you need to move fast in an emergency maneuver."
Rick's Reply: Good point, although I haven't noticed a difference when carrying a 500 ml water bottle up front.
The front end of the DR650 is way lighter than a GS, so not sure if extra weight would be more or less noticeable on the Suzuki