Harley-Davidson Australia has launched a Marvel Comics superheroes themed custom bike competition among their dealers where a customer can win a holiday to Hollywood and Las Vegas.
To enter, customers will have to go to their dealer or online at h-dmarvelcustoms.com and vote for their favourite custom done in one of the Marvel Comics superhero characters such as the Hulk, Captain America, Iron Man, Black Widow or Drax.
The lucky winner will be drawn at Oz Comic Con Sydney on September 12 where some of the dealer custom bikes will be on display.
The winner will get a holiday of a lifetime for themselves and three friends developed by Marvel for Harley-Davidson Australia.
The 10-day Hollywood and Las Vegas holiday will include four nights at the Ramada Plaza in West Hollywood with private tours of the Marvel Legacy Effects Studio, the iFLY indoor parachuting experience and Disneyland tickets, plus two days and a night in Vegas with a three-course meal at the Harley-Davidson cafe and a tour of Marvel's Avengers S.T.A.T.I.O.N. at Treasure Island.
Trip value is $21,000 including economy airfares, insurance, transfers, $400 prepaid credit and more.
To get the ball rolling HD, Australia built a Street Glide Special in the Captain America theme with the aid of Marvel artists.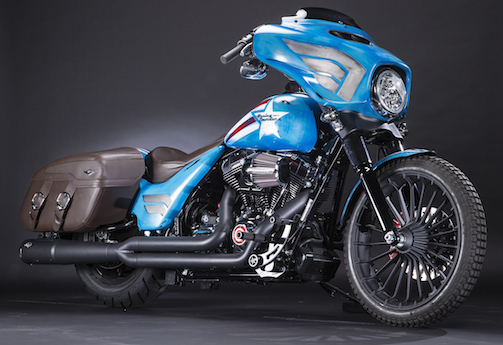 Harley-Davidson Australia spokesman, David Turney says they customised the Captain America Street Glide Special to inspire their dealers across Australia and New Zealand. It will be on display at Myer, Pitt Street Mall, Sydney, until September 5.
The dealer customs are "phenomenal" David says. "A true combination of super powers, with over 16 Marvel characters represented."
Harley and Marvel have enjoyed a long relationship of brand placement in Hollywood movies and even produced a comic book together.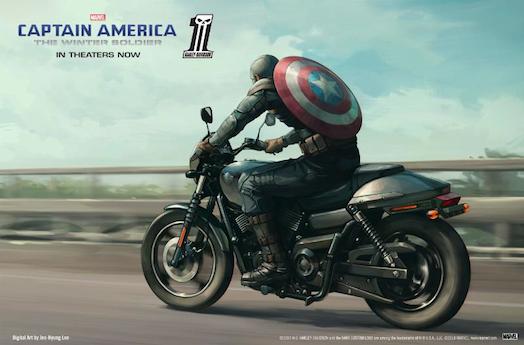 Harley's Dark Custom models, the Street 750 and Iron 883, feature in the latest Marvel Comics film, Captain America: Civil War.
Harley models such as the Breakout, Street 750, Fat Boy and even the electric Livewire have also been placed in recent movies such as Captain America: The Winter Soldier (2014), Transformers: Revenge of the Fallen (2009), Terminator: Genisys (2015), Furious 6 (2013) and Marvel's The Avengers (2012).
Harley-Davidson and Marvel Super Hero Customs
Spider-man, Iron 883 (Sportster) – Phil's Garage (NSW) and Canberra H-D (ACT)

Iron Man – Muscle (V-Rod) – McIver & Veitch (NZ) & Adelaide Bike Works (SA) 

Thor, Breakout (Softail) – Harley-Heaven Western Sydney (NSW)

Hulk, Fat Boy Lo (Softail) – Geelong H-D (VIC)

Hulk, Breakout (Softail) – Sun City H-D (QLD)

Spider-Gwen, Street 500 (Street) – Gasoline Alley Harley-Davidson (QLD) & Fraser Motorcycles Newcastle (NSW)

Black Widow, Iron 883 (Sportster) – Harley-Heaven Melbourne (VIC) & Sy's H-D (NSW)  

Wasp. Roadster (Sportster) – Fraser Motorcycles Perth (WA)

Groot, Street Glide Special (Touring) – Fraser Motorcycles Wollongong (NSW) & Central Coast H-D (NSW)

Ultron, Night Rod Special (V-Rod) – Horsham H-D (VIC) & Harley Central (VIC)  

Drax the Destroyer, Fat Bob (Dyna) – North Coast V-Twins (NSW) & Richardson's Harley-Davidson (TAS)

Black Panther, Breakout (Softail) – Fraser Motorcycles Concord (NSW) & Western Ranges (NSW)

Ant-Man, Street Bob (Dyna) – Harley City (VIC) & Gold Coast Harley (QLD) 

The Punisher, Forty-Eight (Sportster) – SunShine Coast (QLD) & Rolling Thunder MC (NZ)

Ghost Rider, Road Glide Special (Touring) – Morgan & Wacker Brisbane (QLD) 

Thanos, Street Glide Special (Touring) – Harley-Heaven Adelaide (SA)