Is BMW paying attention to the growing craze of customising old Boxer-engined Beemers into scranblers, cafe racers and street trackers?
Perhaps they are, judging by their recent Concept 90 bike which is a homage to their 90th year of production and 40 years since the R 90 S.
This weekend, BMW customiser Wunderlich will show their scrambler concept at the annual BMW Motorrads Days at Garmisch-Partenkirchen, south of Munich. It's an exhibition of all things BMW.
For the past three decades, Wunderlich has been supplying aftermarket parts for BMWs in close association with the factory.
Their "Sports Evolution" scrambler is a beautiful machine, not unlike a lot of other custom designs being built around the world in backyard sheds.
It looks like the new "wasser Boxer" engine and chassis, but it features high-mounted pipes, knobby tyres, Brembo brakes, taper-style handlebars, a bench seat, "toaster" tank, chromed fenders and a very minimalist approach. Wire wheels would have been nice, too.
Hopefully someone from the design department wanders past the Wunderlich stand this weekend and gets some inspiration.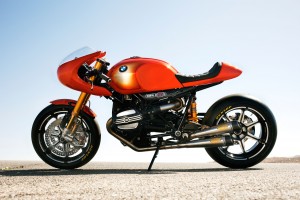 Or maybe they need a head honcho to realise that their design department isn't capable of such exotic design and decides to hand it over to an outside source like Wunderlich.
That's what they did with the Concept 90.
Let's face it, BMW has been great at design for function, but not design for style.
They had been working on a concept bike for their 90th year for some time and couldn't get it right.
In the end they did something they have never done before – they outsourced.
One of their designers took their concept to LA and did burnouts and wheelies in the back carpark at Roland Sands Designs until the boss was convinced that this was a project they could handle.
The result is simply stunning and certainly nothing BMW could ever have come up with.
And it could actually go into production.
I spoke with Susanne Hermmann of their design department and she said it could be the "inspiration for the future of the brand".
"That also means design elements from the homage bike could find their way into future models in identical or similar form."
Apart from a cafe racer, they could also do a scrambler like this one, and maybe an R 80 GS tribute bike.
Any other suggestions?