Wide Foot Pegs Image Gallery
Continuing with the farkling of the Suzuki V-Strom 1000 ABS (Blog), I decided to add a set of SW-Motech wide foot pegs just to see what would happen.
There's nothing wrong with the stock foot pegs on the bike, although wider may be better if you're planning on doing any off-roading.
Just don't forget that the V-Strom is 90% street bike, so I wouldn't plan on any serious dirt riding if I were you.
But that doesn't stop owners from piling on the accessories and wide, flat foot pegs show off-road intent.
It's kind of like someone in Manhattan adding a brush guard to their Range Rover — it's all for show on this bike.
I also wanted a bit more leg room, even though I only have a 31″ pants inseam. And I like to move my feet around on the pegs, so a wider platform would be nice.
So I turned to SW-Motech once again, that German manufacturer of high-quality trinkets.
One of the nice things about owning a modern adventure-touring or dual-sport motorcycle is the availability of stuff one can purchase to make the bike your own. As long as you have the cash, someone has the trinket you need…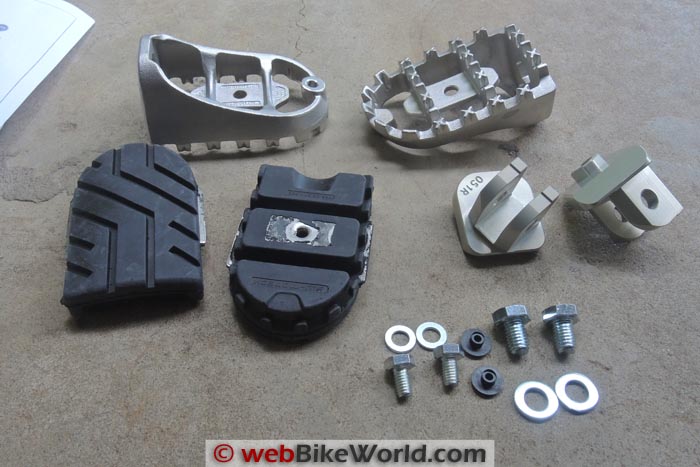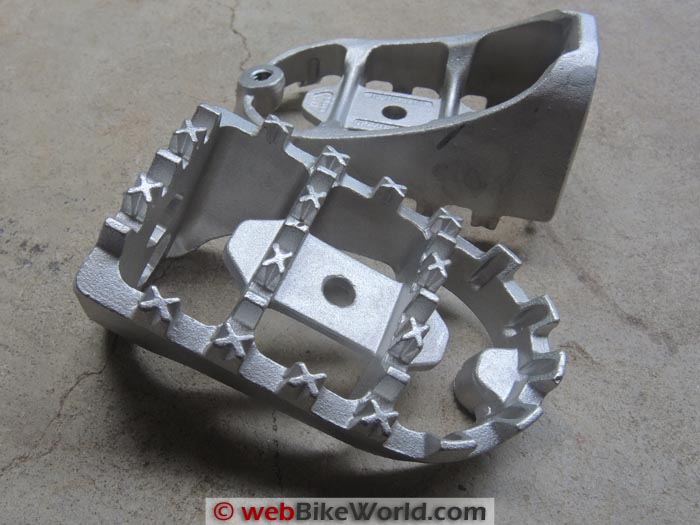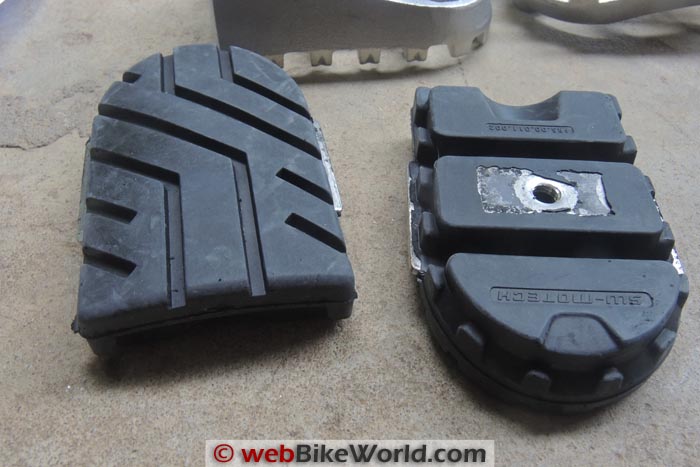 The SW-Motech Wide Foot Pegs
SW-Motech makes wide foot pegs for many different bikes. They're very nicely made, as are all of the company's products.
The base of the foot peg (part number FRS.05.011.10000.S for the V-Strom) is made from cast stainless steel, cast in China. The kit comes with rubber pads or cushions that can be bolted on top and the foot pegs are also adjustable for height.
This particular set also fits the Aprilia SL750 and Shiver (2007-1013); the BMW F800R (2009-2013); the BMW F800GT (2013-2014; and the Suzuki DL650 V-Strom (2004-2014) in addition to the 2014 V-Strom 1000 ABS. There are also many other foot pegs for other bikes.
These have two adjustment levels, depending on where you mount the saddle or U-shaped clevis that attaches to the V-Strom.
This isn't something you can adjust on the fly though, it takes some wrenching to re-adjust the position.
Bolt the rubber pads to the foot pegs (unless you want to use the foot pegs with the metal cleats only) and then bolt the fork or "saddle" to the foot peg and they're ready to install (see the photos below).
The rubber pads are available separately if yours wear out (doubtful).
The stock Suzuki foot pegs are held on with a simple shaft that has a spring circlip on the end — don't lose it. The stock foot pegs also use a folded spring that keeps pressure on to hold the peg down, which must be transferred to the the SW-Motech foot pegs.
TIP: Be careful when you remove and replace the small "C"-shaped circlip from the shaft that holds the old and new foot pegs. It may bend when it is removed, so you may want to carefully squeeze it slightly with a pair of pliers back into a tight "C" shape before you reinstall it.
TIP: If the circlip is too loose or installed incorrectly, it may fall off and you could lose a brand-new foot peg. The circlip should remain firmly in place but you should be able to move it around in the groove on the end of the shaft.
Also, the stock foot pegs have screw-in "hero tabs" or ground feelers that can be transferred to the SW-Motech foot pegs.
I chose not to do this, first of all because I don't think they're necessary (this is not a sportbike) and second because it's just one more thing to get hung up on a log or something should I ever be fool enough to take the V-Strom on some off-road trail.
Otherwise, this is a pretty simple swap and SW-Motech recommends — as they usually do — the use of medium-strength thread locker on both bolts.
You may need a bench vice to tighten the bolt that holds the saddle to the casting, as you can see below.
SW-Motech also provides torque values in the instructions but it's impossible to get an accurate torque reading on the recessed saddle bolt, so you'll have to guess (and use thread locker).
Let's take a photo tour: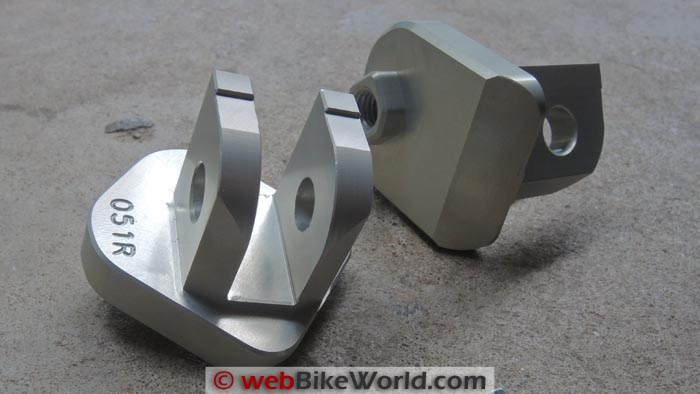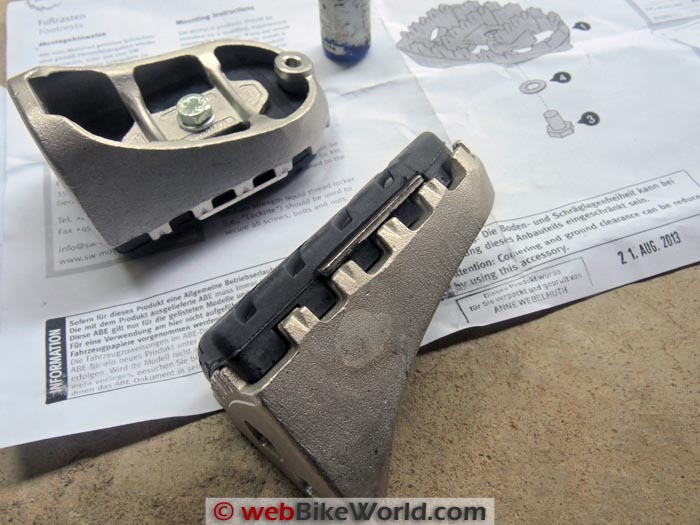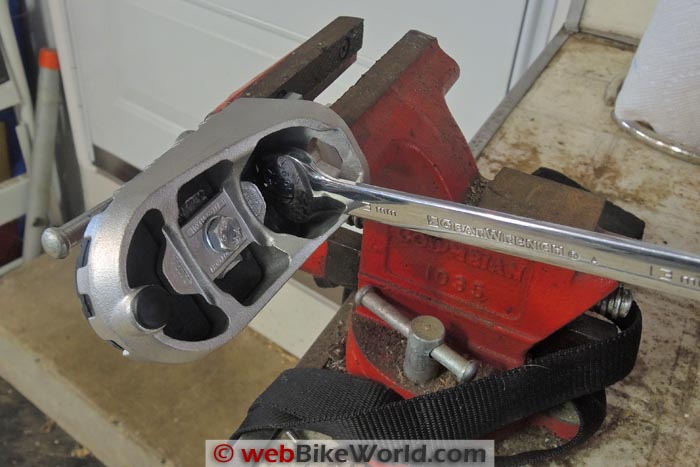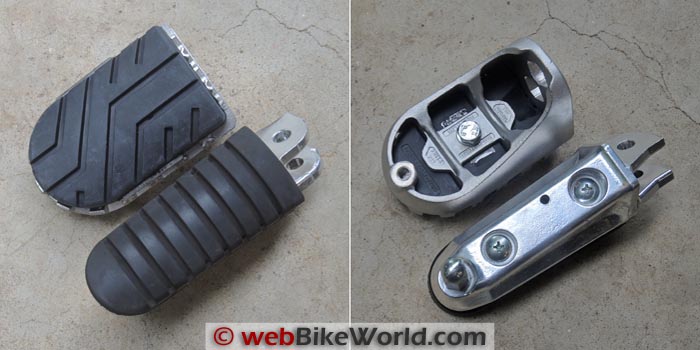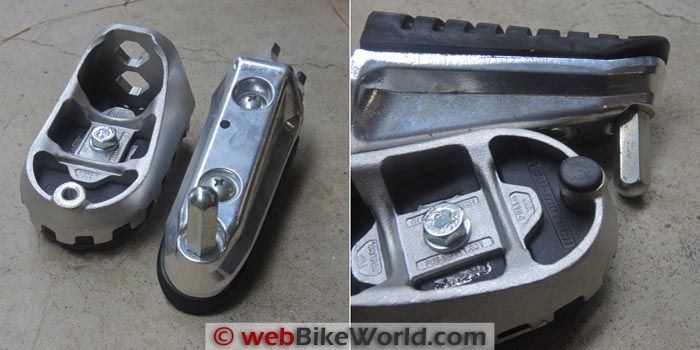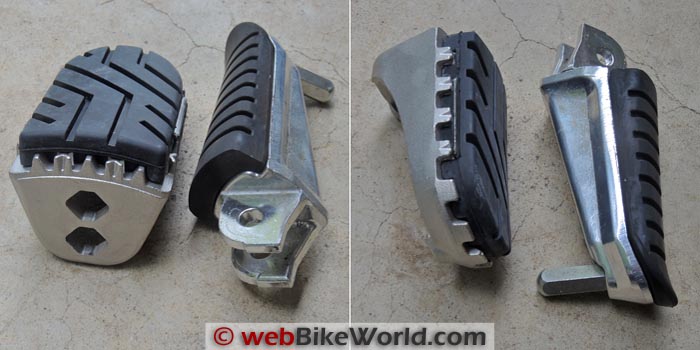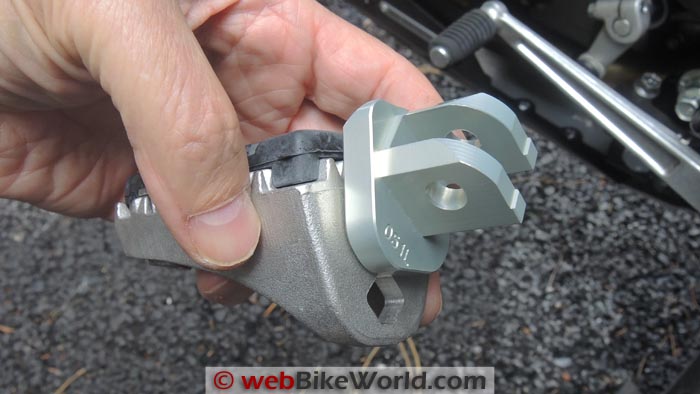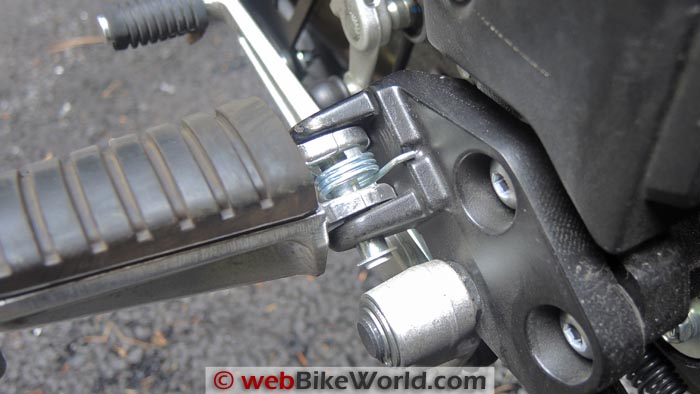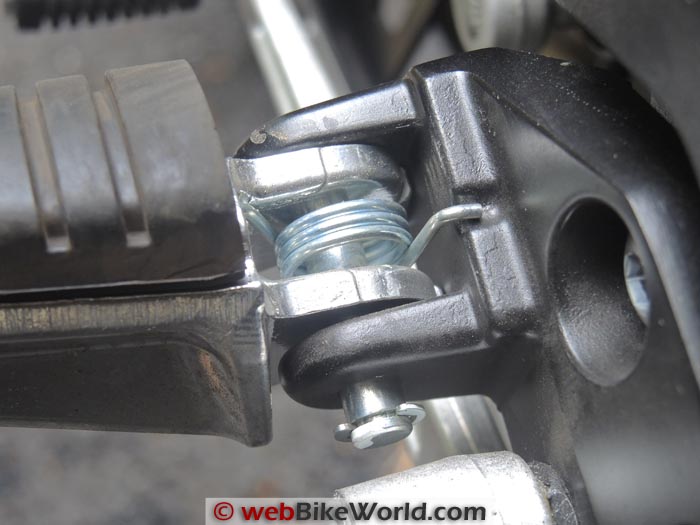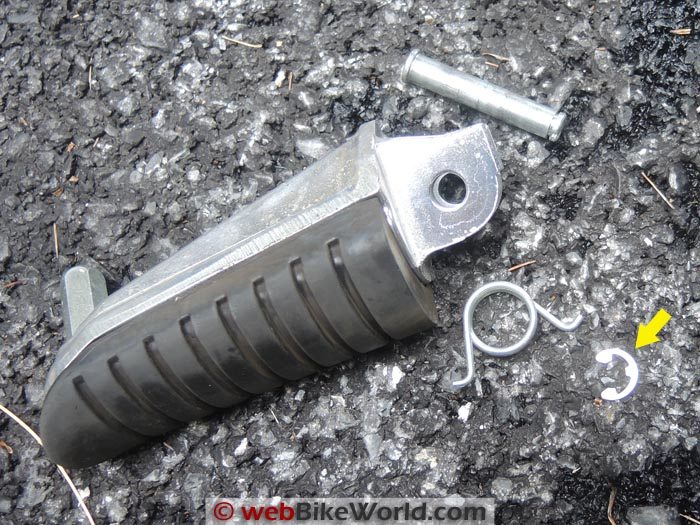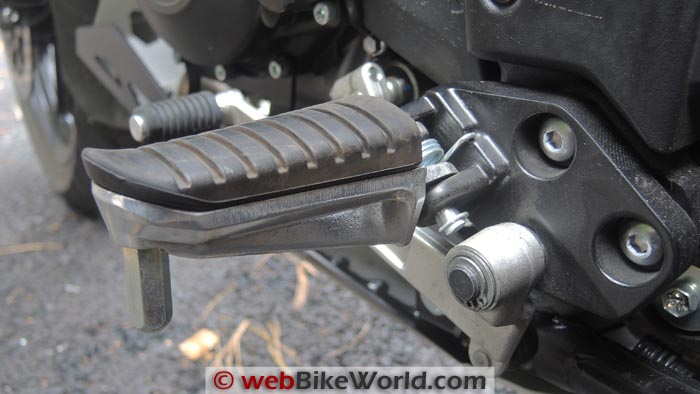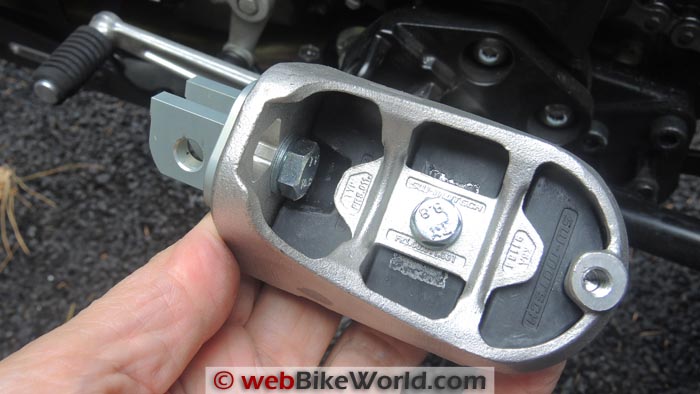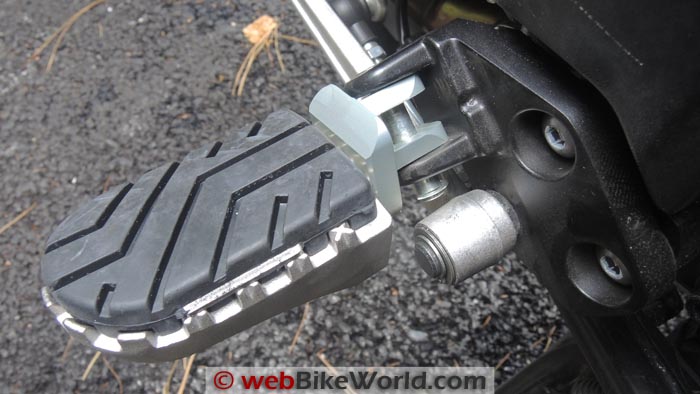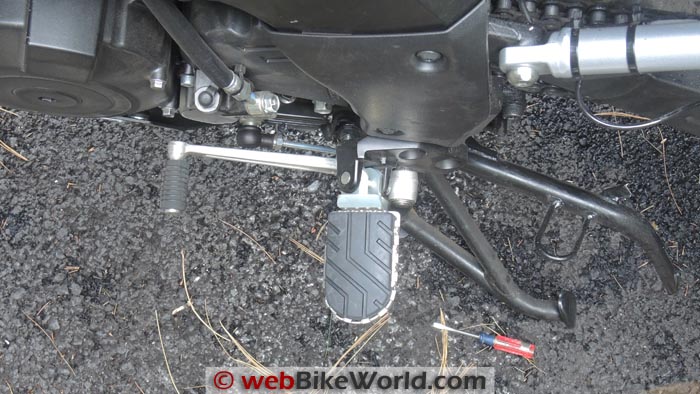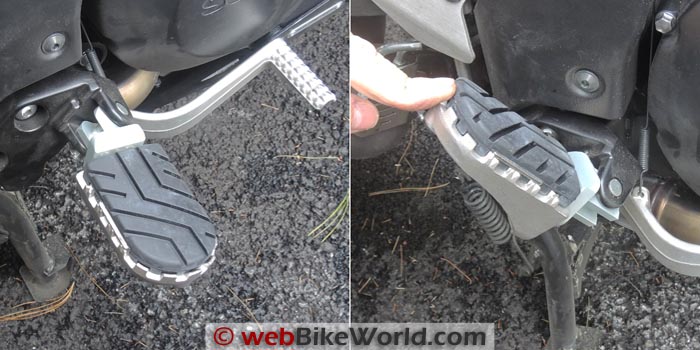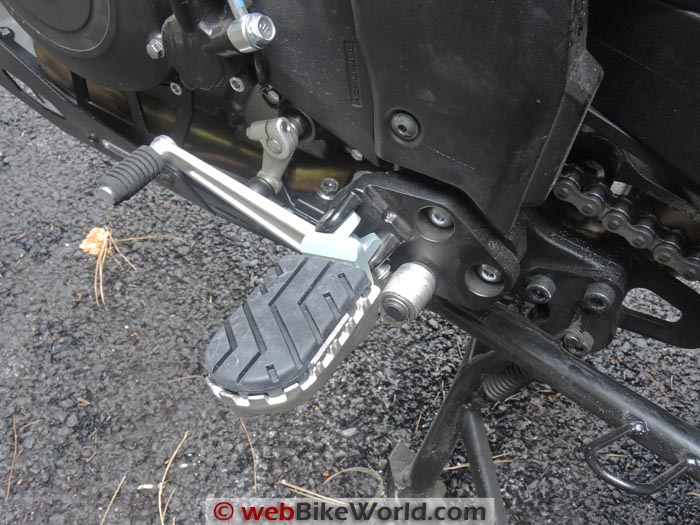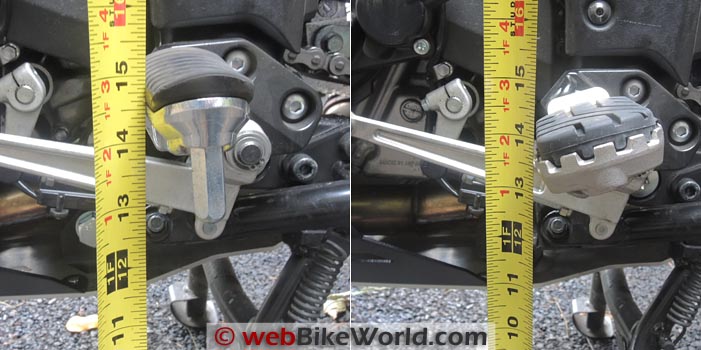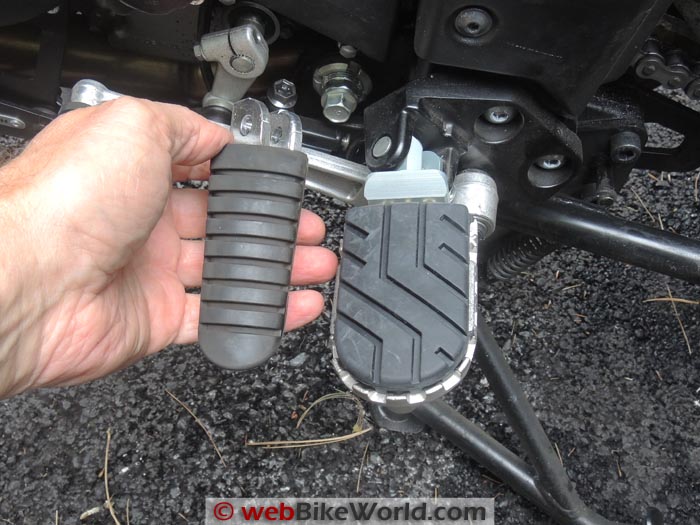 Conclusion
The SW-Motech wide foot pegs are easy enough to install. Make sure you keep all the old parts just in case you want to return the bike to stock.
I put all my parts in a large plastic "zip" bag with a slip of paper inside that described the contents for posterity.
On the road, there isn't all that much difference in the wide vs. stock foot pegs. It's not like it's a radical change or anything like that. In fact, I can barely notice the 1″ leg room increase.
The wide foot pegs do make it easier to move my feet around and it's a bit more comfortable.
The wider foot pegs are more noticeable when I stand up, because they give a more stable platform for maneuvering.
The SW-Motech bar risers/bar backs (review) for the V-Strom really help here also, raising the bars from their too-low-for-standing stock position.
Like most of the SW-Motech equipment, the wide foot pegs are pretty expensive at $152.98 for the pair.
Do you need them? Probably not, but they're a popular accessory and they usually go out of stock as quickly as they arrive, so if you want a pair, grab 'em while you can.
More wBW: Suzuki V-Strom 1000 ABS Blog  |  wBW Motorcycle Reviews
Note:
 For informational use only. All material and photographs are Copyright © webWorld International, LLC since 2000. All rights reserved. See the webBikeWorld® 
Site Info page
. Product specifications, features and details may change or differ from our descriptions. Always check before purchasing. Read the
Terms and Conditions
!
Owner Comments and Feedback
---
From "K.D." (August 2014): "I have those same foot rests on my BMW R1200 GS and had them on my old V-Strom 650. I reused the OEM foot rest return springs on both machines so I can't see why you could not do the same.
The SW Motech foot rests are a great value and one of the best ergonomic mods one can do."
---
From "J.R." (August 2014): "I have used the linked foot pegs on my DL1000 for several years now, and am well pleased with the feel and comfort that they provide. I agree that the foot pegs are expensive for what they are, especially considering that the casting is sourced in China.
In your review, you mention that "(t)he SW-Motech wide foot pegs don't have a spring and use gravity to keep them in the correct position."
Return springs are not provided by SW-Motech, as the factory springs do fit and function correctly when the new foot pegs are installed.
The company intends for the springs to be reused, in particular because the factory pin and spring clip are also necessarily reused during installation.
This is stated on p. 2 of the instruction sheet ("Use the original fixing parts…") linked here (.pdf). Safety requires the installer to use the springs.
Foot pegs that are able to move freely about during the rigors of riding represent a clear and present hazard to the rider. Gravity alone is insufficient.
I can think of no motorcycle that isn't equipped with return springs for the rider's foot pegs."
Rick's Reply: Thanks for the tip, I missed that in the instructions.