Motorbike Writer is now a proud sponsor of the important First Aid for Motorcyclists course which is touring the country.
The course has been put together by Tracy Hughes and partner Roger Fance who are highly qualified and experienced first aiders who ride at the urging and with the assistance of Maurice Blackburn Lawyers.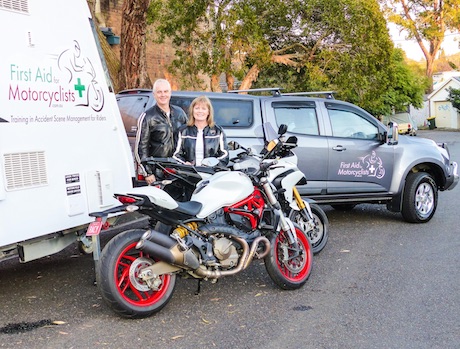 It is specific to motorcycle crashes and varies from other first-aid courses. Even trained medical staff have found the course useful for the specifics of a motorcycle crash.
Roger says Tracy has been involved in three no-fault crashes which was one of the inspirations for them to formulate the course, sell their house in Sydney and take the course around the country to capital cities and major regional centres in each state.
It costs $78 and is a not-for-profit course, raising only enough to cover costs and keep it on the road around the country. Tracy and Roger also donate some of the funds to the Sydney Royal Rehab spinal unit.
To ensure that the course stays on the road, Motorbike Writer is proud to supply free advertising as well as informative articles about parts of the course.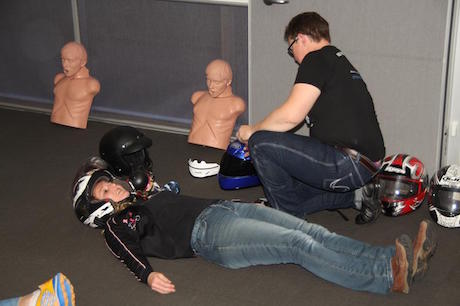 The course is also sponsored by Maurice Blackburn Lawyers and well supported by Motorcycle Councils in each state, rider training providers Stay Upright and HART, Motorcycle Riders Associations in Queensland and ACT, plus Harley-Davidson Australia – HOG Chapters, even though they are both Ducatisti!
Tracy rides a Monster 821 and Roger rides a Multistrada 1200S. They have ridden on five continents and plan to ride Patagonia in South America after they have taken their first-aid course around the country.
Their half-day course is not designed to turn participants into medical practitioners. It's designed to help riders manage a motorcycle accident scene and manage the casualties, rather than treat them.
"The main aim is to preserve life and hold the fort until the cavalry arrives," says Roger.
Motorbike Writer strongly urges every rider to do their First Aid for Motorcyclist course.