Most riders' throttles are too slack, they don't know the lane filtering rules, they sit too far back, they don't use their footpegs correctly and they don't use their head enough, according to bike cops.
These are some of the many things I learnt from the police at Brisbane Bike Night. Inspector Peter Flanders of Queensland Road Policing Command says they attended for "information, not enforcement".
While the riders at Bike Night were initially a little stand-offish, the police roamed through the crowds checking out the bike porn and just "being guys" and gradually riders started milling around the Honda ST1300 and Yamaha FJR1300 police bikes.
By the end of the night, riders were four and five deep around the bike cops asking questions and even sharing jokes.
It was excellent PR for the cops and even better PR for the riders who showed the cops that they are just enthusiasts and not thoughtless idiots.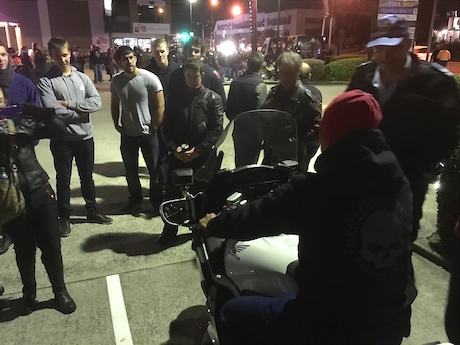 However, a couple of riders decided to prove otherwise by doing wheelies as they left. That's never happened before at Bike Night, so it can be assumed they did it for the cops' benefit.
Inspector Flanders was joined by Senior Constable Vaughan Carman and Transport and Main Roads representatives John Burrill and Darren Mulholland who provided safety information and a pamphlet on the new lane-filtering rules.
Inspector Flanders says they are noticing a lot of riders are unaware of the changed rules.
"Every motorcyclist seems to know that lane filtering is now allowed, but they haven't checked what the specific rules are," he says.
"The biggest problem we have seen is riders using the shoulder to filter on roads with speeds less than 90km/h," he says.
TMR admits lane filtering rules "need tweaking" including the Queensland rule that allows the use of the shoulder on roads with a posted speed of 90km/h or more.
He points out that roads with electronic signs often reduce that speed limit during peak hours which is precisely when lane filtering is most needed to alleviate congestion.
John admits the rule runs contrary to the intent of the law and that they are constantly reviewing road rules. "But there are a lot of hoops to go through to get them changed," he says.
Snr Const Carman confirms that an adaptable electronic speed sign becomes the posted speed and riders are no longer able to use the shoulder. "Enforcement is based on the speed limit at the time," he says.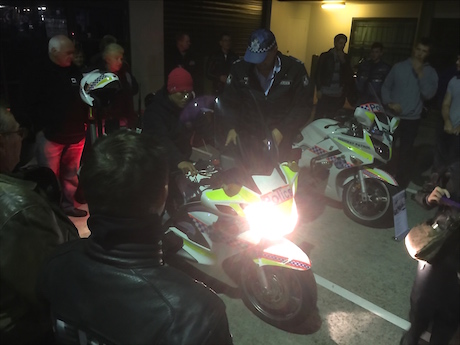 The police and TMR believe the number of low-speed traffic crashes may have increased since lane filtering was introduced, but say they do not have any data to back that up.
Inspector Flanders says too many riders are lane filtering at much higher speeds than the permitted 30km/h.
"Before the lane-filtering laws, riders used to putter slowly up between the traffic," he says.
"But when it was introduced, it was like a switch has been flicked and some are taking liberties. We are now witnessing some high-speed filtering. With some it's a matter of give them an inch and they take a mile, spoiling it for everyone."
Inspector Flanders says they attended Bike Night at the suggestion of RACQ safety guru and Suzuki Bandit rider Steve Spalding to answer riders' questions and give advice, not to write tickets.
"We'll have a look at your bike for you and see if it's legal or not, but we're not here to write tickets," the Inspector says.
"The biggest compliance issues we see are illegal exhausts and mudguards without reflectors."
He says the biggest mistakes – not offences – he witnesses riders making are:
Riders don't sit correctly on the bike. They are usually too far back with their arms stretched out;
Riders using highway legs where they can't quickly access the rear brake and gear shift;
Ape hanger handlebars that are too high to be able to comfortably control the bike;
Riding with the balls of their feet on the pegs, rather than the arch so they can access the levers;
Throttle has too much slack which makes it jerky and difficult to perform low-speed manoeuvres such as u-turns and roundabouts;
Rear brake pedal is positioned too high; and
Riders not using their head enough to look where they are going.
Inspector Flanders also gave an insight into their intensive police motorcycle training.
Bike cops initially go through a three-week, eight-hours-a-day course, followed by a two-day refresher course after six months and one day a year of "re-qualifying".
"I do it as well," he says. "I wouldn't expect my officers to do anything I don't."
He also says the secret to the clever tight manoeuvres bike cops can perform is not to slip the clutch, but to leave it in gear and use the brake as to regulate speed. He says that saves clutch burnout.
He also confided that the new FJR1300 is a far superior bike to the ST they are phasing out and the BMW R 1200 RTs they used to use.
The Queensland police bike fleet numbers 107 with two unmarked bikes.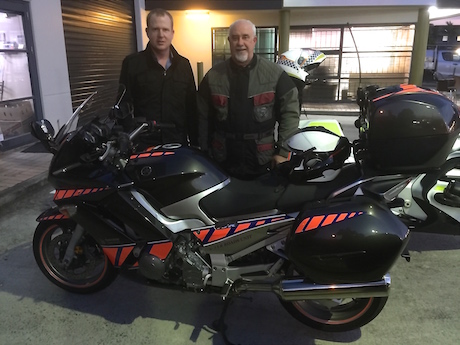 The TMR also had their Yamaha JFR1300 on hand to show riders how they measure road conditions and perform safety audits of popular motorcycle routes. These help with the design of roads and developing countermeasures to prevent crashes.
The bike features video, sensors and a MOTEC unit to record pothole impacts, braking and cornering forces, etc so they can analyse the road network. The bike is not used as a compliance-enforcement vehicle.