Review Summary
The Weise Ladies Ripley Leather Glove are a mid-season, short, waterproof gloves that offer excellent value for money with good looks and great functionality. A great set of main or spare gloves.
Pros
Tough construction to keep your hands safe
Comfortable once broken in
Waterproof and breathable to ensure comfort and dry hands
Excellent value for money
Cons
No hard protection on fingers or palm sliders
Review Summary
The Weise Ripley gloves are a waterproof short cuffed glove that offer full leather protection with a plush fleece interior for riding comfort.
The gloves are best positioned as a day-to-day riding glove due to their breathability and lack of hard finger protection and palm sliders, so do not expect to take these gloves to the racetrack. Use a gauntlet glove instead!
They offer solid waterproofing capabilities. As with all leather products, it takes some use to get them to soften up and become supple and comfortable.
Weise Ladies Ripley WP Leather Glove: Mid-season, Mid-length Waterproof Gloves
Finding good motorcycling gloves for women can be a challenge. Often the sizing is wrong and wearing gloves that don't fit properly is a safety issue as much as it can be uncomfortable.
I usually favour textile gloves for fit and comfort and trying the Weise Ripley Leather Glove was something new for me. I wore them for a few days whilst on tour, in warm summer weather as well as a day of rain. This gave me a good opportunity to properly test the gloves.
About Weise
I have tested a few Weise products in the past and was pleased to be able to get my hands on more of their gear. I always rate it highly.
Weise has been at the forefront of innovation and style in motorcycle clothing for over 30 years. Their expert team is dedicated to providing the highest quality clothing and accessories for any type of motorcycle riding, whether you're an adventure tourer, an urban commuter or, in fact, a professional racer like Peter Hickman and Craig Neve.
Weise comprehensive range offers everything you need for a safe and comfortable journey as well as ensuring you look good on and off your bike.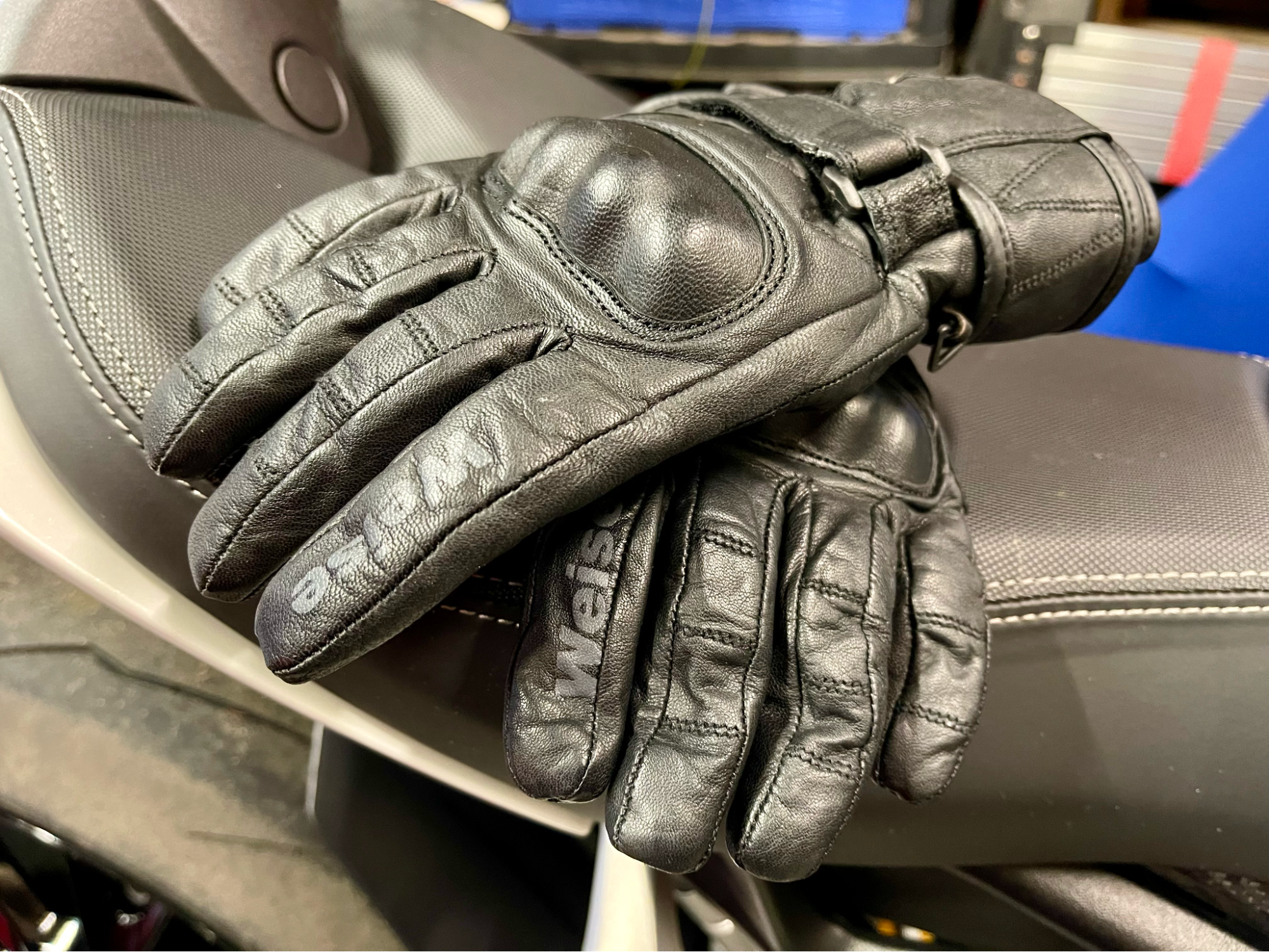 Features
Several features stand out on the Weise Ripley gloves.
Features:
Waterproof, windproof and breathable means you can wear them anytime and you won't get wet hands if you get caught in the rain.
Critical zone dual layered leather to protect the most vulnerable parts of your hands.
Fleece inner lining for that soft huggy feeling
TPU knuckle armour to protect your hands in case of a slide.
Visit the Weise Ripley Glove product page for a complete list of features.
First Impressions
The leather is soft and lush to the touch, the size of the gloves sent was correct and due to the padding, it took a couple of days of using the glove to get them supple and comfortable. As with most leather products, they get better with use.
The look and the design is stylish and fierce, a real plus for Weise to come up with gloves for ladies that want to look good on the bike and have comfort in the knowledge that the gloves are safe in case of a slide.
Weise Ladies Ripley Leahter Glove Construction
Outer Shell
The outer shell is full leather. The outer palm area is double layered for extra protection. The knuckles have TPU hard armour.
The glove has an elasticated wrist with a velcro adjustable closure.
Outershell
100% leather
TPU knuckle protection
Lining

Protection
The Weise Ripley Waterproof Leather Glove has some protection:
Leather construction with double layer in critical areas
TPU knuckle armour
Waterproofing
The Weise Ladies Ripley Glove is waterproof, windproof and breathable. I spent a day riding in heavy rain and my hands and the inside of the gloves stayed completely dry.
Branding
The branding is subtle on the index finger, grey on black which I like. There is no other branding on the glove, keeping it stylish in design.

Colorways
The Weise Ladies Ripley Glove is available in black colour only.
Overall Build Quality
The Weise Ladies Ripley Gloves appear to be very well put together. The leather feels good quality to the touch and the fleece lining is soft and plush. During my review period, I have not encountered any problems with the build quality.
Weise Laides Ripley Glove Fit & Feel
Sizing
So far I have found most manufacturers to be fairly consistent in sizing, at least for ladies' sizes. I always go for size 7 gloves. Weise sizing is from small to 2x and I've settled on medium.
I find the fingers a little on the short side, but a large glove was too big for me.
Comfort
As with most leather gloves, it takes a couple of rides to break them in. Whilst doing so, they are still very comfortable. The fleece liner makes your hands feel snug and soft, as well as warm on a chilly day.
The gloves are short which means they can fit under or over your jacket cuffs easily without bulk. The two velcro closures help in securing the glove and adjusting the fit to either fit under or over the sleeve cuff.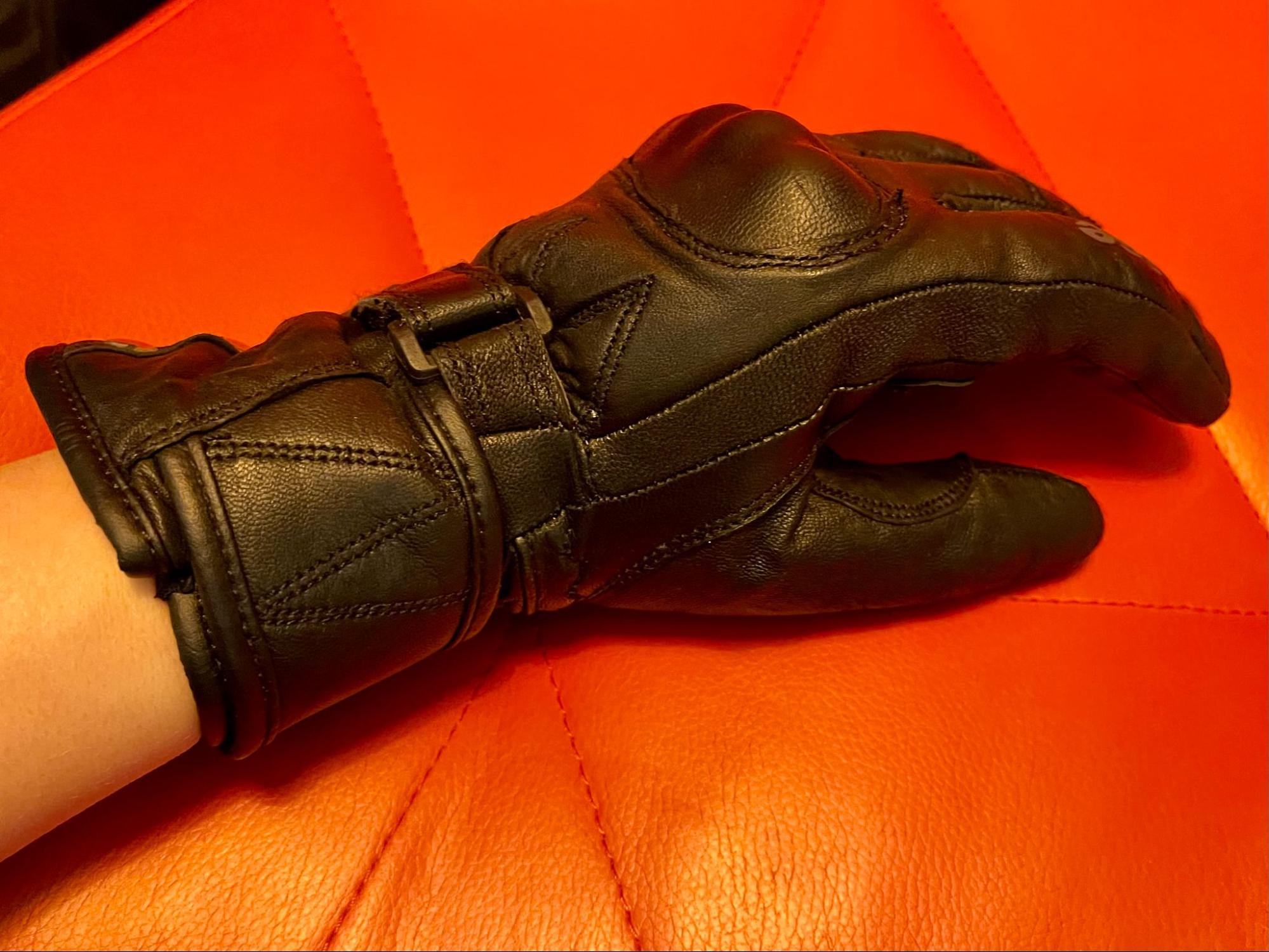 Retention
The Weise Ladies Ripley Gloves has two velcro wrist closures to ensure a snug fit.
Care Instructions and Warning Label
The care label offers one option for cleaning, specialist dry cleaning. You can also clean the gloves gently with a sponge.
Warranty
Weise offers a 2-year no quibble warranty on all of their products.
Weise Ladies Ripley Leather Glove Road Testing
I was looking forward to trying leather gloves for bike riding. Apart from a few days of track riding where I had proper racing leather gloves, I usually favour textile gloves.
As the gloves arrived I was setting off on a short tour and I took them with me. My plan was to wear them for a bit on the first day then use them mostly as a spare set. However, on day two we got caught in the rain and my summer, textile gloves are not waterproof. I decided to wear the Weise Ripley Gloves and see just how waterproof they are.
The air temperature was warm, around 17 degrees Celsius and the rain was heavy. My hands didn't feel cold or hot, just right. And after a few hours of riding in the rain, I can confirm the gloves are completely waterproof.
I have worn the gloves much more in the days after, as they became more and more comfortable and they look so good!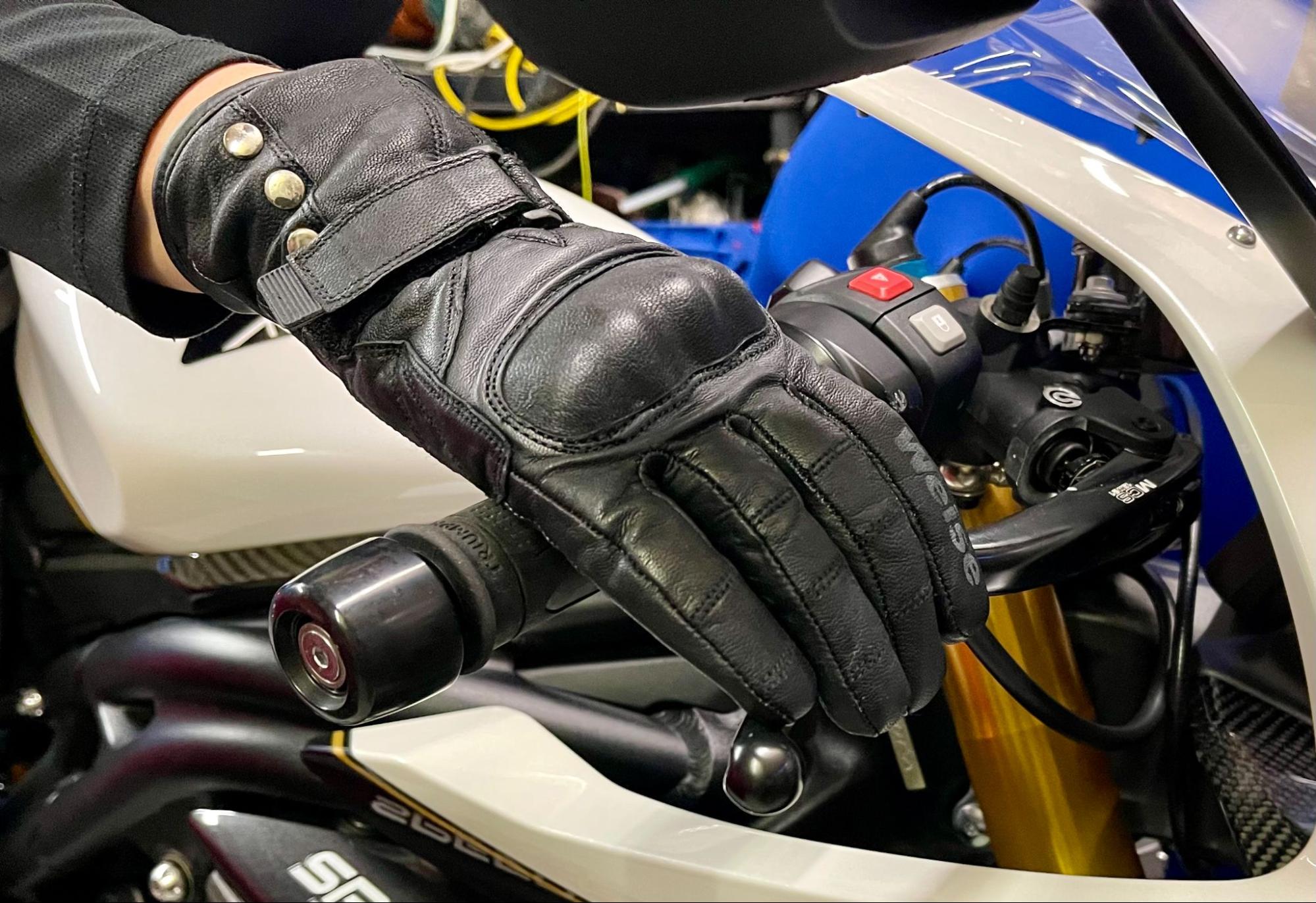 Conclusion
The gloves are extremely good value for money. The only slight negative is that I would have liked some armour on the fingers and perhaps a palm slider. The leather is strong and feels tough and with double layers on the vulnerable areas, I am sure they are going to keep my hands protected.
The gloves are waterproof, windproof and soft on the inside, I think they make a great main pair or at least a reliable spare pair to take with you on a trip.
Pros
Tough construction to keep your hands safe
Comfort (once broken in)
Waterproof and breathable to ensure comfort and dry hands
Excellent value for money
Cons
No hard protection on fingers but you wouldn't use these for racing.
Specs
Manufacturer: Weise
Price: (When Tested) £49.99
Colors: black,
Sizes: S, M, L, XL, 2XL
Review Period: May – June 2022
Important Links / Where to Buy