You can now wear an AGV helmet with exactly the same specifications as the one that nine-time world champion Valentino Rossi wore on the track in last year's championship.
AGV Australia spokesman Don Nicholls of distributor Link International says the Valentino Rossi Replica Pista GP R Soleluna 2018 helmet has the same shell, visors, personalised liner, etc as Vale's race helmet.
"The only difference is that his personal sponsors are removed from the graphics," Don says.
"Out of interest , he wears a size MS Pista GP R."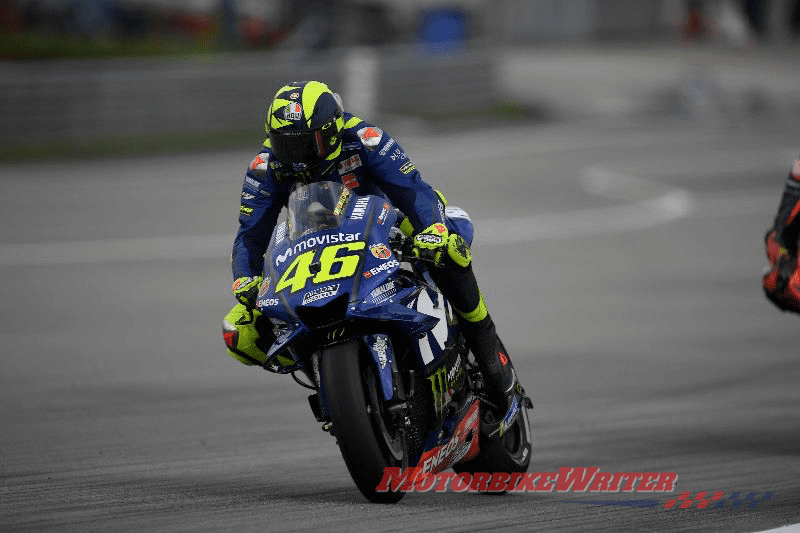 Italian made
What's more, this helmet is not another Chinese-made product.
The design, research and development of the helmet was carried out by AGV technicians at their headquarters in Molvena and it is made at AGV's facility in Campodoro.
All Pista GP R helmets cost $1999 which is $300 more than the matte black model.

Valentino Rossi and Aldo Drudi, the most famous graphic designer of the MotoGP, created a 1970s-inspired design for the 2018 season with linear shapes and large colour blocks.
The design is deliberately clean and simple, emphasising the Doctor's famous sun and moon graphics.
Its paint scheme has been updated with a matte finish, also featured on the new Spoiler, and the carbon shell is visible on the chin guard.
Safety wear
Many racers in MotoGP and other world and national racing championships wear the AGV Pista GP R.
The shell shape is designed to maximise aerodynamic performance with the latest wind-tunnel-tested rear spoiler.
Developed under AGV's "Extreme Standards" protocol, Pista GP R features a 100% carbon shell layered with a five-density EPS shell.
The lightweight structure exceeds the regulatory safety requirements and scores a five-star rating from the independent British certifying body, Safety Helmet Assessment and Rating Programme (SHARP).
It includes MotoGP-derived innovations such as a removable hydration system with internal channels and a drinking valve inside the chin area.
There is an elastic tube at the back of the helmet which draws water from a hydration kit which you can wear as a backpack, or integrated into the aerodynamic hump in many modern racing leathers.
While most helmets only come in three sell sizes, this has four dedicated shell sizes and four internal EPS sizes to create a compact structure that minimises volume around the rider's head.
It weighs just 1350g in the smallest shell size.