The Waco bikie shootout with police in which nine bikies were killed could have unfortunate repercussions on the good works done by an international group of bikers against child abuse.
Bikers Against Child Abuse (BACA) Australian and Queensland president "Nifty" says media coverage of the shootout "affects everyone on a motorcycle wearing a set of leathers".
"We ride in this (bikie) culture and so we get caught up in it," says Nifty whose identity – like all BACA members – is withheld to protect the identity of the children they help.
Unfortunately, the members of BACA look like scary bikies but that's part of their effectiveness in deterring abusers and bullies.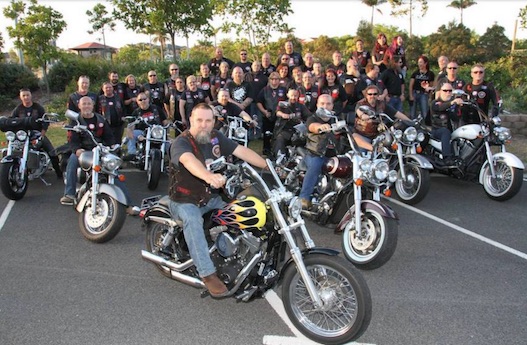 BACA started in the US 20 years ago to help an abused eight-year-old boy who was so frightened he wouldn't leave his house. A rider known as "Chief" included the boy in his biker circle and within weeks the boy was seen all over town riding his bike and playing with other children.
The idea to rally the biker community in defence and in support of children resulted in BACA quickly spreading into a movement with chapters opening across the US, then overseas. The Australian chapter began 10 years ago in South Australia.
Nifty says the Queensland chapter helps an estimated 100-200 children a year. Multiply that by the 140 chapters around the world and you begin to see the scope of BACA in aiding abused children.
"All kids and families are referred to us by authorities and we work in conjunction with them," says Nifty.
"We aren't a social group, but we go on rides and attend events to hand out our brochures and raise community awareness. We also visit doctors, dentists, day care centres, community associations and such to tell them of our services."
BACA has more than 150 members in Australia and there are about 3000 worldwide. All are vetted and officially qualified to deal with children. In Queensland, for example, they all have a Blue Card.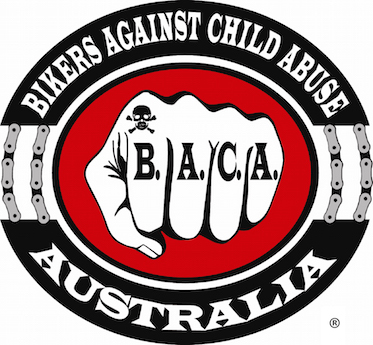 Nifty doesn't believe the issue of child abuse is getting worse, but is simply receiving more attention and help.
"A lot of people say child abuse is more rife than what it was 50 years ago but it's probably more in the public eye now," he says.  "Fifty years ago there weren't a lot of organisations that supported child abuse.
"We deal with sexual, emotional and physical abuse as well as neglect and bullying which is a new issue.
"With bullying we take a different approach because we are dealing with an offender who is not an adult. We report it to the school and support the child by escorting them to the school. Kids see that and tend to leave them alone."
Nifty says it's rewarding to see children they have helped grow up to become responsible parents or work in community service themselves. Some even join BACA.
Although they are not a social club, every BACA chapter participates in an annual 100-mile ride of awareness. Nifty, who rides a 1986 Harley-Davidson FXR Super Glide, says their ride to Bundaberg was held last weekend (May 16, 2015).
Their next fundraiser and awareness day is on June 13, 2015, at Gasoline Alley Harley Davidson who allow them to serve in the beer garden and receive a donation.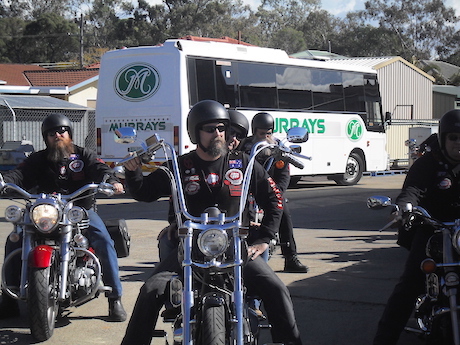 "We attract a lot of bikers, but it's a long process to screen people before they can join," Nifty says.
"When the VLAD (so-called anti-bikie laws in Queensland) came in, we got caught up in at all like everyone else with roadblocks and being stopped.
"But it's sort of died down and the police have left us alone. Now when they see us they know what we are and leave us alone.
"We've had some families who said the police told them not to contact us as we're all old bikies. Some police won't have anything to do with us. It depends on the individual.
"However, the Child Protection Investigation Unit know who we are. They know we're serious about what we do and have a genuine desire to carry out our mission. We work in well with them."
The BACA has chapters in the US, Australia, Italy, Netherlands, Canada, France, Germany and Switzerland.
Here in Australia there are chapters in South Australia, Victoria, Queensland, Western Australia, NSW, NSW North Coast, Newcastle, Northern Rivers and Port City (Gladstone).
If you would like to join, please contact the following: