Queensland's VLAD laws are now effecting the RSPCA's annual Ruff Riders 500 charity ride.  Even the attraction of riding with V8 Supercars star Craig Lowndes is not enough to reassure riders worried they could be pulled over by police under the current anti-bikie crackdown.
The past two Ruff Riders 500 rides have raised about $50,000 each and attracted more than 50 riders. Last year, one rider flew in especially from Sydney just to ride alongside Craig.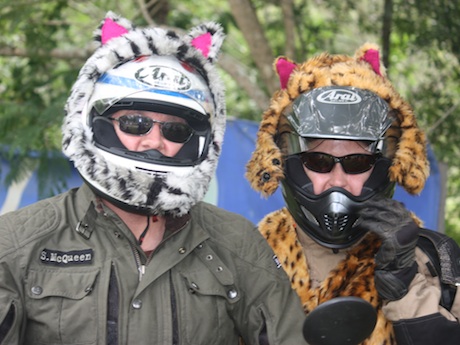 However, RSPCA spokesman Michael Beattie says they are expecting less than half the usual number for next weekend's ride (May 3) because riders are afraid of being pulled over by police under the VLAD (Vicious Lawless Association Disestablishment) laws. "I've spoken to eight people myself and the worry is that they will be pulled over. They just say it's all going to be too hard," he says. "The people who ring we can put straight but we needed the government to reassure people as well."
Michael got his wish with the government this afternoon releasing a statement of support for the ride. "I didn't realise the government would be quite so unhappy about my statement," Michael says. "But it's worked because they have put a statement in support. Who knows if it will work. I hope so."
Michael has confirmed he has registered the ride with the police. "I am sure the riders wouldn't be targeted because we have registered the ride with the police." He also points out that the ride this year goes from Brisbane across the border to Ballina and will be in NSW for about half of the 500km distance. "So there's even less chance of being pulled over because it is in another state," he says.
The Ruff Riders charity ride raises money for a children's humane education facility at the Brisbane RSPCA. The RSPCA has an operating budget of $38 million and receives just $250,000 from the government.
Craig, who has been RSPCA ambassador since 2008, has hosted the inaugural Ruff Riders 500 event in 2012 and says he is looking forward to again participating in the ride next weekend.
Participants have to raise at least $250 in sponsorship to enter. Your registration fee will entitle you to a commemorate t-shirt, cap and patch. Contact: events@rspcaqld.org.au