If you're riding around South East Queensland, chances are you will call in to Esk where we recommend dropping into the Blacktop Motorcycle Works museum.
The free museum and British bike workshop is right next door to the Red Deer Cafe in the main street where many riders stop off for a coffee.
It's important riders visit and spend their tourism dollars in these areas that were cut off and affected by the recent bushfire emergency.
Blacktop museum
After your coffee and cake, pay a visit to see the old British bikes at Blacktop and chat with owners Jim and Naomi McKenzie and their business partner Brian Holzigal.
What they don't know about old British bikes you could print on a postage stamp —remember them?
Jim and Naomi moved their business from Clifton about 18 months ago because they like the Esk area with its great motorcycle roads and quick access to Brisbane and the coast.
"We're on a great bike route over the mountain (Mt Glorious) and around the dams," Jim says.
The Blacktop museum features about 25 old British bikes.
Naomi says they get visitors to the museum all day (except Sunday when they are closed), and not just riders.
"There is a lot of interest from old blokes who've had one or their dad had one," she says.
Most of the museum bikes are owned by Brian and they are not for sale.
"I have about three times that many at home but the bulk of the clean ones are here on display," says Brian whose work you can see on his BMC website.
"We rotate the display as we finish restoring bikes."
British bike specialists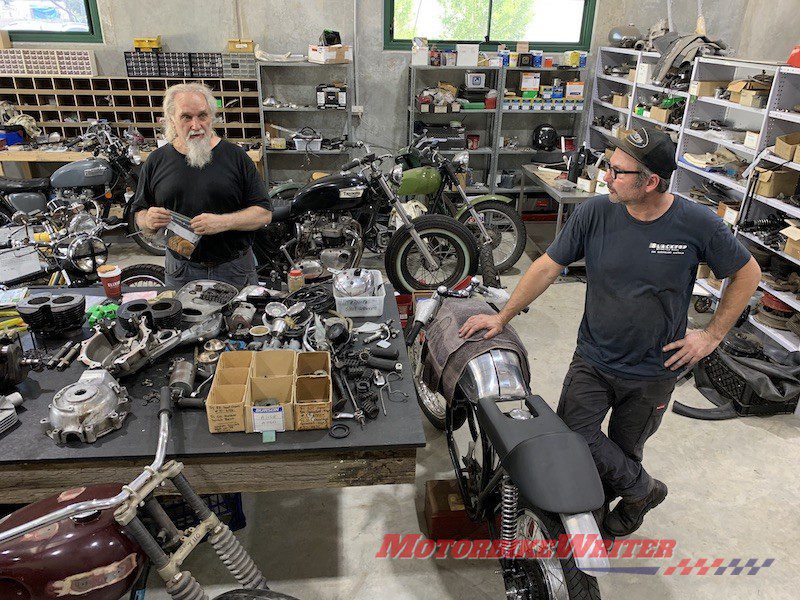 Blacktop also sell merchandise, parts and have a workshop where they do restorations and repairs on classic British bikes.
"We mainly do Triumphs, Nortons and BSAs because that's what we like and are good at," Jim says.
"We have customers send us their bikes from all over Australia."
Jim started many years ago as a service station mechanic in Brisbane.
Several years ago he met up with Brian who had owned British and American motorcycle shop centre in Brisbane in the 1980s before moving to the USA for about 17 years.
"We met when we were racing classic sidecars," Jim says.
Brian says Norton is his favourite, especially the Commando because it's "easy to play with".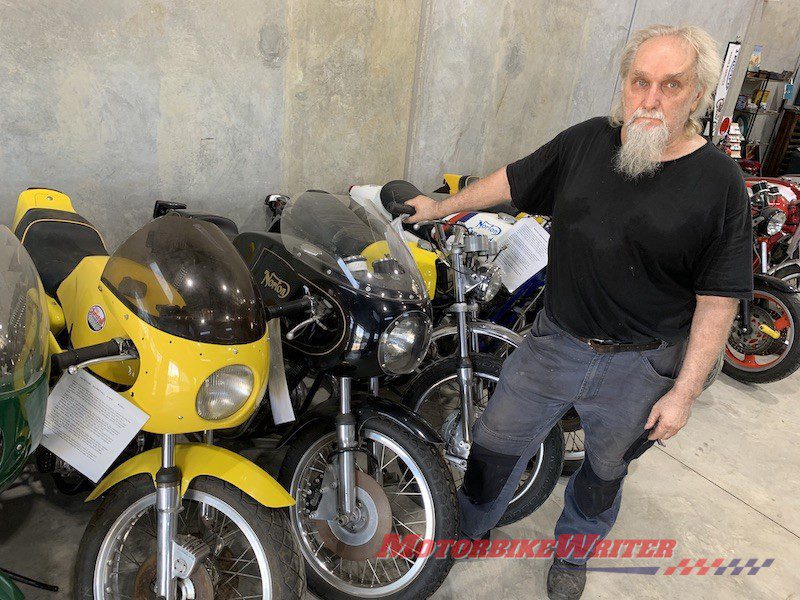 "My favourite every day rider would be the Commando Fastback," Brian says.
"Then it would be unit-construction Triumphs."
Jim's favourite bikes are pre-unit Triumphs, so between them they have a pretty good knowledge of the venerable British brand.
Please call Jim on 0414 477 823, Naomi on 0408 312 341, or email Naomi to arrange group or club rides.