Lockdowns seem to have sparked a rush on motorcycle and car online and live auctions with strong clearances of vehicles reported around the world.
In Australia, you can get your hands on 10 classic early Japanese classics that highlight the lead the way at Shannons Spring Timed Online Auction on September 7, 2021, with a total of 22 classic and sports motorcycles on offer.
If you haven't bid at auction before, it might be an idea to read our article "10 tips on buying at a motorcycle auction".
Shannons reports a growing demand for rare Japanese sports motorcycles.
Their auction next month includes three beautifully-restored and superbly-presented 1970s Kawasaki two-stroke triples, a rare 1980 Honda CB1100 RB-1, a model that dominated the 1980 Castrol Six Hour race, along with an iconic early 'Sand-cast' 1969 Honda 750/4 K0 superbike in superbly-restored condition.
Two collectible Yamahas, three classic BMWs ranging in age from 1953-1984 are complemented by five British motorcycles led by two classic 1937 models – a Norton Model 18 500cc and an AJS V-Twin 37/2 990cc 990cc – plus a very rare Italian 1957 Aermacchi Chimera 175cc solo round out the motorcycles in the auction.
For classic scooter enthusiasts Shannons has a freshly restored 1964 Lambretta Li125cc offered at 'no reserve' and expected to sell in the $6,000-$8,000 range.
Kwaka stars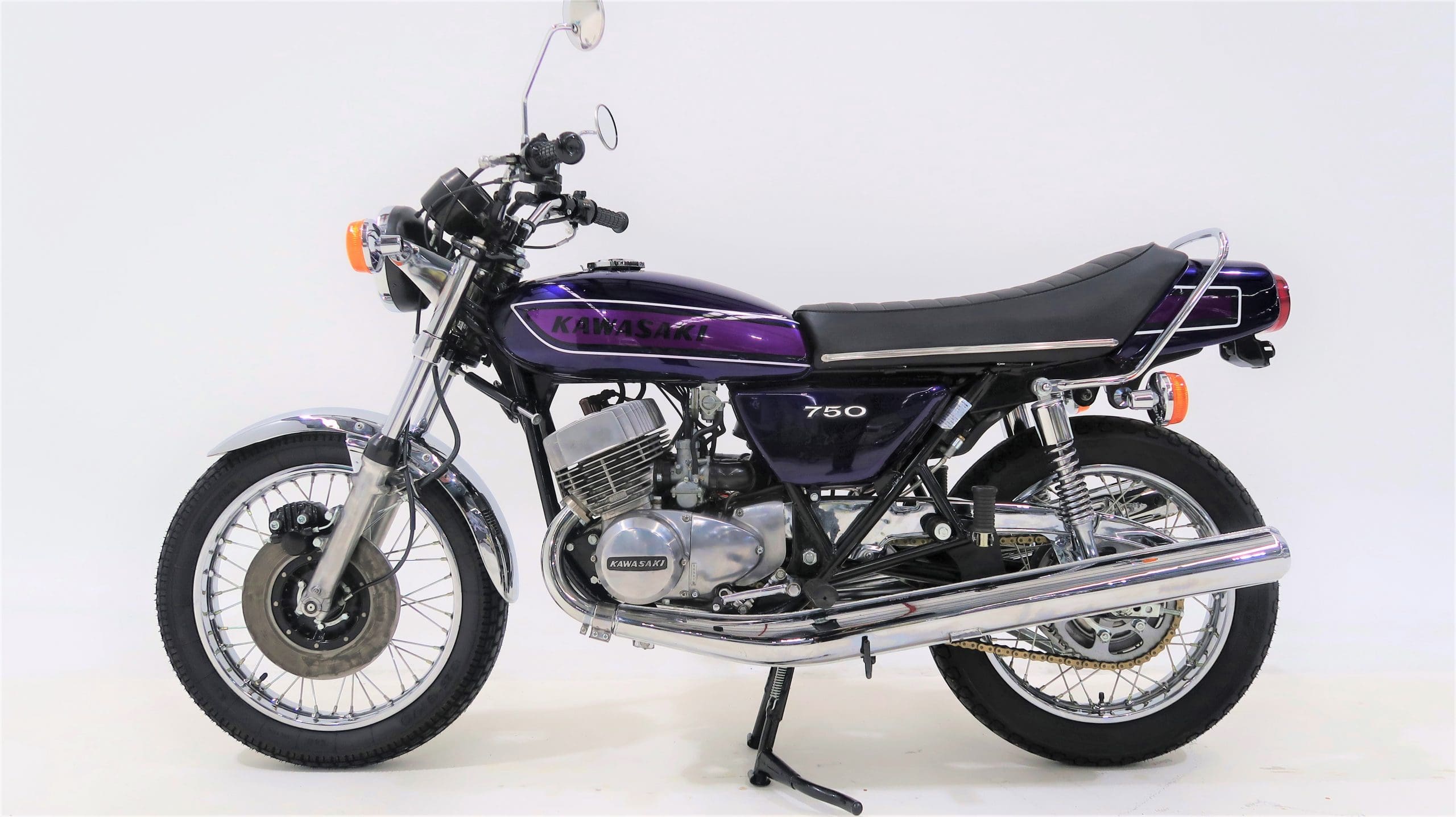 The stars of the motorcycles are the three Kawasakis that all come from the Japanese maker's 'purple period' in the 1970s.
Leading the charge is an H2C 750cc 2 stroke triple – a stunning example of Kawasaki's original superbike with eye-watering straight-line acceleration, that comes from a private collection based in NSW and that has covered just 320 miles since a full restoration by marque specialists.
Beautifully presented in period correct Candy Purple, the bike was originally sourced in the USA, with great care has been taken to keep everything factory correct during the rebuild. It is expected to sell in the $26,000-$32,000 range.
For similar money ($25,000 – $30,000), there is a rare and collectible Australian-delivered 1979 Kawasaki Z1R MkII D3 1000cc that has been the subject of substantial recent refurbishment, including a new exhaust system sourced from Japan.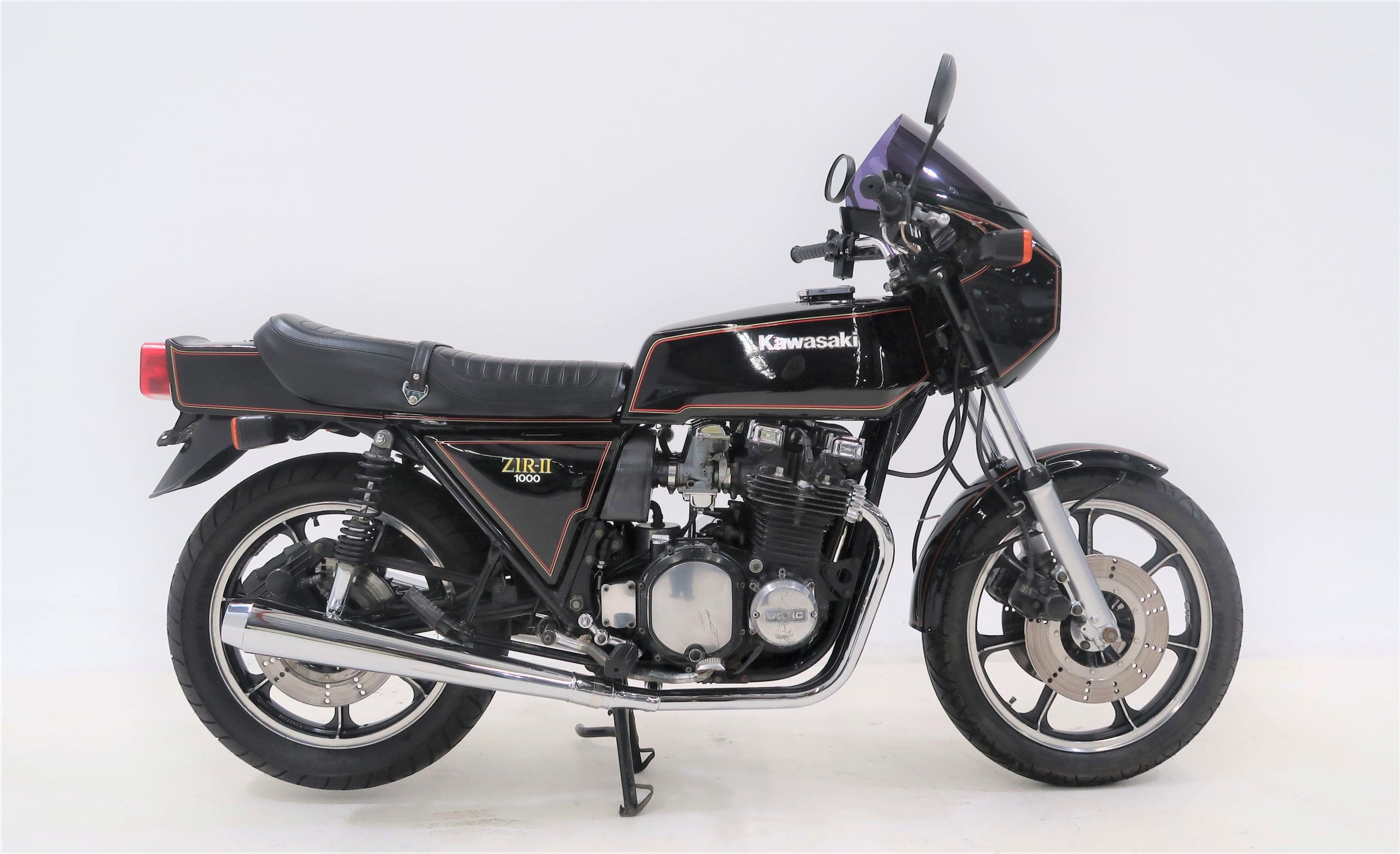 The line-up continues with a 1974 Kawasaki H1F 500cc triple from the same Sydney-based private collection, this lovely example also originating from America also underwent a full restoration by marque specialist Gary Clarke's Downpipe 3 in the UK. Now showing just 39 miles on its odometer since completion, the bike is slated to sell in the $16,000-$22,000 range.
There is also a very rare UK-delivered 1978 Kawasaki KH400cc triple also treated to a correct full nut-and-bolt restoration back to its original specifications by Downpipe 3.
Recently imported to Australia by the vendor, a Sydney enthusiast with a small collection of '70s Kawasaki's, the KH400 looks fantastic in period correct colours and even sports its original exhausts, virtually unobtainable these days.  Showing just 25 miles on its odometer since completion, it is expected to sell for $14,000 – $18,000.
Honda highlights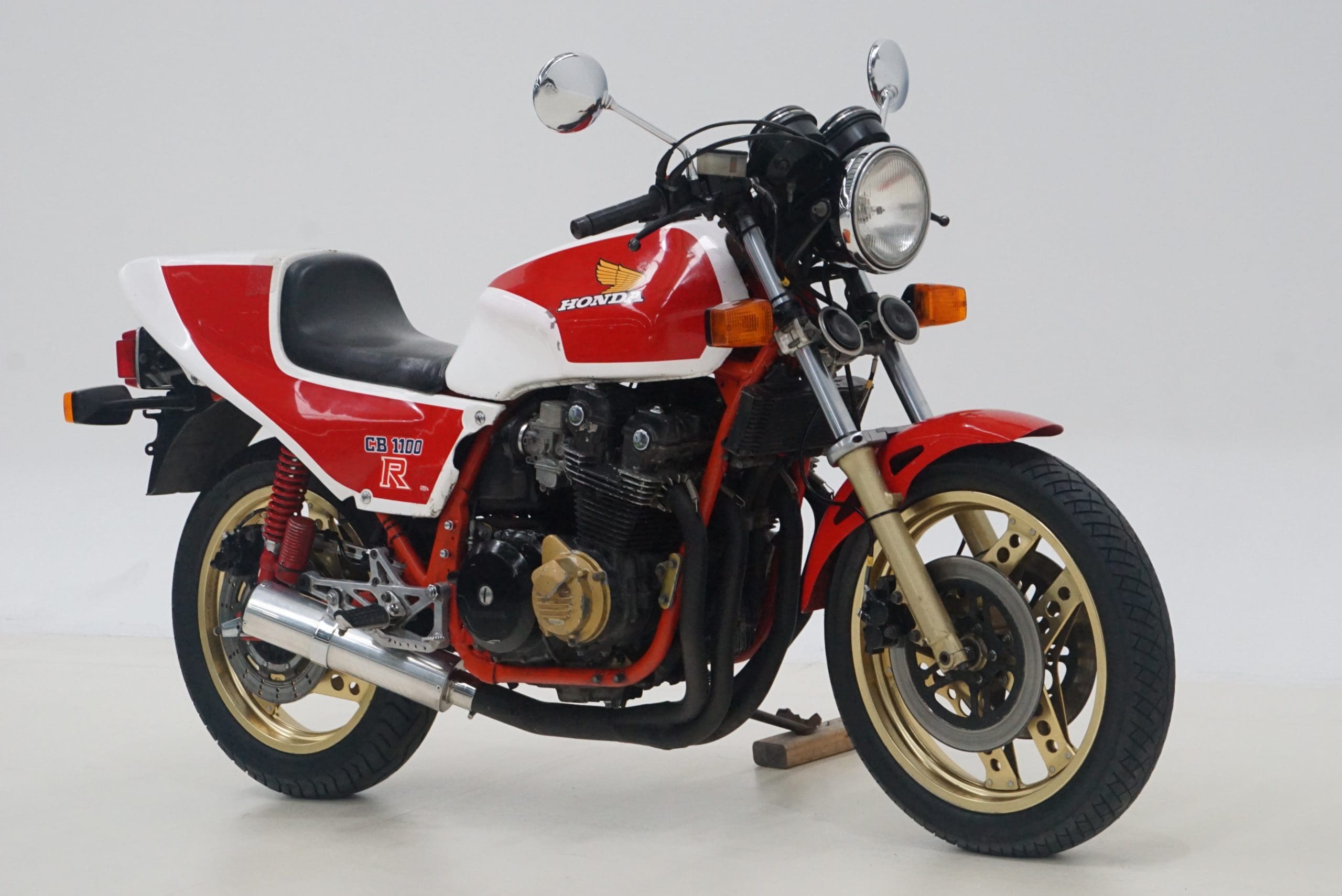 Honda enthusiasts will find it hard to go past the 1980 Honda CB1100RB  that was developed by Honda primarily for the Castrol 6 Hour production bike race, then Australia's premier motorcycle event, at the now defunct Amaroo Park circuit in Sydney. Future World 500cc Champion Wayne Gardner absolutely dominated the race on debut in 1980 aboard a CB1100RB, scoring a flag to flag victory.
Essentially hand-made in limited numbers, the purpose-built homologation special being auctioned is also rare as number 14 of just 112 ever made. Coming from long term ownership and offered at no reserve, it represents a rare opportunity to purchase a significant motorcycle with important provenance, with an expected selling range of $30,000-$35,000.
Hugely collectable is a 'Sand-cast' 1969 Honda CB750cc K0 superbike that was discovered by its current owner in the USA and underwent a meticulous restoration in Australia from 2017 in time for the CB750's big anniversary celebrations held at Broadford in April 2019. Offered with 'no reserve', it is expected to sell in the $50,000 – $60,000 range.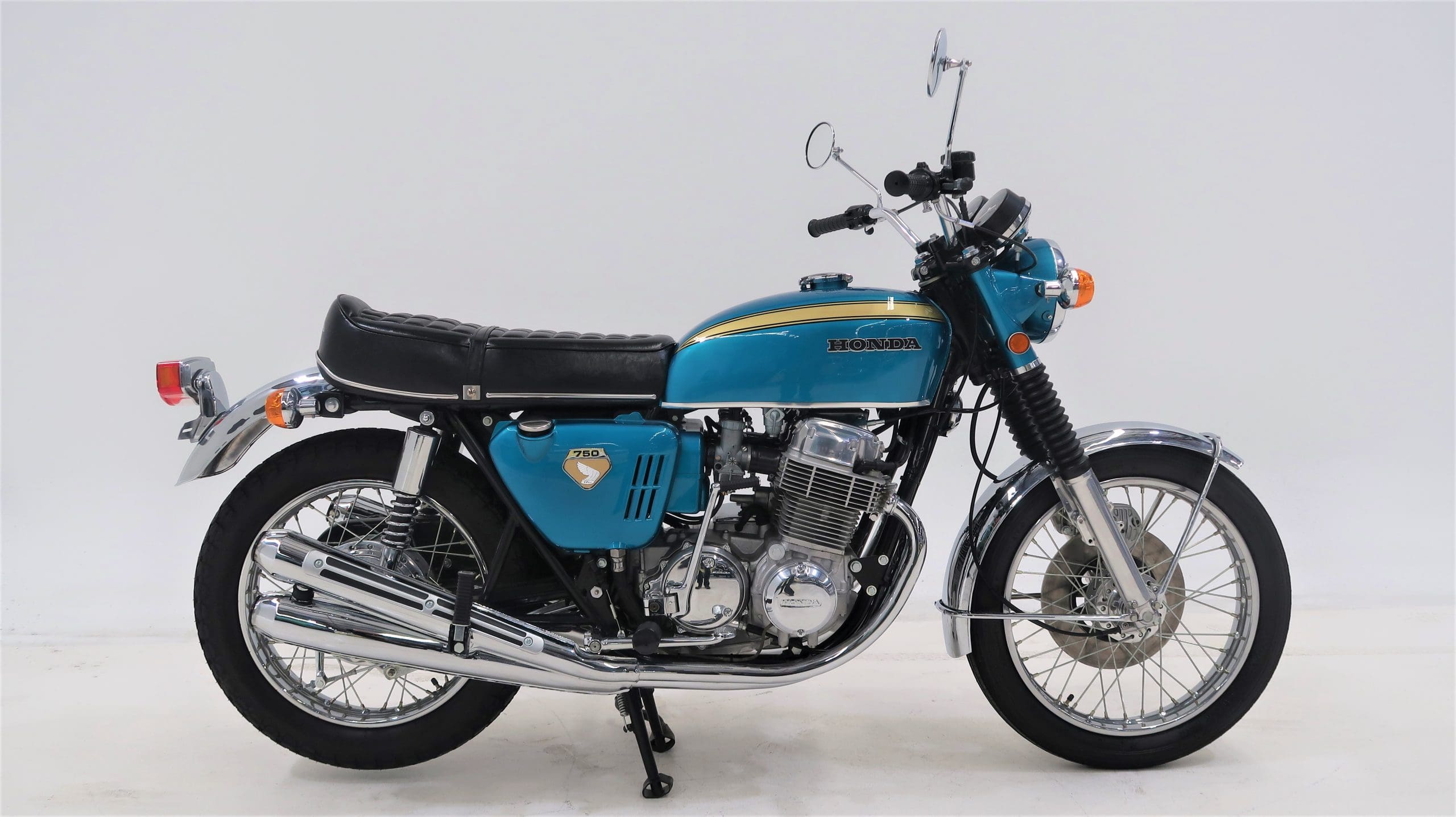 Other important Hondas include a one-owner and very innovative 1982 CX500 T motorcycle in beautiful original condition. Built for one year only, its turbocharged engine virtually doubled the standard engine's horsepower. With surviving examples proving very collectible, the Honda is expected to bring between $14 – $16,000.
The other Honda in the auction is a fully-restored 1966 CD125 that was imported into Australia in the early 1990s. Now fully restored and showing 2,477 miles on its odometer, the Honda is expected to sell with 'no reserve' for $2,000 – $4,000.
Yamaha fans
Yamaha There are also two Yamahas in the auction – a rare and hard to find 1965 YM1 305cc twin cylinder two stroke ('no reserve', $8,000-$10,000) and a low mileage 1969 Yamaha DS6 250cc two stroke twin from long-term ownership– a rare time warp survivor – expected to bring $4,000 – $6,000 with no reserve.
Best of Brits
Of the six British bikes in the auction, the stand-outs are two 1937 models — a fully-restored AJS V-Twin 37/2 990cc ('no reserve $25,000 – $30,000) and a rare, substantially original 1937 Norton Model 18 500cc motorcycle 'project' in running condition ('no reserve' $20,000 – $25,000).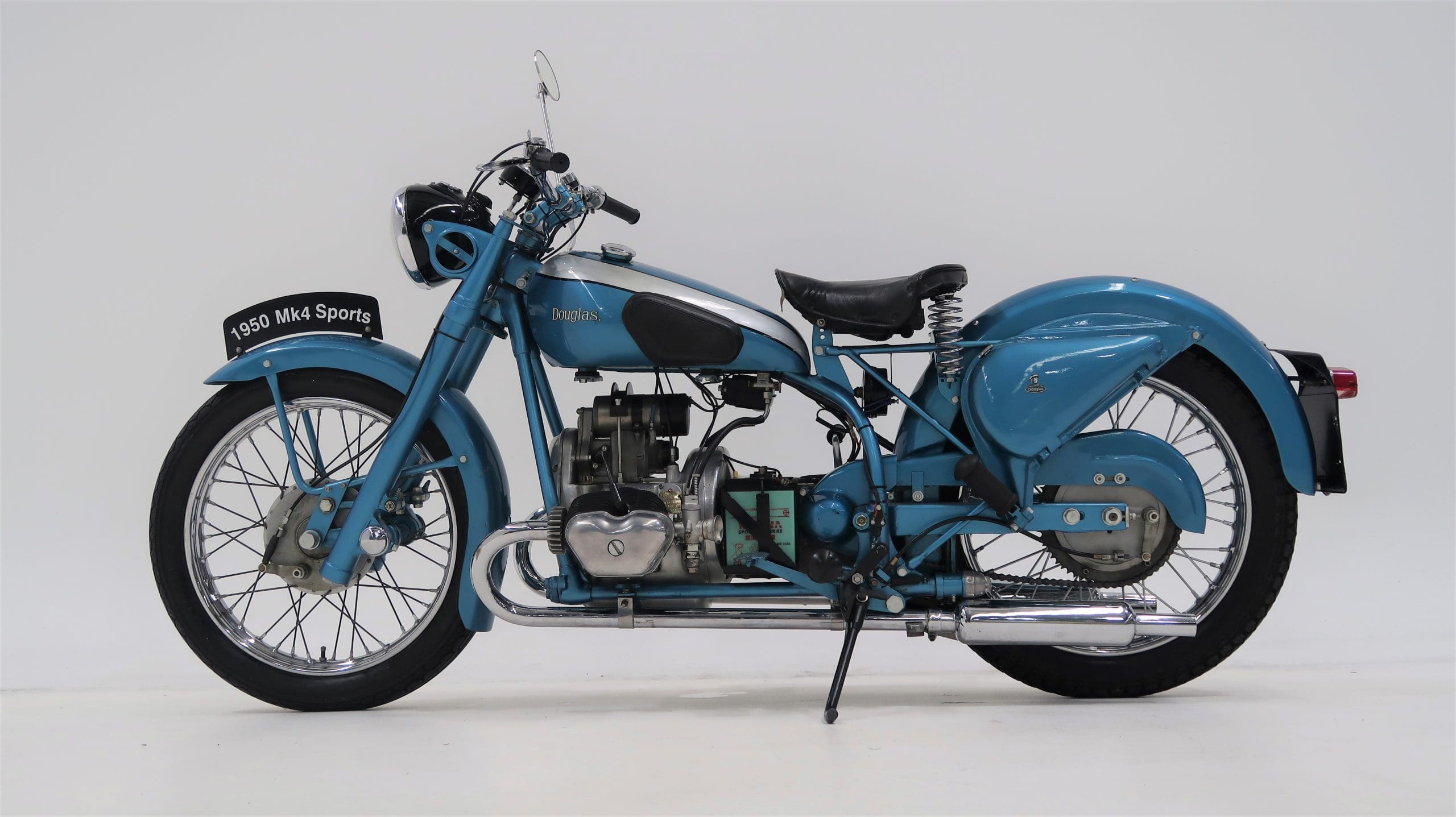 Other great Britons are a 1950 Douglas Mark 4 350cc coming out of 40 years ownership (an older restoration, 'no reserve' $8,000-$12,000); a recently-recommissioned 1969 Triumph Trophy 650cc ('no reserve' $8,000-$12,000); a fully-restored 1969 BSA Firebird 650cc 'street scrambler' ('no reserve', $10,000-$12,000); and a fully-restored 1952 AJS 18S 500c ('no reserve' $10,000-$14,000).
Four classic BMWs in the auction are headed by a now rare 1953 R68 600cc ($40,000-$45,000), while there is a well-maintained 1984 BMW R1000RS 980cc ('no reserve', $12,000 – $16,000), a 1971 BMW R75/5 750cc ('no reserve', $8,000 – $12,000) and a 1966 BMW R69S updated with a later-model R80 800cc engine ($8,000-$12,000).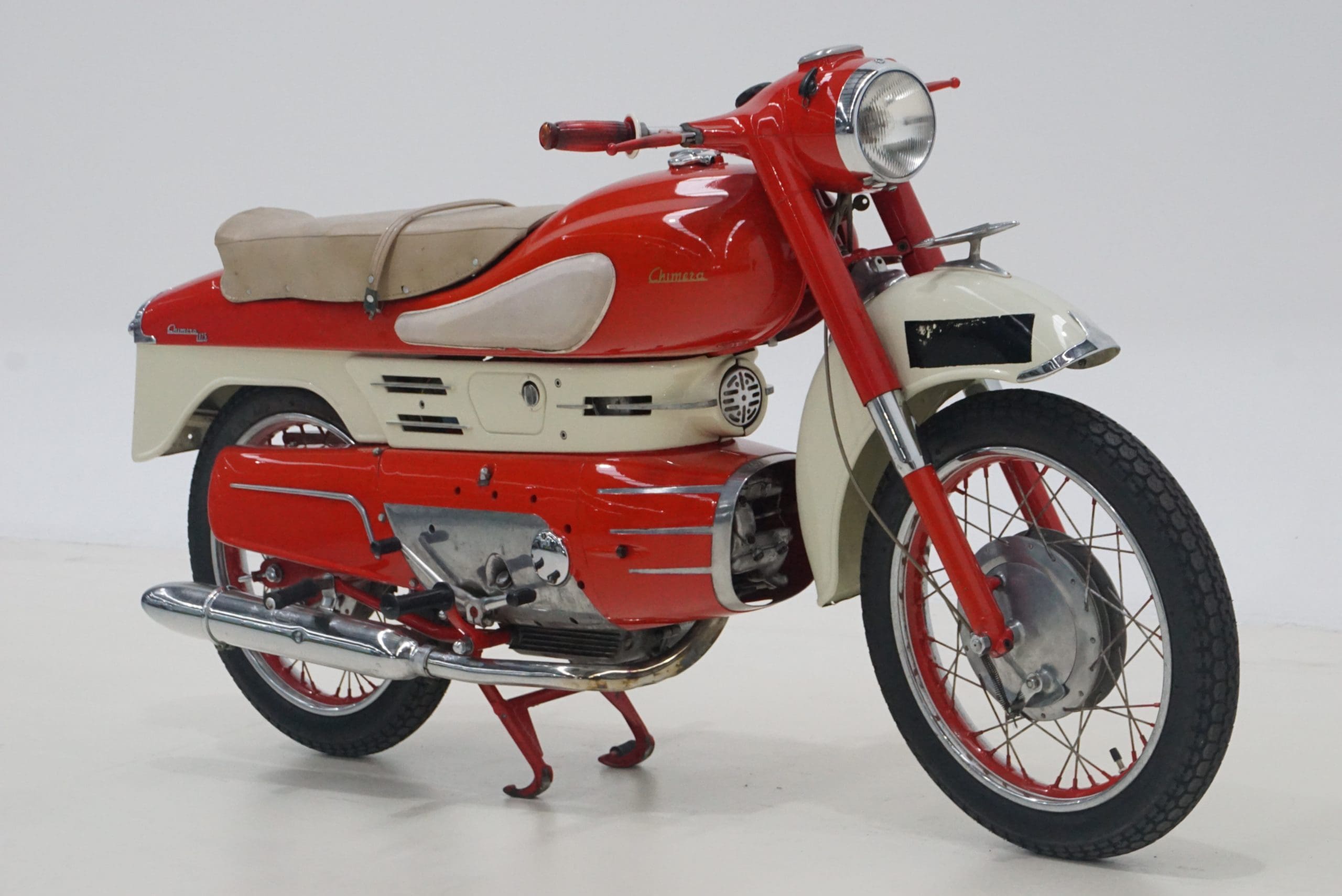 Finally, there is a rare 1957 Aermacchi Chimera 175cc Motorcycle in running condition – one of just 119 produced, whose 'futuristic' styling was a step too far for Italians brought up with more traditional Vespas and Lambrettas ($16,000 – $20,000).
To view all auction lots, visit www.shannons.com.au
To talk to a Shannons Auction Team member, call the 13 46 46, Option 6 (Auctions).