Danish motorcycle company Lauge Jensen conscripted a famed BMW and Aston Martin car designer to help develop its Viking Concept motorcycle unveiled at the Top Marques luxury brands show in Monaco.
CHECK OUT THE GALLERY OF IMAGES
Like all 2014 Lauge Jensen bikes, it features the Wisconsin-made S&S "1-Eleven Squarehead" engine and is the world's first motorcycle brand to receive Euro IV clean emissions certification. Clean-cut it may be, but the Viking still has plenty of macho majuscule, thanks to former Dane Henrik Fisker who helped design the bike.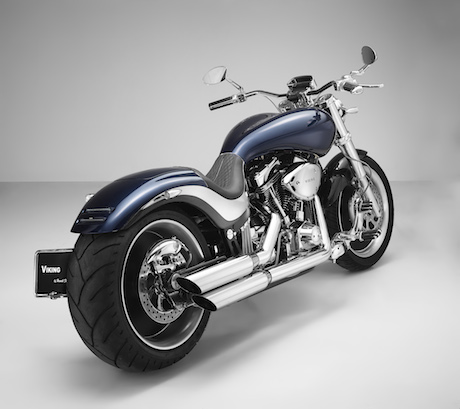 Henrik is one of the world's leading vehicle designers, having run the design team at BMW and Aston Martin before starting his own companies in LA, Fisker Coachbuild and Fisker Automotive, where as CEO he created the Karma hybrid.  "It's been a dream of mine to design and create a motorcycle for many years and this is the first time I have the freedom to go and do it," Henrik says.
His Viking Concept motorcycle indicates the possible future direction for the bespoke Danish custom bike builder, owned by Anders Kirk Johansen, an industrialist whose family invented LEGO. It features very curvaceous lines including an uninterrupted flow from the tank to the seat and through to the rear fender.
The S&S "1-Eleven Squarehead" has 45-degree cylinders producing 75kW and the bike has a top speed of 210km/h (130mph). They also claim fuel economy of an amazing, almost unbelievable, 4L/100km or 70mpg. Certainly they wouldn't achieve that travelling at 210km/h!
Lauge Jensen currently produces the limited edition Great Dane custom cruiser, which starts from €42,800 (about $63,000). The company intends to build a bike based on the Viking Concept at higher volumes and with a lower price tag than the Great Dane.
Their bikes are not imported into Australia, but Lauge Jensen spokesperson Luke Brackenbury  says they have interest and an invitation from a man who featured in the Australian top 10 Forbes list. "There's no importer at present as Lauge Jensen sell directly from Denmark," he says. "Delivery overseas is very much a private service. Lauge Jensen offer a direct sale from its HQ with home delivery – so a very personal approach and close client relationship, like a lot of luxury brands."
Lauge Jensen was founded in Horsens, Denmark, in 2008 and was bought in 2012 by Anders.
Lauge Jensen Viking Concept motorcycle
Price: €42,800 (about $63,000)
Engine:Air-cooled V-twin, 45 degree, Euro IV
Compression:9:1
Transmission:6-speed (5 and overdrive)
Power: 75kW (100hp)
Top speed: 210km/h+ (130mph+)
Fuel economy: 4l/100km (70mpg)
Dry weight: 299kg