Victory Vision 8-Ball Review Summary
Victory Vision 8-Ball Image Gallery
Cruisers — be they bare bones Main Street brawlers or dressed-up touring cruisers — are all about one thing: looks.
Acceleration, handling, stopping and sometimes even comfort play second fiddle to that basic tenet of cruiserdom — looks.
If its not hot, cool, a fit bird, a stunna, sick, fab, a cherry, or any other slang term for good-looking, it just isn't going to sell.
Victory learned this the hard way with the first bike they produced in 1999, the V92C.
Decent power, great ride and handling but a complete snooze in the styling department (and that's being generous) all equaled-up to the bike being used mostly as a paperweight by the dealerships.
Victory rallied somewhat in 2002 with the V92TC Touring Cruiser, correctly guessing that someone interested in actually going places isn't quite as concerned about how they look as they are about getting there and being comfortable.
For their next act, Victory turned to Arlen and Cory Ness to provide the styling cues and the Vegas was born. Victory has never looked back.
Which brings us to the 2010 Victory Vision 8-Ball. The V8 (its nickname, since Victory Vision 8-Ball is so tiring to say over and over), is born from the full-boat touring Vision. But the V8 has been stripped down to include fewer touring "frills". While the looks scream "touring bike", the amenities (or lack thereof) clearly define the V8 as a "touring cruiser" — albeit one with much better wind protection than one usually finds in this class.
When Victory adds "8-Ball" to the name of a motorcycle, it means black — lots of black. On some bikes it makes a little bit of a difference but on the Vision it made a whole lot of difference. The one part of the standard Vision styling I never liked (the chrome and silver trim) is gone, replaced by black pieces that, to my eye, allow the flowing lines of the design to be better appreciated.
I'm not the only one who thinks so apparently, as I have never ridden a motorcycle that got more attention while stopped. Or riding. Or hiding behind a bush.
We published some of the very first photos of the original Victory Vision in 2007, taken during the Powersports Dealer Expo in Indianapolis, Indiana when the final version of the bike was presented to the public.
The Vision has been a worldwide success, so this review is a follow-up of the latest example, the Victory Vision 8-Ball.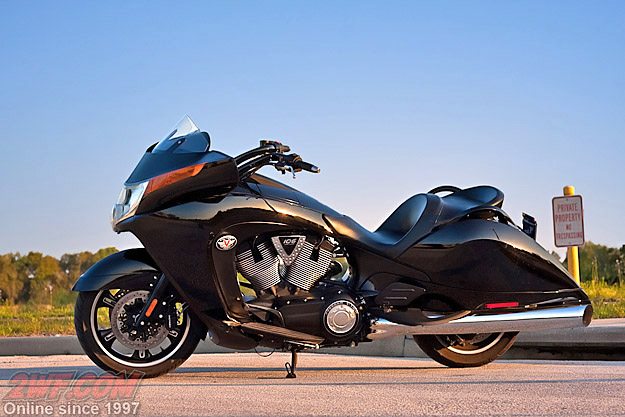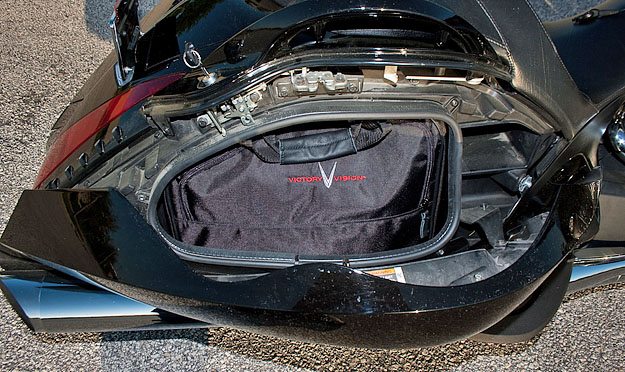 The Victory Vision 8-Ball – Details
Even people that you wouldn't think would be into motorcycles couldn't seem to restrain themselves from commenting – mostly in a positive fashion. From the an older gentleman who thought the bike looked "very nice-big-very smooth", to the woman in the minivan who gave me a thumbs-up at a stop light.
As a matter of fact, the only negative reactions about the styling were heard from other motorcyclists; usually those that ride the "other" American brand. I'll let you draw your own conclusions for the reasons behind their response…
In trying to create a bike that would completely break the mold when it comes to styling, Victory made one misstep; the saddlebags. Touring bikes and touring cruisers are about going places and going places means bringing stuff — even if it's only a day trip, you'll want stuff with you.
If you ride the Vision 8-Ball you'd better be either really good at packing a lot of gear in a little bit of space or willing to pare down your "must haves".
To be fair, the saddlebags aren't really, really small, it's just that the bag doors themselves are so big that it's a shock to open one and find a smaller compartment. Plus, the doors don't open very far. I kept looking for a secret latch, key turn, or handshake that would allow the bag doors to open fully — but if it exists, I never found it.
Dropping off the V8 at Volusia (Florida) Motorsports (great guys by the way), I started talking to Tom, a Victory rider who had bought the first Cross Country that the dealership had in stock. This was to replace his V92TC that he decided would look better wadded-up after being ridden off the side of a mountain.
Turns out that he was wrong but it did pave the way for him to get a new bike so it wasn't a total loss. Plus he got an award that the Victory chapter gives every year for the person who trashes their bike the worst on the mountain trip; an odd group those Victory riders.
After speaking to him for a while he told me that the bags were a driving factor in his decision to purchase the Cross Country instead of the Vision. Made me feel vindicated in thinking that the bags were a major "form over function" moment for Victory.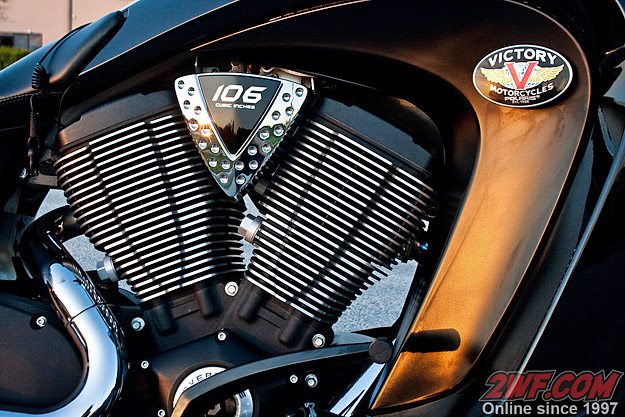 The Engine
Besides looking good, another major rule of cruiserdom is the motor: it has to either be big or look big. It doesn't have to actually provide a lot of power; it just needs to be brawny. And a twin — preferably a V-twin. Bigger is better and air-cooled is King to a lot of cruiser riders and the Victory Vision 8-Ball doesn't disappoint.
Packing a 106 cu. in., 50-degree V-twin delivering 92 horsepower and 109 foot pounds of torque, the Vision not only looks the part, it also delivers enough performance to keep those of us happy who actually like a little "go" with our "show".
Riding a big twin cruiser always reminds me of driving a muscle car; not the fastest, not the best handling, but loads of low-end oomph, great looks, and just a hoot to drive. If you are more of the high-revving exotic supercar/superbike type you probably wouldn't understand — big-twins and muscle cars speak to your soul, not your mind.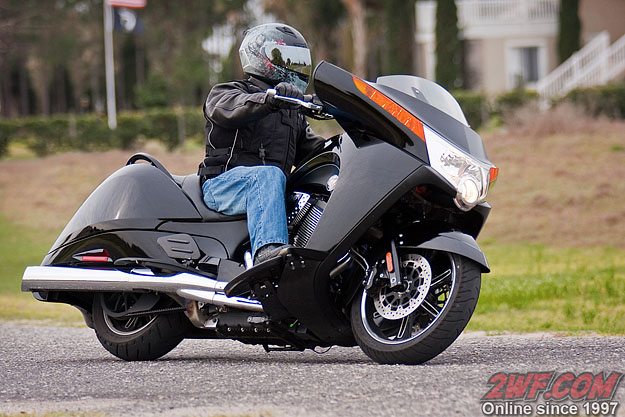 Riding the Victory Vision 8-Ball
A couple of things involving the motor did let me down a little on the V8 though. One was the exhaust; too quiet. I'm not looking for a lot of noise but I'd like some, and the lack of sound from the pipes of the Vision 8-Ball borders on the ridiculous for a cruiser.
A super-quiet touring bike is nice, a super quiet cruiser or touring cruiser is not. A little more attitude would be perfect.
Of course Victory does offer two stages of proprietary aftermarket exhaust systems (creatively labeled Stage 1 and 2) so you could tailor the bike to your liking if desired.
Here's a nit to pick though: on a bike of this caliber and expense, would it have broken the bank to put actual chrome mufflers on it instead of just chrome heat shields? I know this seems minor, but once again looks are everything and having chrome heat shields covering the mufflers, even if you are the only one who knows they're there, just looks cheap.
The other area connected to the motor that bugs me is the throttle; it takes almost ¾ of a turn to go from closed to full throttle. This means that if you are riding around in 5th or 6th gear with your hand in a comfortable wrist down position and try to go to full throttle, you'll end-up with your palm almost facing towards the sky. I don't know how you're built but my arms and wrist don't twist that way willingly.
Since this is a touring cruiser, and the thought is that the rider could actually use the bike to go somewhere besides the local tavern, Victory installed a true overdrive 6-speed transmission on the Vision 8-Ball. Gear changes are firm yet stop just short of being harsh, while gear ratios, for the most part, are spot on; the "for the most part" pertaining to 1st gear.
With over a thousand pounds (800 pound bike [dry] plus fluids and rider) to get moving from a dead stop, Victory had to create a steep first gear. Coupled with the motor's desire to rev (and rev, and then rev some more), I found myself banging off the hard rev limiter every time I accelerated in anger.
The overdrive 6th gear, on the other hand, made for a very smooth and relaxing ride, even at speeds over 80 mph. Power is delivered to the rear 180 mm wide tire via a carbon-fiber reinforced belt.
Victory could have just created a bike that looked good and had a big enough motor to impress other cruiser riders on Main Street…but they didn't. Instead Victory also created a chassis that imbues the Vision 8-Ball with some serious handling chops without sacrificing the ride or comfort level. This means that those few buyers who want to explore the handling envelope can, while those who don't aren't penalized with a ride that is too sporting.
It took me until the last week of the loan period before I finally started dragging the floorboards through the turns and even then I had to force myself to go fast enough to do so.
Thinking of the bike as a touring bike and riding it to suit wouldn't get the boards to drag. Thinking of the bike like a cruiser and riding it to suit didn't drag the boards either. It wasn't until I said "Oh the heck with it" and just started throwing the V8 into corners that I started shaving some metal.
Brakes and Stopping Power
In the braking department, the Victory Vision 8-Ball benefits from being a touring cruiser built from a stripped-down touring rig instead of a built-up cruiser. At least in terms of its specifications.
Up front you'll find twin 300 mm floating rotors being squeezed by three-piston calipers, while in the rear you'll find an oddity; another floating rotor, again with a 300 mm in size but this one is squeezed by a two-piston caliper.
Read the specifications and the brakes are everything you could want in a bike of this type, but in practice they leave a bit to be desired. Oh, they work well enough and will stop the bike in short order, but they offer little feedback and require a good pull — or in the case of the rear brake — a good press to reach their potential.
Exacerbating the issue is the placement of the front brake lever. In lowering the seat on V8 (more on that in a moment), Victory created an odd angle between where the fingers rest comfortably and the brake lever itself.
I wear a size large or extra-large glove so my hands are not small by any stretch of the imagination and I found myself only able to grab the brake lever with my fingertips — unless I rolled my hand around the throttle more than was comfortable.
After trying to rotate the lever perch (and master cylinder) upwards and failing, I asked Victory about it and was told that the engineers thought that it was as high as it would go due to the handlebar and switch housing design. I'm sure an enterprising owner with a Dremel could modify it to better suit their hands, but why should they have to? As a side note, I sat on a regular full-boat Vision when I took the Vision 8-Ball back and the lever was perfect.
Suspension and Seat Height
In creating the Vision 8-Ball, Victory chose to lower both the rear air-adjustable suspension and the seat itself. Doing so resulted in a seat height that is downright low — 24.5 inches low to exact. The seat is both deeply contoured and wide, with a lot of lower back support that comes from being sculpted out of the standard Vision seat.
The passenger seat is also very wide and places the passenger almost 8 inches above the rider. This is good, but because there isn't a back rest of any type, the passenger is forced to sit almost against the rider's back causing a lot of helmet bumping, which is bad. Lowering the seat height does pay dividends in the legroom department as well allowing the rider's legs to stretch out comfortably in front. I felt like I was riding a big recliner instead of a motorcycle.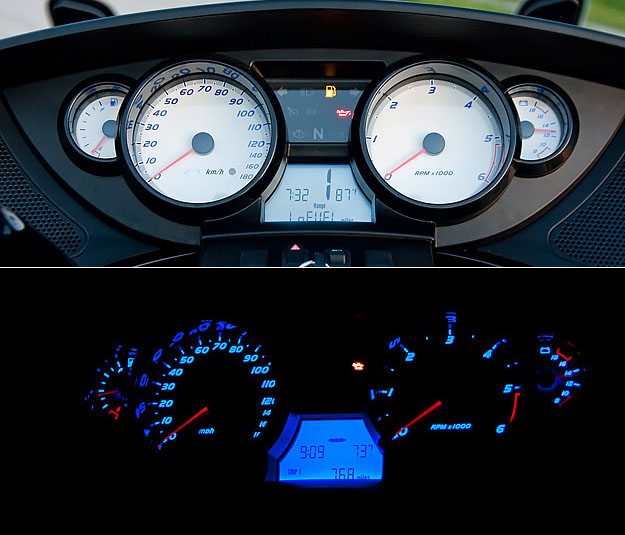 Instruments and Dashboard
While you're sitting in your recliner on wheels (and you do sit in this bike and not on it), you'll be treated to a view of a clean and tidy instrument cluster.
White-ish faced dial faces look clean and modern in the daytime but it's at night when you'll be treated to what is possibly the prettiest dash in motorcycling. Many times I found myself just looking at the blue lights and thinking that it just looked stunning — pictures just don't do it justice.
Maybe a Star Trek themed LED dash with blinking lights would go better with the futuristic styling of the V8, but I really like the simplicity of the current layout and the blue color at night.
Victory also included a trip computer with dual trip-meters, range till empty, average fuel mileage (I averaged 41 mpg with a heavy right hand, meaning about 200 miles to a tank), average speed, etc., which is controlled by a switch on the left handlebar.
Also on the left handlebar is a switch to control the electric motor that moves the windshield up and down…except on the Victory Vision 8-ball there is no motor. The cut-down shorter shield can be moved manually, according to Victory, and you can option the motor in if you like. There was very little buffeting even wearing a full-face helmet, so I never had the need to figure out how to adjust the windshield — or the brake pedal or the shift lever — as they are both adjustable (fore and aft) as well.
Throughout the test period I found myself torn about my feelings on the Victory Vision 8-Ball. Sure the brakes could be better (OK they could be a lot better), and the engineers and designers who let the brake lever get past the factory door positioned like it is and unable to be moved should be flogged, and the lack of a radio is just silly on a bike like this (and then not even offering it as an option!), but…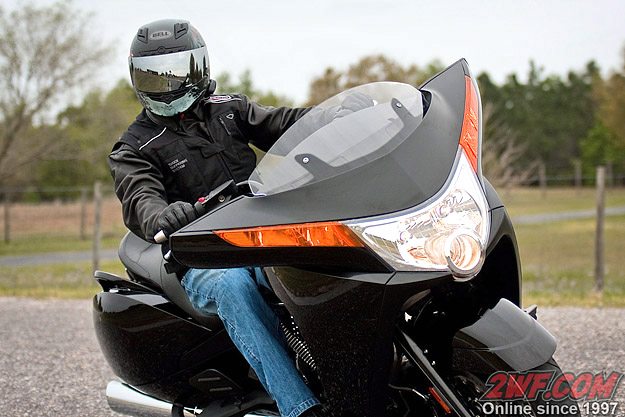 Conclusion
Wow, this bike is a hoot to be seen on! And the ride is nice. And the handling is superb. And really, does one need to have good brake feel on a bike like this? I mean — it does stop well, so who cares about the lack of feedback when that cute girl over there is looking at me like I'm Brad Pitt? And wouldn't a having a radio just prove to people that I have absolutely no taste in music? But still the brakes could be a bit better…
For more information zip over to Victory's website at www.Polarisindustries.com to see all the specs. You can even spec-out your own Victory as well (registration required).
For more information visit the Victory (Polaris) website and also see our photos of the original Victory Vision in 2007.
Publication Date: July 2010
More wBW: Victory Cross Country Tour Review  |  Motorcycle Reviews Directory
Note:
 For informational use only. All material and photographs are Copyright © webWorld International, LLC since 2000. All rights reserved. See the webBikeWorld® 
Site Info page
. Product specifications, features and details may change or differ from our descriptions. Always check before purchasing. Read the
Terms and Conditions
!
Owner Comments and Feedback
---
From "L.C." (8/10):  "In some ways, motorcycles are a lot like politics and religion–largely a matter of personal choice and preference. Still, I think people ought to give the Vision—and the 8-ball in particular—a chance before dismissing it.
When I first saw pictures of the Victory Tour, and read some reviews, I was smitten. Then I rode one and was less enamored. It was too much bike, with too high a center of gravity, for me, at 5'9" and 170 lbs. So I bought a Kingpin which, with a lovely custom paint job, was quite the looker. Kept it for two years and enjoyed it but it simply wasn't up to doing longer trips and, even with a Mustang seat, my wife complained about the accommodations.
Then I read Billy Bartels' short review of the "V8" in Motorcycle Cruiser. I read how the bike was lowered and the bars pulled back, creating remarkably new "ergos" and a different riding experience. I test rode one out of state, then near my home in Minnesota. I loved it and, more importantly, my wife found it much more accommodating–in fact a rival to our Gold Wing.
The Gold Wing has a stronger, smoother engine, but I find it top-heavy, lacking in character, and a fair amount of work, especially 2-up. The V8 is a great handler and I find myself riding it a lot–put 1,000 miles on it the first 3 weeks. I hardly notice my wife is there, owing to the low center of gravity and the 24.5″ seat height.
I find the blacked-out theme striking and no longer find the "bat wing" objectionable as I once did. Its wind and rain protection are noticeably better than the Gold Wing–end of discussion. It's a tad quiet for my tastes but stage 1 would be too much, so I will live with it.
Added electric windshield, cruise control, windshield lowers, back rest and rack, and better grips–all recommended. I'm averaging about 43 mpg with 2-up riding. Can't keep my wife off; she is no longer complaining about the cost to upgrade from the Kingpin, the ultimate test. The storage is minimal but the optional rack in back can be pressed into service and, without the top luggage, it is more manageable than the Tour.
Talked the dealer down to 16.8K, then applied a $1,000 Victory coupon to bring it to 15.8–a steal. The options added back another grand or so. The bike I have for 17K is an exceptional deal.
This is one of those cases where you need to ride it a good deal in order to understand what a fine bike it is."
---
From "D.W." (8/10):  "Gotta agree with R.E.F. (below), that is one BUTT-UGLY bike. Looks like the Batmobile got laterally compressed trying to drive through a culvert. He's probably also right that the looks the rider was getting reflected astonishment rather than lust or envy. But to each his own. Thanks for the review and the many other great reviews on wBW."
---
From "R.E.F." (7/10):  "That is one … awful looking bike and I'm not one of those "other" American brand riders either. I ride an MV Agusta Brutale 910S… a true work of motorcycle art. 😉
I mean does Victory really think that motorcyclists will go for a bike that looks like a smaller more plastic-y version of a 50's era Cadillac or perhaps an animators rendition of a space motorcycle from the "Jetson's"?
Nothing about this bike "reads" cruiser, just looks like a touring bike trying way too hard and failing miserably. Never liked Victory styling and the V8 continues the tradition for me. Not so sure those stares you were getting were of the adoring variety I'm afraid. It's like a bad mid life crisis on two wheels, I feel old and silly just looking at the thing!
Thanks for the great review as always though, best bike site on the internet by far!
Editor's Reply:  C'mon Victory owners, are you going to let that one slide? 😉