Victory Motorcycles has released video of their Project 156 streetfighter crashing in practice at the weekend for the Pikes Peak International Hillclimb in Colorado.
Despite enormous damage, the Roland Sands Design team who built the biker believes the streetfighter will be fixed in time for the race.
MotorBikeWriter is flying to Denver tomorrow (June 23) to witness the bike attempt the famous hillclimb this weekend.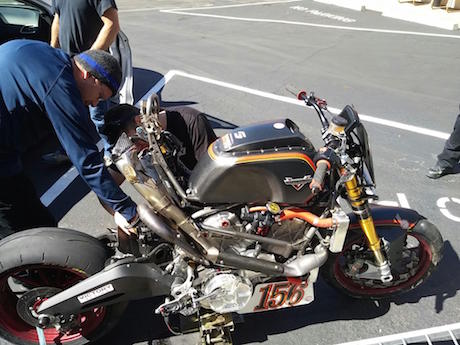 It's called Project 156 because that is the number of corners on the famous "Race to the Clouds" hillclimb.
The video shows rider and Cycle World editor Don Canet approaching a right hander and then losing the front end as he hits the brakes and gears down. Don fortunately escaped serious injury but the bike low sides into the armco causing extensive damage.
"As I was going up the mountain I lost the front end under braking, asphalt temperature was extremely low and, counter intuitively, I think the tyre was getting colder as the run went on," he says.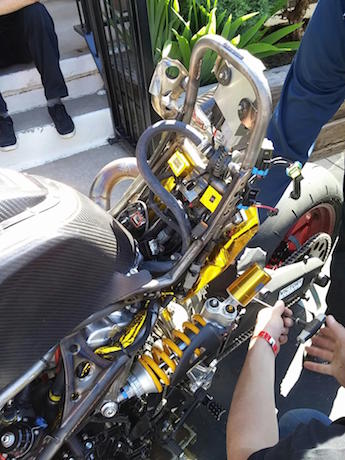 Project 156 has been transported back to RSD HQ in LA and for a strip-down and frame straightening, says RSD project leader Cameron Brewer.
"Not going to lie … Project 156 is really beat up. But we are racers at heart and I can promise Victory Motorcycles, Cycle World, RSD and Pikes Peak fans that we will rebuild the bike. She took one hell of a hit, but we are committed to the program."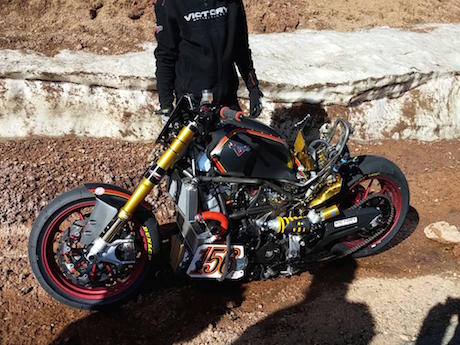 The water-cooled V-twin bike features upside-down Ohlins forks and Ohlins shock, double-sided swingarm, Brembo brakes and undersea exhaust system.
As a street fighter it looks pretty ugly with all that plumbing exposed, however the rules of Pikes Peak International Hillclimb disallow faired motorcycles.
We can't imagine Victory would develop such a project with a totally new engine just to go racing, a production version could very well have a fairing.
All current Victory models use the 106 Freedom engine, so this gives the company a whole new model range and a new direction.