Forget about tool kits and tyre puncture repair kits. Join a decent roadside assistance program and you will never again have to worry about being stranded. Even with the best tool kits and puncture repair kits you can still run into trouble. I did recently while out testing a Victory Boardwalk.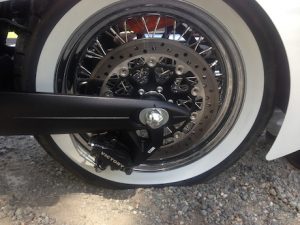 I had picked up the bike from Victory Motorcycles in Brisbane and left my bike behind, together with my tools and repair kit. There was nowhere on the Boardwalk for luggage and, besides, I would be riding with people who always carry the essential tools. After picking up the Boardwalk I joined my good friend Carl for a leisurely ride up Mt Tamborine to snap a few scenic shots of the bike while it was still clean.
It was an idyllic day with warm sunshine, pleasant roads and the occasional cloud keeping the temperatures moderate. I was also enjoying the Boardwalk and the many admiring glances the pearl white beast was getting from the tourists. Its retro-chic appearance with deep valanced fenders makes it very attractive.
However, it all came unstuck on the way home when the rear tyre picked up a nail in the road. It didn't take long to work out what had happened as the bike started handling like it was stuck in a tram track and was difficult to steer. I found a shady and secure spot to pull over and assess the situation. Yep, flat tyre. But only on the bottom! Jokes aside, it was a bit of a nuisance because the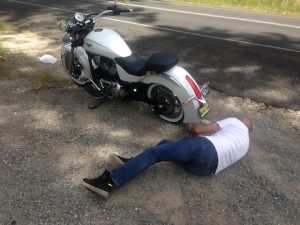 big retro-chic valances on the Boardwalk make it difficult to access much of the tyre. So to find the puncture, I had to lie on the ground and crawl in the dirt behind the bike as my mate slowly wheeled it forward. Soon enough I found the culprit. The inch-long nail was embedded at an angle and took some effort to pull it out with a Leatherman multi-tool from my mate's comprehensive tool kit.
Next we had to force the hole wider with a special routing tool, then push in the sticky rope plug. It was hot and hard work and I was glad my much bigger and stronger mate was there to do the heavy work. Eventually the plug was in place and we let it set for a while. Meanwhile we attached Carl's mini air compressor to pump up the tyre, but that didn't seem to be having much effect. So we injected a couple of bulbs of compressed air, but that also didn't make much of an impression. Phone reception was nil where we were but we knew there was a service station a few kilometres down the road and figured the tyre would make it if I rode slowly with the hazard lights flashing.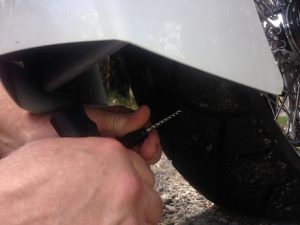 We made it to the servo, but found the air hose also wouldn't inflate the tyre. It seems the nail had gone in at such an angle it had torn the tyre rather than puncturing it. A plug just wouldn't fix it. We needed one of those cans of aerosol goo to gum the inside of the tyre. However, service stations these days only seem to sell fuel, Coke and cigarettes, not automotive products. They should take the word "service" out of their description. (Ray at Victory Motorcycle in Brisbane has since informed me that even though it says "tubeless" on the outside of the tyre, it still takes a tube, which is why it wouldn't inflate.)
Anyway, I now had phone reception, so I rang Ray at the Brisbane Victory Motorcycle shop for some advice. Thankfully, he told me the bike was registered with their roadside assistance scheme, so he contacted them and sent a tow truck. It was there in 45 minutes.
So even with all the tools, you can still be stranded … unless you have a decent roadside assistance scheme, either from the manufacturer or your regional auto club. It may seem expensive, but when you are faced with being stranded, it's worth every cent. Besides, it's a whole lot cheaper than having to pay for a tow truck.