Victory Motorcycles is holding a rally in Denver, Colorado, and launching a whole new vision for its future.
MotorBikeWriter has arrived for the international launch tomorrow of a bike, the details of which have been embargoed until July 27.
However, readers of this website should be able to get an idea of what we will be riding.
But that's not all.
Victory Motorcycles will also attack the Pikes Peak International Hillclimb with their Project 156 street fighter built in conjunction with Roland Sands Design. Then bike crashed in practice, but has already been back to LA where it was rebuilt and is ready to race this weekend.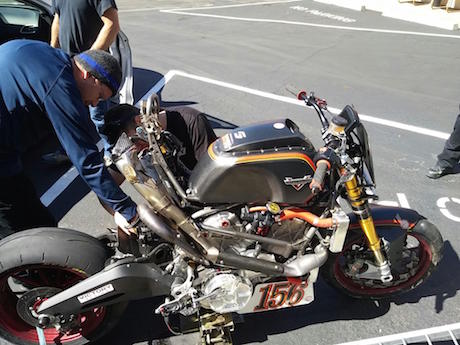 The host of rally activities also includes demo runs by NHRA husband-and-wife-team Matt and Angie Smith on the drag strip, police bike and stunt team displays, and guided rides through the Rockies, including a parade up Pikes Peak on Saturday.
Victory Motorcycles marketing guru Robert Pandya says it's "one of the most exciting weekends" for the company since it began in 1998 with the V92C motorcycle.
The past six months have been particularly progressive for the brand starting with the launch of the NHRA drag team on a heavily modified Gunner, the formation of a draft and stunt team, Project 156 and the podium finish in the Isle of Man TT with an electric bike.
All of these will somehow feature in the next few days of festivities.
And coming up, Swiss rider Urs Pedraita will attempt a new world record global navigation of the seven continents on a Victory Cross Country.
Urs, also known as "Grizzly", has already beaten Nick Sanders' global circumnavigation record of 19 days by three days, and early next year plans to reduce the seven-continents ride from 120 days to 100.
It will be a big week and a big future for Victory Motorcycles … stay tuned for more updates.