Victory Motorcycles has launched a virtual reality riding experience to use at its trade shows in the US to coax people out of their winter malaise.
While it's a great tool for Victory to encourage riders to experience their bikes in the safety and comfort of a trade fair, you've got to wonder how long it will be before these sorts of devices are available for the home.
Wouldn't it be great for people who have been injured, those who are too old and infirm to ride any more and those who are snowed in?
I'd hate to imagine my life when I become too old and crotchety to ride any more, but now I have a glimmer of hope that I will still be able to experience some of the pleasures with a virtual ride.
Of course, the wind, noise, smells and temperature changes would be missing. Or would they? Maybe you could get your wife/partner/pillion to turn the fan on, change the AC temperature from time and time and walk through the room with some pungent roadkill just to make the experience more realistic!
Victory Motorcycles uses the Oculus Rift virtual reality headset and a real Victory cruiser.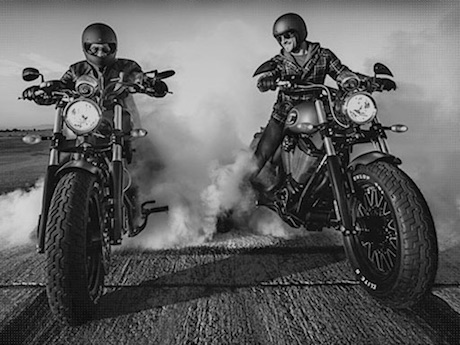 Their simulated ride drops the bike off the back of a trailer and on to the Badlands roads that lead into Sturgis, the town that hosts the world's largest motorcycle rally and a mecca for many riders.
The simulated ride comes with 3D, 360-degree images of Needles Highway, a famous stretch of desert road in South Dakota, throttle control, sound effects and a "tactile transducer" to recreate the vibrations of a speeding bike. However, the addition of a rolling road and actual engine vibration would be a welcome addition.
The ride was introduced at the recent Chicago International Motorcycle Show and will be tweaked and repeated at other events.
Victory hopes that the simulated experience will encourage non-riders to buy a bike and non-Victory-riders to buy a Victory.
You can be sure the technology will also be used in future by sister company Indian to promote and sell its bikes.
Nearly 300 people took Victory's Oculus Rift simulated drive at the Chicago show, with 92% having never tried the technology, 63% never having even heard of it and 75% never having ridden a Victory motorcycle before.
Victory marketing manager Reid Wilson says people "will always remember the first time they tried it".
Harley has long rolled out their Jump Start program where non-riders can let out the clutch on a fixed bike running on a rolling road. How long before they follow Victory's virtual road?