The Victory Judge was Number 10 in my top 10 sexiest bikes, so I thought I'd take another look at this gorgeous muscle cruiser.
For 2014, the Victory Judge has become less aggressive with the bars moved back 10cm, the pegs moved forward 10cm, a two-piece seat and modern side panels replacing the retro racing "number plates".
However, those changes are only for the USA. Thankfully Australia will get the 2014 model in the same macho styling as it currently stands with the racing number plate and more aggressive riding position with mid-mount pegs.
So you may as well try to snare one of the current models.
A great incentive is that the rideaway price when it launched in May last year was $22,995, but it's now $3000 cheaper.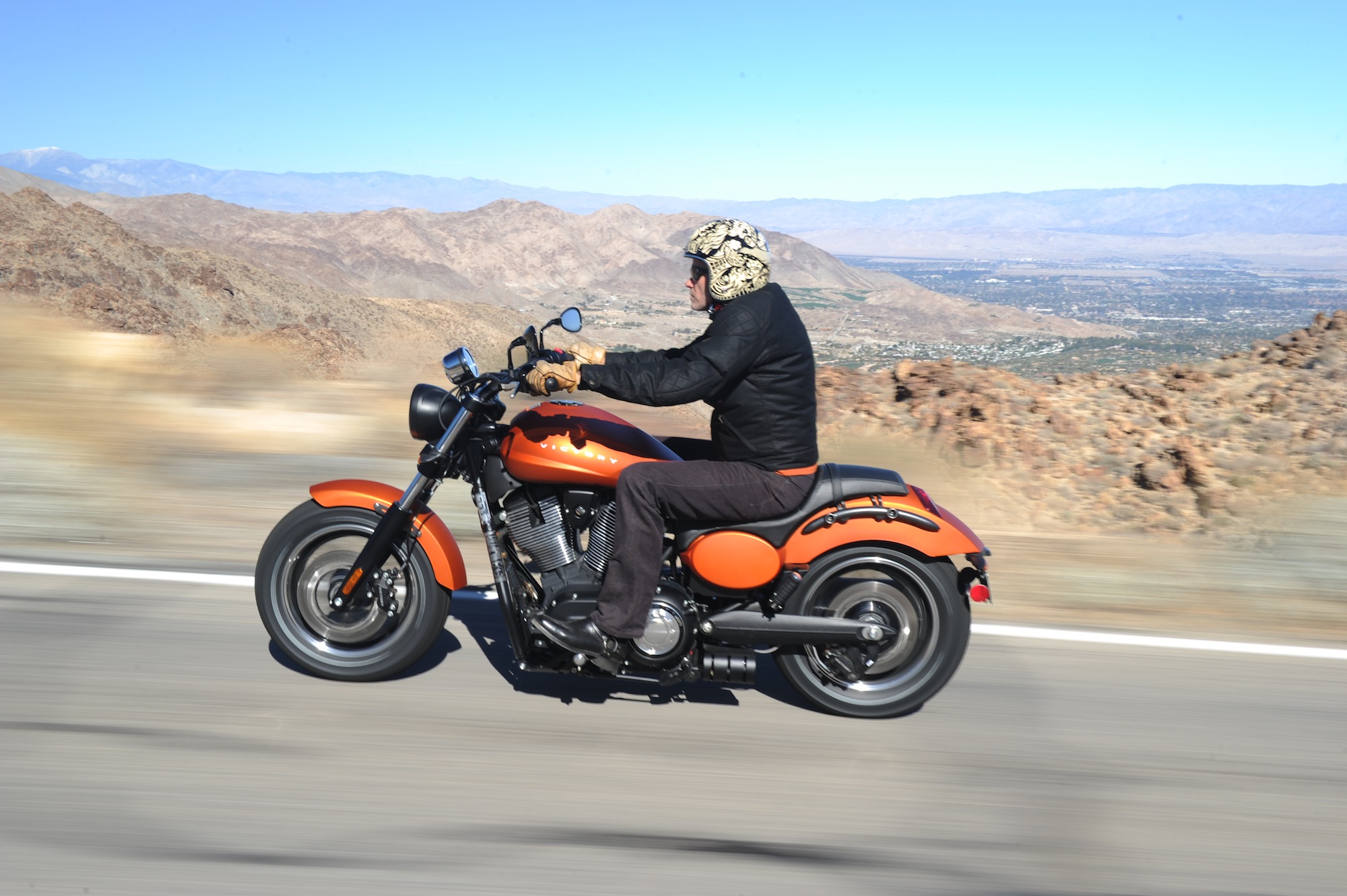 Another incentive is a five-year warranty, which is an industry first. It is valid for all current 2013 Victory models, not just the Judge, but you better be quick as the warranty offer expires at the end of October before the 2014 models arrive in November.
The Victory Judge hasn't been a big seller here and that actually makes it a little more attractive because it's exclusive.
The bike's bold styling inspiration goes back to 1969 when the Yanks stripped down a Pontiac GTO to make a low-cost muscle car they called the Judge.
And like those American muscle cars, it comes with white-lettered tyres.
It's basically the underpinnings of a Victory Vegas with different wheels and styling cues.
This no-frills "brat" bike features drag-style handlebars, small cast headlight, mid-mount foot controls, a flatter-than-usual rider's seat and that high and a fat front tyre.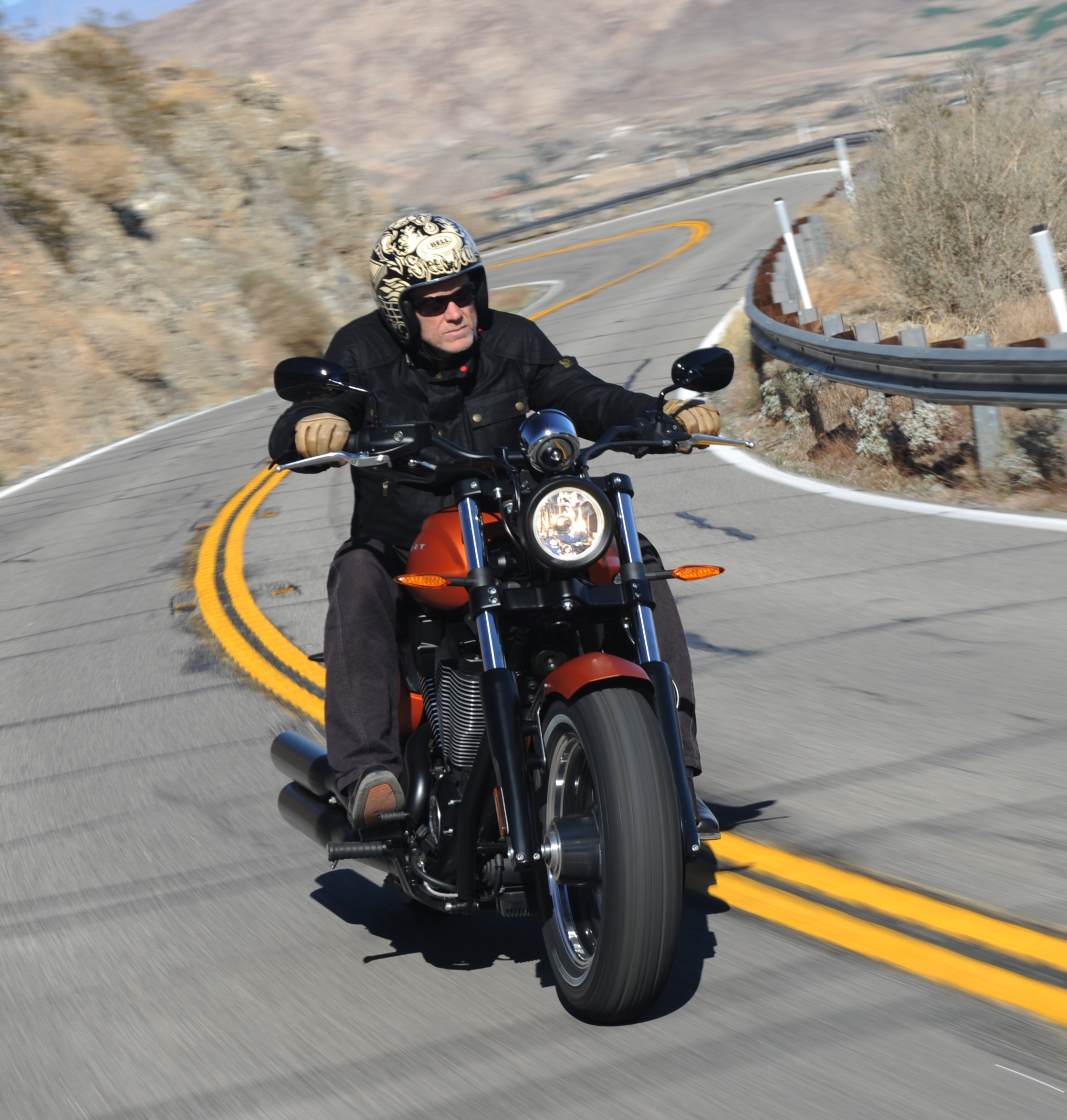 I love the board tracker styled number plate on the side. It looks a little strange without a number or some sort of decal, but you can buy stickers from Victory, get your own or paint a number of your own.
Despite the retro look, the rear LED taillights are modern and cool.
But it's not just about style.
Like all Victory motorcycles, it is powered by a "106" or 1731cc V-twin engine with about 13 per cent more torque than the Harley.
Victory's engines have become smoother and quieter over the years and this is yet another step up.
It is driven by a six-speed overdriven gearbox that has also become smoother over the years and a quiet and low-maintenance belt drive.
The brakes are one big 300mm disc up front with stainless steel lines for feel and performance and a 300mm rear rotor. The brakes may seem underwhelming, but they perform very effectively if you apply front and rear stoppers together.
Victory Judge comes with cartridge forks and a progressive single rear shock with pre-load adjustable for heavy or aggressive riders and the extra load of a pillion.
The aggressive riding position encourages the rider to dig the footpegs into the corners.
If that doesn't appeal, you can get a 25mm longer rear shock for greater clearance and sharper handling, or you can adjust the footpegs for slightly better clearance angles.
Despite the aggressive riding position, it is easy to get comfortable but after a long haul, your shoulders and backside may need a good rub.
The low seat should widen the bike's appeal.
Victory has 13 accessories specifically made for the Judge such as luggage and a solo seat, and there are also 70 in the catalogue that will fit including heated grips.
I judged the Victory Judge as one of the most beautiful bikes. Now you be the judge.
Victory Judge tech specs
Price: $19,995 (ride away)
Warranty: 2 years, unlimited km
Service: 8000km
Engine: 1731cc V-twin, 73kW/153Nm
Fuel: 17-litre tank
Transmission: 6-speed, belt drive
Dimensions: 2337mm (L), 1647mm (WB), 658mm (Seat), 120mm (Clearance)
Dry Weight: 300kg
Suspension: Telescopic forks, single shock rear
Brakes: 300mm floating rotors
Tyres: 130/90 B16 (front), 140/90 B16 (rear)