VICTORY GUNNER ON SHOW AND INDIAN CHIEFS FOR TEST RIDES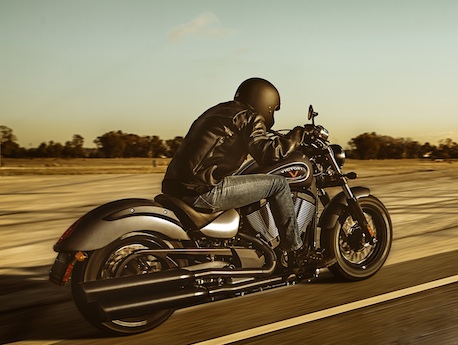 Only weeks after being revealed in the US, the Victory Gunner will be on display at the Brisbane Moto Expo from March 21-23.
VIEW MY PINTEREST PAGE OF PHOTOS HERE
The first new bike from Victory Motorcycles in two years is a cut-down, solo-seat bobber which is a no-nonsense grab for the youth market. And getting it to Australia is a victory for Victory and an example of the high esteem that parent company, Polaris Industries, holds for our market.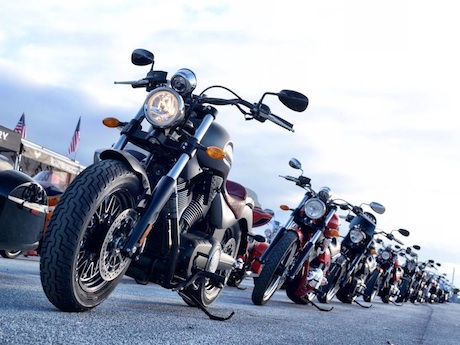 Polaris Australia/New Zealand boss Peter Alexander said last weekend when he was in Brisbane for their dealership's first shop ride that our market is the next biggest outside North America for Polaris. "We get a good ear from the US and that's a good position to be in," he said. It seems to have paid off with the Gunner making a rushed visit to our shores after being available for demo rides at Daytona Bike week last weekend. There will only be one Gunner on display and having not yet been homologated for Australia, it will not be available for demo rides. However, other models in the range will be available for test rides. Register by emailing your details, preferred day, time and model to riders@victorymotorcycles.com.au or at the stand.
In more good news from Polaris, the company will have six Indian Chiefs (two each of the Classic, Vintage and Chieftain) available for test rides for the first time at a show event. The queue to ride them should be a mile long, so you should register now by emailing your details, preferred day, time and model to riders@indianmotorcycle.com. You can also book at the Indian Motorcycle stand at the show, but given the popularity of this bike, you may miss out.
Meanwhile, the Gunner is going to cause a fair stir at the show with its spartan and aggressive military looks. The bike is named after Hollywood actor Ronald Lee Ermey who played Gunnery Sergeant Hartman or "Gunny" in Full Metal Jacket, which earned him a Golden Globe Award nomination for Best Supporting Actor. He's been featured in American TV advertising for the Victory for the past couple of years.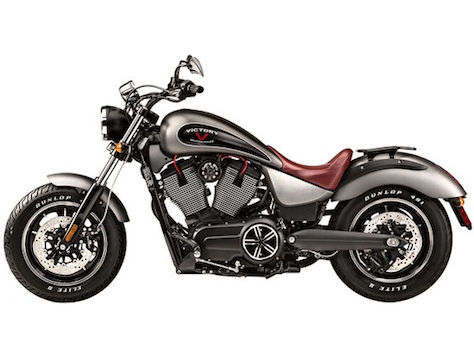 It features "Suede Titanium" paint, white-letter high-profile tyres, blackened slash-cut exhausts, black beach bars, conventional forks, 24-spoke wheels, a low 635mm solo red seat and weighs in at a comparatively svelte 294kg. Like all Victory motorcycles, it's powered by their Freedom 106 (1731cc) 50-degree V-twin engine a six-speed transmission and carbon fibre belt drive. It looks a little like the Judge and has similar steering and frame geometry measurements, so it should handle as well. Even the tyre sizes (130/90-16; 140/90-16) are the same as the Judge.
The low-riding Gunner will be released in April in the US for $12,999 which is only $500 more than the cheapest model, the Vegas 8-Ball. It should be available in Australia about June, but there is no word on price. However, since the Vegas 8-Ball is $19,995, rideaway so pricing should be around $20,000.
The inaugural Brisbane Moto Expo will feature almost 100 exhibitors with displays of new bikes, accessories, rare historic bikes plus all-star racing on the Saturday night featuring Troy Bayliss, Jason Crump, Chris Vermeulen and more.