Singapore company Vertix is now offering a motorcycle Bluetooth intercom called the Raptor-i that features a handlebar remote control option, safe volume function and noise-cancelling technology.
Vertix is distributed in Australia by Security Gear who also sell radar detectors, breathalysers and GPS trackers. 
The Raptor-i is a little unusual as it is sold as separate items that you can mix and match. The basic non-FM controller is $225, the FM model costs $269 and the twin packs are $399 for non-FM and $449 with FM.
You buy the speaker headsets separately and get exactly what you want, rather than having to buy them later as an extra-cost accessory. The Series 1 headset at $49.95 has two speakers and a boom or wired mic for open and full-face helmets, while the Series 2 at $59.95 has a heavier-gauge boom mic that is detached from the speaker for better mounting flexibility on flip-up modular helmets and open-face helmets. The Series 2 wired mic is also more rugged.
Both have the same 200Hz-20kHz frequency range and 0.3W of power for very loud and clear sound reproduction.
However, if you want even better sound, more bass and more background noise reduction, you can buy an in-ear canal headset with ear-bud style headphones for $89.95. They have bass response of 20Hz, rather than the 200Hz of the speakers.
All connections are wedge-shaped mini USB sockets so you can't plug in just any earphones or speakers. That's a shame as I'd love to plug in my Earmold specially molded earpieces for maximum background noise cancellation.
There is also a remote controller for the handlebars you can buy separately at $119.
Vertix says their strength is in their microphone noise-cancelling technology so riders can speak and listen clearly to intercom or phone calls at high speeds.
They have done this by tuning the algorithm in their Digital Signal Processor (DSP) to filter out wind noise and motorcycle mechanical and exhaust noise.
Vertix tested it up to 210hm/h and these videos above shows the results. I can attest that people I've spoken to on the phone while I'm riding are stunned to hear that I was on a bike and not in a car with the windows wound up.
The Vertix Raptor-i is quick, easy and foolproof to connect without the need of a password and you can pair it with up to two other Raptor-i intercoms.
The FM version operates up to about 800m apart, but we had the non-FM which has a range of 500mm which we tested and found was more like 650m line-of-sight with no obstructions. Once an intercom connection is lost, it automatically reconnects when the units are again within about 400m of each other.
If you want to pair a GPS to hear navigation guides, you can't listen to music or intercom as well unless it is a Garmin 500 or 600 that you pair via your mobile phone.
A helpful feature is the safe volume function that returns the sound to safe and comfortable listening levels every time you turn it on. With other units, if you've been riding at high speed and have turned the speakers up loud, the next time you turn the unit on it would blast your ears.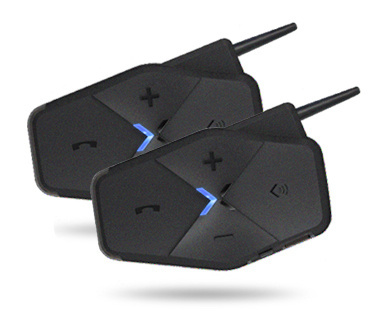 Like most modern motorcycle Bluetooth headsets, the Raptor-i has glove-friendly design with just four buttons which you either press for a split second or hold for several seconds.
The large and contoured buttons are easy to feel and find even with winter gloves, however the length of time you have to press some buttons is way too long and you can confuse which function you want to perform.
For example, you have to hold the up and down volume buttons for a few seconds to adjust levels, but if you don't hold them long enough they jump forward or back a track.
Multi functions on the one button may cut down on the number of buttons, but they aren't always convenient or ideal in use.
It also takes about five seconds of holding down the button to turn the unit on or off which is a bit long. There is also a long 10-second delay when you switch between music and intercom.
Another unique feature of the Raptor-i is its mounting system. Unlike most Bluetooth units there is no clamp option. Instead, it comes with a stick-on pad that doesn't use Velcro but bristles that interconnect with bristles on the back of the control device. Like Velcro, it allows you to pull them off or adjust them. But the real advantage is the secure, flush and aerodynamic fit to the helmet, rather than hanging off like a sucker fish.
Vertix claims the controller is waterproof and operates in extreme temperatures. I used it in pouring rain and it worked fine. The power output has a rubber plug which protects it from water and the speaker plug is recessed.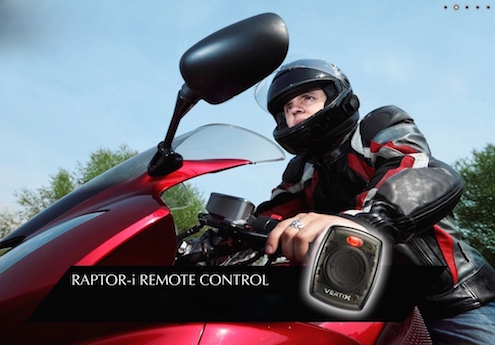 The Raptor-i remote control is easy to install on the handlebars and it works a treat if you don't want to take your hands off the bars to answer a call, switch music tracks or adjust the volume.
It uses a CR2032 lithium battery which is claimed to last up to six months. A low power indicator light flashes five times when it needs a new battery.
Apart from the slight nuisance of the button times, I would highly recommend this unit as a clear and easy-to-use unit for phone calls, intercom, FM or playing your music.
Most Bluetooth units have pairing and communication troubles from time to time and you have to plug them into your computer to do updates. However, if you ever have any troubles with these units, just press and hold both the minus volume and multi-function buttons at the same time, until you see blinking red/blue lights. Then charge the devices for five seconds and re-pair the devices. Bingo! Fixed.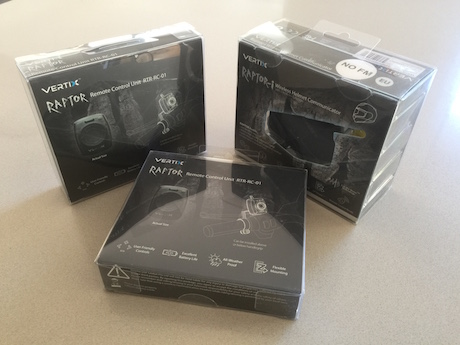 Vertix Raptor-i p

rices
FM (Single): $A269 ($US189)

FM (Twin): $A449 ($US339)

Non-FM (Single): $A225 ($US139)

Non-FM (Twin): $A399 ($US259)

Remote Control: $A119 ($US79)

Mounted Speaker Headset: $49.95-$59.95 ($US39)

In-ear Canal Headset: $89.95 ($US59)
Vertix Raptor-i specifications
Battery Life: 8-10 hours of use, 30-day standby

Intercom Operating Range: Up to 800m / 2560ft (Up to 3 riders)

Maximum Operating Speed: Up to 210kph / 130mph

Frequency: 2.40 ~ 2.48GHz

Bluetooth Compatibility: Version 2.0, Class 1

Profile Supported: Compatible with Bluetooth HSP, HFP, A2DP & AVRC

Dimensions: 77 x 51 x 24mm

Weight: 48g / 1.7oz

Charging Port: Micro-USB

Speakers: Transducer Moving coil dynamic speakers

Frequency Response: 200Hz – 20kHz (20Hz – 20kHz ear buds)

Maximum Power: 0.3W