Sport Motorcycle Boots Review Summary
Editor's Note:  webBikeWorld reader "T.C." sent these comments on a pair of Vendramini VR 500 Sport motorcycle boots he purchased in response to our review of the Sidi Strada Evo boots
The Vendramini VR 500 boots can still be found in Europe and other parts of the world; they are roughly a cross between the Vendramini 498S and VR 700 boots sold in the U.S.A.
NOTE:  T.C. generously donated his honorarium from this article to Doctors Without Borders.  See the webBikeWorld charity donations section for more information.
I had a very similar dilemma to the author of the Sidi Strada Evo boots review.   At first I also settled for the above mentioned boot and was ready to fork out the money but was a bit disappointed by the use of fake leather… even if it was space age fake leather.  Then I found a review on your site on a pair of Vendramini boots.
Obviously intrigued I searched the web and found their website which they also use to sell products.  I was immediately attracted to a pair of Vendramini VR 500 Sport, which are similar in category to the Sidi's.  So I went ahead and ordered them and paid a good price for them (under 200 dollars including fast shipping) because they were discounted.
First of all the quality is remarkable…these boots are made in Italy by hand (you can even have them custom ordered).  They use a really nice thick TOP GRAIN LEATHER (hear that Sidi??) with a waterproof (tried and tested and they really are waterproof) a layer of calf leather lining and finally some kind of thick mesh type material for the final lining.  They have a big shin protector in the front, which doesn't only look nice but it s also a bit flexible and has padding underneath
The waterproof system and the closure system is the same as on the Sidi's, with the difference that the Vendramini boots have YKK zippers and a larger Velcro attachment for better adjusting
Also similar are the heel cup but there has a double layer – one outer and one inner.  Plus — and this is unheard of in my mind in regard to sport touring boots — big carbon protection on each side of the area above the heel, one exposed and the other enclosed in leather.
The heel protection, various hard carbon insert on the inside of the boot in critical areas everything is double stitched and doubled by leather, plastic gear changer guards, a small reflective piping a 100% natural sticky rubber sole with a hard inserted on the entire length of it, plus two sets of replaceable sliders, one on the upper part and one on the lower.
This is in fact my only gripe with Vendramini – the upper sliders look great and fit well too, but the lower ones look like crap.  But I did not feel the need to mount them since I don't do hard knee down cornering
The boots fit like a dream.  I was afraid that I would have to run them in hard since the leather is outrageously thick but they felt right at home in the first half hour.  The sole really helps when you re standing upright on the bike because the sticky sole just grips the rearset and the hard plate in the sole makes it easy on the legs.
I'll put some pics here if they are of any help…sorry about the quality.  The pictures (on the Vendramini) website don't do the boots any justice, and the black ugly stitching on the silver gear change protector is replaced in my boot by a very nice silver double stitch.
These (photos) were made when I first got (the boots).  I don't have any recent ones, but they have done around 500 km, most of them through either hot 30″ Celsius heat or spring rain and I must say that they are great."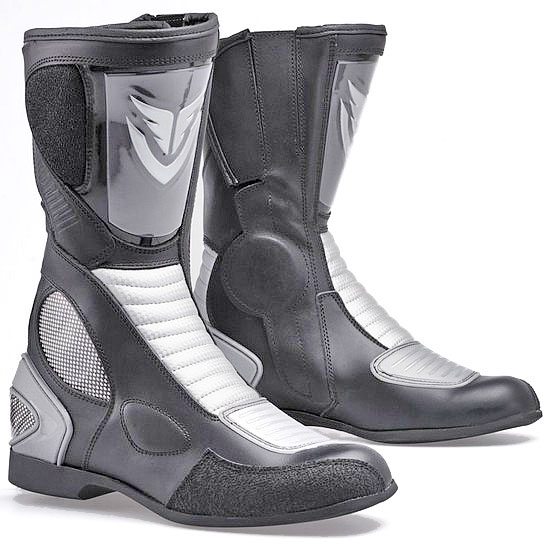 O

wner's Report:  

Vendramini VR 500 Sport Motorcycle Boots

BUY BOOTS!  Use this link to RevZilla to buy your gear and help support webBikeWorld!

Available From:  Vendramini Boots (Italy).  Vendramini boots are distributed (and sold online) in the U.S.A. by Bikerworld USA.
Suggested Retail Price:  178 Euro (can be found on sale for ~124 Euro).
Colors:   Black/Silver
Made in:  Italy
Publication Date:  May 2008
Note:  For informational use only.  All material and photographs are Copyright © webWorld International, LLC – 2000-2011.  All rights reserved.  See the webBikeWorld® Site Info page.  NOTE:  Product specifications, features and details may change or differ from our descriptions.  Always check before purchasing.  Read the Terms and Conditions!
Owner Comments and Feedback
Comments are ordered from most recent to oldest.
Not all comments will be published (
details
).  Comments may be edited for clarity prior to publication.