VELOCETTE THRUXTON BACKGROUND
By the 1960s, the motorcycle market had clearly shifted away from practical, economical commuters, and toward high-performance bikes with sporting aspirations. Triumph and Norton were killing in this market, and by the mid-60s, the Japanese were taking a major bite out if it for themselves. Velocette, never having developed a vertical twin, like all the other British marques, had only it's big singles to work with. But, they were very good at getting power out of big singles, it was their specialty. First up was the Viper. Introduced in 1956, it started out with the 500cc, but with a reduced bore, it displaced 350cc and was built like a tank. The Viper's big brother was the 500cc Venom, launched the same year. Vipers were very fast to begin with, but Velocette made all sorts of factory racing parts available to its customers (ie: close-ratio gearboxes, racing magnetos, rear sets, alloy rims, etc.). In 1961 a Velocette Venom became the first motorcycle in history to cover 2,400 miles in 24 hours. The Thruxton was the ultimate evolution, much faster than the Viper with its 10:1 compression and Amal TT carburetor. A Thruxton won the Isle of Man TT in 1967. Despite all this, Velocette was fighting to survive.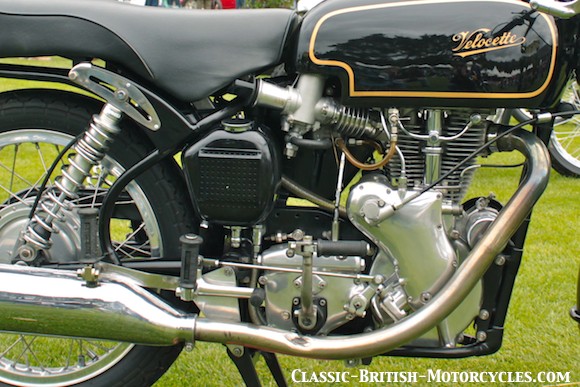 VELOCETTE THRUXTON TUNING SECRETS
Velocette had a proven design in their 500cc Velocette Venom. Big singles had sort passed from grace in the 1960s with the advent of all the twins pouring out of Britain, and now the high-revving, and totally-reliable twins coming out of Japan. Velocette didn't have the funds to design a totally new bike with a modern engine. Finances forced them to do with what they had. Fortunately, the Venom had proven to be fast, reliable, and robust. Velocette designer Bertie Goodman put together a "racing kit" that included an extensively-modified cylinder head with bigger valves and a downdraft intake port, an Amal GP carburetor and special cam followers, in 1965. The new carb was so big that they had to hollow out the underside of the fuel tank to make room for it. The following year they named the new bike the 1966 Velocette Thruxton, also known as the Venom Thruxton. The new Thruxton was a bona fide race bike capable of 120 mph with handling to match.
---
Velocette Thruxton YEAR-BY-YEAR
---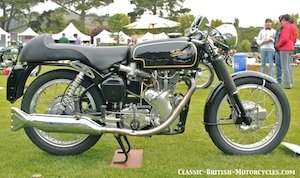 ---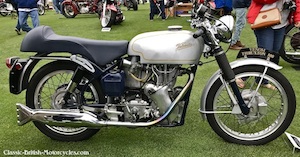 ---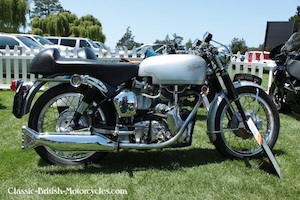 ---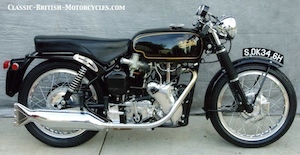 ---
---
Check out these VELOCETTE BOOKS
---

BOOK OF THE VELOCETTE ALL SINGLES & TWINS 1925-1970
---

Velocette: Production Motorcycles (Crowood Motoclassics)
---

Velocette Motorcycles – MSS to Thruxton: New Third Edition
---

The Velocette Saga: The Story of a Great Motorcycle
---

Velocette 350 & 500 Singles: All 350 & 500cc models 1946-1970 (Essential Buyer's Guide)
---

Always in the Picture: History of the Velocette Motorcycle
---

Velocette: The Racing Story (Crowood Motoclassics)
---

Velocette (Illustrated Motor Cycle Legends)
---

Velocette – Technical Excellence Exemplified
---
For more like this, please visit our
VELOCETTE MOTORCYCLE BOOKSTORE
---