WHAT'S IN A NAME?
Velocette Motorcycles, the company, was originally called Veloce Ltd. Founded by John Goodman (born Johannes Gutgemann, then changed to John Taylor, and then finally to John Goodman) and William Gue in 1905 as "Taylor, Gue Ltd.", it's first motorcycle was called the "Veloce". Within a year, they had renamed the company Veloce Ltd. They began producing 4-stroke motorcycles under that name. Then in 1913, they built their first 2-stroke machine & named it the "Velocette". They liked the name so much, for a second time, they again named the entire company after one of their products. In 1916, Goodman's sons Percy & Eugene joined the firm.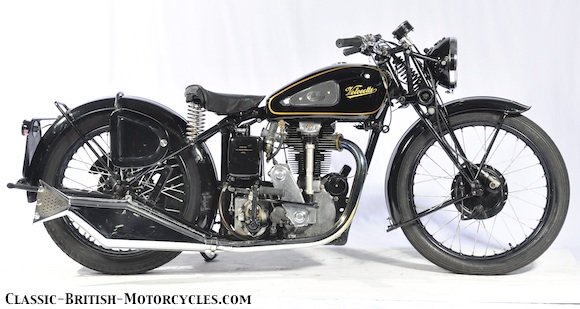 ABOVE: THE iconic Velocette model, this gorgeous 1946 Velocette KSS was a hit at the 2011 Clubmans All-British Show in San Jose CA, March 26, 2011. As it should be, Velocette were the featured marque, and the Velocette Owners Club was there in force. Nice work, lads.
VELOCETTE 2-STROKES
Velocette had already become known for high-quality, hand-built motorcycles when it entered the 2-stroke market in 1913. Still known as Veloce, the company produced expensive, high-end 250cc 2-strokes which were known by numerous model designations over their lifespan including D1, DL1, D2, DL2, D3, G, GC, A, B & more. The 250cc singles gained an excellent reputation rather quickly, both on the streets and at the track. In fact, they did very well at the Isle of Man TT. They pioneered several novel innovations for the time, like the throttle-controlled oil pump, all of which set Velocettes apart from other marques. They were also light, handled well & were powerful for the day. In 1930 Velocette Motorcycles had developed their H series 2-strokes to the point that they dubbed it the GTP, which they produced until 1946.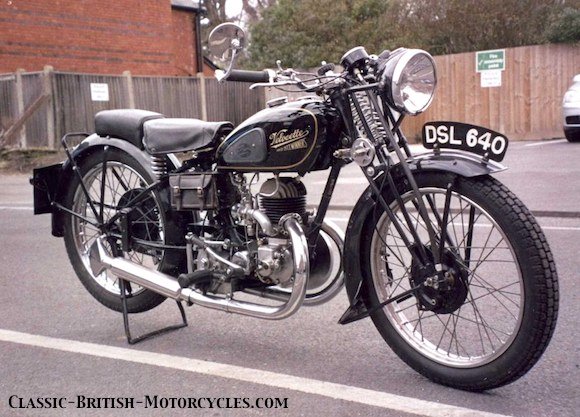 ABOVE: 1937 Velocette GTP 2-stroke twin-port single.
VELOCETTE K SERIES
Velocette knew it needed to expand it's product line to survive & so expanded into the 4-stroke market in the early 1920's. The new machine was to be very advanced for the times, with an overhead camshaft (OHC), 350cc displacement & a single cylinder. It was introduced in 1925 as the 'K' Series. It took a year of sorting-out before the new model, now known as the KTT, was ready for the racing circuit. They started at the Isle of Man TT & Brooklands. The smooth-running, reliable machines scored very well in competition & went a long way to cementing Velocette's reputation as a builder of high-quality motorcycles. Street versions were soon to follow including the Velocette KSS (Super Sports), KTP (twin exhaust ports), KN (normal) & others. The OHC engine continued on the roadsters until 1948, still with rigid frames & Dowty front forks. They continued to develope the K series, becoming ever more competitive at places like the Isle of Man TT & continuing to pioneer new innovations such as using strobe lights for accurate ignition timing.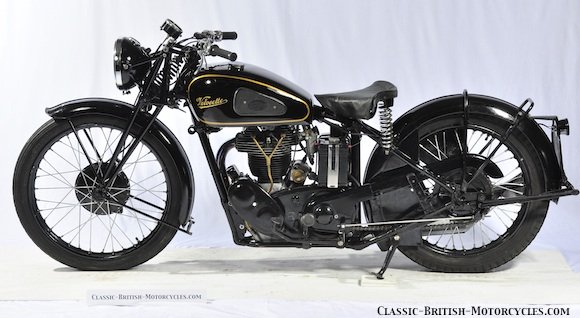 ABOVE: Revisiting the lovely 1946 Velocette KSS from the primary side. Part of the K-series.
M SERIES
Velocette Motorcycles had much experience with their OHC (Overhead Cams) singles, but in 1933, they decided to introduce a new line of OHV (Overhead Valves)machines, as a way of reducing their production costs while delivering a lower-priced motorcycle to market. The K series had also been expensive to produce. Skilled workers on the production line had to hand-assemble the tricky shaft-and-bevel camshaft drive. The simpler OHV design would be quicker to produce & would require much less highly-skilled labor to assemble.
The first of these was the Velocette MOV, a 250cc single with square bore & stroke (68mm X 68mm). It was an immediate hit & proved to be an able performer, capable of 78mph / 126 km/h, a stunning speed at the time. They were also known for their reliablity & their excellent handling.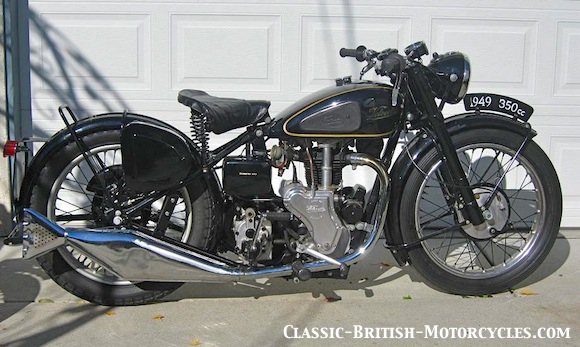 ABOVE: 1949 Velocette MAC. This M-series bike was the follow-on to the K-series.
BIGGER IS BETTER
The MOV was doing so well that a larger version was needed & by lengthening the stroke, they created the 350cc Velocette MAC in 1934. It became the real bread winner for Velocette Motorcycles, their best-selling model. The much-needed capital was invested in an entirely new design, a 500cc OHV single to be called the MSS in 1935. This utilized an all-new frame, developed from the MkV KTT race machines & shared this frame with the KSS MkII, 1936-48. The MSS was another runaway hit for Velocette Motorcycles.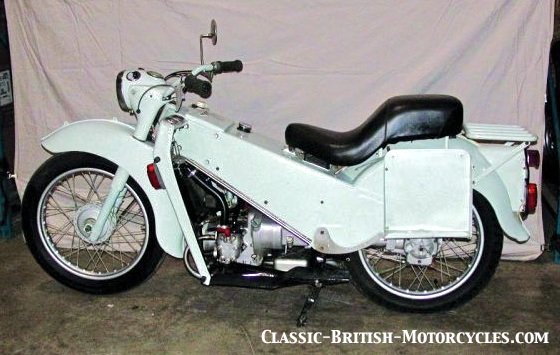 ABOVE: This 1959 Velocette LE signaled the direction that Velocette thought the industry was headed. While it's pretty hard to image now, this was actually Velocette's best-selling model EVER!
POST WAR & THE "LE"
Immediately following World War 2, there was a pressing need in the UK for simple, inexpensive, utilitarian personal transport to get to & from work. Velocette Motorcycles attempted to tap into this market with their radical new "LE" (stands for Little Engine). The 149cc water-cooled, side valve, flat-twin was mounted in an unsightly pressed-steel frame with swingarm & telescopic front forks. Designed by Charles Udall, it was supposed to be cheap & easy to produce, so that it could be delivered to the market at a very low price. But the radical new design (including one of the earlier examples of unitized engine/transmission/gearbox construction) proved to be complicated & expensive to produce, the exact opposite of what was called for. Strangely, despite all this, it proved to be a runaway best-seller for Velocette Motorcycles, in fact their best-selling model ever! Still, the high cost of tooling & manufacture made it almost impossible for Velocette to make a profit. One nice feather in their cap was the wholesale adoption of the LE by British Police.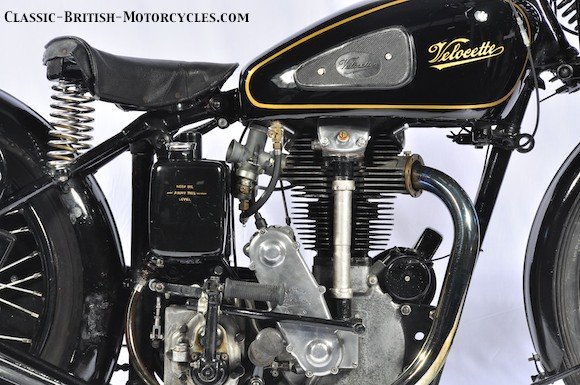 ABOVE: Velocette engines were 'high-tech' for the day. This KSS 350 single has a shaft-driven OHC.
COMPETITION SUCCESSES
Velocette Motorcycles enjoyed some racing success after the War. In 1947, Velocettes took First, Second, Third & Fourth Places in the Juniors Race at the Isle of Man TT. In 1950, they went on to win the 350cc World Championship.
THE 1960's BLUES
Like so many other British motorcycle manufacturers, despite strong successes in the 1950's, the 1960's opened with Velocette Motorcycles financially weak & finding it increasingly difficult to produce successful new machines. One such failed attempt was the Velocette Viceroy. Released in 1960 as a follow-on to the successful Velocette LE, the Viceroy was a scooter powered by a very unusual horizontally-opposed 250cc 2-stroke twin, running 'north & south' & transmitting power to the gearbox via a driveshaft. Despite 12V electrics, electric start & decent performance, it failed to find its place in the dwindling scooter market.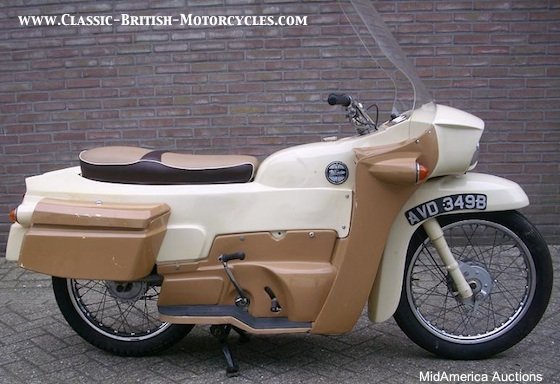 1964 Velocette Vogue. Rolling sculpture…beautiful! But unfortunately, chasing a trend that never happened.
---
VELOCETTE VOGUE
Velocette entered the 1960's looking for direction. They thought they had it because the compact, utilitarian Velocette LE had been a good seller. So they followed up with 'The Old One-Two Punch', introducing the odd Velocette Viceroy in 1960 & following it up just one year later in 1961 with the roll-out of the gorgeous, but misguided Velocette Vogue.
Meant to appeal to 'Mr. Everyman', the Vogue was supposed to be a luxurious step above basic transport. Fully enclosed in fiberglass bodywork, with windscreen, leg shields & later panniers (saddle bags) standard, it addressed a big problem for British riders: riding in the rain. All the bodywork helped shelter the rider & made the machine much easier to keep clean. But Americans care little for it, and the market for small, underpowered basic commuter bikes was shrinking rapidly. With all the bodywork & accouterments the Vogue was heavy, too heavy for the anemic 8hp 192cc watercooled SV (side valve) twin, the same unit that powered the 1950's-era Velocette LE. Wide-open, they could barely make 60mph & cruising at anything more than about 50mph was out of the question.
Regardless of all this, the Velocette Vogue is really a beautiful piece of work. Finely crafted fiberglass panels fit nicely together to make a lovely, yet functional shape. Engine access is via removable panels with Dzus fasteners. Unfortunately, Velocette misread the market in the late 1950's as did so many others (Triumph with their 'Bathtub Bikes', Vincent's Black Prince, etc.) thinking that fully enclosed bikes were the wave of the future. It never happened. In fact, buyer tastes were actually going the other way, toward leaner-looking bikes. If you look at how the Triumph Bonneville met with market resistance at its 1959 launch because it looked too much like a Triumph Thunderbird (itself a semi-bathtub) with its full fenders & headlight nacelle. The very next year, they stripped all of that off of it, styling it just like the stripped-down Triumph TR6 for the 1960 model year, and from then on. The Bathtub Triumphs lasted only a couple more years. So, Velocette missed the mark & the market. The Vogue never became vogue. It went out of production in 1968.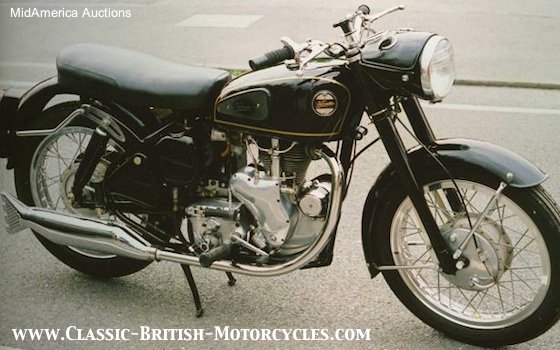 ABOVE: 1961 Velocette Viper 350cc single.
VELOCETTE VIPER
The M Series Velocette Motorcycles were considered the 'cooking' versions (ie: economy commuters), and in that realm the 350cc Velocette MAC consistently outsold it's bigger brother, the 500cc Velocette MSS. But, the situation was very different within the Sporting realm. Here, power was king & displacement meant power. The Velocette Viper was introduced in 1956 as Velocette's 350cc Sport model. With a 72mm bore, it had the same 86mm stroke as the 500 & shared the entire bottom end including crank & cases, making it nearly indestructible. It had a bi-metal barrel & light alloy head with hairpin valve springs.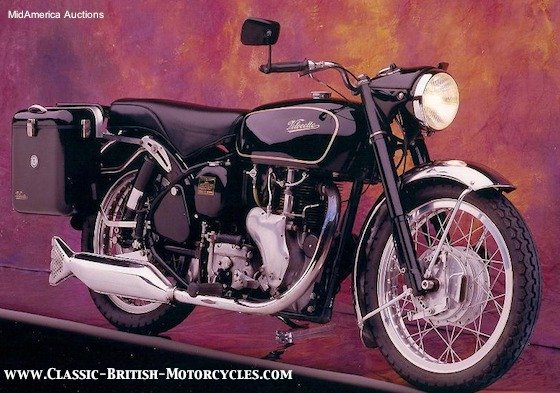 ABOVE: 1966 Velocette Venom 500cc single.
VELOCETTE VENOM
The 500cc Velocette Venom was released in 1956 alongside its smaller sibling the 350cc Velocette Viper. The top-of-the-line Velocette was a fast machine for its time, capable of hitting 30mph before the clutch is fully engaged, over 70mph in second & top out at over 105mph. Not much by today's standards, but blindingly fast in 1960. It could be optioned from the factory with lots of go-fast goodies like alloy rims, BTH racing magneto, Amal TT carb, rev counter (tach), low-restriction (read that: loud!) exhaust systems, rear sets & close ratio gearboxes. In 1961, a Velocette Venom became the first motorcycle in history to cover 2,400 miles (3,900 km) in 24 hours (average speed 110.05mph/161.01km/h). It was considered one of the best and fastest Sporting 500 singles on the market, at at time when 500 singles were king.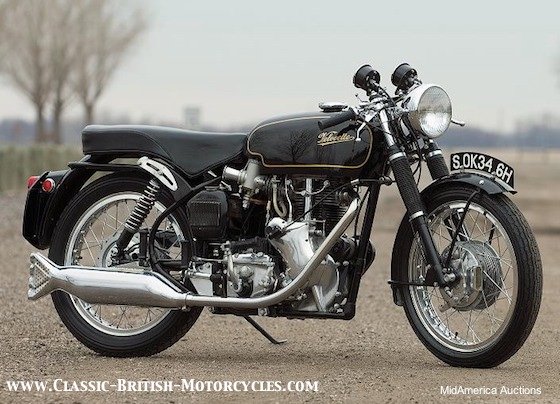 ABOVE: 1969 Velocette Thruxton, last of a long line of Velocette Motorcycles.
VELOCETTE THRUXTON
The ultimate evolution of the Velocette Motorcycle & the fastest standard Velocette ever built, the Velocette Thruxton was introduced in 1964. With a claimed 45hp, it was even faster than the firm's OHC racing machines. The 1-1/4″ Amal GP carburetor was so big, that the gas tank had to be cut away on the lower-right-rear just to clear it. It had 10:1 compression, hairpin valve springs, a close-ratio gearbox, humped-back dual seat, lightweight alloy rims & clip-on bars. It's strong, narrow crankcase helped make the Thruxton free-revving & relatively vibration-free, especially when compared to its contemporaries like the BSA Gold Star. The Truxton's performance was roughly on par with the Gold Star also, but at all times smoother & more refined. A Velocette Thruxton won the Isle of Man TT in 1967. It was dropped from the lineup in 1971, as Velocette Motorcycles, the company, slipped into insolvency.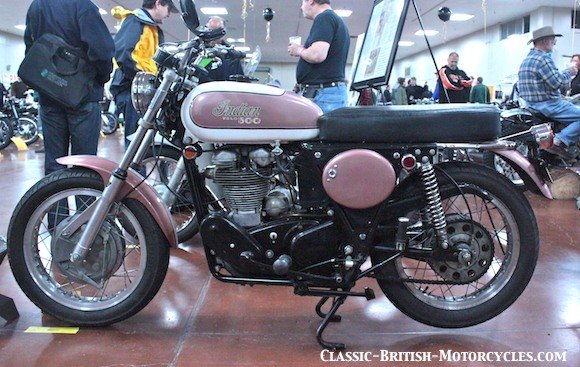 ABOVE: 1970 Indian Velo 500.
HOPE FOR NEW LIFE: THE INDIAN CONNECTION
Floyd Clymer was a legend in the motorcycle world back in the 1950s and 60s. He had been a very successful Indian Motorcycle dealer and distributor for many years, then expanded into publishing motorcycle magazines, shop manuals, and even the Indianapolis 500 Yearbook. Indian folded up its tent in 1953, but it took until 1967 for Clymer to secure the rights to the name. Now he just needed a motorcycle. He ended up approaching Velocette, who had an excellent reputation for building quality motorcycles (albeit based upon an ancient design), yet they were always struggling to stay afloat. A new market for their products would be a very welcome thing. A deal was cut for Velocette to produce essentially what was a 1970 Venom 500 engine stuffed into an Italian-built frame and cycle gear with special Indian-specific bodywork, trim and paint. The color they ended up with is somewhat off-putting, and by 1970 a 500cc long-stroke single (the bore and stroke were actually equal at 86mm each, but by this time all modern motorcycles had oversquare dimensions, ie: big bore/short stroke) was hopelessly outclassed by just about everything coming out of Japan. Unfortunately, the venture was doomed from the start as England and Italy were simply the wrong places to build motorcycles at a competitive price against the likes of Honda and Kawasaki in 1970. Clymer struggled to sell these oddly-colored, overpriced, outdated, 4-speed, drum braked Indians (only about 100 to 150 were sold) until he died of a heart attack in 1970. That was the end of the enterprise.
---
Velocette Motorcycles YEAR-BY-YEAR
---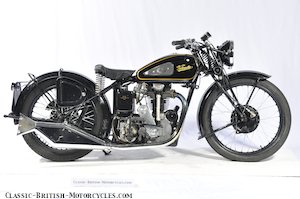 VELOCETTE KSS
348cc OHC Single
Produced 1925-1948
Part of the K-series, Velo's iconic 350 single was a high-tech hotrod in its day.
---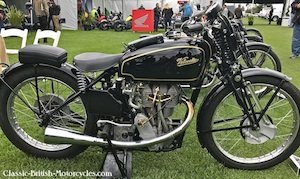 VELOCETTE KTT
348cc OHC Single
Produced 1929-1949
The racing version of the K-series OHC 350 single.
---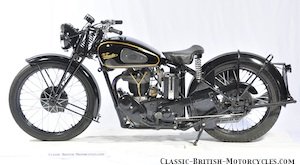 VELOCETTE MAC
349cc OHC Single
Produced 1946-1959
The MAC, which is part of the M-series, was the follow-on to the K-series KSS.
---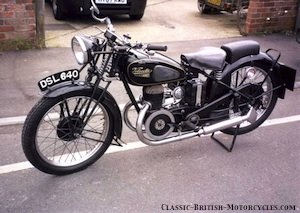 VELOCETTE GTP
250cc twin-port 2-stroke single
Produced 1930-1946
Developed over the years in a wide variety of models.
---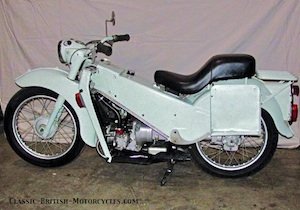 VELOCETTE LE
149cc side-valve flat twin
Produced 1948-1970
This odd-looking bird turned out to be Velo's best-selling model EVER!! Conceived as cheap transport, instead it was complex & expensive to build.
---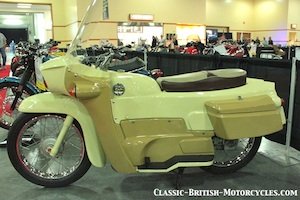 VELOCETTE VOGUE
192cc side-valve flat-twin
Produced 1962-1968
Following the LE as sort of a "One-Two Punch", the Vogue wrapped the LE's hardware in a streamlined plastic skin.
---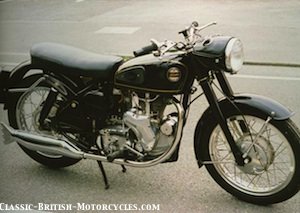 VELOCETTE VIPER
349cc OHC single
Produced 1955-1968
Developed from the MAC, the Viper evolved into many forms, flashy roadsters, cafe-style road racers & off-road scramblers.
---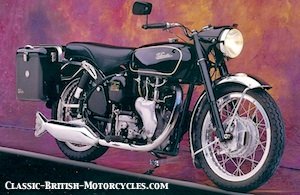 VELOCETTE VENOM
499cc OHC single
Produced 1955-1970
This hotrod Velo broke the 24-hour speed record in 1961 at 100.05mph average over 24 hours.
---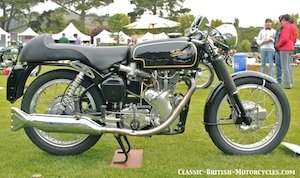 VELOCETTE THRUXTON
499cc OHV single
Produced 1965-1971
This 500 brute was fast & handled well. By the last 60s, the ancient design was starting to wear thin against modern competition.
---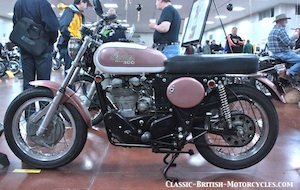 INDIAN VELO 500
499cc OHC single
Produced 1970 only
As Velo closed its door, as deal is cut to produce Venoms for Floyd Clymer to sell in the US as Indians, of all things. Fewer than 150 were built.
---
---
Check out these VELOCETTE BOOKS
---
---

BOOK OF THE VELOCETTE ALL SINGLES & TWINS 1925-1970
---

Velocette: Production Motorcycles (Crowood Motoclassics)
---

Velocette Motorcycles – MSS to Thruxton: New Third Edition
---

The Velocette Saga: The Story of a Great Motorcycle
---

Velocette 350 & 500 Singles: All 350 & 500cc models 1946-1970 (Essential Buyer's Guide)
---

Always in the Picture: History of the Velocette Motorcycle
---

Velocette: The Racing Story (Crowood Motoclassics)
---

Velocette (Illustrated Motor Cycle Legends)
---

Velocette – Technical Excellence Exemplified
---
For more like this, please visit our
VELOCETTE MOTORCYCLE BOOKSTORE
---