Motorcycle GPS Image Gallery
Can a tablet like the Google Nexus 7 be used as a navigation device on a motorcycle?
Yes it can, but with some caveats.
While it may not be the perfect solution, it is indeed a solution…and a pretty economical one at that.
Screen size is just right, with lots of hi-res real estate for map and info displays available with less scrolling required compared to standard GPS devices.
Screen lighting on the Nexus 7 could be better, but in general it still beats the display of my Garmin zumo 665.
Google Maps and other comprehensive and reliable mobile navigational and utility apps for the Nexus 7 abound.
Find your favourites, use them, keep them updated and participate in the voluntary feedback process.
Securely mounting the relatively large Nexus 7 on a motorcycle can be a challenge but weatherproof housings are available.
And there are mounting solutions for the motorcycle so that your favourite and (economical) smartphone or tablet can be utilized as a true standalone navigation device.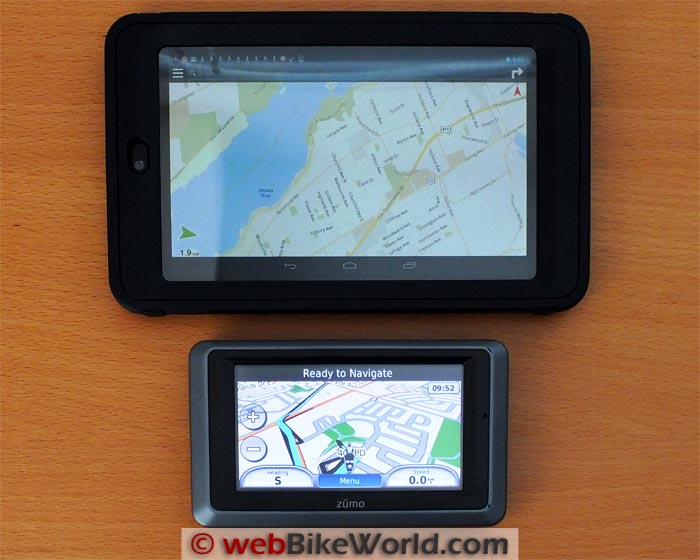 Background
We'll blame this whole thing on the Editor, who purchased one of the original Google Nexus 7 tablets, a popular piece of technology that I had been wanting to adapt for motorcycle use.
Others have done this also, using one of the many different tablets or touchscreen devices now available.
The logic behind using a tablet or smartphone rather than a dedicated GPS on a motorcycle is pretty simple.
Take a relatively inexpensive tablet, with its many capabilities that are far beyond any dedicated GPS. Then leverage its built-in GPS and map directions system and/or free or low-cost navigation apps.
Present it all on a larger higher resolution display and have your GPS, directions, mapping, music and — why not? — email, texting, phone calls and even TV while you're on the road (but not while piloting the bike, of course).
In not (ever) forgetting that our electronic devices can and do distract us from critical situational awareness requirements, these same devices can now be used as dynamic tools that can and do assist us in many ways.
Safely utilizing a tablet on a motorcycle and keeping it functioning despite the weather and other bumps along the way takes a certain amount of foresight.
Everything from cheap plastic bags to expensive protective cases are now available and the ever-improving choices we have to house and protect our devices is very much a good thing.
But even with the (somewhat) weatherproof housings that are available, many other smartphones, tablets and other devices are still lacking even the most basic weather protection.
Thankfully, the Otterbox Defender series housing for the original Nexus 7 were available.
While the Otterbox for the Nexus 7 is not supposed to be totally compatible with the 32GB WiFi and 3G tablet provided by the Editor, this didn't prove to be an issue at all.
And in being (very) familiar with the RAM line of products, it didn't take long to put together a not-so-short list that could and would allow various secure mounting options for the Nexus 7 on the motorcycle, now securely wrapped in the Defender case.
Introduction
While the Google Nexus 7 tablet is the key component in this evaluation, the solution is indeed a "sum of the parts", including downloaded maps for offline use.
In reality there are now many GPS and mapping options available, although that wouldn't have been the case just a couple of years ago, even with a burgeoning smartphone and tablet market.
And while we're waiting for ruggedized tablets and smartphones, basic dry-bag protection can save the day, so to speak, by providing a timely economical protective solution.
So in considering requirements and budgets, owners should be able to find suitable methods to adapt the Nexus 7 or similar tablets for use as a large-screen motorcycle navigation device.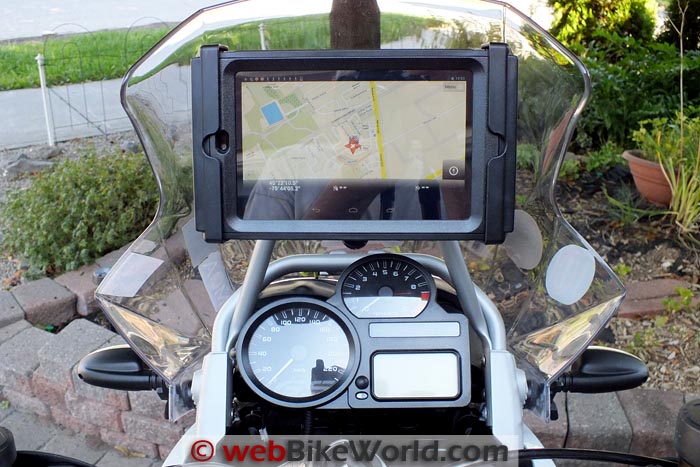 The Google Nexus 7
With its 17.8 cm (7 inch) screen and 800 x 1280 pixel resolution, the first generation Nexus 7 screen is a major improvement over the standard motorcycle GPS with its average resolution of 480×272 pixels.
To be fair however, some of the newer motorcycle GPS units feature brighter five-inch 800×480 pixel resolution screens but visibility can still be compromised.
The Android-based Nexus 7 was put to work to test the concept of using a tablet at a motorcycle GPS.
It incorporates a stand-alone GPS receiver, providing out-of-the-box positional information, sometimes referred to as "unassisted GPS" and this feature can be further enhanced in assisted mode when used with cellular or WiFi data services.
This Nexus 7 has both a WiFi and 3G connection capability (WiFi-only versions were also available). The 3G connection is available with a SIM card from a local ISP, or Internet Service Provider.
Despite being told (repeatedly) that the GPS feature in the Nexus 7 would not work without a SIM chip and data plan of some sort, I knew that the GPS feature would indeed work without any support requirements other than access to the signals from the minimum number of Global Positioning System satellites.
But while the GPS data (with the aid of readily available downloadable tools) will indicate where you are at any given time, displaying that information graphically on a map may be an issue.
Thankfully, the tools and graphical requirements are easy to satisfy, especially for Android-based devices like the Nexus 7.
There are many desktop and mobile applications available for use; many of the mobile apps are free and most provide the essentials needed for personal navigation for online or offline use.
Offline is key here; with the required maps downloaded for offline use, no connection is needed for GPS navigation.
Access to more or all of the extra features provided by a specific apps is often as simple as making a donation or paying a nominal fee; the choices are there.
And don't forget, using a Nexus 7 or similar device allows access to all of its other features as well, from email to texting to phone calls (via WiFi or the cell network) and more.
And by the way, the quality of the Bluetooth audio from the Nexus 7 is outstanding.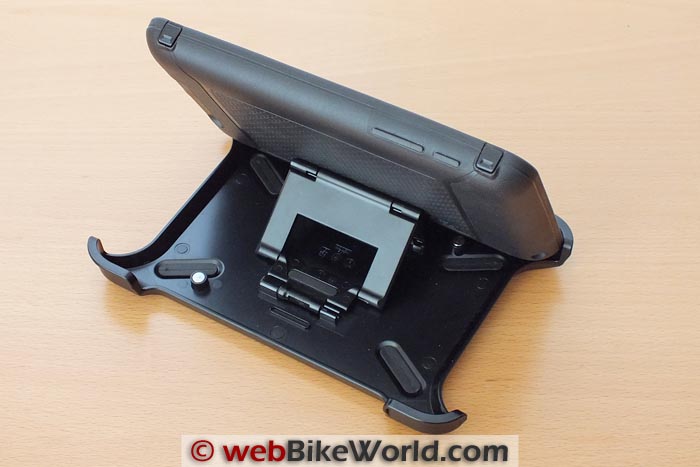 Protecting the Nexus 7
An entire industry has developed around protecting smartphones, tablets and other modern electronic devices. Otterbox is one of the most popular names, making protective products ranging from screen covers to half and full housings.
I've used more than a few of their products over the years, all with great success.
So in looking for the best available option to protect the Nexus 7 from the elements and day-to-day motorcycle use, the Otterbox Defender Series was a natural choice.
It was available (and is occasionally found in stock at some retailers) but the Nexus 7 version is apparently no longer in production unfortunately, so it may be difficult to find.
The Defender case is formed of polycarbonate and silicone and comes in four main pieces: a two-piece tight-fitting pressure-fit enclosure (front and back sections), a silicone slip-on that covers the back, sides and edges for protection and finally, the separate hard shield cover that doubles as a very effective stand.
The access ports are covered with effective silicone flaps and the external interface buttons work very well even when wearing light- to medium-weight gloves.
Admittedly, with anything other than bare fingers or lightweight gloves, input via the touchscreen is greatly impeded although not impossible. But again, there are solutions available.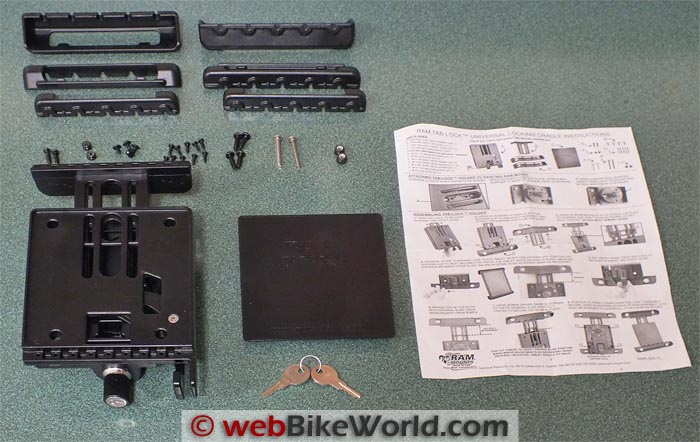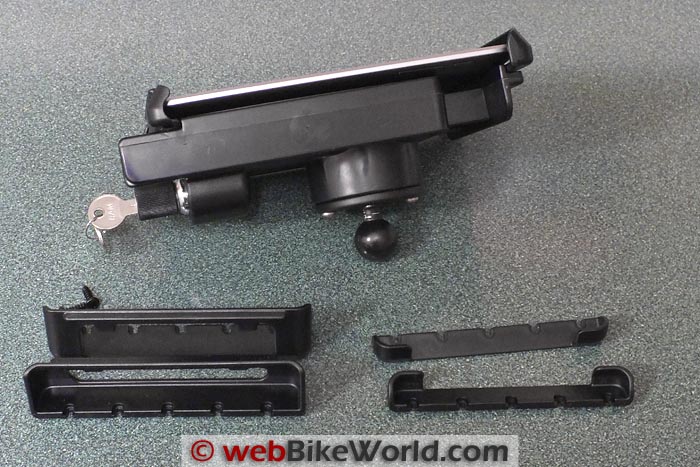 Motorcycle Mounting Options
I am sometimes accused of being a convert to RAM mounts, simply because there is usually a solution to be found with their products. Based on this fact, two large bins full of RAM mounts, new and used, stay close at hand in the garage.
I ordered two RAM Universal Locking Tablet kits and two RAM Tab-Lock Universal Locking Cradle for the Nexus 7 (photos above).
The basic kits are designed to provide a secure cradle for many phones and tablets of varying sizes, with one of the most popular lines being for seven inch (plus or minus) sized tablets.
Here is a selection of other motorcycle handlebar tablet mounts for different types of tablets.
Made of lightweight plastic, the moldings and assemblies feature one spring-loaded end or edge allowing expansion to accommodate devices of varying sizes.
The cradle for seven inch tables expands from 7.12 to 8.875 inches and accommodates a maximum width of 5.05 inches and a thickness or edge depth of up to 0.82 inches, thanks to three sets of support cups or edge pieces of varying widths.
The edge cups are basically are sized small, medium and large with open slots to accommodate a wider range of tablets.
Many tablets will use the small or thin cups, with thicker tablets or those with thin cases probably using the medium set; the large set is near perfect for housings like the Otterbox Defender case.
As with all the other RAM cradle kits, the assembly instructions are quite simple and once the size of cup or edge support needed is determined, it only takes five minutes or so with a small Phillips screwdriver to assemble the cradle with the hardware provided.
And don't forget to bag the spare pieces for possible future use.
Also like the other cradles, the back mounting point is meant to take a two-screw RAM plate.
Although any AMP compatible diamond, round or square plate will work although the Diamond Plate takes up the least space, whereas for weight loading, the round or square plates provide more inherent backing strength.
For basic security, once the cradle is correctly configured for the Nexus 7, locking the cradle keeps the device in place under most circumstances, including some very rough roads. The locked cradle can also be a deterrent against theft when travelling.
Navigation Apps for Tablets
Many different GPS, navigation and directional apps and more are available for smartphones and tablets. Here are some screen shots of a few: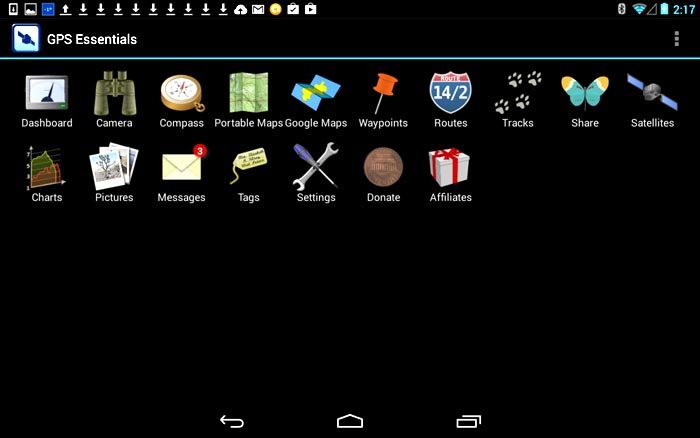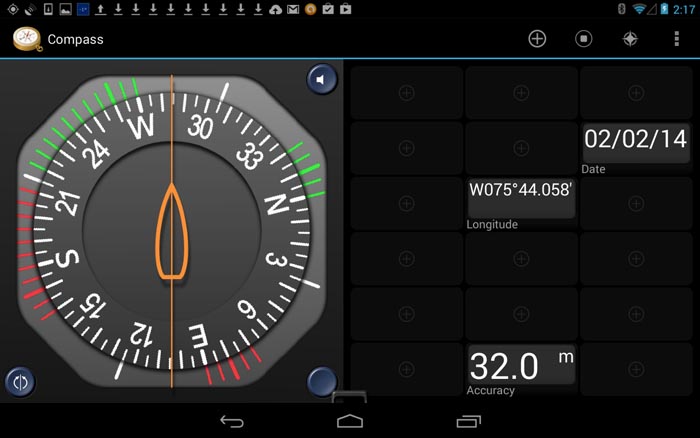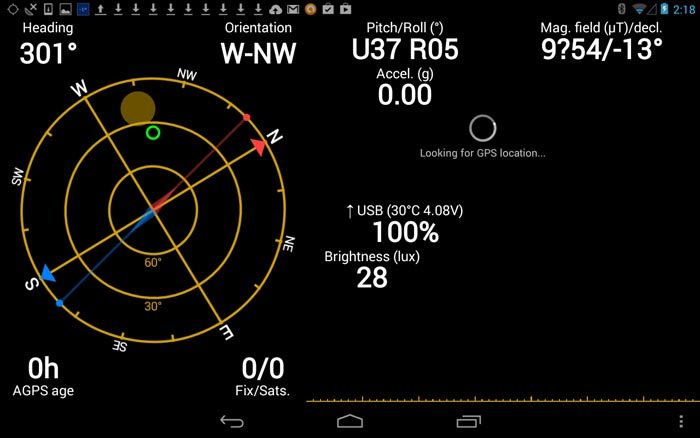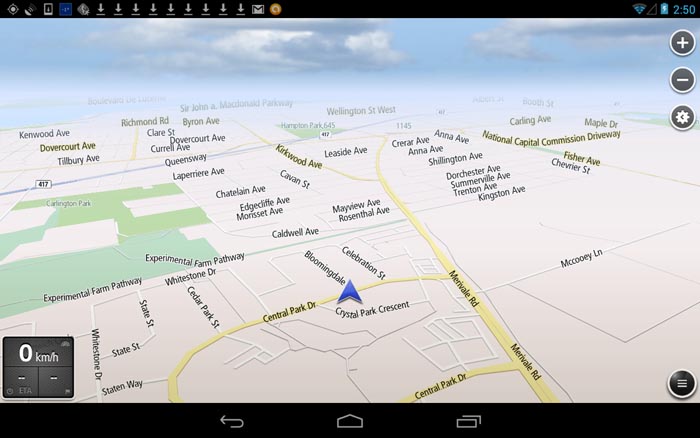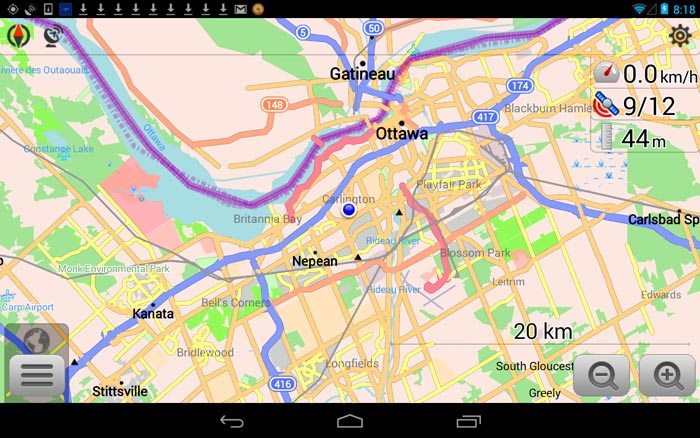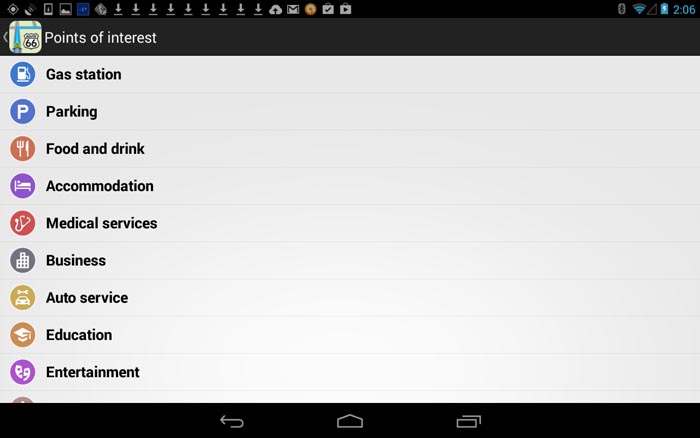 Navigation Apps and Tools
In using a dedicated motorcycle GPS like my Garmin zumo 665 with its custom navigation software (that sometimes seems very mature and effective but then for another task seems not to want to do anything right), the user is "locked-in" to a degree.
Adding other map sets and using desktop applications for building or reviewing trips of any distance can (thankfully) mitigate some of the limitations found with the onboard software.
And as we all have varying requirements and expectations and sometimes a dedicated device isn't the best single solution.
This is why so many consumers see the mobile device and mobile apps approach as the or part of the solution and in many ways, it is or can be.
Trying to explore and explain the breadth and depth of what is available online for devices like the Nexus 7, particularly those apps dedicated to off-line map tasks, could be an occupation of its own.
Whether navigating and interacting using a dedicated data service or using WiFi services for service augmentation, the greatest flexibility is provided through the use of off-line maps for stand-alone or unassisted navigation.
Using the built-in Bluetooth capability in the tablet, the rider can hear the GPS instructions, music or a telephone call.
This means that no matter where you travel, even if data services are weak or non-existent and WiFi a longed-for thing, the onboard GPS receiver and loaded maps will work to let you know where you are and where you are going.
Over the past few months the Nexus 7 has become a trusted navigation device, thanks in large part to a few navigation apps that have become favourites. These are available in the Google Play Store:
Navigate 6: A favourite for overall navigation and planning use, primarily off-line with search and custom service enhancements when on-line.
CoPilot GPS: Another favourite, great offline mapping capabilities including extensive route planning and local exploration options, has a specific motorcycle preference option, multiple route options and there are lots of variations for local or international travel.
MapFactor: GPS Navigation, very good tool, need to use this one more.
Navfree: Recently updated with HD maps, great focus on off-line mapping with search and customized services available when on-line.
OsmAnd Maps and Navigation: Automated Navigation Directions, map and navigation, uses OpenStreetMap (OSM) data, off or on-line, very good data services to interact via the OSM community and other users.
Maps With Me Lite: Totally off-line use app, very good international coverage, updates via OSM when on-line.
Mobile Atlas Creator (MOBAC): Download Google maps and other maps and create your own atlas in this open source application.
Google Maps: Google Maps can be used online or offline. The maps can be downloaded for offline use; here are the instructions). Google Maps is, of course, pre-loaded on the N7.
Google Waze: An on-line community-based mapping, traffic and navigation app based on real-time data exchange with other active Waze users providing a common navigation or traffic picture. It allows users to report traffic-related issues, accidents and road conditions. It also warns when radar, speed traps and speed cameras are in the neighbourhood.
Other tools and utilities are available; do a search, try some and pick your favourites, some are linked or embedded with navigational apps as well.
One thing that is pretty much standard or readily enabled via a separate download is voice navigation, with specific turn-by-turn capabilities and related information provided by some of the apps.
All of them have worked flawlessly in providing voice navigation and traffic related audio, all streamed via Bluetooth to the helmet headset in use.
And don't forget that map and feature updates are, for the most part, free or available for a nominal fee.
So there isn't much excuse not to keep the favourite app or apps updated with the latest information, especially important if roaming far and wide.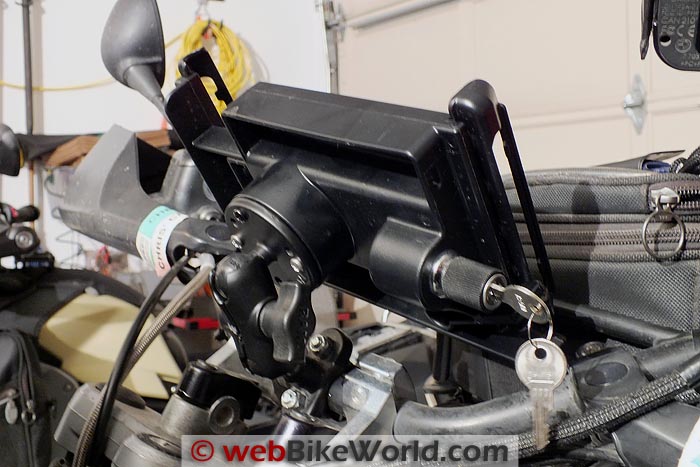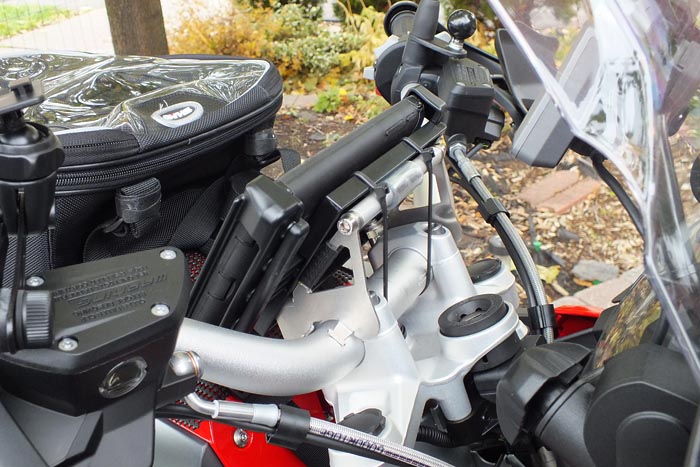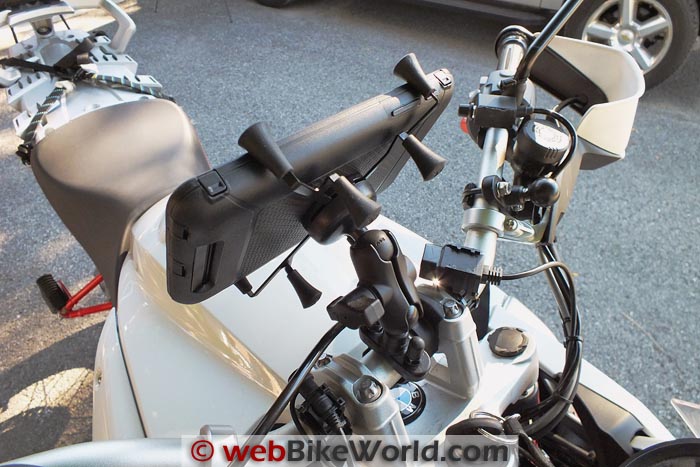 Motorcycle Handlebar Mounting
In following basic convention, I followed the typical installation and use of the Nexus 7 as a motorcycle GPS and installed it on the handlebars.
I also tried a heads-up orientation provided by the upper windscreen mount on a BMW F 800 GS Adventure and on the accessory bars available for the 2012 and 2014 Boxers.
The Nexus 7 assembly was also mounted on a standard RAM-B mount on the left side of the handlebar.
The middle-of-the-handlebar approach provides the most stable and protected mounting but clearances can be an issue, particularly if a tank bag is used.
Also, both viewing and interface access can be impacted; to see the screen, you have to take your eyes off the road, so consider all factors when mounting a tablet on your motorcycle.
On the BMW GS, I moved a RAM-B mount to the centre of the bars between the handlebar clamp mounts with a short 1.75 inch RAM arm used as the bridge between the mount and the cradle.
If you don't have a tank bag installed or if the tank bag sits two to three inches away from the handlebars, there should be room to position the assembly at a level where both the instrument cluster and the Nexus 7 assembly is viewable and reachable without compromising safety.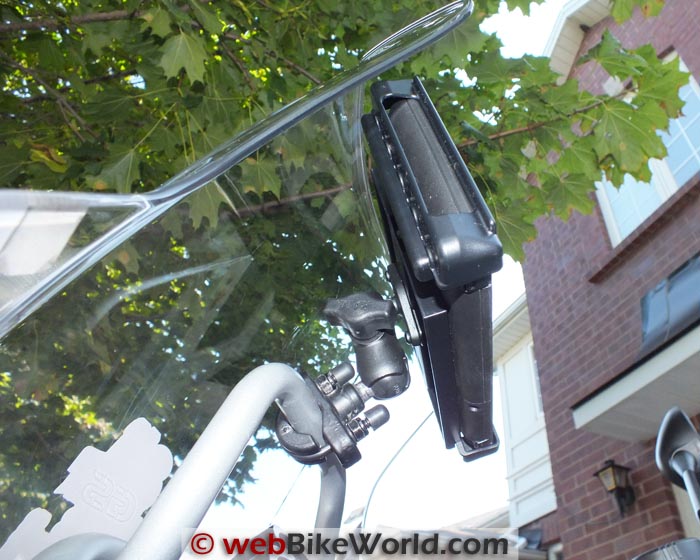 "Heads-Up Display" Mounting
This is my favoured positioning for a GPS.
It places the screen at or just below eye level without obstructing the view and depending on the motorcycle left hand access is still easy and safe. But on the flip side, space, positioning and device size can be issues.
On the 2012 BMW R 1200 GS, the 16 mm tubing used for the BMW accessory upper bar is more than strong enough for an assembly like the Nexus 7 with a RAM-B U-clamp, plastic spacer and a short arm providing a sturdy mount.
Adjustments can be made quickly for best positioning even with the larger locking cradle used.
The 2014 BMW F 800 GS Adventure has a very effective but non-adjustable windscreen and its shape doesn't accommodate the Nexus 7 assembly very well.
With the U-clamp mount oriented vertically on the bar the RAM-B arm was angled out more bringing the large screen GPS closer to the rider an inch or so – actually a good thing for access and viewing.
The RAM locking cradle could be used on the F800, but then the assembly had to be angled down more resulting in clearance and dash viewing issues. The non-locking RAM Nexus 7 cradle was the best solution for the heads-up position.
The Nexus 7 can be removed in seconds when dismounted – a clear demonstration of desired portability.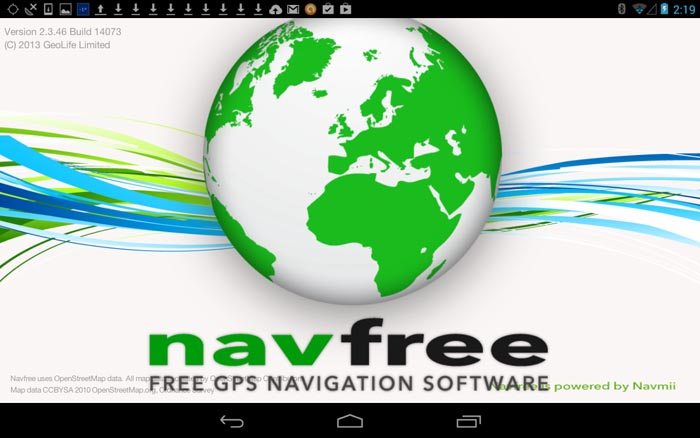 An Assessment of Using the Nexus 7 as a GPS
In general, the Nexus 7 tablet is a very good highly viewable and easily configurable navigation device. The issues are its physical size, screen visibility and touch screen interaction when wearing gloves.
With the Nexus 7 powered via a 2.1A USB port, performance and background lighting are optimized for sustained use.
Not much can be done about overall screen visibility of the Nexus 7, which is actually on par or a little better than the Garmin zumo 660 (review) or 665 (newer GPS devices are far brighter).
I did fashion a rudimentary three-side shade one afternoon that helped and I know others have come up with aides as well.
If the Nexus 7 isn't running a whole suite of apps but perhaps just the music player, one or two navigation apps and Bluetooth, performance is far better than what I get from my current GPS devices and of course, the N7 provides far more features as well.
Note that Bluetooth can be used to stream the spoken GPS instructions and/or music to a Bluetooth intercom headset.
The touch screen on the Nexus 7 works really well, even when securely housed in the Otterbox Defender case.
And unlike the iPhone 4S that just refuses to accept any input with any weight of riding glove, the Nexus could be used relatively well with light- to medium-weight gloves; my trusty Tourmaster Dri-Mesh gloves being really good examples.
One reason for the N7's sensitivity is that it uses a Projected Capacitive touch (PCAP) display rather than a resistive touchscreens found on most GPS devices.
PCAP displays are glass, so more durable and typically far less prone to scratching or breaking and there is less spoofing (where dirt/dust/static fools the display into thinking it has been touched).
But with heaver gloves, some sort of touch aid like AnyGlove or specific touch-friendly gloves like the REV'IT! Striker gloves (review) with their touch finger tips or even an oversized pair of thin touch gloves might be required for optimum control.
Overall however, the larger screen surface area and sensitivity of the Nexus 7 screen works far (far) better than my iPhone 4S surface that remains cranky even with a touch-glove used (tested by another rider).
Saving the best for last, screen size can be everything, especially for tiring eyes, something that isn't just age-based. Whether in the heads-up or centre or left of handlebar positions, visual interaction with the Nexus 7 is a joy.
The amount of information that can be displayed on the larger screen is all bonus and can result in less scrolling in many instances.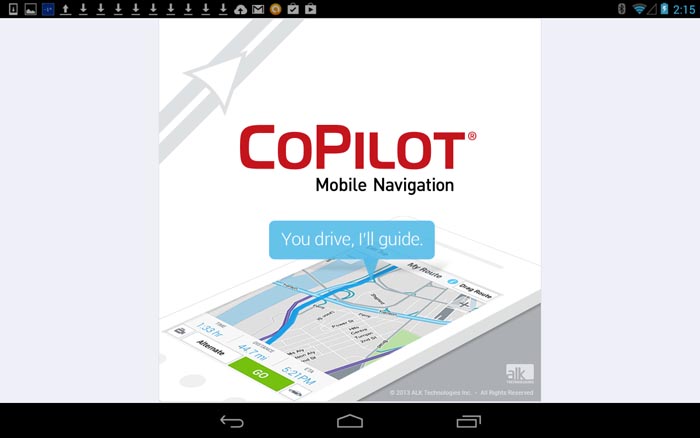 Conclusion
In comparing outlay costs between a dedicated motorcycle GPS and a tablet like the Nexus 7, even including the housing and mounting bits, the price differential is about 2:1.
Or if a more economical approach is taken, possibly 3:1 in favour of the Nexus 7 — a solution is hard to ignore.
Another aspect of any ROI, appreciating the cost of any 3G/4G connection monthly fees, is the fact that a tablet does so much more than the typical GPS.
And most or all of those features are potentially available at virtually any time, given an active data connection, although playing with most of them are best left for off-the-bike use.
And finally, the ability of the user to try out so many different navigation applications and utilities for free or a minimal outlay needs to be factored in as added value.
Some of the apps available come close or exceed in areas the software found on more expensive dedicated GPS systems and the mobile apps keep getting better all the time.
Tablets like the Nexus 7 can be simply tucked into the clear top pocket of a tank bag or housed in an inexpensive dry bag.
But with a modest investment, the device can be housed in a case for elemental and use protection and then carried securely and safely on a cradle for easy viewing and safe access.
The bottom line is that the Nexus 7 or similar tablets can provide a real and viable option for motorcycle navigation.
Publication Date: February 2014
Part 2: Using a Tablet as a Motorcycle GPS With Nokia HERE
Note:
 For informational use only. All material and photographs are Copyright © webWorld International, LLC since 2000. All rights reserved. See the webBikeWorld® 
Site Info page
. Product specifications, features and details may change or differ from our descriptions. Always check before purchasing. Read the
Terms and Conditions
!
Owner Comments and Feedback
---
From "P.H." (November 2014): "Thanks for the article on tablet-based GPS. I've been playing with the tablet as GPS and thought this might be useful:
Gear: The Hisense Pro tablet is a curious bug: very inexpensive, adequately fast, and a very good screen, and critically, it has GPS.
I picked mine up for about $80. It has a microSD slot and because it runs Android 4.2 — not 4.4 — this can be used for app data and apps.
Software: I've been playing with Navfree but have  a couple of issues: It displays road names by default — not route numbers — have to zoom in to get the route numbers and zooming is not touch gesture compatible.
Have to download each state map separately and upgrade them separately; not the end of the world but surely the end of an afternoon. Regardless, it's worked well in a few situations and I'm glad it's there.
But there's a new kid on the block: I haven't fully explored it, but it seems to work very very well:HERE by Nokia. You download all of North America (including Canada) in one large gulp. Other regions are available as well.
It has touch screen zoom, it seems to find location much faster than Navfree, the maps are good and clear. As Nokia's flagship software it will be continually developed. It's free, a beta is available for Android and iOS and is well worth the look. Hope this is helpful."
---
From "M.H." (March 2014): "Enjoyed the article, as it's a concept I'm very interested in pursuing because I find the price of the Zumo to be completely out there, price-wise.
The kicker though is that after reading the article, I went in search of an Otter Box, or similar, as this bit of kit is crucial for the successful integration of the unit on the bike. No such luck. It's no longer made, or available and I was unable to find a suitable substitute.
Therefore, I judge your article to be cruel and unusual punishment. Bit like…. here's a cracking idea/concept… oh that's right you can't have it. Teaser!"
---
From "F.E.D." (March 2014): "Great article, guys, and great response by HBC about safety and distracted driving.
I started using an iPhone mounted in a Ram XGrip last year as an alternative to an expensive (and less functional) dedicated GPS, and it worked pretty well, but my eyes were opened when I upgraded from a full-size iPad to an iPad mini with Retina Display late last year.
The smaller size fits perfectly on the bars of my R1200GSA as you show in your pictures. It's sized so it almost looks like it was made to go there.
The bigger screen is way easier to see at a glance (hence, in my opinion an increase in safety).
Not such a big deal on the road when you've got spoken directions and things are smooth, but a godsend on the trail when you are bouncing around.
I've got mine mounted in a LifeProof case, held on by LifeProof's own snap-in mount with a Ram ball on the back. Works like a charm.
I still have yet to get touchscreen capable gloves, which means that other than talking to Siri via Bluetooth, anything I want to do on my tablet, I have to pull over to a stop and take my gloves off anyway. There's your safety factor!
For the iOS users amongst us, I'd recommend looking at MotionX GPS (not the Drive version) for trail maps. It's got a ton of features, can pull maps from lots of sources (Apple, Bing, Google, OpenStreet/OpenCycle, and others), and can pre-load for those rides into the national forests with no cell service.
You can also save a track to .gpx, and can load and highlight .gpx files if you want to file one of your old (or some else's) track.
While navigating on road, I personally find Apple Maps perfectly adequate, especially since it links in with Siri. Anyone who thinks Siri is lame should try it on a motorcycle. Life-changer, that.
Anyway, if Apple Maps isn't your thing, MotionX GPS Drive does turn-by-turn navigation pretty well, though I'm spoiled by vector maps these days, and it doesn't have those. Waze is also present on iOS, and it's also pretty good, and of course, there's Google Maps as well.
I'm really glad to see you guys delve into a topic like this.
As a fellow die-hard geek, I'm always looking for ways to integrate technology into my life, and the motorcycling part of my life seems to be a place populated by three camps (especially in the military):
the older Harley guys, and the younger boy racers, and the non-riders; none of them seem particularly motivated to make their motorcycles into a useful tool, and as soon as you talk about it, you get slammed with the "OMG, that's so unsafe, shame on you!" routine.
So thank you for this. I hope you touch on this sort of topic more in the future."
---
From "K" (March 2014): "I was all fired up last year when I saw an ad for a Garmin Android mapping app. I found a great deal on a Wi-Fi only 2012 Nexus 7 on eBay for $112 shipped.
When the tablet arrived I registered it on the Google Play store and tried to purchase the Garmin app only to find that because the 2012 Nexus does not have a rear facing camera I could not buy the app.
The Garmin app has "Augmented Reality" features that require a rear facing camera. The app will work for the second generation Nexus tablets but not the first.
I had had an app by the name of Sygic on an old Android phone and was allowed to use my old credentials to download the program and maps to my new-to-me Nexus 7.
The app, which cost $24 two years ago, works fine except for a Garmin like quirk of adding scenic little detours on what looks like a straight forward route, like leaving the main route through a city and taking side streets because that route is 100 feet shorter.
The POI's are a bit more limited than Garmin but I can have multiple apps installed on the tablet for mapping purposes.
I think Garmin is shooting themselves in the foot by keeping the prices of their Zumo units above $600."
---
From "B.K." (February 2014): "Many thanks for a well thought out informative article. It had been my impression that the Nexus processor could not keep up with displaying present location.
In the past I tried using a Nexus7 as just an MP3 player and discovered that during out of town rides, no matter what settings I tried, the music would disappear and then soon re-appear.
My guess was that it was not designed to play music for many hours, that it heated up?
For me, I either want voice commands to manipulate a GPS, or external buttons for common tasks. My hope is for voice command so that I won't have to search for buttons even if mounted near my handle bar grips."
---
From "T.G." (February 2014): "My biggest question is how visible is it with the sun shining directly on it? I ride with a very old Garmin 2720 GPS because it is the only one I have ever found that works and is readable  in direct sunlight.
Last time I tried my iPad out in the sun it was unreadable.
Are there any tablets out there that are sunlight readable? Because even a $500 iPad with all its accessories to mount to the bike is cheaper than the horribly overpriced Zumo motorcycle GPS.
H.B.C. Replies: I briefly mentioned display visibility in the article.
The output of the Nexus 7 (Gen 1) is about the same or perhaps a bit better than the zumo 660 or my current zumo 665, whose screen is admittedly deteriorating and the iPhone 4S is even worse.
The Garmin 2720 is (still) a great navigation device with a very good screen, but it seems to get bypassed for newer models.
With the Nexus 7, in some lighting conditions the larger screen surface and PCAP glass screen can be a negative, whereas at times when glare is minimal it is easily the best screen I have every used for navigation purposes.
Fashioning a home-made shade worked well but it still didn't prevent the issues surrounding direct light or glare, an issue with almost any device, unless it has a glare-reduction surface (like many good motorcycle GPS devices have or claim to have) or a film overlay of some sort.
I haven't yet tried a generic non-glare or glare-reduction film on the N7; that is next on the list. I can agree regarding the iPad issue, although in looking at the newer models, including the iPad Mini, even outdoors the display seemed much better.
---
From "D.K." (February 2014): "Thank you for the great article. I love this kind of use of technology. I just wanted to point out for US riders, T-Mobile has a 200mb / month free plan for tablets.
Combined with the Nexus 7 (you can buy from them or bring your own device), 200 mb should be more than enough for GPS related features, while giving you a little extra data for other purposes."
---
From "J.L." (February 2014): "Thank you for the article on using a Nexus 7 as an on-board GPS. I might suggest Liquipel as another  waterproofing option that removes the weight and size of the Otterbox.
I have been wanting to mount a Nexus 7 and run Bluetooth diagnostic sensors on my bike as well as the music and GPS to be a complete dashboard replacement."
---
From "R.A." (February 2014): "As a respected source of advice and information for avid motorcyclists you should know better than to encourage this kind of ill-conceived and extremely dangerous behaviour.
The installation shown is distracting to the rider, too tempting to use while in motion and blocks the view ahead. I use an iPhone as a GPS device, same principle — but it goes inside my tank bag or pocket and I only listen to the voice commands while riding.
Frequently I see others riding as a danger to themselves and others while trying to operate their bike mounted systems, and those do not have anywhere near the level of distraction potential of a full fledged tablet.
The history of webBikeWorld has been to help riders make informed and safe decisions to improve the motorcycling experience, why the complete disregard for this standard now?
Please recognize your influence on new and experienced riders alike by thinking twice before posting any further articles such as this one."
H.B.C.'s Reply: First, as personal information that may be relevant is the fact that as of this coming April, I have been a licensed rider for 50 years and have ridden and competed in virtually every form of motorized two-wheeled activity that can be imagined.
I have been a Driver Instructor and Examiner, an instructor with the Canada Safety Council Motorcycle Training Program for almost two decades and an instructor for the Motorcycle Safety Foundation while stationed at two US military facilities.
I have spent 50 years in watching learning, listening and riding and, training other motorcyclists both formally and informally.  Safety is, has and will always be my number one.
But I am also an unabashed, albeit aging, geek; chasing, using and evolving technology has been a major part of my life.
Even in what some see as retirement, that in reality is just a continuance of what I enjoy doing — riding and writing about motorcycles and motorcycle related products, including the adaptation of technologies and devices that are not always seen as mainstream motorcycle products.
Which brings us to webBikeWorld and the "Using a Tablet as a Motorcycle GPS" article, which I wrote.
It must be said that anyone and anything can be a distraction and by the same token, as individual motorcyclists we choose what we want to ride, with whom we ride and with what we ride.
As clearly stated in the article: 'In not (ever) forgetting that our electronic devices can and do distract us from critical situational awareness requirements, these same devices can now be used as dynamic tools that can and do assist us in many ways.
Safely utilizing a tablet on a motorcycle and keeping it functioning despite the weather and other bumps along the way takes a certain amount of foresight…'
In going back to 'anyone and anything can be a distraction', many will say that even the use of anything other than the senses, training and experience detracts from riding.
I know many motorcyclists who would say that even using a smartphone for audio navigation instructions can be a distraction, while others, including myself, see motorcycle specific accessories, such as navigation devices, as tools (optional for some, essential for others).
Adapting consumer marketed devices such as smartphones, tablets and now the in-between screen-sized 'phablets' is to a large degree a natural evolution of sorts, largely driven by availability, cost and of course effectiveness.
And while any of these devices, large or small, mounted or carried, can be a distraction, it is the motorcyclist, unless local laws otherwise govern, who makes the decision on how and when to use the devices.
Now having said that, do many of us try to use more than the minimal services of such a device as we ride? Certainly and relatedly, do many of us become distracted? Yes.
But many riders maintain outstanding situational awareness and responsiveness while riding, even when using a heads-up or easily viewed navigational device and/or listening to audio, including navigation audio or the intercom.
And conversely, there are those who cannot or will not partake in anything other than the 'ride' — rider, machine and the road if you will.
The purpose of webBikeWorld and its vast repository of motorcycle information is to inform, educate, enlighten and entertain and when product or accessory evaluations are done, make a recommendation. There never is and never will be any intent to deceive or mislead (except perhaps on April Fool's Day) any reader.
Do tablets, phablets or smart-phones lend themselves for use as a mobile/portable navigation device? Yes, large or small screen.
Will they all be suited for use as a navigation device, especially when safety is the key factor in determining adaptability, placement and use? Perhaps not.
And these two statements are exactly what the article was all about.
There were no blatant or overt statements of disregard for critical safety criteria that includes using all of the senses to maintain a safe riding environment while projecting that same environment to other users.
But rather an assessment, based on riding experience, training, education and the desire to inform, educate, enlighten and entertain readers about whether such a device 'could' be safely adapted for use, with safety remaining the key.
As an individual and a motorcyclist, and in adhering to laws and regulations, I choose when to ride, what to ride, what to wear (ATGATT) and what tools or aides to take or use. But, none of this will be done if it cannot be done safely."
Rick's Reply: Motorcyclists have been using GPS, radios, radar detectors, intercoms, heated clothing controls and more for many years. In my opinion, the use of a large tablet as a GPS can make the rider more safe, not less.
That's because it's easier to see the larger screen.
Also, you may be forgetting — and we probably should have emphasized this — that the tablet connects to the rider's headset via Bluetooth, which provides the spoken directions.
This fact, and the fact that the tablet is easier to see at a glance, makes using this system safer than a standard GPS, in my opinion.
---
From "B.P." (February 2014): "I really enjoyed HBC's tablet-as-GPS article. Tons of stuff I didn't know. I may never go the tablet route, but I do plan on getting my first Android device in one or two months.
One of the phones I'm looking at is the Sony Xperia Z1S as it's already waterproof, I could use just something like the RAM X-Grip mount.
I also found HBC's list and description of navigation software to be very useful. Even if I never use a phone or tablet for on-bike navigation, I'm certain that that list will come in very handy for me."