As you read this I am flying to Portland, Oregon, for a unique media launch of the Harley-Davidson LiveWire electric motorcycle.
There are many things that make this launch unique.
Unique bike
For a start, this is the first full-size electric road motorcycle from a traditional motorcycle manufacturer.
The now-axed Victory Motorcycles slapped their brand name on an electric Brammo in 2015, but it wasn't their product. (When we tested it on a Colorado racetrack, at least we got to see it being recharged.)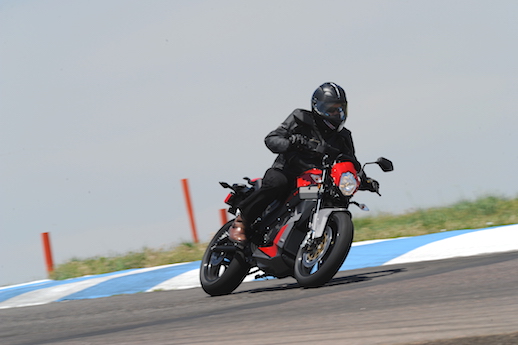 Honda and BMW have produced electric scooters, while Yamaha and KTM have a couple of small electric trail bikes.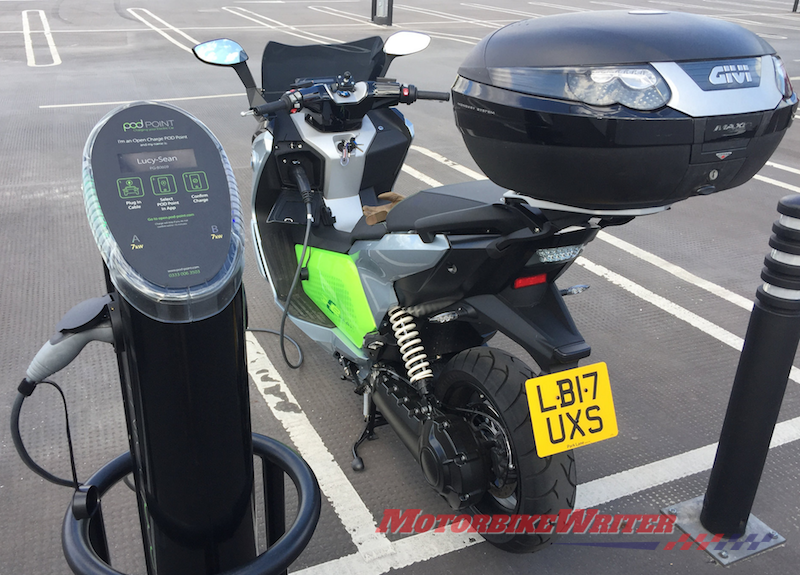 Other major motorcycle companies such as Triumph are feverishly working on electric motorcycles.
Unique guest list
The usual motorcycle media will not be present.
Magazines that usually attend Harley product launches have not been invited.
Why?
Maybe because Harley has identified electric motorcycles as appealing to a different market.
In fact, it may not appeal to any current ('scuse the pun) Harley owners and lovers.
Instead of the motorcycle mag crew, there are newspaper, TV journos, "influencers" and, of course, websites like ours.
Unique ride
Most global motorcycle model launches feature quite a long ride, sometimes even track time.
It is not unusual for rides to go over more than one day so journos get a good feel for a motorcycle.
In this case, the ride is a mere 60km through downtown Portland and out into a little bit of country.
This is not only unique but surprising, given one of the biggest hurdles to electric motorbikes is the lack of range.
Harley recently released details that claim city range of up to 235km and 152km of highway range. (Click there for the LiveWire specs.)
They also claims their Fast Charge (DCFC) technology will recharge a flat battery to 80% in 40 minutes and full in 60 minutes.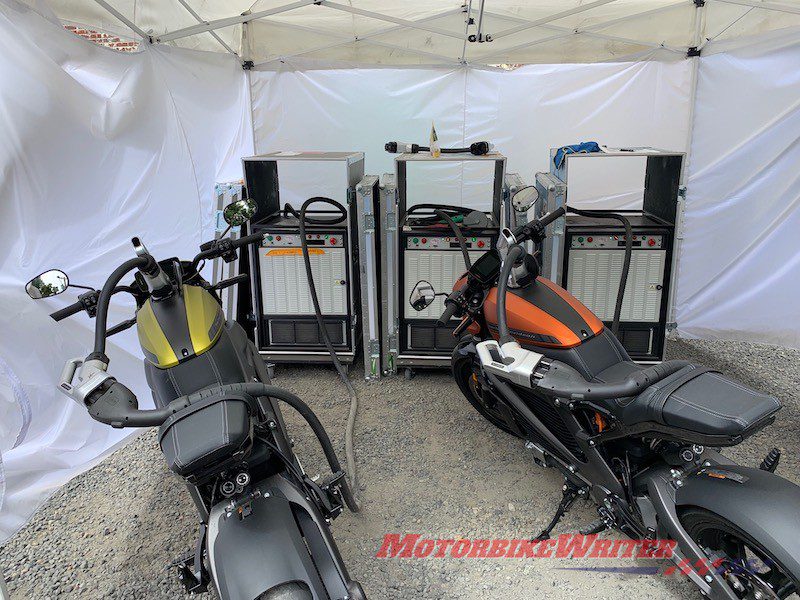 So why not ride 60km, charge them over lunch, then head back?
Maybe it's because they fear moto journos will "give it the berries" which will flatten the batteries faster than the selectable economy mode.
After all, I know I will be testing their claim it goes from 0-100km/h in a mere three seconds!
At least it's better than our 2014 ride around the block in LA on the LiveWire prototype.
Unique soundtrack
Harley launches are usually accompanied by the "potato-potato" roar of big V-twins.
This time it will be a subtle "whoosh"as the bikes roll along in near silence.
I found a muted turbo-jet sound on the prototype which was achieved by "meshing" the drive gear.
Speaking of gears, there won't be any. It is a "twist-and-go" throttle like a scooter.
Just another unique feature in a totally unique event!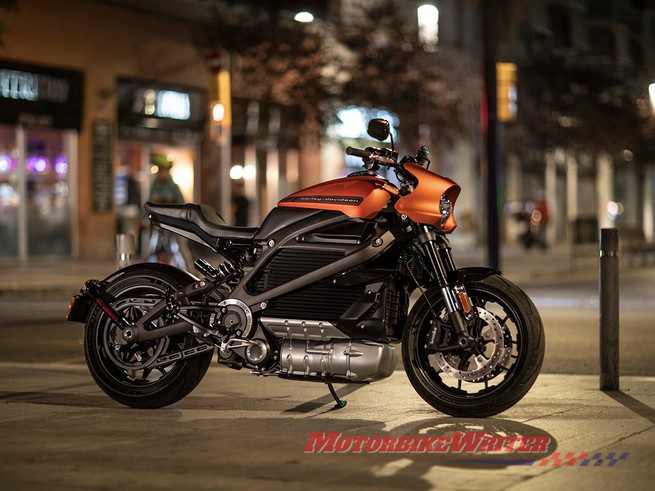 Unique price
The LiveWire goes on sale shortly in the USA at about $US30,000 (about $A42,500).
It will arrive in Australia late next year probably costing more than some of their Touring models.
Harley-Davidson Australia say they won't have a definite figure until closer to our launch.
Stay tuned for our ride test later this week.
(Harley-Davidson is paying for our flights, hotels and meals.)
Harley-Davidson LiveWire trech specs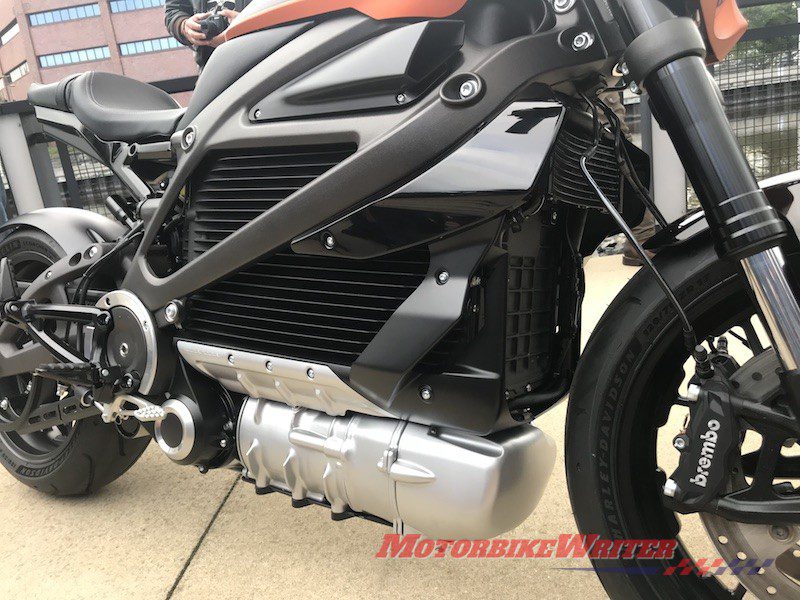 Price: $US29,799 (about $A42,500)
Available: Next month in North American and Europe, late next year Australia and New Zealand
Colours: range, lime and black

Battery warranty: five-year, unlimited-km

 

Motor: H-D Revelation permanent-magnet, water-cooled electric motor
Power: 78kW (105hp)
Instant torque: 116Nm (86ft lbs)
Battery: Air-cooled 15.5kWh high-voltage lithium-ion battery (Rechargeable Energy Storage System)

 

Transmission: motor output shaft, 9.71:1 gear reduction, belt drive
Acceleration: 0 -100km/h 3 seconds; 100-130km/h 1.9 seconds

 

Top speed: 177km/h
Range: 235km (city), 152km (combined stop-and-go and highway range using MIC City and MIC Combined tests), 158km (World Motorcycle Test Cycle)

Charging points on the LIveWire are under the "fuel" cap.

Charging: 120/240-volt outlet 20km (13 miles) per hour of charging; DC Fast Charge (DCFC) 0-80% in 40 minutes or 100% in 60 minutes
Weight: 210kg
Suspension (rear): fully adjustable Showa Balanced Free Rear Cushion-lite mono-shock

 

Suspension (front); Showa Separate Function Fork-Big Piston
Brakes: Dual Brembo Monoblock calipers, 300mm rotors
Tyres: H-D/Michelin Scorcher (180mm rear and 120mm front)
Rider aids: Reflex Defensive Rider Systems (RDRS), Cornering Enhanced Anti-lock Braking System (C-ABS), Cornering Enhanced Traction Control System (C-TCS) and Drag-Torque Slip Control System (DSCS)
Technology: 4.3" colour TFT touchscreen, Daymaker LED headlamp, LED lighting, H-D Connect service connectivity and Harley- Davidson App
Riding modes: Seven selectable Ride Modes electronically control motor performance and level of RDRS intervention
Accessories: dual seat and tail, speed screen blade, decorative trim, hand and foot controls and cover with charging cord port

Touchscreen instruments