Ugly Fish motorcycle glasses have been around for seven hears now and forged a place in the cruiser world with their menacing looks and protective lenses.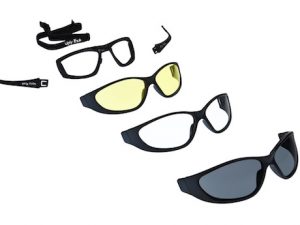 While I appreciate their protective abilities, for me they left a gaping hole where the wind could get in and dry my eyes. It's mainly my fault because of my head shape, but I'm sure others also suffered.
Now they have released the Ultimate version with a lot of extras, but the most important thing for me is a softer wind-protecting removable foam gasset that fits my facial contours better and seals against the wind. They also say the soft EVA has high absorption and is longer lasting.
The other problem I had with Ugly Fish glasses was the discomfort caused by the helmet pressing against the arms. Now they have replaced them with shorter rubber-tipped arms which fit around the ears and are far more comfortable. You can replace them with the elastic band, but I prefer to have glasses you can quickly take off while you still have your helmet on. However, if you want to use the elastic band, it is now easier to install thanks to new clips. They are most suited to open-face helmets.
They have also recessed the Metal logo on the temple frame so your helmet doesn't press it against your temple.
The sunglasses come with interchangeable yellow and clear lenses for dusk/dawn and night riding. They are easy and quick to change, just snapping into place. Ugly Fish has also upgraded the standard photochromic PC lens to high-quality NXT material for better scratch resistance and they now go darker quicker when exposed to UV light. The Polarized lens also has permanent anti-fog on both sides.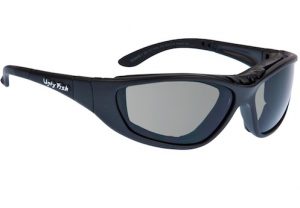 The Ultimate pack arrives in a handy stiff textile holder, plus soft pouches which also act as lens cleaners. Yet there's also a lens cloth included! They come in the same matte black plus new gloss black frames.
Check the full Ultimate the full range here.
Prices: Multi-Lens Pack $124.95, Ultimate Polarised $149.95, UltimatePhotochromatic $149.95.